Almost Upset: Cavaliers-Celtics 1985
In 1985 the Boston Celtics were the NBA's defending champions. After 62 wins in 1984, they came back strong in an attempt to repeat as champs posting 63 wins in the regular season.
Their road to the 1985 Finals started out similarly to their 1984 jaunt: a first round date with a way-below-.500 team. After surviving a perilous first-round scare versus the 35-win Washington Bullets in 1984, surely the Boston Celtics had learned their lesson and wouldn't come out flat against their eighth seed opponent once more.
And there were minimal changes to the Celtics roster, so guys should have been emotionally scarred from the experience of '84.
The only roster change was a minor one: Gerald Henderson was gone and Ray Williams was in at guard. This roster change did provoke important lineup changes, though. Danny Ainge was now in as a starter while Williams came off the bench. Also, Kevin McHale, while still technically a bench player, had fully overtaken starter Cedric Maxwell in the minutes department during the regular season. A big factor here was Maxwell suffering a knee injury in February. At season's end, he'd be traded to the Los Angeles Clippers.
Still, with all that said, the Celtics apparently learned no lessons, and found themselves once again in a dogfight; this time with the 36-win Cleveland Cavaliers.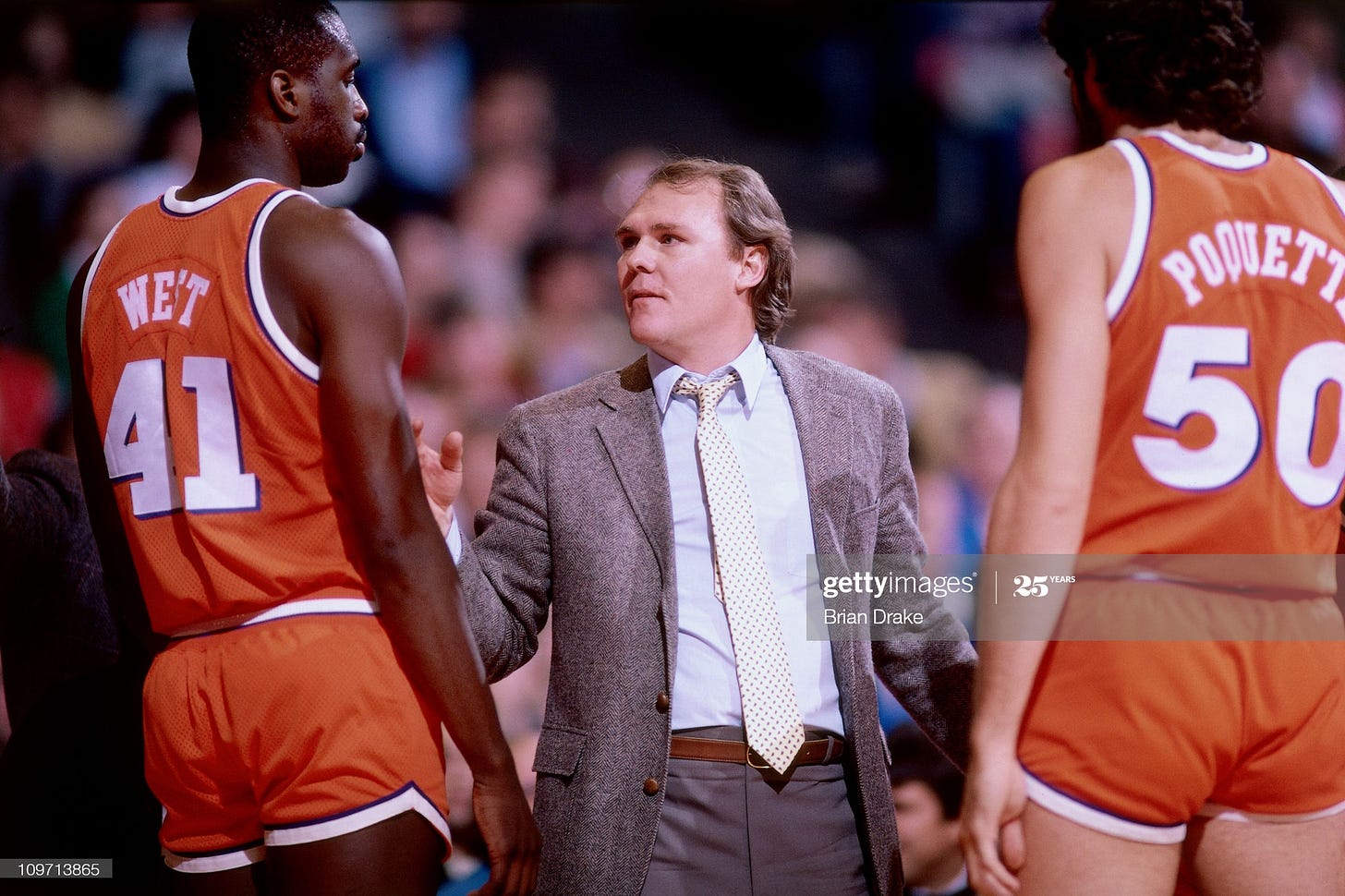 Rightfully maligned during the early 1980s, Cleveland was finally freed from the inept rule of owner Ted Stepien in 1983 and the team immediately improved albeit mildly. In the 1982-83 season, their last under Stepien, the Cavs had 23 wins. For the 1983-84 campaign, Cleveland improved to 28 wins. However, coach Tom Nissalke was replaced by George Karl despite the modest gains.
In his first NBA head coaching gig, Karl bounced Cleveland up to 36 wins.
The club was a delightful mix of youngsters and middle-aged journeymen.
And World. B. Free.
Free, who was the oldest player on the team (31), averaged 22.5 PPG in his 71 games that year to lead the squad. Shockingly, Karl and his star player didn't see eye-to-eye all the time. Indeed, Free spent good portions of the season's first half as instant-offense off the pine much to his chagrin.
During his first 29 games of the year, Free was a substitute player 20 times and averaged 18.0 PPG on .445 FG%. Mercifully, Karl relented and Free became a full-time starter thereafter averaging 25.6 PPG on .465 FG% for the final 42 games of the season.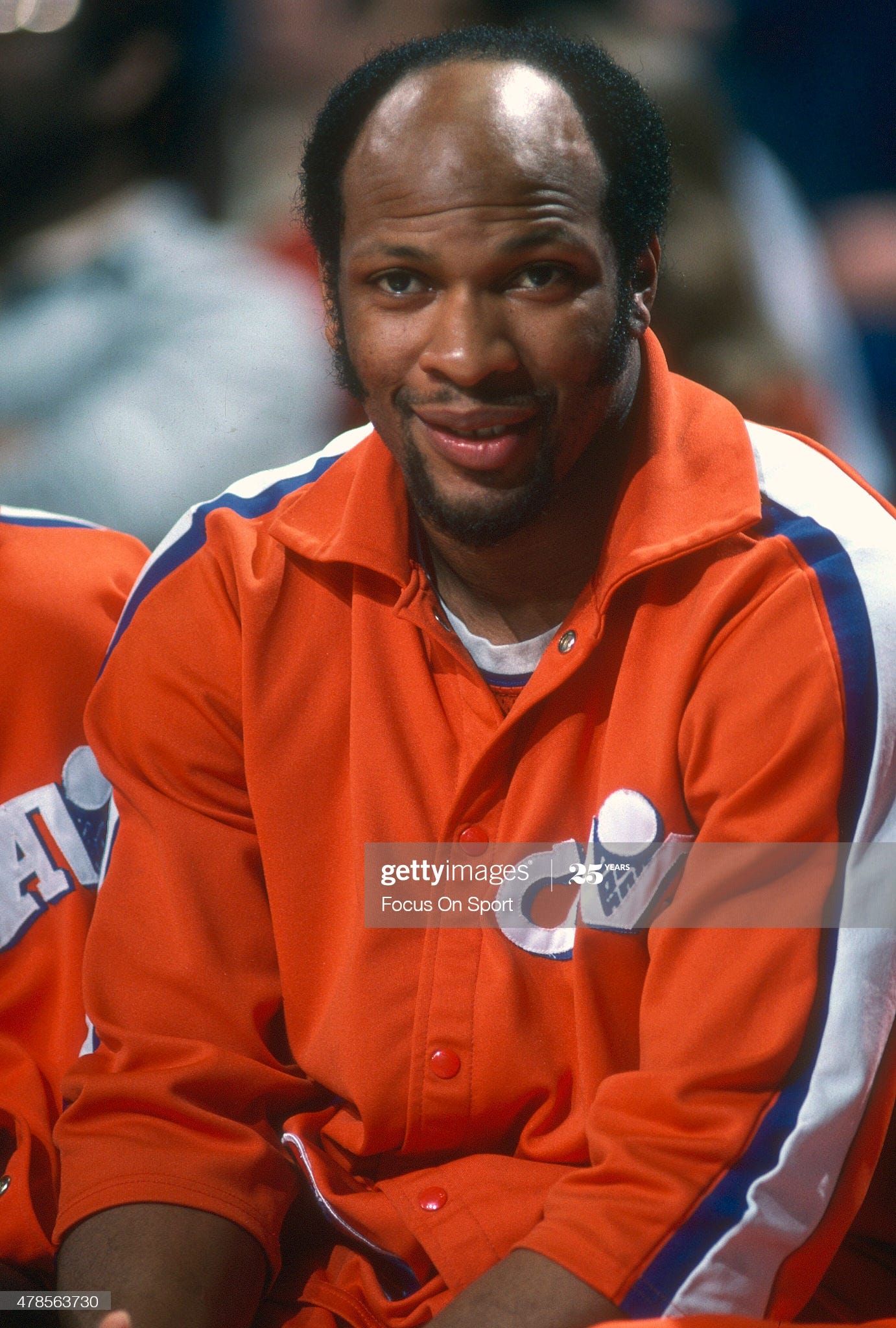 Importantly, this wasn't Free just juicing his own stats to the detriment of the team. Cleveland started the year dreadfully. After their first 21 games, the Cavaliers held a 2-19 record. They were still 11-28 when Free finally got promoted to the starting lineup. Thereafter, Cleveland finished the year 25-16 for that awesome 36-46 overall record.
But enough about Free, who were Cleveland's cast of journeymen and young fellas?
The whippersnappers were Roy Hinson, John Bagley, Melvin Turpin, and Mark West.
King Roy was in his second NBA season and was an athletic marvel. THIS MAN COULD DUNK WITH AUTHORITY. He could also operate on the block with hooks and turnaround jumpers. He averaged a cool 15.8 PPG, 7.8 RPG, 2.3 BPG, and .503 FG%. Bags was in his third season and was given the point guard keys: 9.9 PPG and 8.6 APG. Dinner Bell was a rookie and had 10.6 PPG and 5.7 RPG. Lastly, West was an early season free agent signing. The second-year man didn't astound with the stats, but he was a competent defensive player: 3.9 PPG, 3.8 RPG, and 0.7 BPG in 13.6 MPG.
The journeymen and vets were Phil Hubbard, Johnny Davis, Ben Poquette, and Lonnie Shelton.
Hailing from Canton, Ohio, Hubbard was perfectly serviceable forward, who enjoyed the best season of his career in 1985. He averaged 15.8 PPG on .505 FG%. Shelton was one of the best defensive players of the late 1970s and early 1980s. He won a title as a key piece of the 1979 Seattle SuperSonics and was an All-Star in 1982. Despite only being 29, he was a;ready at the tailend of his NBA career, though. The husky Shelton averaged 6.4 PPG and 4.7 RPG in 1985 before one final season in 1986 where he played just 44 games.
Davis as a reserve rookie guard helped guide the Portland Trail Blazers to the NBA title in 1977. During the 1980s he had played as a starting guard with the Atlanta Hawks and Indiana Pacers. Before Bagley got the starting job, Davis was the frontman for Cleveland and ultimately averaged 12.4 PPG and 5.6 APG that year. Like Shelton, the 29-year-old Davis would play just one more NBA season. Lastly, Poquette was a fine backup big man. In his eighth NBA season, Poquette wasn't going to set the world on fire, but he also wasn't incompetent.
Put it all together and…
This Cavaliers team was still clearly outmatched by the Celtics.
Their frontcourt wasn't a total pushover to the Celtics' mighty Bird, Parish, and McHale, but you ain't counting on them to outplay Boston. In the backcourt, Cleveland could credibly play Boston to a standstill thanks to Bagley and Free. What's more, on any given night, these two could absolutely outgun Dennis Johnson and Danny Ainge of Boston.
Cleveland did have an ace up their sleeve, though.
If any of their starters, had a down quarter or got into foul trouble, there was a competent replacement waiting on the bench. So, they weren't as beholden to their starters as Washington was facing Boston the previous year.
Still…
OFFICIAL PROHOOPSHISTORY STARTING LINEUP SCOREBOARD
(the deeper the shade, the bigger the presumable advantage)

PREDICTION: Celtics sweep!
Well this game was a blast!
The Cavaliers were a World B. Free three away from sending this one into overtime. Bagley led the way with 22 points, 11 assists, and five steals in 42 minutes. Hinson was spectacular with 24 points and 11 boards in 35 minutes.
Plus Cleveland's bench showed Boston that they would be in for trouble in this series. A combined 47 points for Shelton, Poquette, Davis, Edgar Jones, and Turpin on 21-29 shooting. Just a masterclass effort from those fellas.
Didn't mean shit to George Karl, though. "I don't believe in moral victories," Karl opined. "You play this game to win. You don't play this game to play well and lose."
Cleveland was left to just a moral victory thanks to Boston leaning heavily on Kevin McHale and Larry Bird.
Despite a hyper-extended elbow on his shooting arm that necessitated a brace, Bird tore up Cleveland for 40 points and seven rebounds on 14-25 FGs and 11-12 FTs. McHale was also superb with 26 points and 12 rebounds on 9-14 FGs and 8-8 FTs.
The rest of the starters were either meh or bad. Dennis Johnson? Meh with 15 points and 11 assists but on 6-15 shooting. Danny Ainge? Meh with 10 points and five assists on 4-10 FGs. Robert Parish? Bad with just eight points and five rebounds.
Boston's bench was actually fine (27 points on 9-17 FGs), but that mostly hinged on newcomer Ray Williams. And in comparison to Cleveland they were meh.
Still, the pesky Cavaliers couldn't seal the deal and the culprit was free throws. Boston sank 35 of their 39 freebies, while Cleveland only connected on 17 of their 27 charity opportunities.
Another culprit was a questionable foul on Hubbard. Cleveland held a 121-120 lead with about 2:30 left in the game. The Associated Press described situation.
Cleveland's Phil Hubbard put the ball in the basket from underneath but was hit with a controversial charging foul. It nullified the basket, and Larry Bird, who led all players with 40 points, scored on Boston's next possession to put the Celtics ahead 122-121.

"I thought I was going to the line," said Hubbard.

"I thought we had a three-point play and I was excited," said Karl. "All we have to do is make two good defensive plays and we can win."
Although Cleveland would take the lead once more on a Free layup, McHale closed out the game with two free throws and an assisted basket from Bird.
For the second game in a row, a Free shot at the buzzer could have sent this baby to overtime.
Bagley and Hinson cooled off considerably for Cleveland from Game 1 while Free struggled somewhat with his shot (25 points on 9-22 FGs), but the bench was still there for the Cavs.
Poquette and Davis were particularly strong for Cleveland. Big man Poquette played 27 minutes notching 10 points, five rebounds, and four blocks spelling the beleaguered West and Hinson. Meanwhile Davis had 21 minutes to his credit and contributed 15 points, five assists, and four steals in relief of Bagley.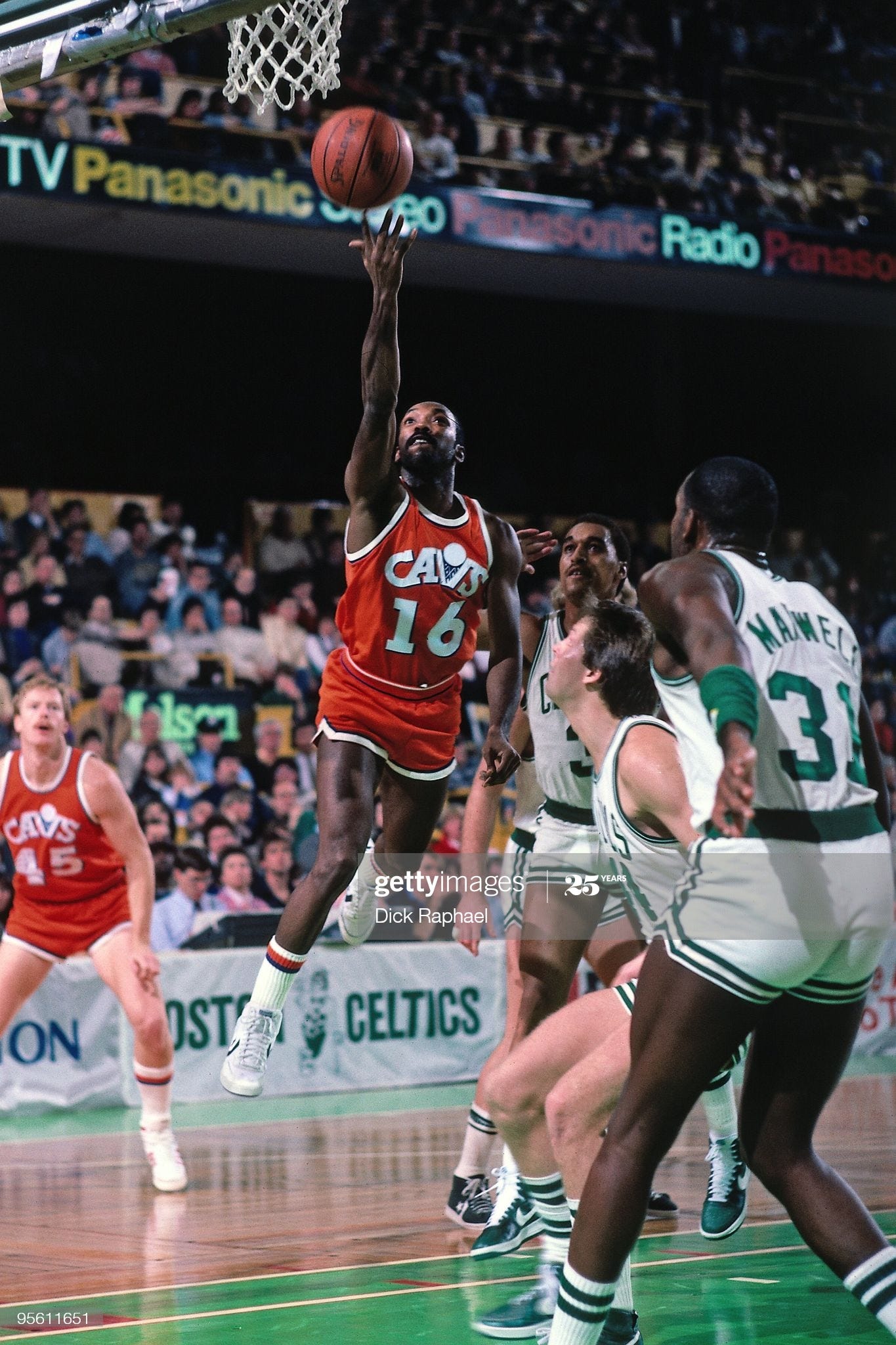 Unfortunately for Cleveland, Bird and McHale were still terrific for Boston. Parish and Johnson were still kinda meh, but they played better than they had in Game 1, and Ray Williams completely made up for a crummy Ainge game.
Ainge had just five points on 2-6 shooting while Williams came off the bench for 14 points, eight rebounds, six assists, two steals, and a block on 6-9 FGs.
However, Ainge annoyingly managed to make key plays in the final minute of the game. After not hitting the broadside of a barn all game, Ainge with 45 seconds left in the contest hit a mid-range jumper and then with 12 seconds left sank a free throw. The pesky guard also smartly fouled Bagley at the top of the key with three seconds remaining in the game.
Boston had a foul to give and thus Cleveland was forced to run a sloppy, haphazard play that saw Free launch his ill-fated jumper to close out the game.
Furious George was furious with himself for putting his team in that situation.
"We knew they could foul us, but I didn't say anything (in the timeout huddle) because I didn't want our guys to be thinking about that," said Cavs coach George Karl. "I thought if we were spaced enough on the court, we could still run the play."

Unfortunately, the timeout Karl used after Ainge's free throw that made it 108-106 was his last.

"I would have paid a lot of money to have another timeout," Karl said. "A lot of money. Looking back, I wasted one earlier when I thought we needed a rest (with 3:30 to play)."
As the final scores indicated, after two games, Cleveland and Boston were essentially, shockingly at a wash. "We're right there with them. It's so close," Free told the Akron Beacon Journal after Game 2. The little margins of having a veteran coach like KC Jones against a rookie coach in Karl tilted the wash oh so slightly enough to give Boston a 2-0 series lead.
Well, gang, here's your one convincing win of the series and it was from the 36-win club.
Granted, Bird missed the contest due to his elbow injury being aggravated, but the Cavaliers smothered the Celtics at Richfield Coliseum thanks to Free and Hinson.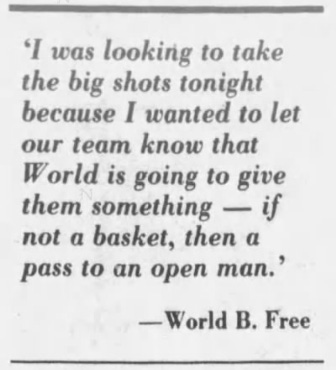 The rainbow-shooting guard had 32 points and eight assists on 13-23 FGs and 6-6 FTs. The domineering Hinson had 21 points, nine boards, and two blocks.
As for Boston, McHale continued to be a bright spot (21 points, 11 rebounds, 5-10 FGs, 11-12 FTs) as Ainge continued to suck (0 points, 0-6 FGs). Johnson and Parish continued meandering in the Meh Zone.
The only reason Boston was even close in this game was Scott Wedman.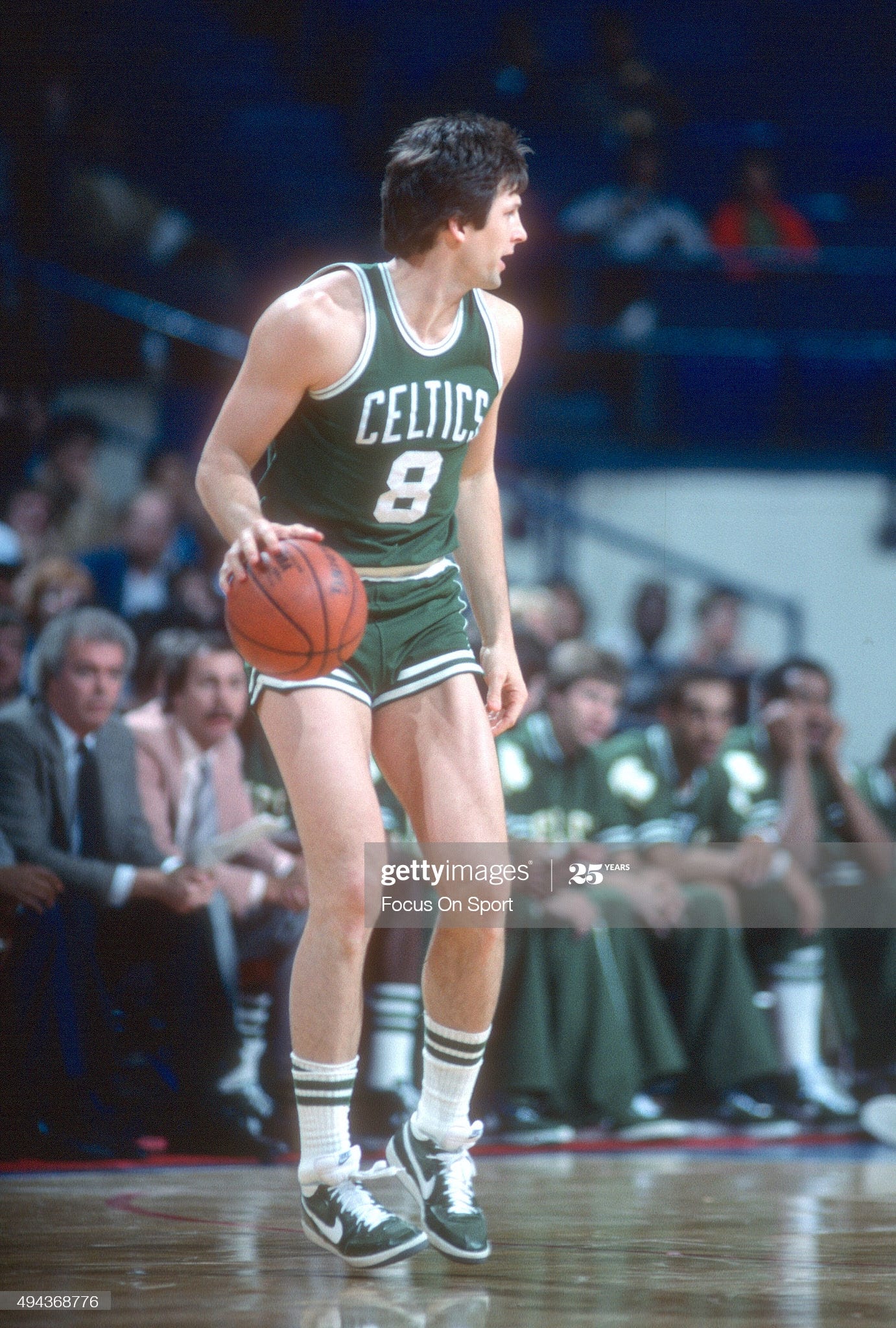 In his 11th season, the swingman was thrust into the starting lineup with Bird's absence and had quite the throwback game: 30 points, eight rebounds, four assists, and three steals before fouling out.
From Cleveland's perspective, though, a Wedman throwback game was well worth the price of shutting everyone else down. Indeed, Wedman was statistically on fire because Cleveland's defense swarmed all the other players.
One price that could not be adequately paid, however, was Johnny Davis going down hurt. The underdog Cavs could ill-afford any injury, but Shelton accidentally elbowed his teammate fracturing Davis' jaw.
With Bird's return guaranteed for Game 4 and Davis likely out, Cleveland had its work cut out for it.
Boston barely escaped. Again.
Parish finally had an unequivocally good game: 18 points, nine rebounds, and 7-13 FGs. Johnson also made his escape from the Meh Zone with 24 points (good!) on 7-18 FGs (meh) and 10-10 FTs (good!). And Williams bounced back from a horrific Game 3 to provide 16 points off the bench.
McHale, however, took this as his opportunity to put up a turd game. Just 11 points for wide-shouldered forward before he fouled out.
Thus, Cedric Maxwell finally got meaningful playing time in the series and made the least out of them: five points on 1-5 shooting in 23 minutes. Wedman cratered back to earth after his wonderful Game 3. ZERO made shots in six attempts for Weddie.
Oh, and Danny Ainge was still on his bullshit: six points in 16 minutes. It pains me oh so much to point out his series averages: 5.3 PPG, 3.3 APG, and .321 FG%.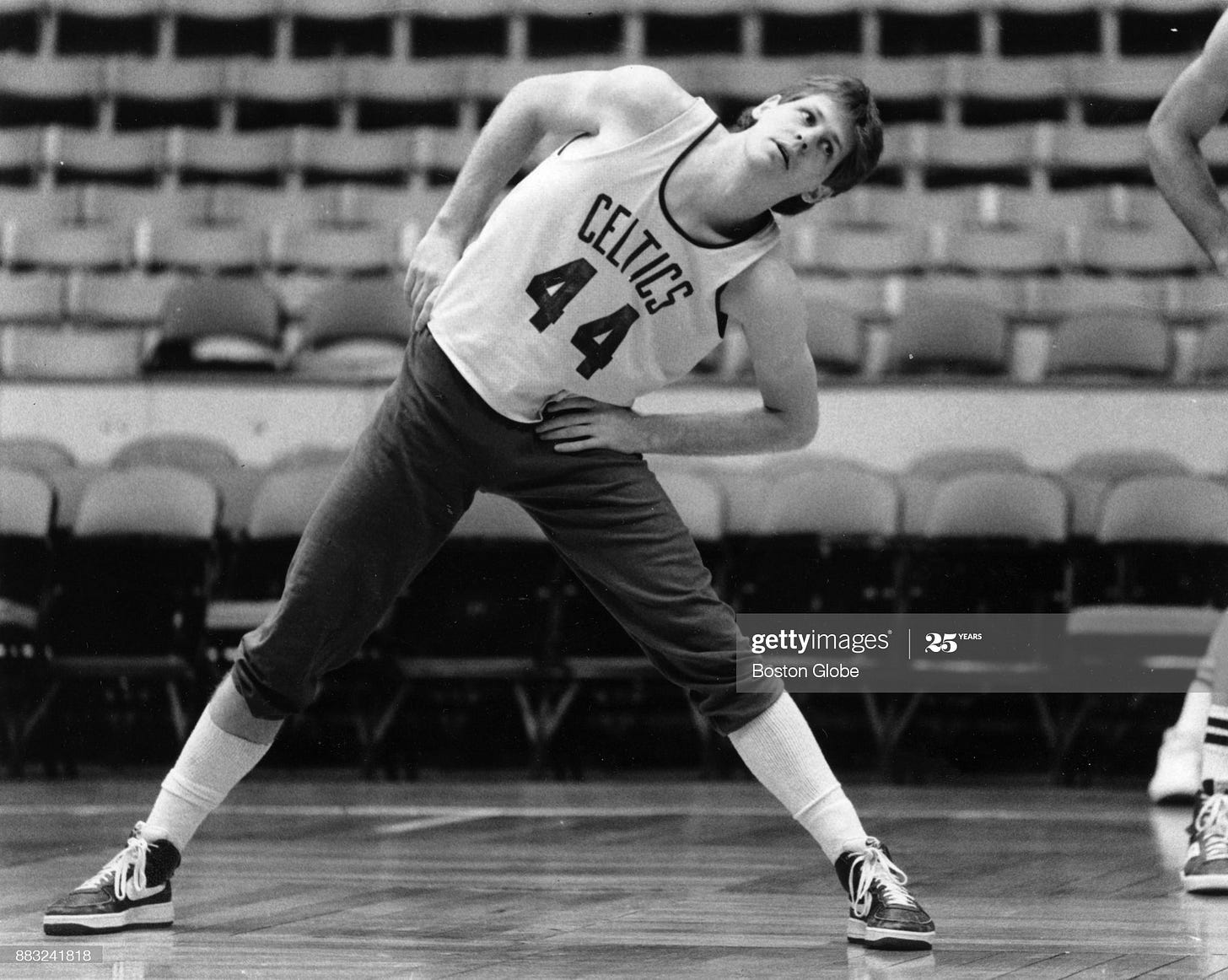 But remember, Boston had Larry Fucking Bird, MVP of the NBA for the second-straight season. The forward put up 34 points, 14 boards, and seven dimes. 11-17 FGs and 12-14 FTs capped off the ass-kicking performance.
Children everywhere were hyper-extending their elbows to get Bird's shooting touch.
Anyhoo, all of this sucks for Cleveland because they put up a helluva fight despite Bagley being a train wreck: 15 points and 10 assists, but seven costly turnovers. They sure could have used Johnny Davis to simmer things down, but the broken jaw left Davis sidelined for the game.
Hinson also had objectionable play with only eight points in 26 minutes as he fouled out the game.
Even Free didn't have his shooting touch (11-27 FGs), but still clawed his way to 30 points thanks to 8-9 shooting from the free throw line. He also contributed nine assists.
Predictably, what kept Cleveland in the game was the bench. Poquette, Shelton, and Edgar Jones combined for 33 points on 11-21 FGs and 11-12 FTs. However, they also combined for 17 personal fouls, with Shelton and Poquette getting tossed, as they vainly attempted to corral Bird's devastating force.
Still with all these parts thus chronicled, Cleveland should have been handily beaten in this game by Boston.
Except there was Phil Hubbard. Hubs sizzled with 23 much-needed points on 10-15 shooting for the Cavaliers.
Astounded that the Cavaliers could have won the series, if not for his heroics, Bird was a wee bit disgusted with his teammates' overall shoddy performance in the series:
"Cleveland played better than us," he said after scoring 34 points on 11-for-17 shooting with 14 rebounds and seven assists.

"Our talent just got us through," said Bird, who sank two free throws with 51 seconds remaining for a 115-113 Celtics lead, then added two more with 23 seconds left for the final 2-point margin.
Meanwhile, Larry Pantages of the Beacon Journal noted a disturbing pattern to Cleveland's three losses.
"The Celtics defeated the Cavs three games to one, but not before Cleveland had a shot in the air that would have tied the game in each of the loses.

In Game 1, Karl disdained a timeout before forward Edgar Jones and guard World B. Free each missed 3-point shots in the final six seconds. Cleveland lost 126-123.

In Game 2, Karl ran out of timeouts and so Cleveland ran an impromptu in-bounds play that resulted in a missed shot by Free from 22 feet at the buzzer. The Celtics won 108-106.

And in Game 4 Thursday at the Coliseum, Karl again chose not to call time (even though he had three timeouts left) as Cleveland took its final possession trailing 117-115 with 23 seconds remaining.

Guards John Bagley and Free exchanged the ball twice before Bagley missed an open 3-point shot with 10 seconds left. Center Mark West missed a follow-up and then Free's last-ditch effort with four seconds left went awry when Boston guard Dennis Johnson swatted the ball as it left Free's hands.
EVEN STEVENS
How close was this series?
Both teams scored exactly 449 points in the four games. Boston got the three wins to advance, but they came by a combined seven points. Cleveland had the one convincing win of the series with their seven-point Game 3 victory.
Free & Co. were thiiiiiiis close to the biggest first-round upset in NBA history. Nothing else we'll look at will compare to this. A 36-win team nearly toppling the 63-win defending champs? Just stupid to contemplate.
For comparison's sake, the 1994 Denver Nuggets won 42 games. And they did defeat the 63-win Seattle SuperSonics (coached by Karl) in the first round, but that series was truly weird. The first two games were blowouts for Seattle. Games 3 and 4 were blowouts for Denver. Only Game 5 was close as the clubs battled into overtime with Denver winning 98-94.
Also, it truly sucks that the 1985 Cavaliers were really just a flash in the pan.
The next season George Karl kept on George Karling.
He was the lowest-paid coach in the league, which was unsurprising given that the Cavaliers were emerging from Stepien mismanagement and Karl was the youngest coach in the league on his first gig. Yet, he demanded a raise and contract extension.
When offered one by Cleveland, Karl didn't think the pay was high enough. He negotiated with the University of Pittsburgh for a coaching job (mid-season!) behind the back of Cavaliers management. Commiserating over male-pattern baldness didn't stop Karl from openly feuding with World B. Free. The coach claimed the team was better off without Free's scoring.
As Terry Pluto put it in Beacon Journal on March 16, 1986…
A month ago, it seemed that only a nuclear attack would keep the Cavs out of the playoffs. Well, the bombs have been falling—the Pitt interview, Karl vs. Turpin, Karl vs. Free and maybe even Karl vs. Karl as George tries to figure out what it is that he really wants or if the Cavaliers are really in his future.
Karl was fired the same day that Pluto's column was printed.
Cleveland would make the playoffs again soon enough in 1988, but the team was radically different. That 1988 squad, which won 42 games, had exactly ONE player left from the 1985 team: Phil Hubbard.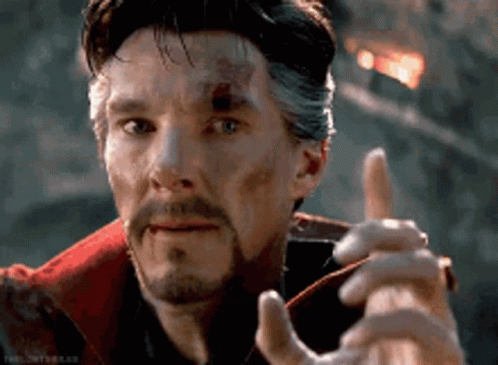 And Hubbard was out the door the next season.
That 1985 Cleveland Cavaliers team gave its all in trying to upset the Boston Celtics. Hell, they almost did it. Almost.