Almost Upset: Pacers-Hawks 1987
Led by Dominique Wilkins, the 1986-87 Atlanta Hawks boasted a 57-25 record. The victories were enough to lead the Central Division and garner the number two overall seed in the Eastern Conference. It also translated to a .695 win percentage, the best in franchise history to that point.
The closest competitors for the franchise's best regular season came back in their St. Louis days. During their final season in Missouri, the Hawks ran off a 56-26 record (.683) in 1967-68. Another stupendous season was in 1958-59 when they posted a 49-23 record (.681).
Ominously, each of those previous record-setting Hawks teams flamed out in the playoffs. The 1959 team was the defending league champion, but lost in six games to the 33-39 Minneapolis Lakers in the Western Division Finals. But at least the Lakers had Elgin Baylor, so he could sway any series to his favor with a string of absurd performances.
The 1968 Hawks got slapped around by the 43-39 San Francisco Warriors in the Western Division Semi-Finals. That Warriors team was good with Nate Thurmond, but boasted no star on the level of Baylor. It was just a well-balanced, embarrassing, convincing defeat spearheaded by former Hawk Jeff Mullins.
Well, these 1987 Hawks would also disappoint fans by petering out in the Eastern Conference Semi-Finals. They were pushed aside by the 52-win Detroit Pistons in five games.
Before the Pistons, though, the Hawks struggled—STRUGGLED—to dispatch the 41-win Indiana Pacers.
---
THE RIFLEMAN
After three championships in the ABA, the Pacers had been routine disappointments in the NBA making the playoffs just once since the 1976 NBA-ABA merger. After four consecutive seasons with win totals in the 20s, Indiana went out and got Jack Ramsay and his magnificent slacks to coach the team for the 1986-87 season.
They also drafted Chuck Connors Person.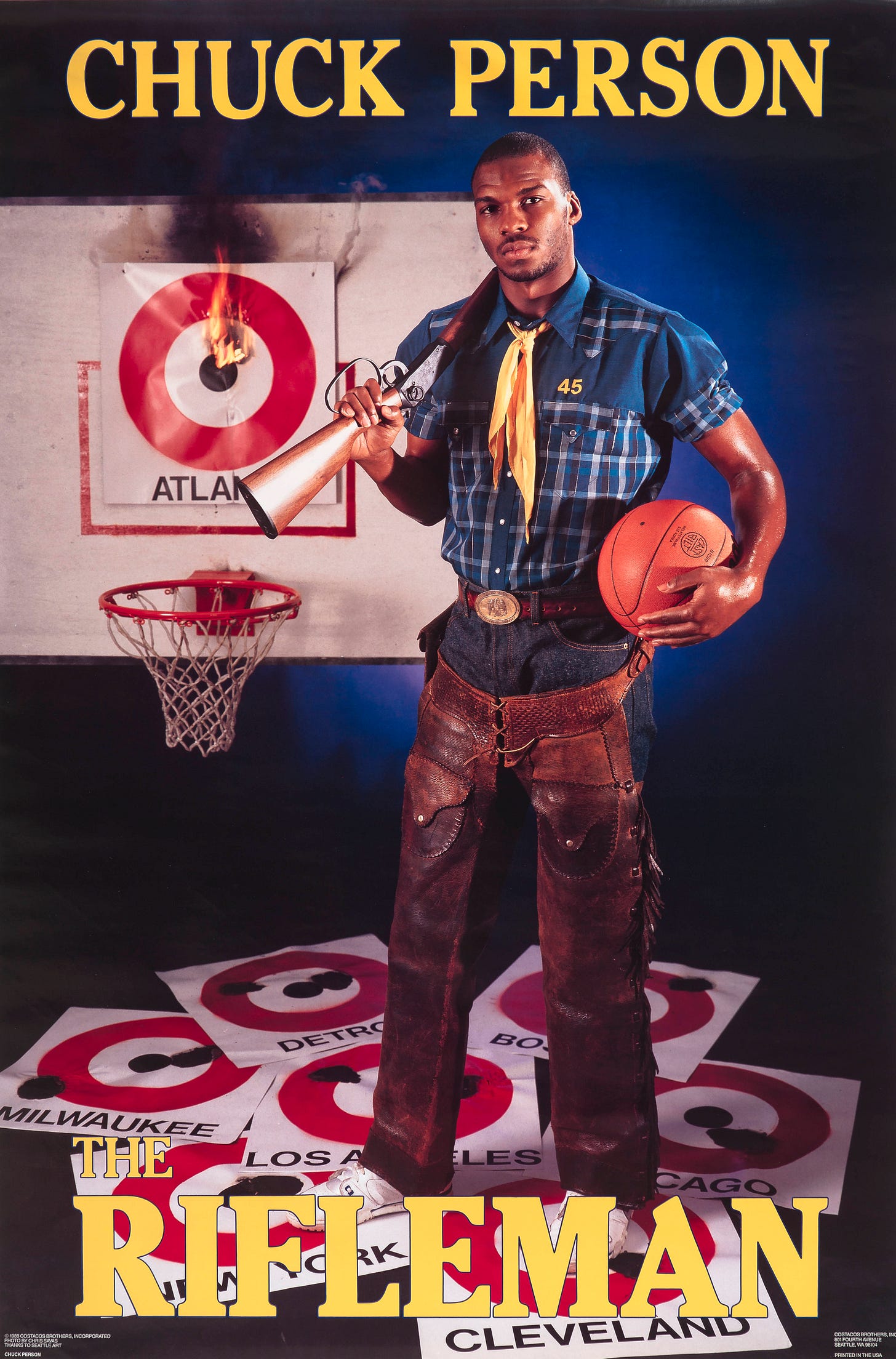 Person was the capstone on what was actually a stretch of really solid drafting by the Pacers. Of course, since they annually sucked, they had better pick well given their drafting position.
Here's the rundown of their first round choices…
1981 — Herb Williams with the 14th overall pick
1982 — Clark Kellogg with the 8th overall pick
1983 — Steve Stipanovich with the 2nd overall pick
1984 — Vern Fleming with the 14th overall pick
1985 — Wayman Tisdale with the 2nd overall pick
Sure you can quibble that maybe Indiana didn't pick the best player available at the respective slots, but that'd be mostly hindsight in action. None of the above players were busts… well not because of talent… injury is another matter. More on that in the conclusion. Ugh.
Then along came Chuck Person as the 4th overall pick in 1986. The Rifleman seamlessly adjusted to the NBA averaging 18.8 PPG, 8.3 RPG, and 3.6 APG on his way to Rookie of the Year honors. I mean this dude torched the Phoenix Suns for 42 points on 18-23 FGs and 6-6 threes one night that year.
In the end, Person would never be a superstar, but he certainly had the look of a star scorer at this point.
With Person at small forward, Indiana's starting lineup was filled out by Stipanovich at center. He's pretty much forgotten now, but this man could ball: 13.2 PPG, 8.3 RPG, .503 FG%, and .837 FT% that year. At power forward was Herb Williams. Later world-famous for his never-ending tenure with the New York Knicks, Williams was good for 14.9 PPG and 7.3 RPG. Fleming took the point guard slot with 12.0 PPG and 5.8 APG. Veteran scorer John Long was at shooting guard to round out the starting lineup. His FG% took a big dip that year (.419 compared to .479 in his career to that point), but he had playoff experience from his days with Detroit. And this young Pacer team needed all the experience they could muster.
Lastly, Tisdale was the main weapon off the bench (14.5 PPG), but Clint Richardson, Kyle Macy and Ron Anderson gave some ancillary help. Richardson and Macy also had voluminous playoff experience from their days with Philadelphia and Phoenix, respectively.
OFFICIAL PROHOOPSHISTORY STARTING LINEUP SCOREBOARD
(the deeper the shade, the bigger the presumable advantage; if both are white it's a wash)

The Hawks also have a big boost from a bench boasting Cliff Levingston, Spud Webb, and Antoine Carr. Only Tisdale was reliably a plus-player for the Pacers off the pine.
However, the Pacers and Hawks did split the season series 3-3. And two of Indiana's losses to Atlanta came by a single point each. Nonetheless…
PREDICTION: Hawks sweep!
In describing this game, David Benner of the Indianapolis Star gave one of the best openings to an after-action report I've ever read:
The Indiana Pacers made their first step in six years into postseason play here Friday night.

Unfortunately it was off a cliff.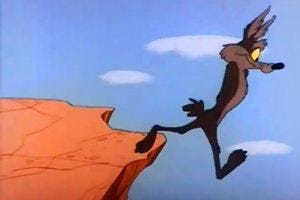 The Pacers actually did well in the first half trailing only 54-51 at intermission. It was the second half where the cliff-drop happened.
Atlanta applied stifling defensive pressure which turned Indiana's offense to mush and allowed Wilkins to get hot. After shooting just 3-13 in the first two quarters, Wilkins finished the game on a 9-10 hot streak fueled by transition buckets. On the night he tallied 35 points.
On the bright side, Indiana seemed fully aware of what they did wrong and accepted culpability.
"We wandered instead of playing with a purpose," said coach Ramsay. "That made it easy to overplay us."
"I didn't think we played with any kind of smarts in the second half," said Person. "We came out and took some bad outside shots. That got them running and their momentum going."
"We shot poorly the second half," Stipanovich weighed in. "But more importantly we weren't into the flow of our offense. That allowed them to score a lot of points because we didn't execute."
In the Hawks locker room, players seemed eager to snuff out any and all hopes Indiana had of making this a series.
"We knew we had to go out and beat them and beat them convincingly so they know they are not as good as they think they are," intoned Kevin Willis.
Well, so much for the Pacers being convinced Atlanta was the better club. This game was a nail-biter from start to finish and the Pacers were thiiiiiiiis close to tying the series.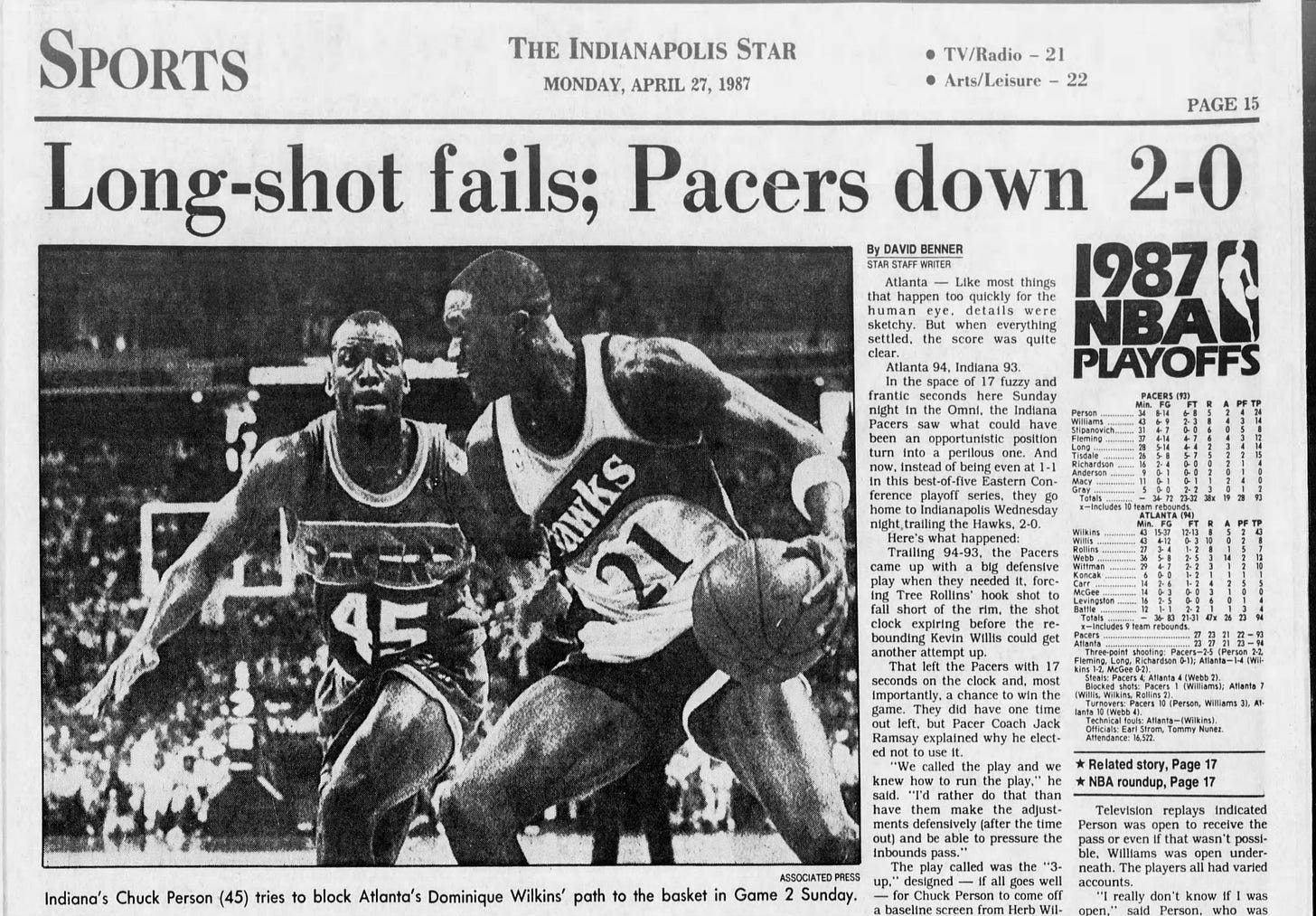 Stipanovich was nowhere near the force he was in Game 1. Just eight points and six rebounds for the center versus his 22 points and 13 boards in the opener.
Fortunately, Person was just as good.
24 points on 8-14 FGs in Game 2 after a 21-point effort on 8-15 FGs in Game 1. Also, Tisdale remained potent off the bench. After 20 points in Game 1, the future jazz musician responded with 15 points in Game 2.
The biggest difference on the night for Indiana was Herb Williams recovering from the flu, which had him playing miserably in Game 1 (0-5 FGs, one rebound). The big man nicely shot 6-9 from the field on his way to 14 points, eight rebounds, and four assists.
Meanwhile for Atlanta, Wilkins scored a lot (43 points), but needed a lot shots to get that bread. A total of 37 FGAs for Nique. He only made 15 of them. A sterling 12-13 shooting performance from the free throw line salvaged his night.
Speaking of salvage work, Doc Rivers missed the game with a sprained ankle, so Spud Webb was thrust into Atlanta's starting five. Webb was splendid with 12 points and 14 assists.
Alright, so how did Indiana fail to secure this game? I don't want to blame anyone in particular, but sure seems like John Long fucked up.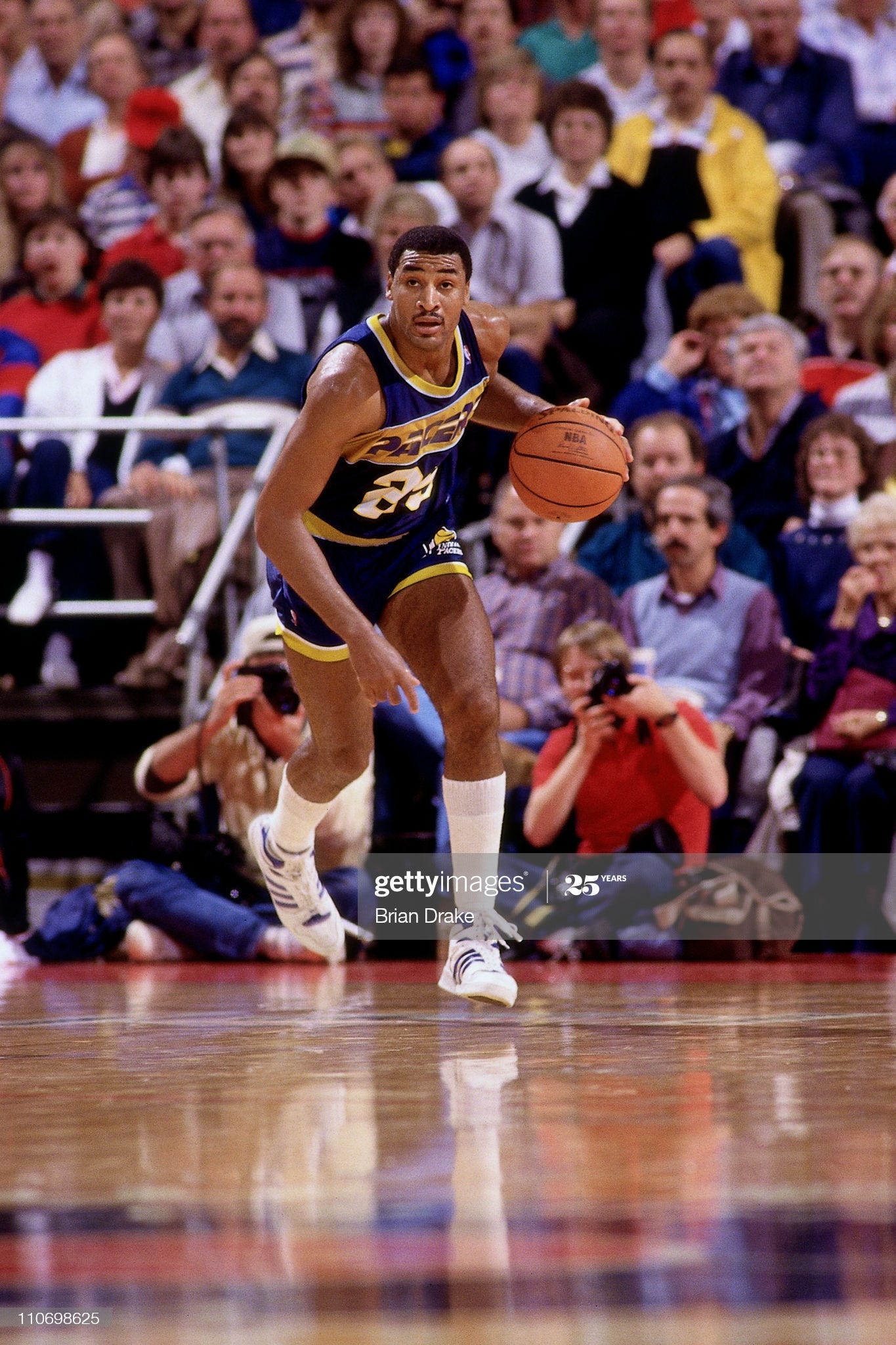 First of all, Long put up 14 shots in his 28 minutes of play. He made just five of them. Don't worry his shooting would get worse in the series.
Second of all, sure seems like Long fudged the final play of the game.
Trailing 94-91, Person made two free throws to bring Indiana within winning distance of the Hawks. Clinging to their lead, Atlanta milked the shot clock on the next possession, but Indiana was able to force Tree Rollins into an air-balled hook shot.
Shot-clock violation. Indiana ball with 17 seconds remaining in the game. Potential winning time!
Coach Ramsay called out a play from the sideline meant to get the sizzling Person the final shot of the game. Point guard Fleming brought the ball up, dished it off to center Stipanovich, who handed it off to Long.
Meanwhile, big Herb set a screen down low off the ball to free up Person who would receive the ball from Long and take the shot to hopefully win the game.
Instead of making the pass with six seconds remaining, Long decided to call his own number. He dribbled in, pump faked, and took a 12-foot contested jumper that rimmed out.
Pacers lose, Atlanta wins.
Long gave his defense of the attempted hero-ball.
"Chuck popped out and Dominique came with him, playing the passing lane," alleged Long. "I could have hit Herb, but I saw Antoine come up and I wanted to make sure we got a shot off…. I thought it was good, I thought the basket was good."
Dudes for Indiana sure seemed upset with John Long's decision-making on that final play.
"I wanted Chuck to have the ball, I wanted Chuck to have the last shot," said Ramsay. "John was impatient and we didn't get the shot we wanted. That's all part of winning in the playoffs, keeping your poise and doing the right thing."
Person was more diplomatic in assessment.
"I really don't know if I was open.… Everything happened a little too fast, but I think what John got was a decent shot. I think you have to credit him for taking the shot with a positive attitude. When in doubt, I think you take it and that's exactly what he did."
[Ed. Note: Who takes a shot with a negative attitude?]
Ever the point guard, Fleming gave a more astute factual observation: "I didn't think Chuck was open, but I thought Herb was."
Herb agreed.
"When I set the screen for Chuck, I didn't watch him. I started watching the ball. I didn't know if he was open or not, but I thought I was. I didn't feel a body on me."
According to the Indianapolis Star, TV replays showed that both Person and Williams were open to receive a pass from Long. But John Long was a gunner and he did what gunners do when stressed. He shot the ball and Indiana would rue the missed field goal and opportunity.
This game was all about Chuck Person, on both sides of the ball, as Indiana got its first NBA playoff victory. Seriously, they hadn't won a playoff game since their ABA days a decade prior.
The Rifleman had an average shooting night. Just 8-18 FGs and 7-10 FTs on his way to 23 points. However, he gobbled up 17 rebounds and dished out seven assists. And on defense he held Wilkins to 9-22 shooting.
"I'm an emotional player, and I think I can get the team pumped in some situations," Chuck said after the game of his uplifting performance.
Although Person's Pacers controlled the game it was not without its ups and downs. They jumped all over Atlanta in the 1st quarter building an 11-point lead. The margin grew to 18 points, 41-23, with 3:52 left in the 2nd quarter. Finally, Atlanta came to life launching a run that cut the deficit in half by intermission: 46-37.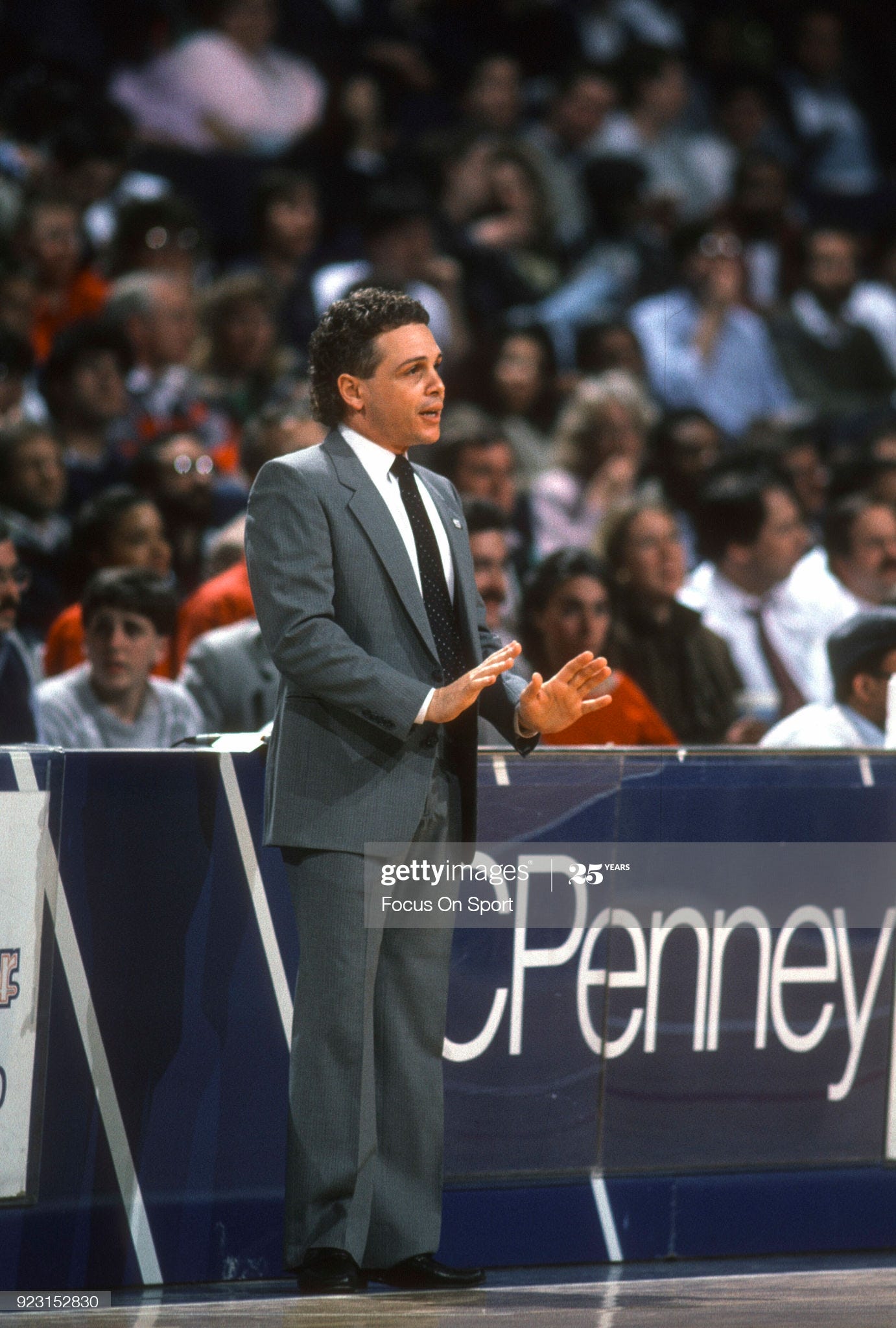 But really this was Indiana's game as Hawks coach Mike Fratello admitted, while also predicting a return to form for Atlanta in the next contest.
Quoted in the Columbus Republic, Fratello gave his gracious warning: "Give credit where credit is due. Indiana did a nice job tonight, but when a player has carried you as many nights as Dominique has, he is allowed to have a bad night. He'll be back."
Some final loose ends on this game.
Antoine Carr was bonkers: 17 points on 7-7 FGs and 3-3 FTs.
John Long was still on his bullshit: eight points on 3-12 FGs.
Herb Williams was totally over the flu: 19 points on 9-12 FGs.
Look, Chuck Person never became a super-duper star, but holy shit did he look like one in this game.
40 points, seven rebounds, six assists, 14-27 FGs and 12-15 FTs, for the rookie forward, who also had the job of guarding Dominique Wilkins on the other end of the court.
Person's defense continued a worrying trend for Wilkins and the Hawks as the Human Highlight Film scored 30 points on 11-25 shooting.
We'll unfairly toss Game 1 aside and note that Wilkins averaged 31.7 PPG but on .412 FG% in Games 2 through 4. He got his points, but Person and Indiana made him work hard for what he got.
Fortunately for the Hawks, they were buoyed in Game 4 by the play of Wittman and Carr. Wittman put up 21 points on 10-18 shooting while the Big Dog mustered 20 points in just 22 minutes on 7-10 FGs and 6-7 FTs.
In fact let's appreciate Wittman's and Carr's work for the series. Wittman averaged 13.0 PPG on .558 FG% and .800 FT%. Meanwhile, Carr was good for 13.3 PPG, .700 FG%, and .786 FT% in just 18.3 minutes a game off the bench.
The aggregate doesn't blow you away, but given Wilkins' struggles and the razor-thin margin of victory for Atlanta, they needed the crevice-work of Wittman and Carr to hold on.
As for Indiana, they might have won the series if they had better guard play. Fleming was okay overall in the series. He struggled to score with 12.3 PPG on .361 FG%, but he did contribute 6.5 RPG and 6.0 APG. So that's something.
John Long finished Game 4 with seven points on 3-10 shooting. His series averages? 11.0 PPG on .308 FG%.
*FORESHADOW ALERT* Indiana sure could use an upgrade at shooting guard in the offseason…
But back to Nique.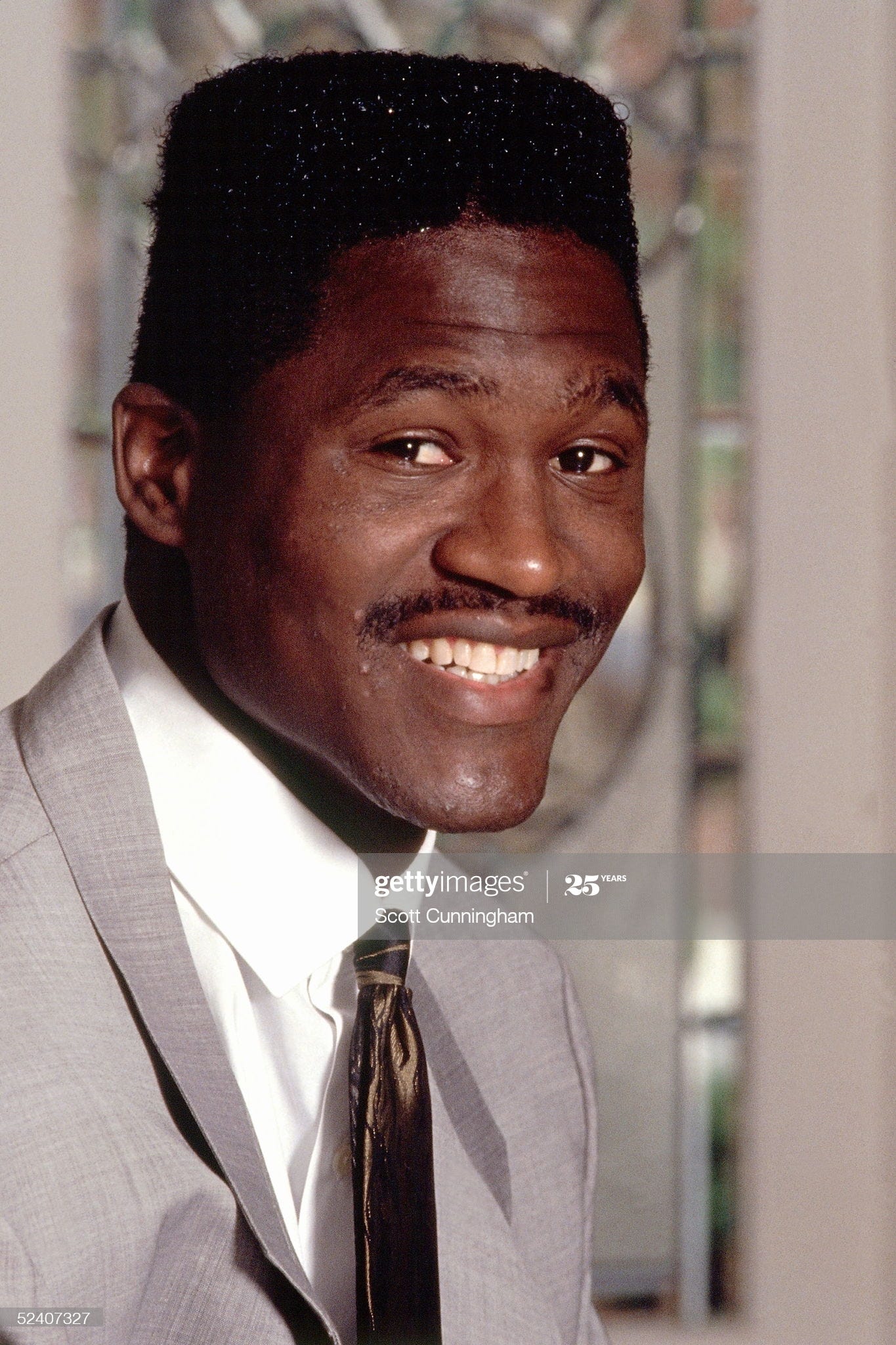 With the game tied at 93, Wilkins had a timely series of plays within the span of a minute to put Atlanta ahead. Doc Rivers bricked a free throw, but Wilkins swooped in to snare the offensive rebound and banked in a short jumper. He then stole the ball from Person and made two free throws of his own on the ensuing ATL possession. Lastly, Wilkins helped set up a double team on Person that resulted in an Indiana turnover and a Wittman jumper.
Indiana was able to pull within three points, 100-97, in the final seconds but couldn't get over the hump and defeat the Hawks as a purely academic free throw gave the game its final score.
Indiana's season was over, but praise was heaped all around for the pesky Pacers.
---
BIGGER AND BETTER(?)
The Indianapolis News provided quotes from Pacers and Hawks alike that painted Indiana as a team on the upswing.
"We will continue to improve and next season we will be even better," Stipanovich prophesied.
"They're going to give a lot of teams a lot of headaches down the road," warned Fratello. "That is a team on the rise."
Wilkins singled out Person, who averaged 27.0 PPG, 8.3 RPG, and 5.0 APG in the series. "He has a lot of heart to be a rookie," the dunking machine acknowledged. "If he continues to play like he did in this series he's going to be a force."
Doc Rivers' summation: "I hope they don't get a good draft choice."
Well, here's the dude Donnie Walsh drafted for Indiana with the 11th pick in the 1987 draft to ultimately replace John Long at shooting guard…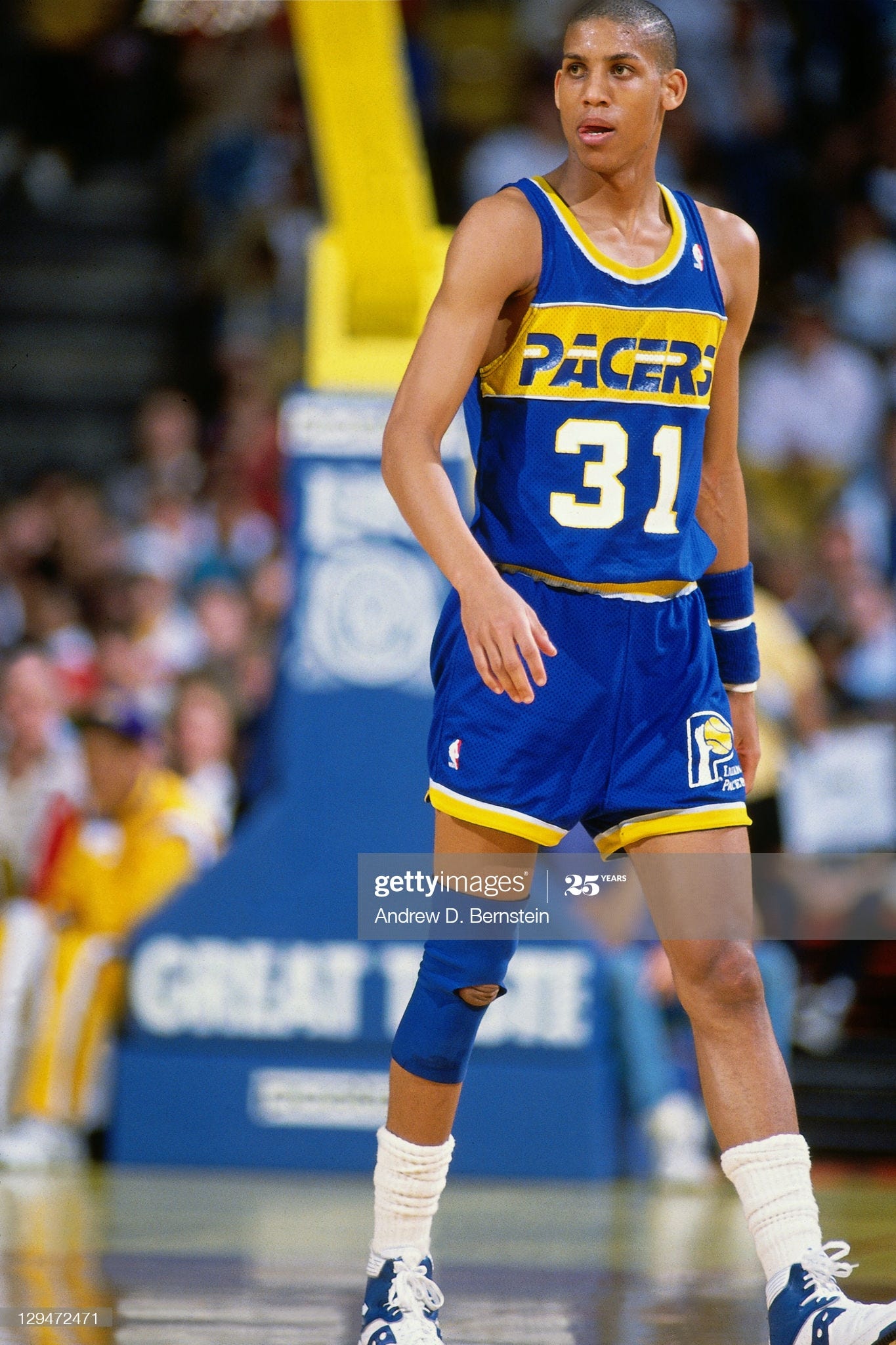 Surely with Reggie Miller added to the roster, Indiana would rocket up the standings!
Well, they would… eventually. But there were some hard growing pains and setbacks in the meantime. The team managed 38 wins in 1988, which meant a three-way tie with the Washington Bullets and New York Knicks for spots 7, 8, and 9 in the East. However, Indiana was the odd-team out due to tiebreakers with the Bullets and Knicks.
Worse for the Pacers was that the splendid Clark Kellogg was officially gone for good because of chronic knee problems. In his three full NBA seasons, the power forward had averaged 19.3 PPG and 9.7 RPG.
Following Kellogg out the NBA because of gimpy knees was Stipanovich. He was a model of consistency during his five NBA seasons never getting more than 13.7 PPG, but never falling below 12.0. But his career came to a halt after the 1988 season.
So the Pacers were now down two fantastic big men, but Walsh was clever with the personnel moves.
After drafting Miller in 1987, the Pacers, despite their 38 wins in 1988, got the 2nd overall pick in the NBA draft. (Thanks lottery!) They selected Rik Smits as the replacement for Kellogg and Stipanovich.
Then in February 1989, Walsh swung a pair of very consequential trades. Tisdale was sent packing to the Sacramento Kings for LaSalle Thompson and Randy Wittman, since departed from the Hawks. The Pacers didn't need the scoring forward since they also traded Herb Williams to the Dallas Mavericks for Detlef Schrempf and a 1990 2nd round pick that became Antonio Davis.
Despite the trades, that 1988-89 season was pretty much a disaster. Hell, that's why the trades were made. Things weren't working out and a shakeup was needed.
Ramsay was gone as coach after a 0-7 start to the '89 campaign. After about two dozen games with Mel Daniels and George Irvine as interim coaches, Dick Versace was brought in as the permanent replacement. Indiana finished the year 28-54. With stability re-established, the Pacers perked up to 42 wins in 1989-90 and were back in the playoffs, but were swept by the Detroit Pistons.
In 1990-91 they ran it back for 41 wins, but this time got into a hellacious fight with the 56-win Boston Celtics. It was one of the more memorable first-round series in NBA history and we'll be looking at it very soon in Almost Upset.
But first we got a throwdown between the Washington Bullets and Pistons from 1988 to check out.