Billy Paultz
In a 1972 game against the Squires, [Paultz] hit his first eight shots, and finished with 13 field goals in 15 attempts. Rick Barry scored 43 points and John Roche 37 points that same evening. "I get 33 and I'm the third high scorer on the team," complained Paultz. "Are you kidding me?"
Via Complete Handbook of ProBasketball by Jim O'Brien
Now there's an insightful quote into both, Billy Paultz and the ABA. The league was portrayed as flash and pizzazz, glitz and glamor. On a night where Paultz went a-wreckin' for 33 points on 13-15 shooting, he's still not the brightest light shining on the court. Nonetheless, Paultz revealed his affable and self-effacing personality while discussing his misfortune. Barry and Roche may have overshadowed him that night, but for someone with no organized basketball experience until his senior year in high school (1966) Paultz was doing quite well for himself.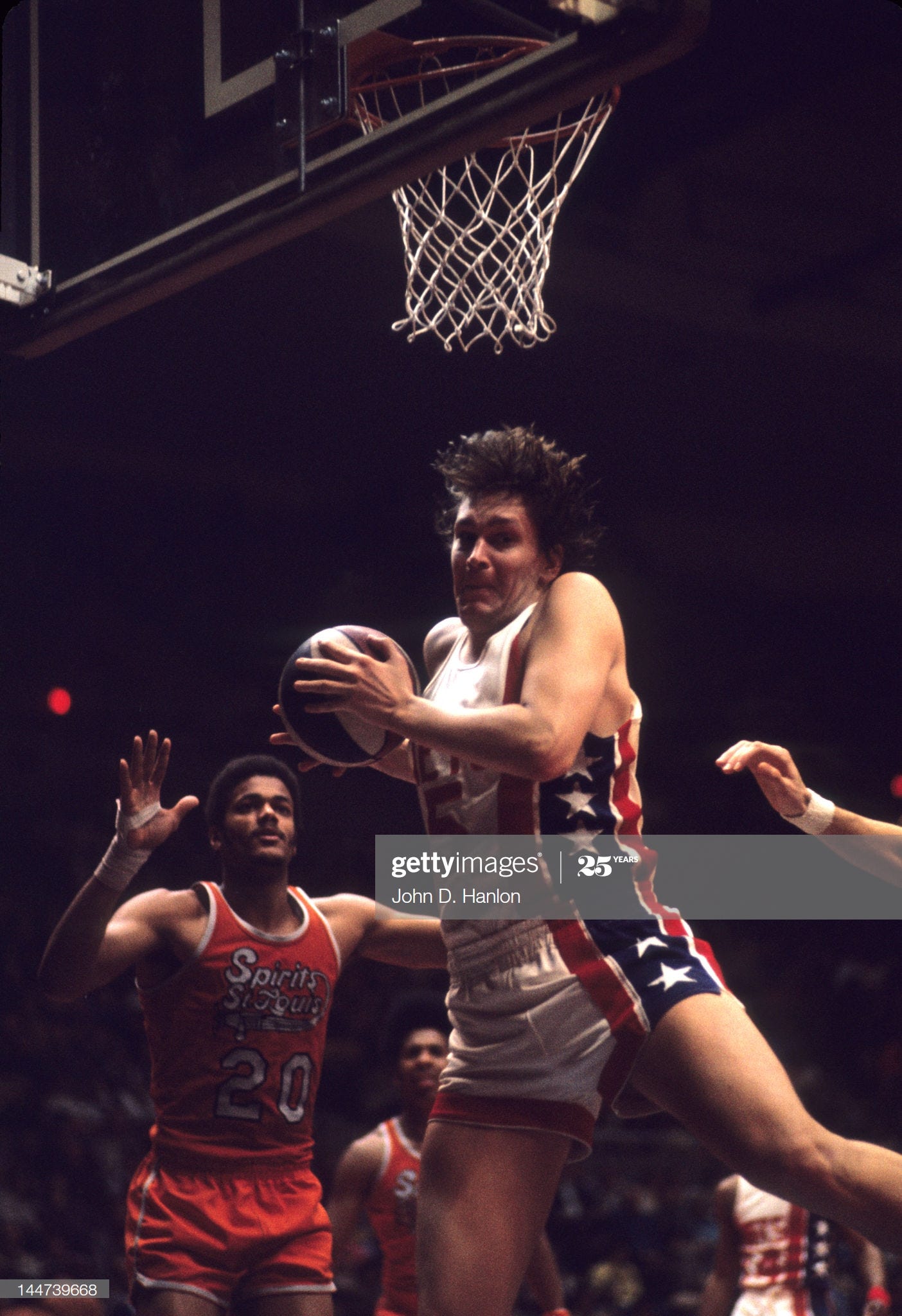 In 1970, Paultz was drafted by both the NBA and ABA. The San Diego Rockets took him in the seventh round while the Washington Capitols took him in the fourth round. Not exactly a rousing endorsement from either league. But the Caps signed the big man in June 1970.
By the time the ABA season started, however, Paultz was in New York City. This can be attributed largely to the Caps being a ragamuffin franchise. Just a year earlier they were the ABA champion Oakland Oaks. But they were broke so moved cross country to Washington, DC, for a year. Still broke, they now fled for Virginia to become the Squires. In their Old Dominion digs the muffin rags still played it cheap then and for years to come.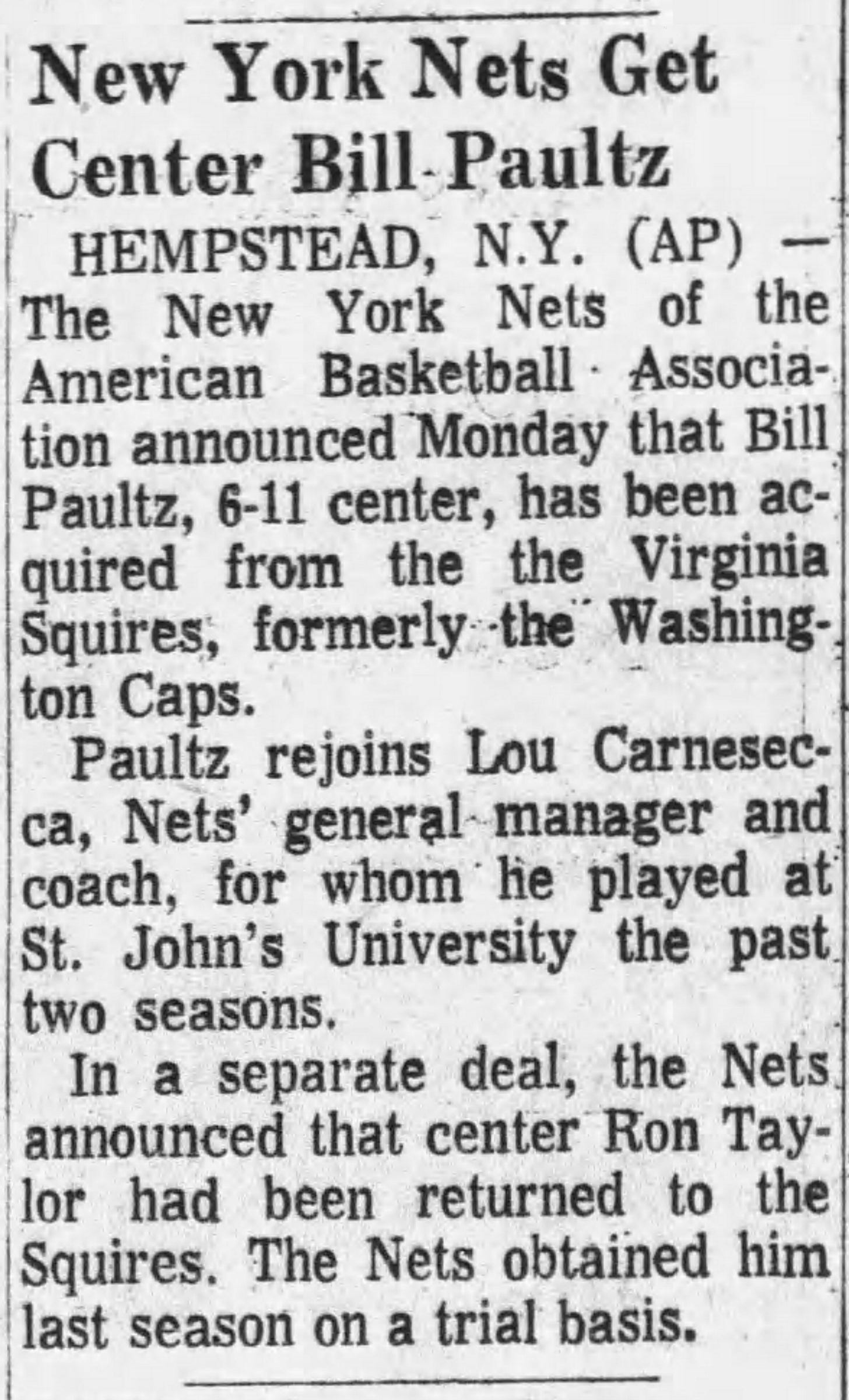 Hartford Courant, August 11, 1970
What the Nets got was a relatively uncoordinated heap of man that would be nicknamed "The Whopper" for his well apportioned waistline and the hamburger that kept it so. Fortunately, former St. John's coach Lou Carnesecca was now Nets coach. And Paultz had played for Lou at St. John's.
Perfect synergy like this old Burger King commercial!
Nets teammate Rick Barry, another former Cap dealt away, quipped "I didn't believe he could possibly make it," while O'Brien added two more cents on Paultz: "An ardent surfer, but the way he moved at the outset of his rookie season it was hard to envision him keeping his balance on shore let alone sea." Off-balance or not, the Whopper averaged 14.7 points and 11.3 rebounds a game during his rookie year.
That production would basically be replicated throughout his tenure with the Nets (1971-'75) and also with the San Antonio Spurs (1976-'80). About 15 points and about 10 rebounds on 50% shooting. Despite his size, 6'11" and approximately 265 pounds, Paultz actually did a lot of his shooting from the outside with a steady jumper and an awkward, sweeping hook shoot. On defense, his unspectacular foot speed was more than offset by his imposing frame and great timing on when to move thus making Paultz a shot-blocking presence in the middle.
During his sophomore ABA season the Nets made a run to the Finals with Paultz averaging 17.7 PPG and 15.2 RPG that post-season. To reach the Finals, Paultz delivered 18 points and 24 rebounds in Game 7 of the 1972 Eastern Division Finals. The Nets won 94-88 over, you guessed it, the Squires. Bet Virginia wished they had kept Paultz at that point.
(Paultz playing his former teams in the playoffs will be a recurring theme. Keep an eye on it.)
In the Finals versus the Indiana Pacers, the Nets lost in a tough six game series. Paultz continued his supreme play. Game 3 of the Finals was a particularly great outing where he produced 30 points and 18 rebounds on 12-15 FGs in a 110-105 New York win.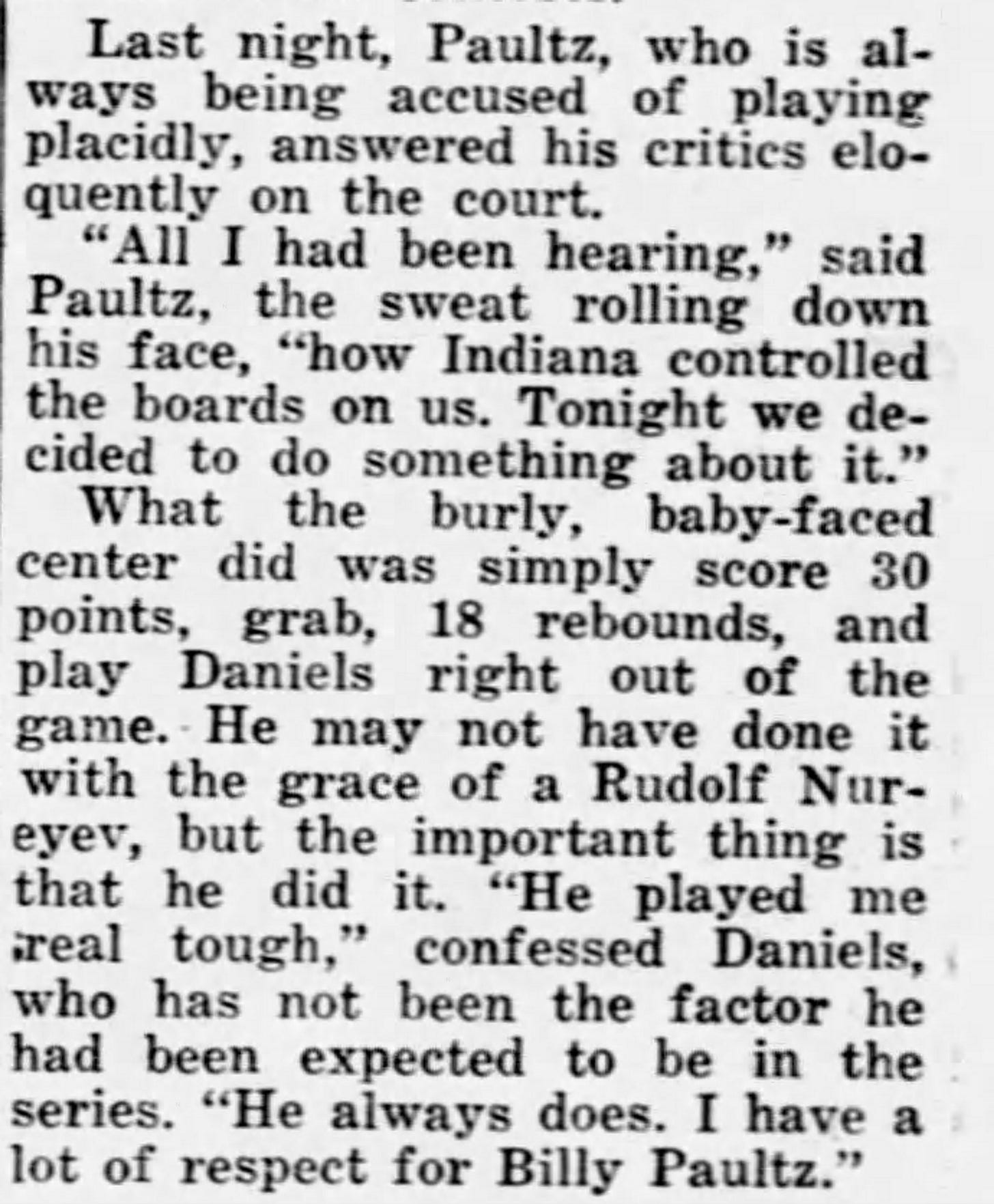 New York Daily News, May 16, 1972
Well the Nets didn't win the title that year and they sure as hell weren't winning it the next. Although Paultz played in his first ABA All-Star Game, the Nets won just 30 games and missed the playoffs in the 1973 season. The big culprit there was Barry rejoining the Golden State Warriors in the NBA and leaving New York bereft of a go-to scorer.
However, the ragamuffin Squires gifted the Nets yet another star in the summer of '73: Julius Erving.
Doctor J was clearly the engine of the squad (27.4 PPG, 10.7 RPG, 5.2 APG, 2.4 BPG, and 2.3 SPG) but Paultz did his duty. The Whopper clogged the lane on defense and opened the key on offense for Doc. Honestly this Nets team was perennial juggernaut in the making. Besides Paultz and Erving, they had Larry Kenon, John Williamson, Wendell Ladner, Brian Taylor, and Mike Gale. All aged 25 and under.
And they won the 1974 ABA title.
Finishing the regular season with 55 wins, the Nets went a combined 12-2 in the playoffs with nine of those victories coming by double-digits. And one of those losses was by a single point.
Shockingly, though, the Nets didn't repeat as champs. They didn't even get to the Finals. Despite 58 wins in 1975, the Nets were upset in the playoffs by the Spirits of St. Louis. That series ended with a 108-107 Spirits win in Game 5. Paultz disappointed in that game with only eight points versus St. Louis.
Looking for a new look, in separate trades that off-season Kenon, Gale, and Paultz were shipped to San Antonio. Paultz also shed a good 20 pounds:
"I'm a little quicker, I guess," said Paultz of his loss of weight. "I'm blocking more shots (he's leading the ABA) this year if that's an indication. The trade actually wasn't a definite thing until September. I was going to camp with a loss of weight and a good attitude no matter which camp I was in."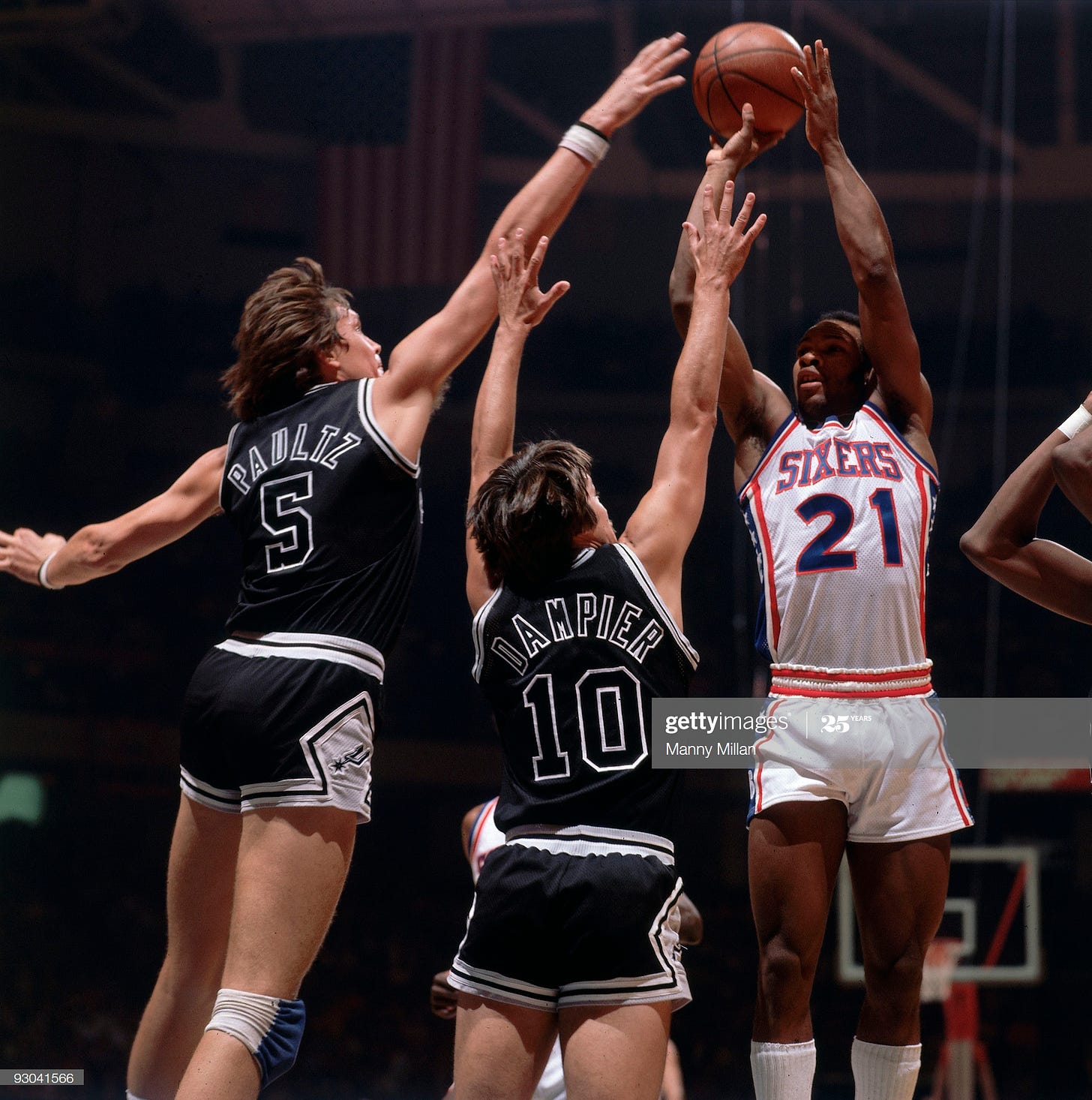 In his final ABA season, Paultz had the best statistical year of his career: 16.5 PPG, 10.4 RPG, 4.1 APG and a league-leading 3.0 BPG. Guess shedding a little weight did do him well.
In playoffs, Paultz's Spurs were defeated by… the Nets. San Antonio by my estimation had the better team than New York. Well, until James Silas went down hurt in Game 1. Despite not having their team captain, Paultz, Kenon, and George Gervin (another Squires giveaway) took the Nets to seven games. But Erving was a man possessed. He would also bust the chops of the Denver Nuggets in the Finals—another club better on paper than the Nets.
Anyways, that summer the ABA and NBA finally merged after decade of rivalry.
During his first three NBA seasons, Paultz kept up his good play: 14.3 PPG, 8.2 RPG, 2.5 APG, and 2.0 BPG. The Spurs slowly crept up the Eastern Conference ladder these years. (Yes, Eastern Conference. Not a typo.)
In 1977: 44 wins, first round appearance.
In 1978: 52 wins, lost in the semi-finals.
In 1979: 48 wins, lost 107-105 in Game 7 of the Eastern Conference Finals.
Despite the escalating team success, the 1979 post-season revelaed the writing on the wall for Paultz's time in San Antonio. The 30-year-old center garnered just 22 minutes a night averaging 6.3 PPG and 7.7 RPG.
Indeed, his regular season averages of 11.5 points, 7.9 rebounds and 1.6 blocks hinted at his impending decline, but heroics still awaited the Whopper in the latter stages of his career.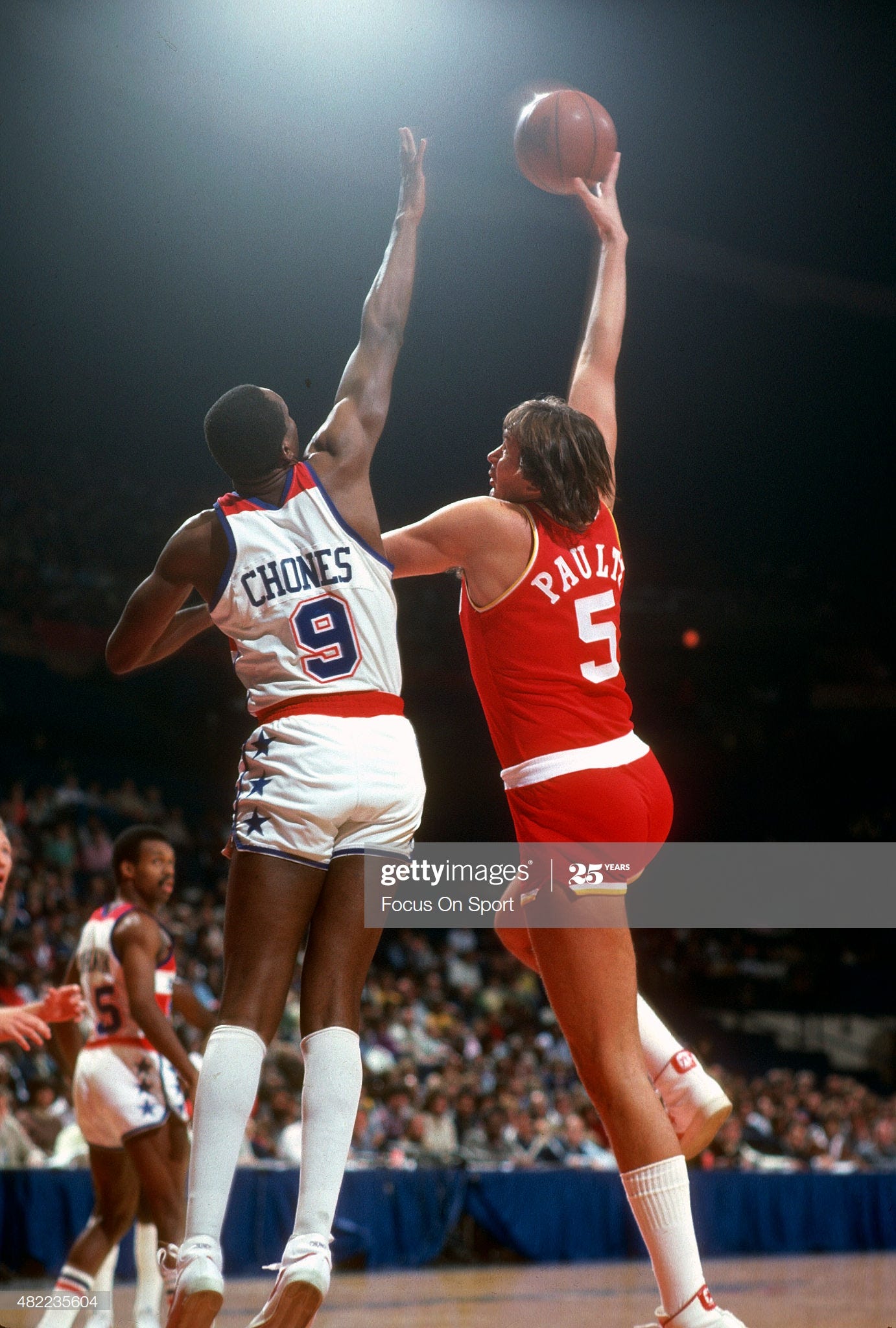 In January 1980, San Antonio shipped Paultz to the Houston Rockets. Providing a compliment to inside muscle man Moses Malone. The taller Paultz could relieve Moses of pressure by taking on bigger centers on defense. On offense Paultz would naturally float out on the perimeter allowing Malone to gobble up offensive rebounds like a hungry hungry hippo.
That postseason, Paultz got some sweet revenge as the Rockets ousted the Spurs in three games in a first round series. Unfortunately, they were swept by Boston in the Eastern Conference Semis in a bloodbath. The Celtics won the games by 18, 20, 19, and 17 points. And honestly Paultz was horrible. Just 3.0 PPG and 4.5 RPG on .294 FG%.
The next year, the NBA finally consulted a map and moved Houston and San Antonio to the Western Conference.
Things looked grim for Paultz early in the 1980-81 season. During the first 38 games of the season he scored double-digits just eight times. After the calendar turned over to 1981, Paultz saw an uptick in usage. In 43 games he got double figures in 20 games.
The Rockets just snuck into the playoffs with a 40-42 record and Paultz proved essential for them in the 1981 post-season. In the first round, they dethroned the defending champion Lakers, 2-games-to-1. Paultz averaged 11 points and nine rebounds.
In the semi-finals, they squeezed by San Antonio in seven games. The Whopper served up 12.7 points and 6.7 rebounds a game against his old team and was talking that shit afterwards:

Austin American-Statesman, April 18, 1981
Next up, the Kansas City Kings were victimized in five games in the Western Conference Finals. Paultz had his best series of the playoffs with 12.8 PPG, 7.2 RPG, and .577 FG%.
Having reached the NBA Finals, Rockets coach Del Harris was quoted in the Parsons Sun acknowledging the role Paultz played in getting Houston's lineup configuration into a great place:
"This team developed over the year," said Rocket Coach Del Harris. "It wasn't until the last 30 games I began to insert Billy Paultz into the lineup. Robert Reid has become a man in the NBA the past few weeks. This team went from being a bunch of individuals going off in all sorts of directions to a team of individuals who love each other."
Facing the Celtics once more, but this time in the NBA Finals, the Rockets gave Boston a much harder fight. I mean it'd be hard not to after the previous year's debacle.
On the road, Houston lost by three points in Game 1 before snatching Game 2 by two points. Paultz had 14 in the first contest, 13 in the second. The teams split Games 3 and 4 as well back in Texas, but Game 3 was an ominous foreshadow. Houston lost by 23 points.
With the series tied 2-2, the Celtics finally snuffed out the Cinderella Rockets. Game 5 was taken by 29 points and Boston closed out the series, 102-91, in Game 6.
At this point, Paultz's time as a significant player came to an end.
The next year, Elvin Hayes was brought in by Houston, relegating Paultz to third-string center status. The Rockets waived Paultz in April 1983. The Spurs picked him up to finish out that season. He then played a year in Atlanta before finishing his career with the Utah Jazz in 1985.
That '85 postseason the world was treated to a final delightful Whopper moment in the deciding Game 5 of the Jazz's first round series against Houston, which Utah won.
After getting punched by Hakeem Olajuwon, Billy simply responded, "Is that the best you've got?"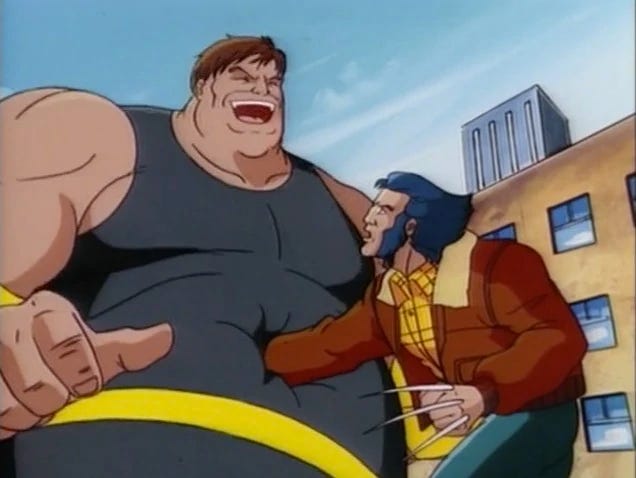 Paultz, 36 years old, and fellow big man Rich Kelley, 32 years old, were Utah's geriatric version of the Twin Towers to match up with the Rockets' young duo of Olajuwon and Ralph Sampson. They certainly didn't outplay Olajuwon and Sampson, but they certainly frustrated them lessening the potential damage from the young bucks. Kelley summed up their savvy efforts quite nicely:
"Billy knew he had more license to muscle Akeem after that [punch], because the refs knew they'd missed something," Kelley said. "All of a sudden you could feel Houston getting tighter. They'd take turnarounds from 12 feet out instead of eight. If there's one thing Billy and I know how to do, it's lean on people."
What made that game all the more amazing was that it was essentially the only time Paultz played in the playoffs. In that series-clinching game against Houston he logged 16 minutes going 3-5 from the field for six points and five rebounds.
Totals for the rest of the playoffs? One point and three rebounds in 14 minutes spread across four games.
Anyways, with that Paultz was done in the NBA. And what a career he'd had.
15 seasons in the ABA/NBA. Three All-Star Games. A championship in 1974. Laughing off an Hakeem Olajuwon punch. And always quotable…
"Things are never as bad as they seem. At least I'm hitting 50 percent of my dunks."