Bob Cousy - Scoring Machine
Last week we looked at Oscar Robertson ushering in a more centralized style of assisting in the NBA. Centralized meaning that one player took on an exceedingly large responsibility for distributing the ball to his teammates.
What Oscar fully unleashed in the 1960s was proto-typed by Bob Cousy in the 1950s.
These two point guards also shared an affinity for scoring the ball. Remarkably the two best assist-men of their respective eras also happened to be the best scoring point guards of the 1950s (Cousy) and 1960s (Robertson).
We got a look at Oscar's scoring on the horizon, so let's get into how the Cooz paved the way for the Big O.
---
SCORING MACHINE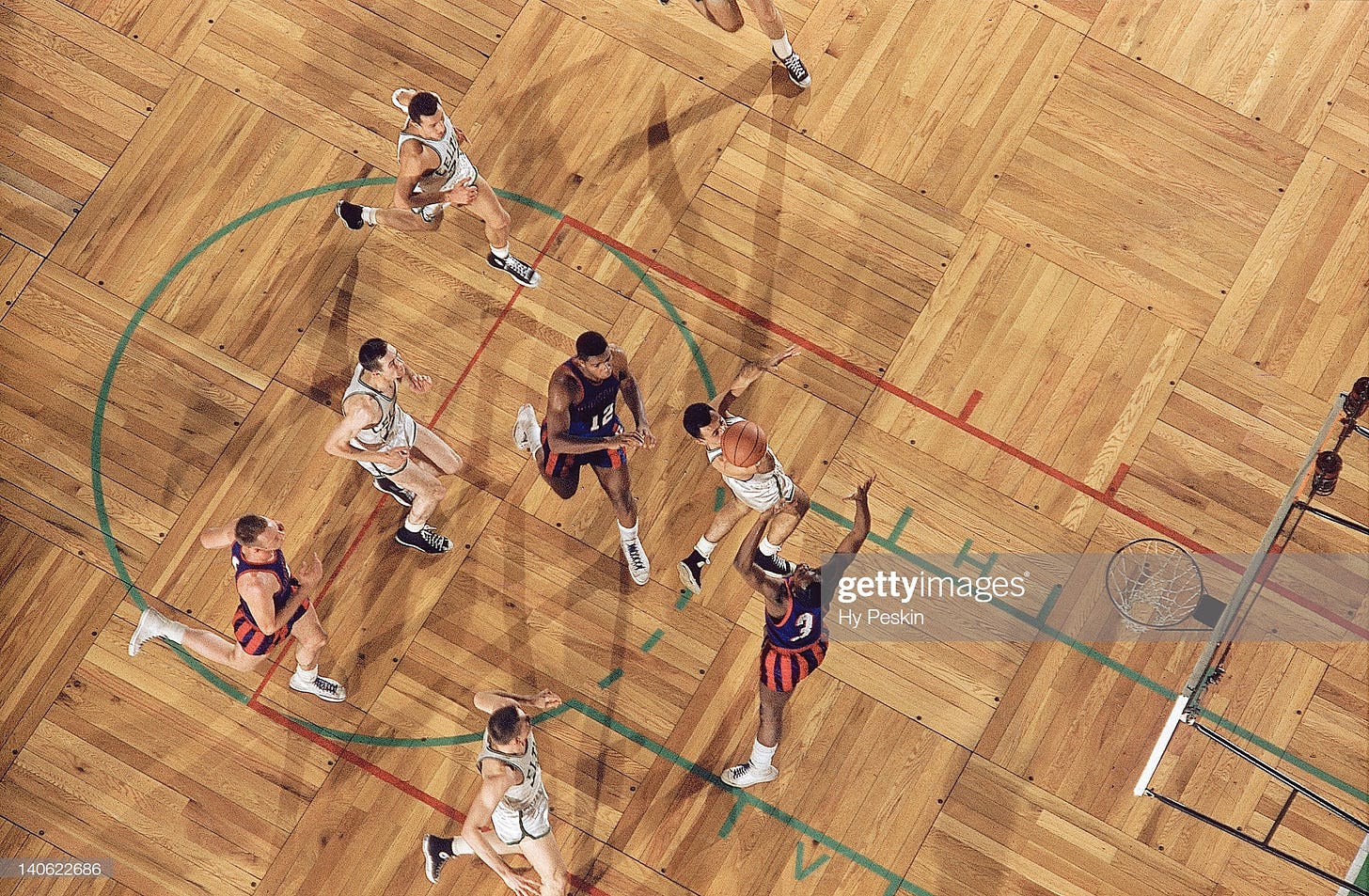 Naturally, Cousy securing eight consecutive assist titles - and the way he did it with the flashy no-look passing - has become the focal point of his legacy. And you'll get no argument from me there. He was super important in opening up the NBA's floor game to greater artistry.
However, the Houdini of the Hardwood's influence on making the little man a legitimate scoring threat - while simultaneously retaining playmaking duties - shouldn't be undersold.
Cousy averaged 18.4 PPG during his 13-year career.* In only three of those seasons did he fail to reach 18 PPG. Given that the first third of his career was prior to the shot clock, it actually is pretty impressive he pumped out those numbers.
*(we are not acknowledging Cousy's ill-fated seven-game comeback for the Cincinnati Royals. IT NEVER HAPPENED.)
Particularly there was a juicy four-year nugget where Cousy was a threat to lead the NBA in both APG and PPG every season. He clinched three of the four assists titles and was runner-up in PPG twice during this span.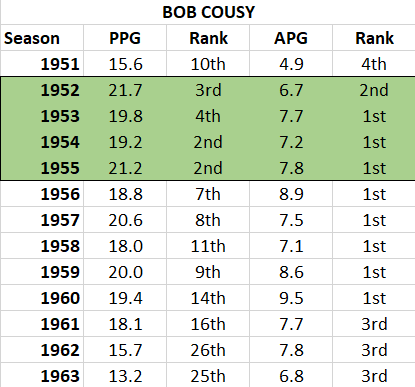 In 1952, Paul Arizin (25.4) and George Mikan (23.8) pushed Cousy (21.7) down to third place on the PPG ladder. As for APG, Andy Phillip (8.2) handily whipped Cousy (6.7).
In 1953, Cousy (19.8) slid to 4th place in PPG as Neil Johnston (22.3), Mikan (20.6), and Celtics teammate Ed Macauley (20.3) stood ahead of him. Beginning this same season, though, Cousy took control of the APG crown for nearly a decade.
In 1954, Johnston smoked the NBA with 24.4 PPG, but Cousy was second with 19.2.
In 1955, Cousy came the closest he ever would in leading the league in PPG. Johnston slipped down to 22.7 PPG, while Cooz inched up to 21.2 PPG.
Each of these seasons, Cousy was the league's top scoring guard.
And as you can tell, there were few 20+ PPG scorers in this era of basketball. You'd definitely get one, maybe two, and rarely three players hitting the average.
With the advent of the shot clock that began to change. Averaging 20 PPG became less of a novelty. In 1955, the season of the shot clock's introduction, just four players averaged over 20 PPG. By 1960 that number had grown to 13 players. Indeed the 30 PPG barrier was crossed that year by Jack Twyman and Wilt Chamberlain.
Cousy's own scoring average still hovered between 18 and 22 PPG these years. Relatively speaking, this means he slid down the ranks. This shouldn't be surprising since he was also getting older and the Celtics were acquiring more capable players easing the Cooz's scoring burden.
More assists for a playmaker like Cousy, I suppose.
Drop a dime like the Cooz. My bank account would appreciate it.
ACCURACY
Now a rightful note to bring up is Cousy's career FG% of .375.
Obviously not great for nowadays, but don't be too shocked. That shooting acumen was fairly in line with FG% for the time. It wasn't until the end of Cousy's career that his FG% appreciably fell behind the league average. The growing adoption of the jump shot was to blame for the increasing FG%.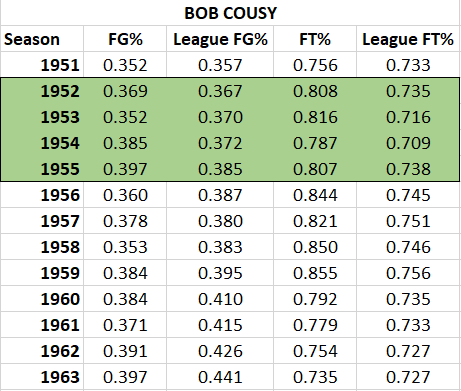 The jumper at the beginning of Cousy's career in 1951 was just gaining mainstream acceptance. By his retirement in 1963 it was the dominant shot in the NBA. It was a shot he never mastered. Instead, he kept on with his assortment of set-shots, running one-handers, fancy lay ups, and one-handed push shots.
As for free throws, Cousy was one of the best in the league. For six straight seasons (1952-57) he finished in the league's top 10 of free throw attempts. Then for eight straight seasons (1952-59) he was in the top 10 of FT%.
No surprise then that Cousy owns the NBA's record for FTMs in a single playoff game. On March 21, 1953, he made 30 of 32 FTAs in a 111-105 victory over the Syracuse Nationals.
DISCIPLES OF THE COOZ
Following in Cousy's footsteps were the aforementioned Oscar Robertson as well as lesser known stars like Richie Guerin. Robertson most replicated Cousy's impact, while Guerin showed that the model could be mirrored by players not quite on the Big O's and Cooz's levels, but that were still excellent.
Since then it's become perfectly acceptable to have your point guards - from Tiny Archibald to Russell Westbrook - to dime, score, drive, and everything in between.
So if you ever hear some old bozo griping about pure point guards, you can let them know that Bob Cousy 70 years ago was sundering that canard.
---
PURE LOVE