Bob Rule
Seattle's Golden Rule
Bob Rule was the first "homegrown" Sonics star.
Sure, Walt Hazzard was the first SuperSonic to appear in an NBA All-Star game. Hazzard, however, was a three-year veteran of the league when Seattle took him from the Los Angeles Lakers in their expansion draft of 1967. But he was one-and-done anyways as a Sonic. Gone after just a season.
Rule got his start in the NBA with Seattle and had a nice minute of greatness. Indeed, he was scoring force that should have been an all-time Sonics great. Didn't turn out that way, though.
---
ROOKIE SENSATION
Slinking away into obscurity is certainly antithetical to Bob Rule's NBA entrance. In 1967, the expansion Seattle SuperSonics selected him 19th overall. He certainly didn't disappoint as he gave good meaning to his surname.
In just his 20th career game, Rule had a historic night for the newborn SuperSonics. The center scored 47 points on November 21, 1967. And these weren't cheap, garbage time points. Seattle trailed the Los Angeles Lakers 100-99 entering the fourth quarter. Rule scored 15 points in the final period to lift the Sonics to a 137-132 win.
In addition to the 47 points, Rule also snared 16 rebounds and shot 17-27 from the field and an uncharacteristically hot 13-14 from the foul line.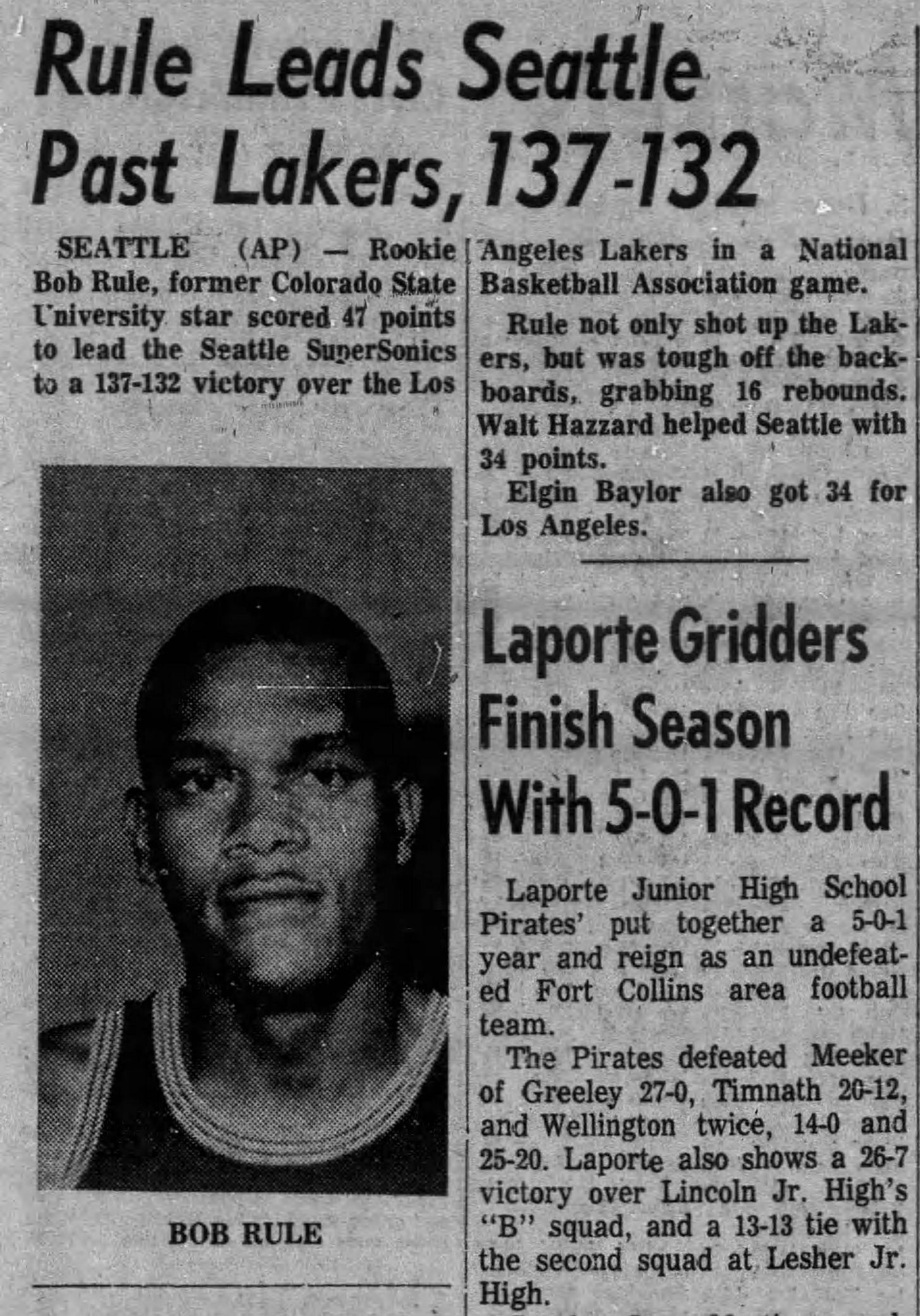 Fort Collins Coloradoan, November 22, 1967
Another standout contest from Rule's rookie year was when he gobbled up 27 rebounds to go with 20 points versus the New York Knicks on December 22. Any 20-20 game like that deserves praise, but remember the Knicks had the dual big man lineup of Walt Bellamy and Willis Reed at the time. Seattle's 120-108 road win versus New York gave them a 10-26 record. Obviously not good, but for an expansion team not too shabby.
The club pretty much kept up that pace finishing the year 23-59 under coach Al Bianchi. Point guard Walt Hazzard led the team in points (24.0) and assists (6.2) per game while veteran forward Tom Meschery led the way in rebounds per game (10.2).
Rule's numbers were still delightful as he was second to Hazzard in PPG (18.1) and Meschery in RPG (9.5) while leading the team in FG% (.489). With those kinds of numbers, in just 29.6 minutes a game no less, Rule was an easy choice for the NBA's All-Rookie 1st Team. Seattle had some kinks to work out on the roster—as any expansion club does—but the center spot was seemingly in good hands.
---
SOPHOMORE SLUMP? NO, SIR!
For his next season, Rule unleashed a reign of destruction on his fellow centers. Averaging 24.0 points and 11.5 rebounds per game, Bob was beastly during the 1968-69 season. That scoring average was second only to rookie Elvin Hayes among all NBA centers. Yep, he beat out Hall of Famers like Wilt Chamberlain, Willis Reed, Walt Bellamy, Nate Thurmond, and Zelmo Beaty.
His scoring rise could certainly be attributed to more playing time (37.9 MPG in 1969 vs. 29.6 MPG in 1968). The same could be said for Hayes who averaged 28.4 PPG on a marathon 45.1 MPG. On a per 36 minute basis, though, Rule edged out Hayes for the NBA center lead in scoring. Rule had 22.8 points per 36 minutes compared to Hayes's 22.7. Also, Rule had a .511 TS% which was better than Hayes's .483.
It certainly didn't hurt Rule that Seattle was gifted a legendary point guard in Lenny Wilkens that season too.
Hazzard was a very good, even All-Star caliber, player. But trading him to the Atlanta Hawks straight-up for Wilkens was a swindle. Although several years older than Hazzard, the 31-year-old Wilkens averaged 22.4 PPG, 8.2 APG, and 6.2 RPG alongside Rule.
And although Seattle was not yet a playoff team, they were certainly on the rise and on any given night could give the NBA's best some trouble.
Exhibit A on this point: a November 8, 1968, game versus the Boston Celtics. The Cs would go on to win the NBA title that season, but the Associated Press recap gushed about Rule's domination of that November game.

Lansing State Journal, November 9, 1968
Bill Russell, the Boston Celtics' player-coach who revolutionized pro basketball with defensive play way back when, still may be able to psyche some newcomers but not Bob Rule of the Seattle SuperSonics.

Rule, who averaged 21 points in seven games against the Celtics last year, once again showed Russell little respect last night as he led Seattle to a 114-112 National Basketball Association victory over Boston. The 6-foot-9 pro sophomore from Colorado State U. manhandled Russell as he scored 37 points, including 26 in the second half and 11 straight as Seattle was coming from behind in the final period.
Like any smart big man, Rule made sure to give plenty of praise to his point guard. He also showed an intelligence observing the defensive pressure he received, or lack thereof.
Rule said he didn't play the 34-year-old Russell any different than in the past. Instead, he credited veteran backcourt star Lennie Wilkens, obtained last month from Atlanta.

"I was getting good passes," Rule said. "Lennie was throwing them right on the money. When you get passes like that it's hard for a man to stop you—especially if he's not getting help. Russ wasn't getting any help from his weak side. Several times he was helping other guys when I got the ball. He's still one of the toughest in this league. It's between him and Nate Thurmond of San Francisco. Wilt Chamberlain is great when he wants to play defense."
That 114-112 victory put Seattle at 4-9 on the season. Their highwater mark came on December 7 when they beat the San Francisco Warriors, 115-107. Rule had 31 points and 13 rebounds, Wilkens offered up 18 points, 12 assists, and 10 rebounds. That win put them at 13-18 on the young season.
Thereafter Seattle scrounged up a 30-52 record overall; a seven-win improvement on the previous season.
The center spots on the All-NBA team deservedly went to Wes Unseld and Willis Reed. And Rule missed out on an All-Star slot, but recognition would soon come his way. The Sonics would improve yet again the following season as the southpaw kept up his scoring splendor.
---
THIRD GO AROUND
The Sonics continued their rise by improving their roster. In addition to the core of Rule and Wilkens (who was now player-coach), the Sonics boasted very good depth at guard with rookie Lucius Allen and the spectacularly solid Dick Snyder (just 25 years old). At forward, veteran Tom Meschery kept on truckin' while the seasoned Bob Boozer was added.
This was a great blend of youth and age, if Seattle played its cards right. And for a majority of the season, they did. After a 7-19 start, Seattle finished the year 29-27 for a total record of 36-46. Yet another six-win improvement that augured an impending playoff apperance, especially since they missed out on the West's final playoff spot by three games with that 36-46 record.
Personally, the 1969-70 season also saw more of the same from Rule: 24.6 PPG and 10.3 RPG.
Rule finished third in scoring average among all centers as another hot shot rookie entered the league. Kareem Abdul-Jabbar led the way with 28.8 PPG, followed by Hayes with 27.5 PPG and then Rule's 24.6 PPG. Hayes again lagged behind Rule in per 36 numbers and TS%.
Kareem was a different beast, though. He barely edged out Rule with 24.1 points per 36 minutes versus 23.9 for Rule. Rule was blown out the water by Kareem's efficiency though. A league-leading .552 TS% for Abdul-Jabbar versus .506 for Rule. But it's Kareem. Maybe the greatest player ever, so no tears or shame for Rule on that front.
Rule also continued to show that he had no nerves going up against the NBA's other top-flight centers. Playing against the Knicks once more, Rule showed out with 28 points and 14 rebounds. It wasn't just the total production that mattered, it came in a timely fashion.
Granted, the eventual NBA champs played the game without Walt Frazier, but the Knicks' roster still outclassed Seattle without Clyde. Nonetheless…
"I've been attempting to get our guys to believe in themselves and they believe they can do the job," Wilkens said after the last-place Sonics ended the Knicks' road game winning streak at 13. "We had a team meeting before the game and I told Bob Rule, Bob Boozer and John Tresvant that we had to play a strong board game, or we'd be out of it.

The front line men obviously took the message to heart as they outrebounded the Knicks 65 to 54. Rule led the way with 14 rebounds.

….

Rule, whose 28 points nullified a 27-point performance by New York's Mike Riordan, scored 14 points in the final quarter to pace the Sonics.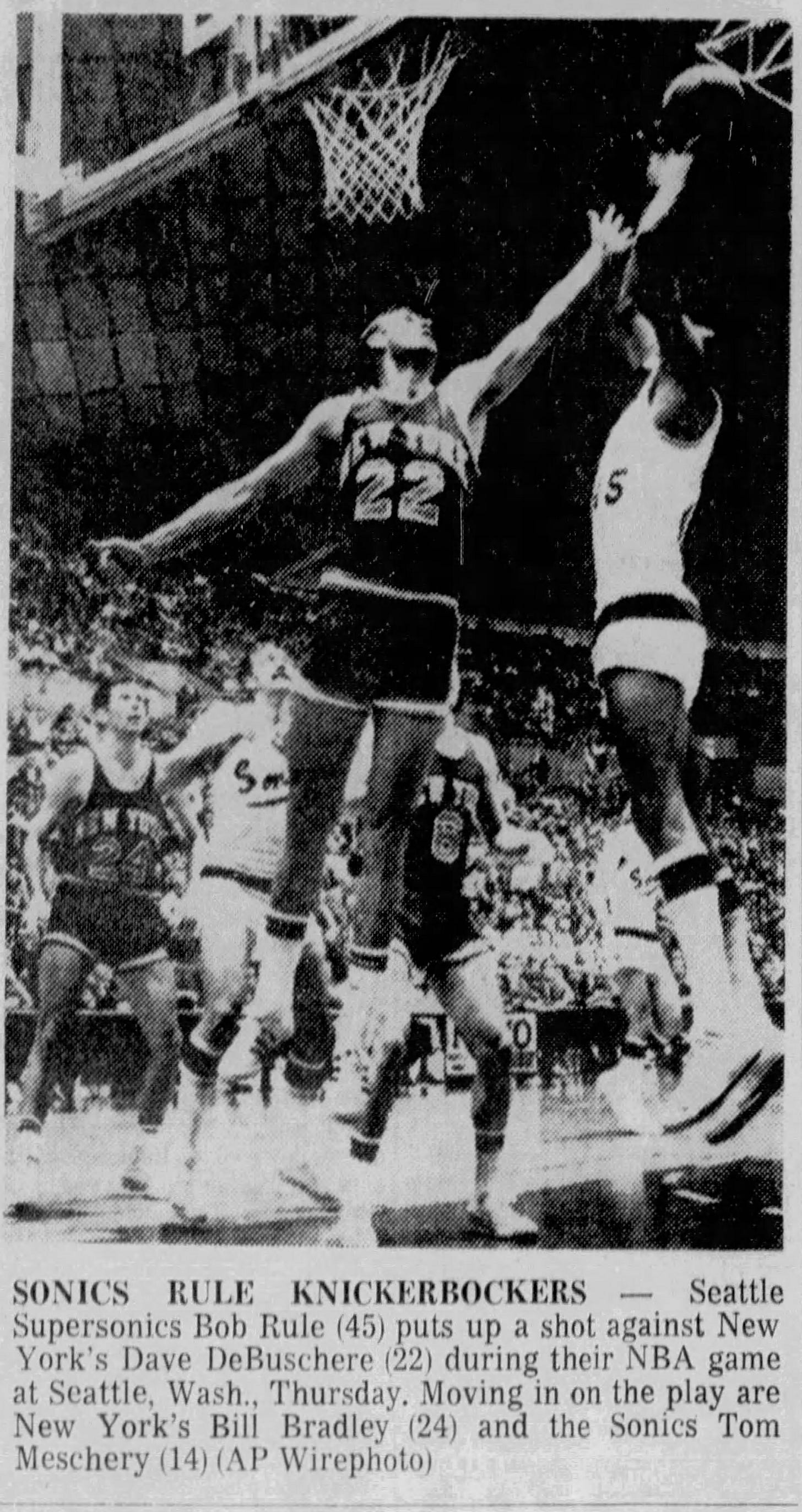 Shreveport Journal, December 12, 1969
That victory was Seattle's third in a row that jump-started their 29-27 finish to the 1970 season. In recognition of his critical role in Seattle's continued success, Rule was named to his first and only All-Star team that season.
---
SNAP
The 1970-71 Seattle SuperSonics… what could have motherbleeping been…
The Sonics finally got legitimate playoff depth.
Now, the team did overpay for backup center Zaid Abdul-Aziz (aka Don Smith) as they traded Lucius Allen and Bob Boozer the Milwaukee Bucks, but Abdul-Aziz could ball. Rookie Pete Cross also wound giving good minutes at the position.
At guard, Snyder followed up his solid 1970 campaign with a breakout 1971 season averaging 19.4 PPG and 4.3 APG. That'll do for a starting shooting guard. Despite being 33, player-coach Wilkens still chugged along fine at point guard with 19.8 PPG, 9.2 APG, and 4.5 RPG. Backing them up was second-year man Lee Winfield.
At forward, Meschery was again solid in his final NBA season. The Sonics also added veteran jumping jack Don Kojis. The two 32-year-olds combined to average 23.9 PPG and 11.6 RPG.
And in late December, the Sonics signed the ABA's 1969 MVP Spencer Haywood. That'll more than shore up the power forward spot!
Yet Seattle finished with only 38 wins that season and missed the postseason in the competitive West. Hell, Detroit (45 wins) and Phoenix (48 wins) both missed the playoffs too. Obviously 38 wins wasn't bad, but it was disappointing considering Seattle jumped from 23 to 30 to 36 wins over the previous seasons.
What the hell happened?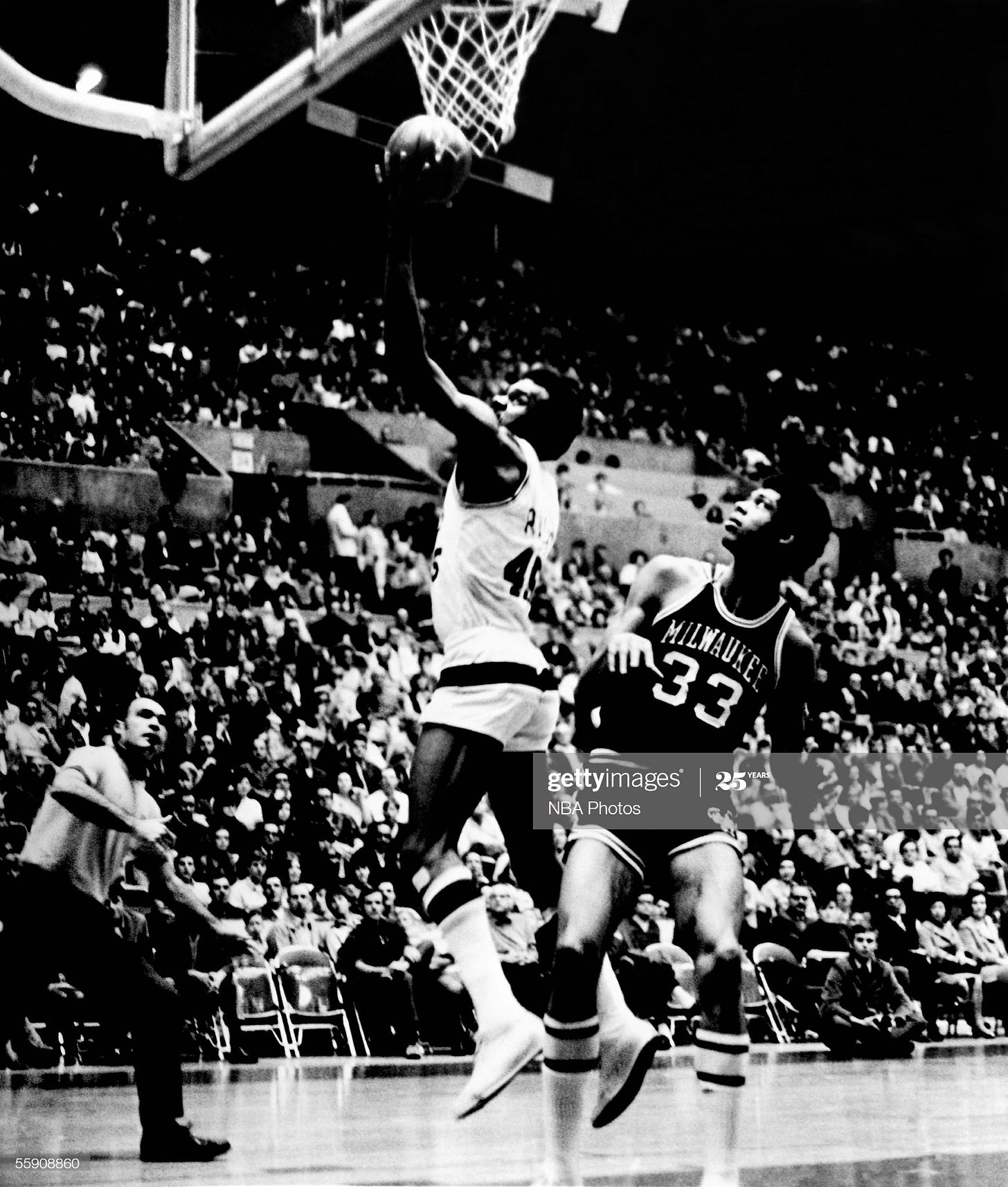 Well, the first problem was that Rule was unhappy with his contract. Not surprising, since this was THE era for NBA/ABA holdouts.
The Sacramento Bee reported on October 14, 1970, that Rule had rejected a contract offer from Sonics owner Sam Schulman. "I had hoped that we would reach an agreement Wednesday and I'm very disappointed that we didn't," Schulman lamented. "I offered $60,000 with a chance for him to make $90,000. They wanted $75,000 with the same added incentives."
Perhaps looking to entice potential trade suitors, or simply showing Seattle he was worth the requested bounty, Rule came out on a motherbleeping tear to start the 1970-71 season. The same day he rejected the contract offer, Rule scored 37 points versus the Detroit Pistons in a season-opening loss.
The performance seemed to settle the contract dispute. On October 16, news was reported that Rule and the Sonics had come to terms on a one-year contract. No financial details were revealed to the press, but general manager Bob Houbregs said both sides were happy.
The final number likely came down somewhere between $60,000 offered by Seattle and Rule's demand for $75,000. In any case, it was certainly an improvement on his base salary of $28,500 he had for 1970.
With the new contract, Rule kept punishing opponents. On October 17, he decimated the Celtics with 36 points and 15 rebounds in a 12-point win. On the 21st, he assailed the Suns for 25 points and 17 rebounds in a 110-106 win.
On October 23, Rule was doing his best work yet with 21 points in 21 minutes on 8-13 FGs and 5-5 FTs versus the Portland Trail Blazers… and then he tore his Achilles.
Losing Rule to that ruptured tendon would have sucked at any moment, but the Sonics, for the first time in franchise history, had moved into first place in the Pacific Division.

Longview Daily News, October 24, 1970
After losing Rule, the 3-1 Sonics promptly lost four games in a row by an average of 19 points before getting settled down. The addition of Haywood helped, but he was limited to just 33 games himself as a series of court injunctions on his status to play in the NBA would keep his availability questionable nearly every night.
Returning for the 1971-72 season, Rule was now a forgotten man in Seattle. Relegated to a bench role, he averaged 7.1 PPG in 15.2 MPG. The 22-year-old Haywood, now clear of all legal troubles surged to 26.1 PPG and 12.7 RPG that season.
With second-year forward Gar Heard and center Zaid Abdul-Aziz playing well, the Sonics had no use for their Golden Rule and he was traded to the Philadelphia 76ers in late November of 1971. The return was a measly second round pick.
(In the ever-tough West, the Sonics surged to 47 wins that season BUT STILL MISSED THE PLAYOFFS! Meanwhile in the East, the 38-win Bullets and 36-win Hawks made the postseason.)
---
RUNNING OUT THE STRING
The undersized 76ers were desperate for any help they could get at center. Dennis Awtrey and over-the-hill Luke Jackson (who had suffered an Achilles tear of his own years earlier) weren't going to cut it.
Rule actually proved reliable enough. In his 60 games with the Sixers that season, Bob averaged 17.3 points and 8.0 rebounds per game. Obviously respectable given the injury he had fought back from, but Rule's explosiveness was predictably gone. The Sixers slogged to just 30 wins on the back of superstar Billy Cunningham, who soon ditched them for the ABA's Carolina Cougars.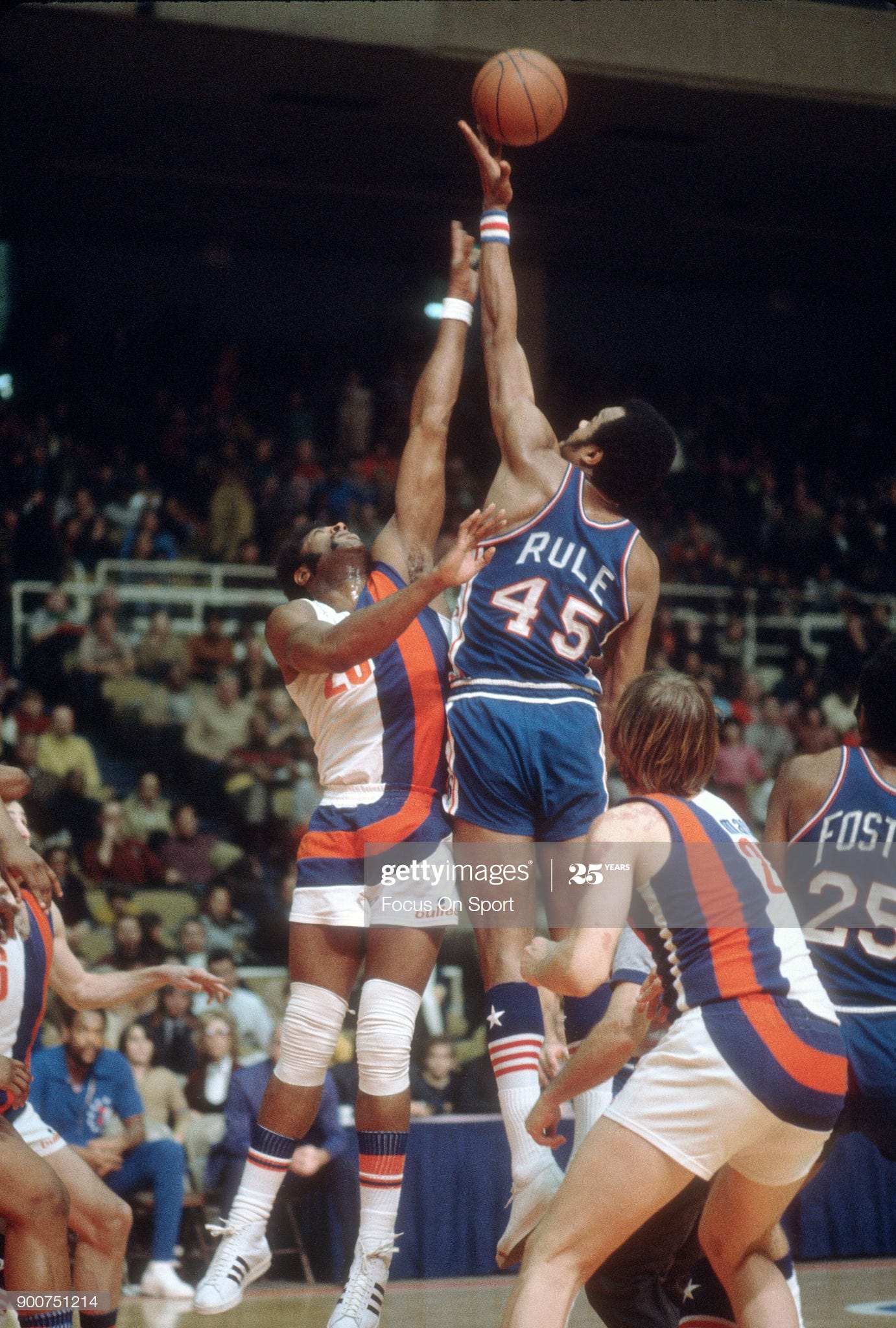 Rule was on the move too.
Three games into the 1972-73 season, he was traded by the Sixers to the Cleveland Cavaliers for Dave Sorenson. After his respectable comeback year, Rule mustered just 2.7 PPG across 52 games in the 1973 season.
For the 1973-74 season, Rule averaged 7.2 PPG for the Cavs in 26 games before the club waived him on December 1st.
Cavaliers coach Bill Fitch was pretty blunt on the matter speaking with the Akron Beacon Journal.
"Bob was making a super salary," Fitch explained. "By putting him on waivers, he has a chance to negotiate his salary with a team that might need him. If he's traded, the club that gets him has to take him with his present salary.

"I just hope Bob doesn't give up trying. But it got to the point around here where Steve [Patterson] and Jim [Brewer] were playing pretty well, and that's a lot of money to pay a player who sits on the bench."
No one came calling for Rule until the 1974-75 season when the Bucks signed him.
In an AP write-up from October 29, 1974, Rule expressed optimism on his chances to stick around. "It won't bother me to be the backup center to Kareem when he gets back [from an eye injury]," Rule stated. "I accept that fully." The former All-Star continued, "I know I can become the kind of player I really am, the kind I was in Seattle. At other places, they expected me to be something else."
Unfortunately, the optimism was misplaced. Rule appeared in one game for the Bucks before being waived again. It was the end of the line.
And it's a sad reminder of just how fleeting athletic success can be. Rule was one of the finest offensive centers in the NBA for three seasons and was in the midst of his finest campaign yet when it all vanished, quick as a snap.