From Double TC to Zero Hope
How the Clippers lost Terry Cummings, Tom Chambers, and the future
As you may be shocked to learn, the San Diego Clippers started the 1980s not that bad. In 1978-79, the franchise's first in Southern California, they won 43 games. In 1979-80 they did droop to 35 wins and then held steady at 36 wins in 1980-81.
1981-82 is when the bottom fell out. The team collapsed to 17 wins. The silver lining was that rookie forward Tom Chambers averaged 17 points and seven rebounds. For the 1982-83 campaign the Clips improved to 25 wins thanks to adding another superb forward, Terry Cummings. On his way to Rookie of the Year honors, Cummings averaged 23.7 points and 10.6 rebounds.
Yet, by the 1986-87 season—with no Chambers, no Cummings, and no hope—the Clippers suffered the worst season in franchise history with a 12-70 record.
How the hell did that happen?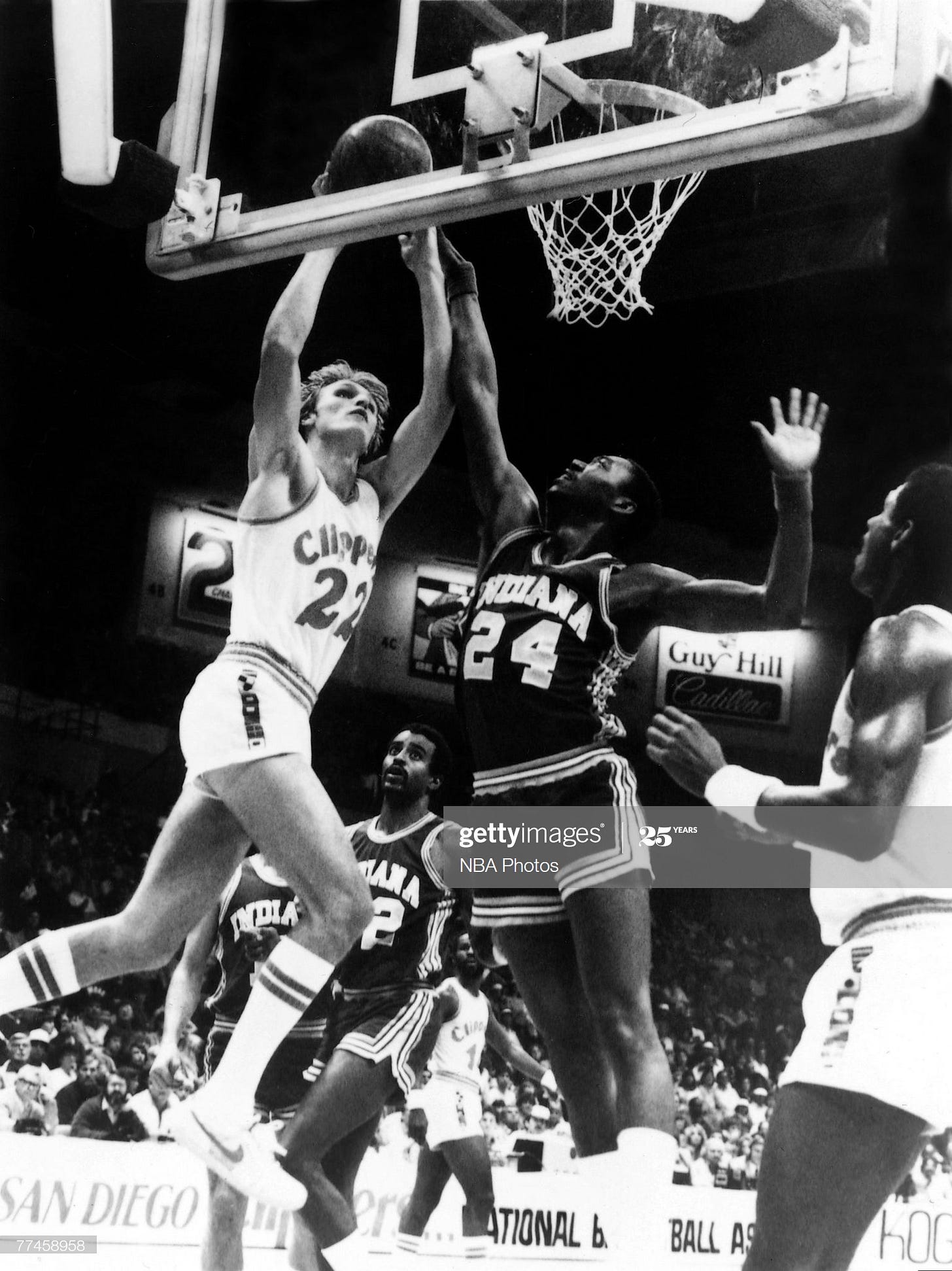 First off, let's give the Clippers some credit for taking Chambers eight overall in the 1981 draft, which was pretty loaded. If San Diego was keen on a forward, hard to dispute their choice of Chambers given who was available. The only other forward taken behind him who could be considered better was Larry Nance (and I do consider Larry to be better than Chambers), who was taken 20th overall.
However, the Clippers had been purchased by Donald Sterling in May 1981 and his mismanagement was already evident. (SPOILER: He's the source of awfulness.) As October rolled around the rookie Chambers was still unsigned by San Diego. Sterling was peeved that Chambers was reportedly seeking one million dollars over three years, but relented a week before the season began.
The Los Angeles Times on October 23 reported that Chambers actually snagged a four-year, $1.5 million contract. Tom was quick to soft-pedal expectations: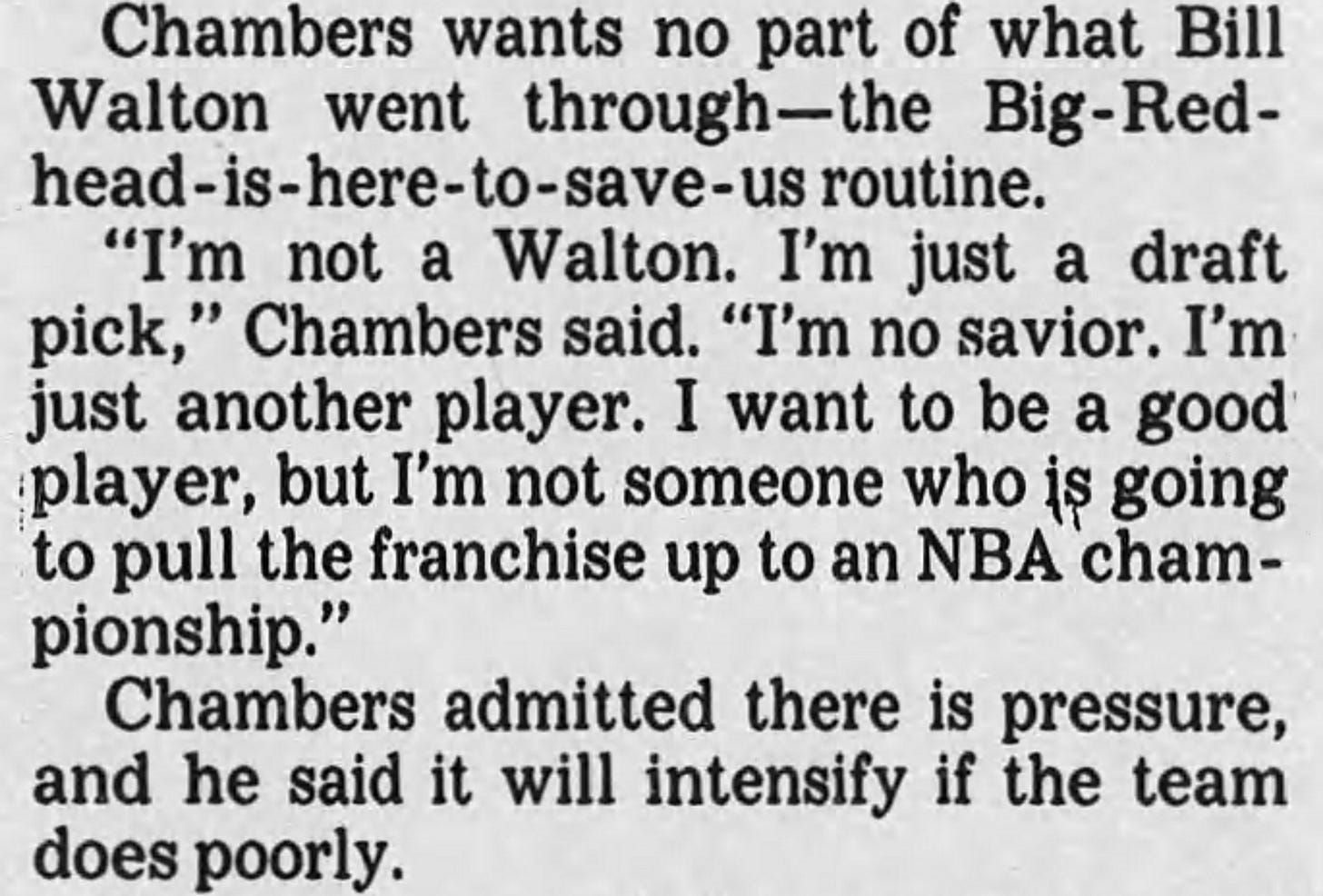 Los Angeles Times
, October 23, 1981
As mentioned in the intro, Chambers piled up a very respectable rookie campaign. Indeed, in just his fourth NBA game, Chambers dumped 35 points on the Milwaukee Bucks. And his best game of the year came on the final night of the season: 39 points, 10 rebounds, 14-19 FGs, and 11-14 FTs.
In between, though, was a whooooole lot of losing that proved Chambers prescient in lowering expectations. On March 9, 1982, the Clippers stood with a horrific 16-46 record. They proceeded to rip off a 19-game losing streak that was broken only by Chambers's aforementioned "best game of the year."
So little wonder that San Diego got themselves the second overall pick in the 1982 draft after sporting that 17-65 record. With the pick, they shored up their youthful front line by selecting another T.C.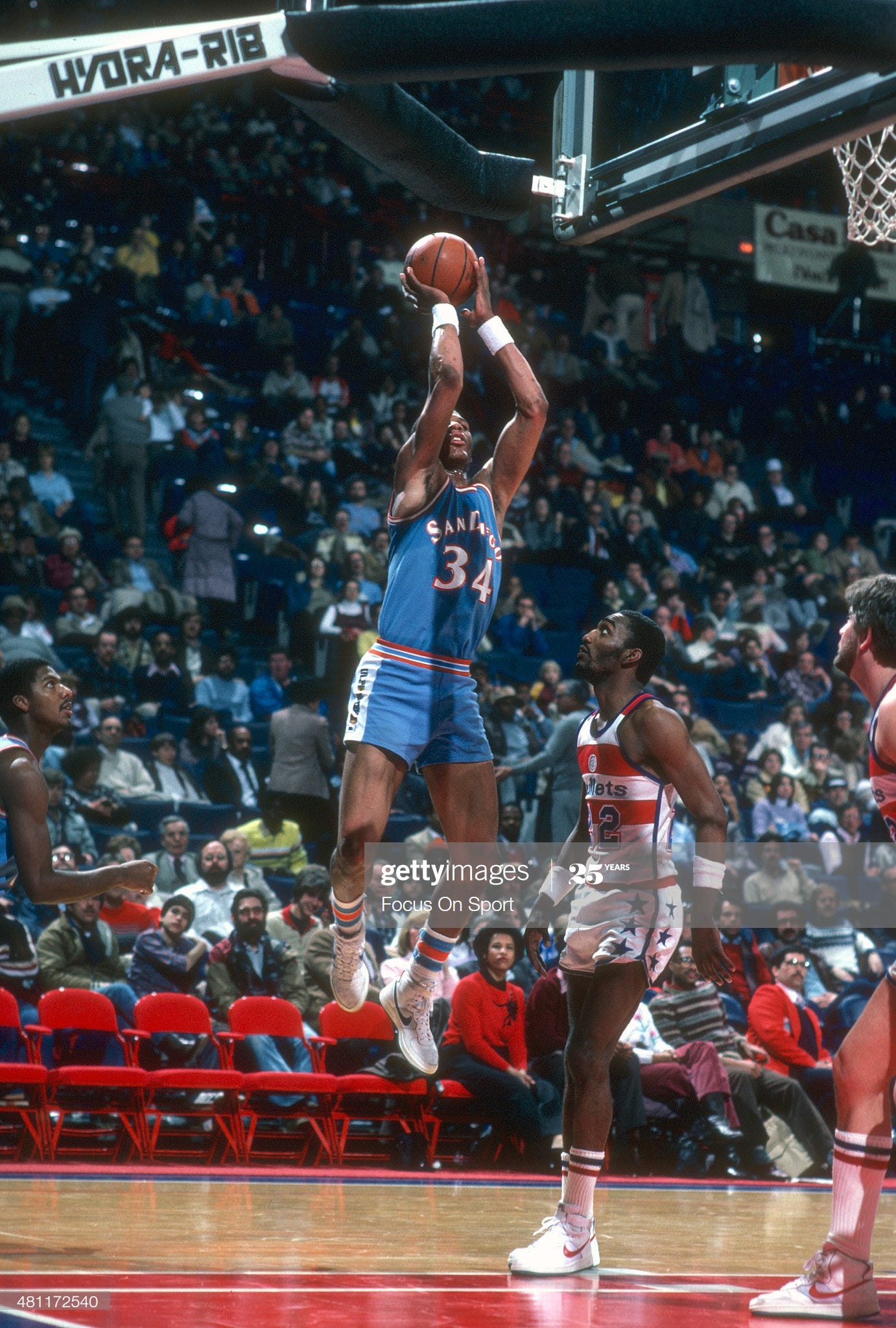 In addition to the two T.C.s, the Clippers had more reason for optimism. In the deeper reaches of the 1982 draft, the club had nabbed Craig Hodges with the 48th pick. Plus there was the return of Bill Walton after two seasons missed because of injury.
However, like the old T.C., the new T.C. had a hard time coming to terms with Clippers management.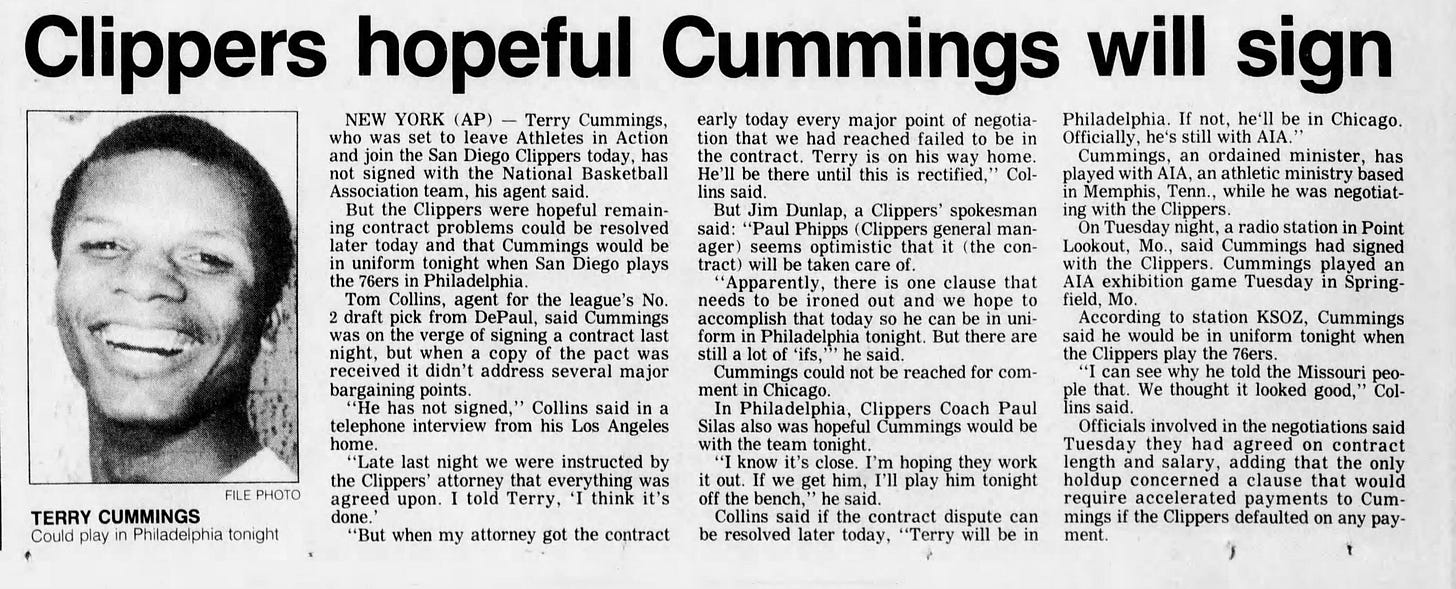 Reno Gazette-Journal, November 3, 1982
The hope turned into reality as reports on November 4 had Cummings signing a four-year deal worth $1.7 million.
The team definitely perked up. On opening night (Oct. 29) Chambers was magnificent with 29 points, 16 rebounds, and five assists. But the Clippers lost by 14 points to the Phoenix Suns. On November 9, just his third game with the team, Cummings exploded for 32 points and 24 rebounds versus the Indiana Pacers. But the Clippers lost by five points.
As the new year rolled around, an example of what a double dose of T.C. could do was shown in Salt Lake City on January 5, 1983. Dragging out an overtime win over the Jazz, Cummings had 27 points and 24 rebounds while Chambers had 24 points, nine rebounds, and five assists. To boot, Hodges chipped in 13 points, five rebounds, and five assists.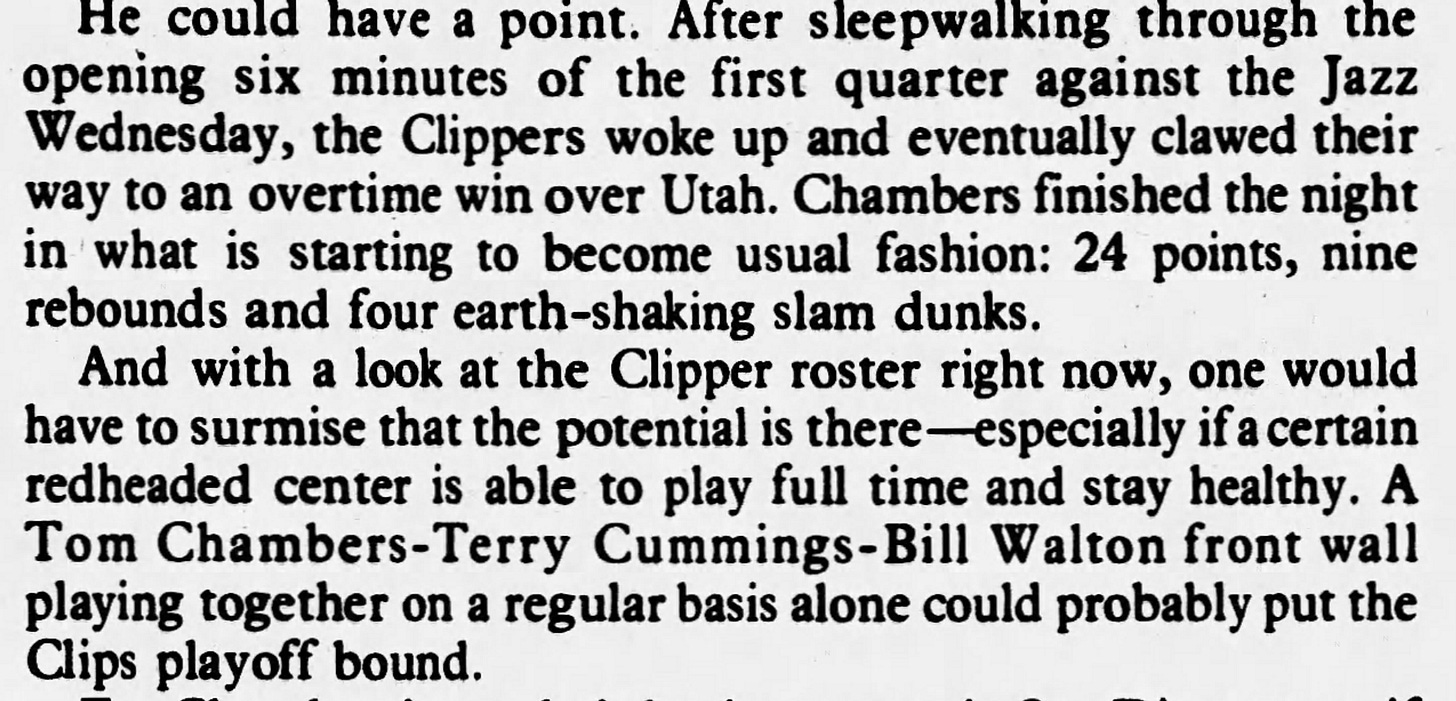 The Daily Utah Chronicle
, January 7, 1983
Missing in action that night was Walton as he was for the majority of that season. Big Red ultimately played in just 33 games that year. A big reason why the Clippers finished 25-57. You know, certainly not good, but certainly better than the 17-65 dreck of the year before.
Instead of viewing the glass half-full and building on the young exciting T.C. duo plus the improving health of Walton, the Clippers decided to shake things up.
In August 1983, the Clippers shipped Chambers, Al Wood and two future draft picks to the Seattle SuperSonics for James Donaldson, Greg Kelser, Mark Radford and a couple future picks, one of which became Michael Cage in 1984.
Additionally, the Clippers also traded their 1983 draft pick, Byron Scott, to the Los Angeles Lakers for Norm Nixon. Drafted fourth overall, Scott wanted a four-year, $1.75 million contract, which the Clippers refused to give.
One of those trades was defensible enough, but both portended bad Sterling energy. (Is there any other kind?)
On the positive side, they Clippers did repackage one of their future draft picks they got from the Lakers and sent it to Detroit for Ricky Pierce. They also signed swingman Derek Smith after he was waived by the Warriors.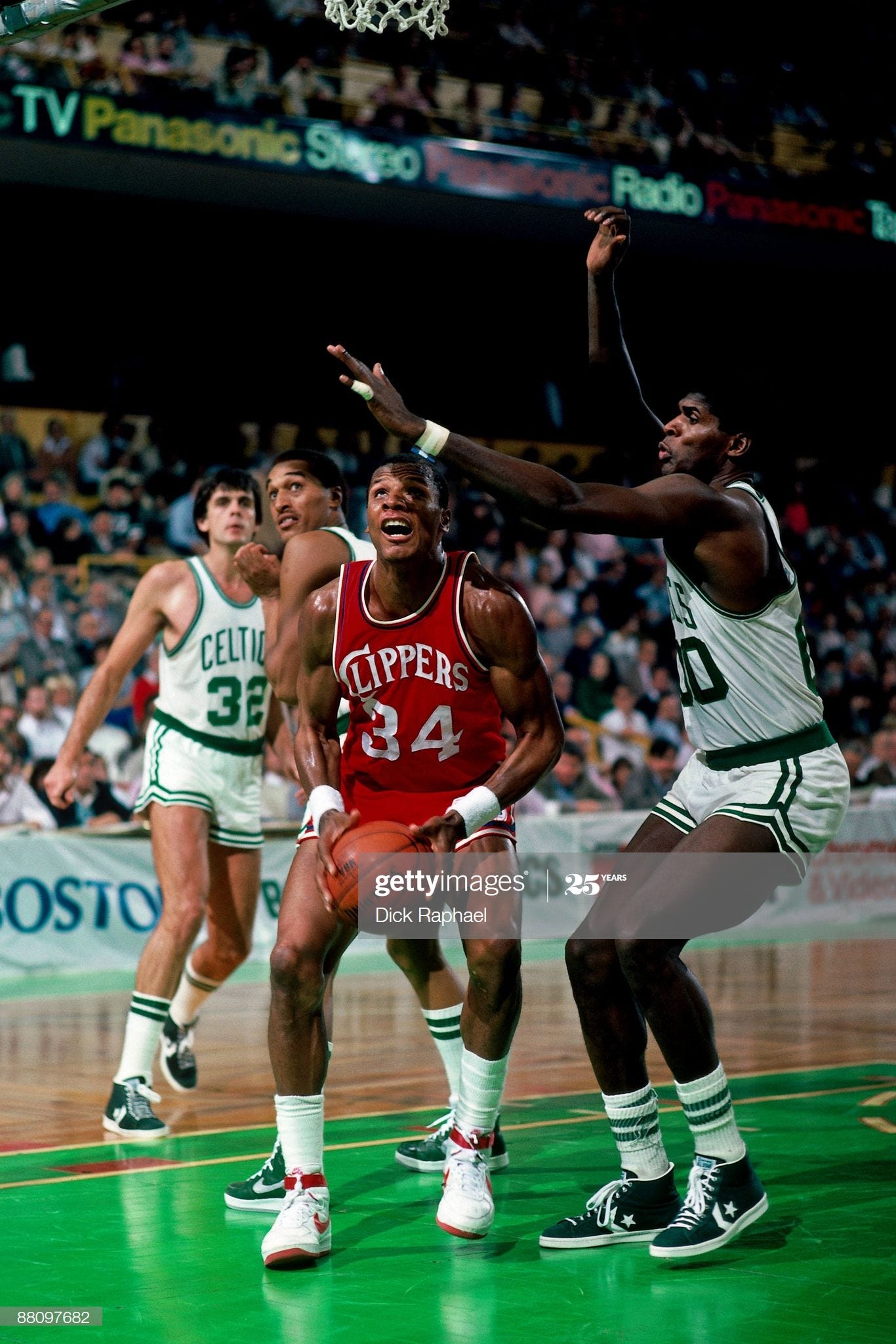 With all the changes, the Clippers enjoyed a 30-win season in 1983-84. And honestly, I think if they had let this unit congeal they might have been on to something.
Walton miraculously appeared in 55 games, the most since his 1978 MVP season. In just 26.8 MPG, he delivered 12.1 PPG, 8.7 RPG, 3.3 APG, and 1.6 BPG. The 31-year-old would never be MVP again, but that kind of production doesn't go unappreciated.
Also at center, James Donaldson was good for 11.8 PPG, 7.9 RPG and 1.7 BPG. At point guard, Norm Nixon was his water-bug self with 17 PPG and a career-high 11.1 APG.
In Hodges (7.8 PPG), Pierce (9.9 PPG), and Derek Smith (9.8 PPG), the Clippers had a troika of backcourt players who each played about 20 minutes a night and were clearly ready to blossom.
And the man at the center of it all was Terry Cummings. His sophomore campaign only paled in comparison to the rookie season because he now had more help to ease the burden. Still, he produced a superb 22.9 PPG and 9.6 RPG.
Like I said, something good seemed a-brewin'… but of course, the Clippers had no patience and kept mortgaging the future.
---
Before the 1984-85 season, their first in Los Angeles, the Clippers detonated this promising situation. In a stunningly overpriced trade, the Clippers sent Cummings, Pierce, and Hodges (combined NBA experience of six seasons) to the Milwaukee Bucks for Marques Johnson, Junior Bridgeman, and Harvey Catchings (combined NBA experience of 26 seasons).
The lopsided returns on the trade are truly breathtaking.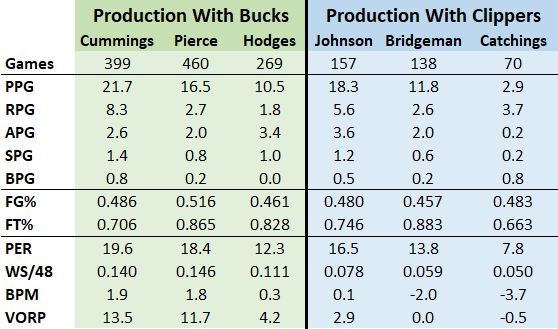 The Clippers did have a 31-win season in 1984-85 as the core of Johnson, Nixon, Walton and the meteoric rise of Derek Smith (22 PPG, .537 FG%) made up for the disastrous trade to keep the Clippers at a standstill. Remember, they won 30 games in 1983-84. In 1985-86, the Clippers continued the listlessness with 32 wins.
Then in 1986-87, they plummeted to a 12-70 record as the bill came due via a cavalcade of injuries. There's the general fate of cruel luck, but injury does visit players in their 30s more than those in their youth that the Clips had traded away.
Anyhoo, the injuries are almost comical in their absurdity…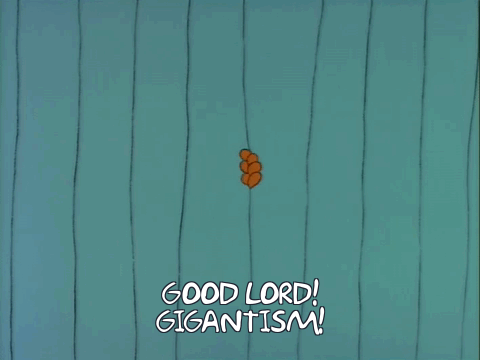 The explosive Derek Smith suffered damage to his knee cartilage early in the 1985 season that curtailed his burgeoning career.

Norm Nixon tore up his knee in the summer of 1986 playing charity softball and effectively ended his career.

Marques Johnson suffered a neck injury after colliding with teammate Benoit Benjamin in November 1986 that also served as a de facto career-ender.
Meanwhile the Bucks reached the Eastern Conference Finals in 1986 and the Eastern Conference Semi-Finals an additional three times during T.C.'s time there.
In retrospect, blowing up the young double T.C. core should have been foreseen. Way back in October 1981, Sterling admitted that he had no patience for rebuilding as he trudged through signing Tom Chambers.

Chula Vista Star-News
, October 25, 1981
Of course, for the next several decades the Clippers would always be rebuilding, so Sterling must have resigned himself to that status once his first "go-all-in" gambit failed dramatically.
But perhaps I've been too harsh on the Clippers? (Nah, but let's roll with it.)
Cummings wasn't ecstatic with being in San Diego. Not so much that San Diego itself was the problem, but Cummings had a desire to play near his hometown of Chicago, much like Marques Johnson wanted to play in his home of Los Angeles.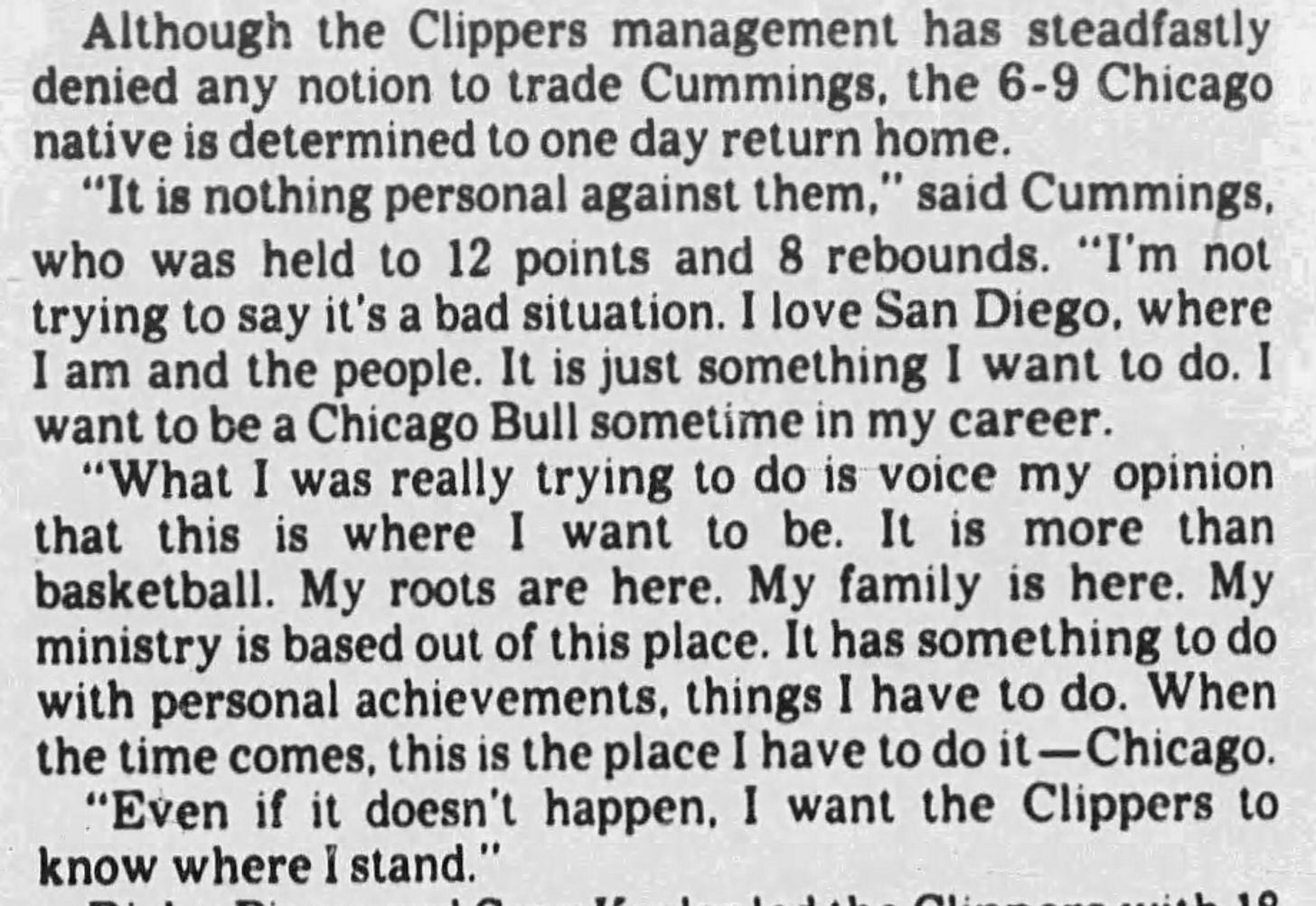 Los Angeles Times
, February 15, 1984
However, the Clippers can't be let off the hook for botching their chance to be relevant during the 1980s. They were constantly trading young promising players for older ones. And they always had trouble signing the young players: Chambers and Cummings, but also Byron Scott who never even signed before being traded. From that same February edition of the LA Times, they clearly showcased hesitancy in pulling off the Cummings-Johnson trade because of the age difference. So, they were aware of the pitfalls that could (and did) materialize.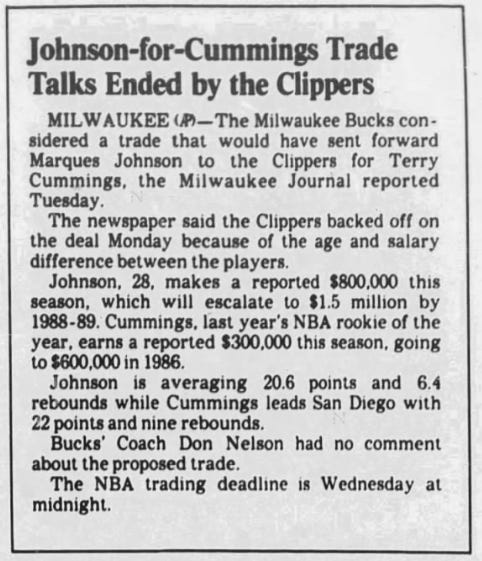 Well, that's enough about the sorry Clippers. In the next day or so, we'll follow Cummings's career to Milwaukee where he shined in some epic playoff battles with another young power forward: Charles Barkley.