Harvey's Hot Streak
On December 19, 1992, Harvey Grant notched a career high 41 points versus the Charlotte Hornets. The identical twin brother of Horace Grant, Harvey sizzled his way to 16-23 FGs and 9-10 FTs on the night.
Of course Harvey's Washington Bullets lost the game to the Hornets, 126-117, bringing their season record to a dreary 7-16. Turns out that was really the season's high point.
They would finish out the year on a 15-44 streak winding up as the Eastern Conference's worst club with 22 wins and 60 losses total.
But that doesn't take away from Harvey's splendid individual year!
During the 1992-93 season Grant averaged a career high 18.6 PPG to lead the Bullets in scoring. And during the second half of December 1992 he was on scoring overdrive.
From December 13 to December 30, Grant averaged 26.9 points on .562 FG% over the course of eight games.
Given that Grant's best on-court asset was his scoring, it was wonderful that he didn't get too cute with the ball averaging just 1.5 turnovers a night during the streak. Harvey did make decent contributions in rebounds (5.5 per game) and assists (3.1 per game) but scoring was clearly his duty.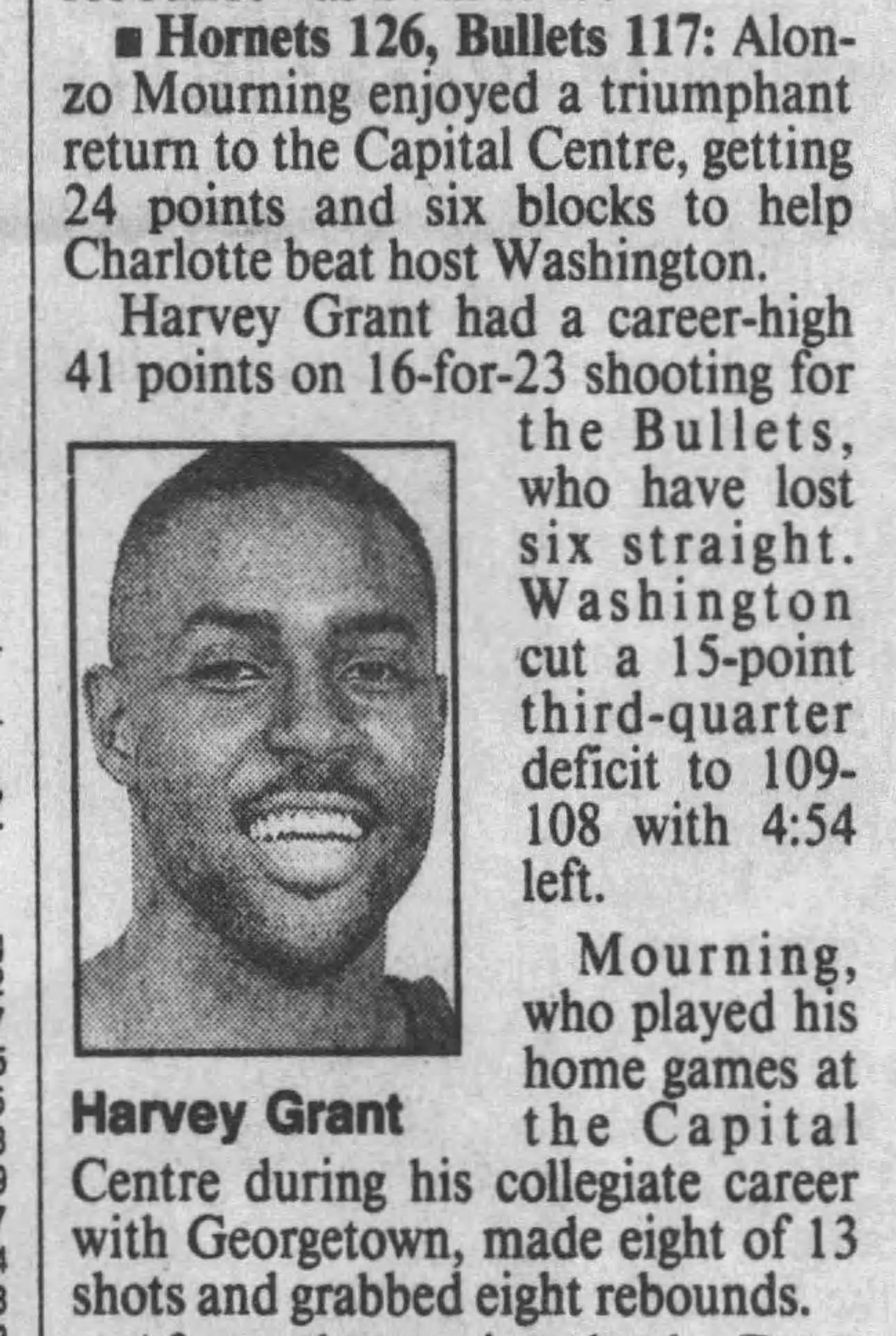 The embers of Harvey's Hot Streak were first glimpsed on November 17 when he tied his career high of 34 points (12-19 FGs) versus the Boston Celtics. Then on November 28, he edged up to a new high of 35 points (12-18 FGs) versus the Milwaukee Bucks.
Then the Hot Streak truly began on December 13 with yet another career high of 37 points (15-24 FGs) verus the Portland Trail Blazers.
After a respectable 22-point outing versus Phoenix, Grant had his 41-point outburst versus Charlotte that stands permanently as his high scoring mark. Grant closed out the calendar year with five consecutive games of 20+ points.
But the Bullets were the Bullets.
Harvey's Hot Streak couldn't save the them from the misery that was the coaching of Wes Unseld and the roster's overall poor construction. Over the course of Grant's eight-game sizzle, the Bullets went 1-7. Their lone win came by one point over the Atlanta Hawks on December 28.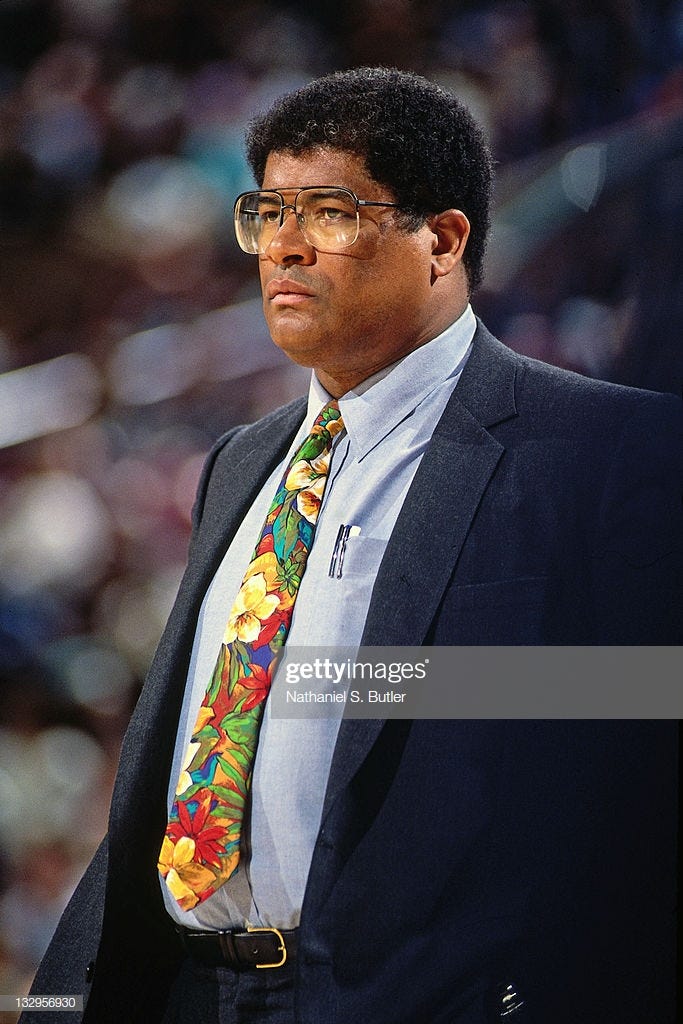 Festive ties notwithstanding, Wes Unseld's coaching tenure was bad. He took over the role midway through the 1987-88 season. In every subsequent season his win percentage dropped, plummetting from .545 in 1987-88 to .268 in the 1992-93 fiasco.
Curiously, the same week Harvey notched his career high in scoring, an article from Michael Wilbon came out in the Washington Post comparing the Grant twins.
Harvey lamented never having the team success his brother enjoyed with the Chicago Bulls. Meanwhile, Horace lamented not having plays called for him, but saw the championship silver lining:
"I wasn't complaining, really. If the opportunity presented itself, I could easily average 20 points. But if it took away from the other things I do. I don't think the team would be as effective… It used to really bother me, when I was a rookie and my second year. It got frustrating. But winning two titles has softened it a lot."
Pipe down, Horace.
You got Phil Jackson, Michael Jordan, and Scottie Pippen. Harvey definitely had the bigger lament. He had yet to make the playoffs in his five-year career.
As noted above, the Bullets win-loss record had gotten worse every season under Unseld, even as Harvey's individual prowess had improved year after year.
At the conclusion of the 1993 season, Horace celebrated another championship and Harvey had his best scoring season amidst the worst team record he'd ever endure as a pro.
Fortunately for Harvey, he was shipped to Portland during that offseason. Even though finding himself in a reduced role, but still a starter, Harvey finally discovered the playoffs with the Trail Blazers in the 1993-94 season.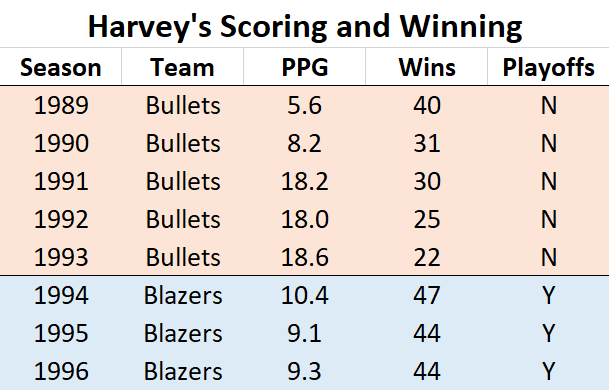 As for the Bullets, Grant was clearly not a franchise-changing player, but trading the 27-year-old forward for Kevin Duckworth (RIP) was a head-scratcher. Grant was at his peak while Duckworth had shown precipitous signs of decline the previous two seasons that continued in Washington.
Oh well, at least we got this amazing photo from the deal. (RIP Roy Tarpley)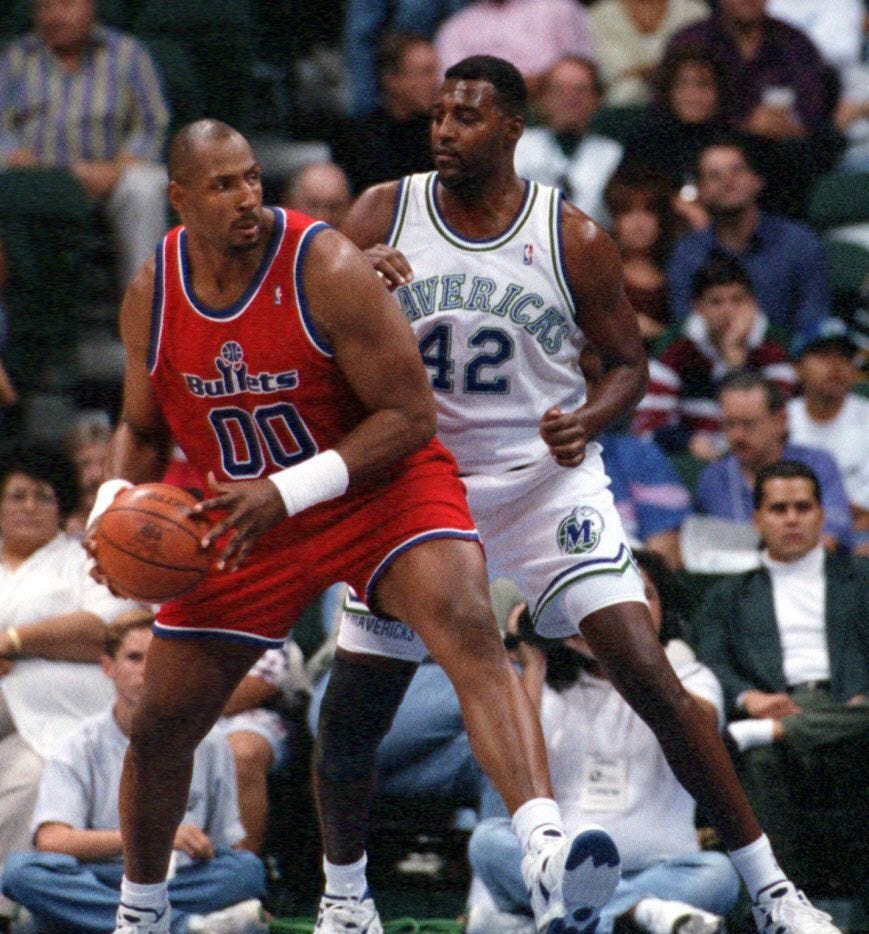 Anyhoo, a toast to Harvey's Hot Streak!
Sure the Bullets stunk and there was nothing he could do about it, but his trivial December of 1992 is catnip for this here newsletter.
Image/Photo Credits:
Binghamton Press and Sun-Bulletin, December 20, 1992.
Nathaniel S. Butler / Getty Images
Stats in table courtesy of my friends at Basketball-Reference
Dallas Morning News file photo
---
HARVEY'S HEAT WAVE!
Unsolved ProHoopsMysteries…
Where did Wes Unseld get that tie from?
How did Horace wind up two inches taller than his identical twin Harvey?
How did Harvey have two kids play in the NBA, while Horace has zero?