Jerry Sloan
As a barnstorming hub, perhaps no city in America was better than Chicago. The Harlem Globetrotters were based in the city as was the sensational World Professional Basketball Tournament that brought teams from around the country together in the 1940s to determine the best club in hoopdom.
The Windy City was a graveyard, however, for major league professional basketball. The Chicago Gears of the NBL, the Chicago Stags of the BAA, and the Chicago Packers of the NBA had all failed to survive in the city over the previous twenty years when the Chicago Bulls became the next best hope for pro basketball in 1966. Given the history, the Bulls surprisingly succeeded and it's in no small part thanks to Jerry Sloan.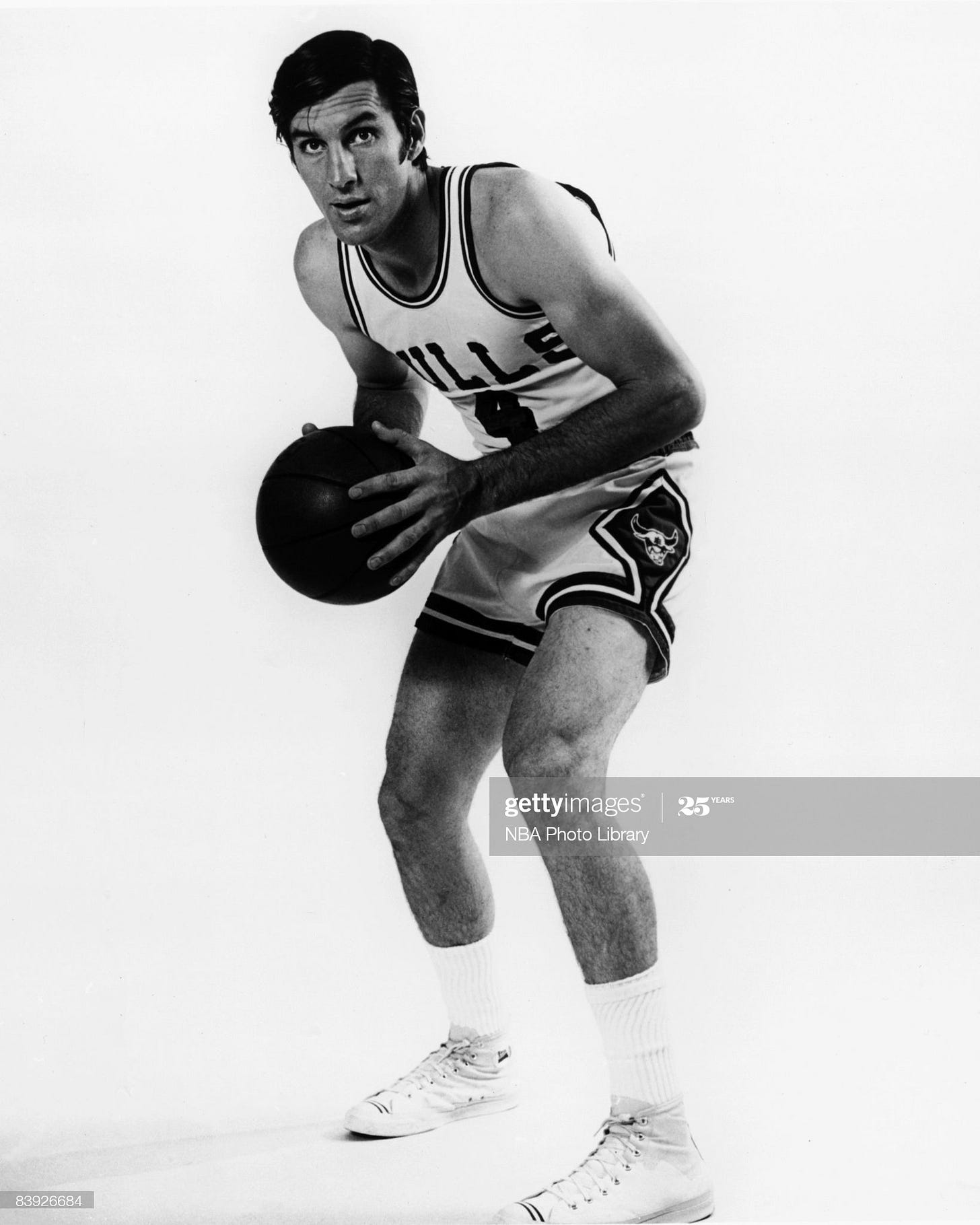 Sloan's NBA career began, ironically, with the Baltimore Bullets.
Ironic because the Chicago Packers had packed up their bags and left Chicago in 1964 to become the Baltimore Bullets. The Maryland franchise acquired Sloan in the 1965 NBA Draft with the fourth overall pick ahead of such luminaries as the Van Arsdale twins, Billy Cunningham, and Flynn Robinson as well as future Bulls teammates Bob Weiss and Bob Love.
That Sloan spent only one season as a Bullet and was available in the expansion draft the very next year was revealing of the questionable management involved with Baltimore at the time. Yes, Sloan hadn't put up amazing stats during his rookie year, but the promise of greatness was certainly there. UPI had the story on March 3, 1966, of Sloan providing some late-game heroics.
[T]he Baltimore Bullets defeated the Los Angeles Lakers, 119-113, in other Wednesday night action….

Rookie Jerry Sloan's 15-foot jump shot with 15 seconds left was the big play for the Bullets, who trailed by a point with 48 seconds to go. Gus Johnson's 28 points led the Bullets and Jerry West's 33 paced the Lakers.
Nonetheless, the former fourth overall pick was put on the expansion draft chopping block and the Bulls snapped up Sloan. Not a bad business decision for Chicago. Sloan was from McLeansboro, Illinois, and had attended the University of Evansville in neighboring Indiana. If nothing else, he might get some attention for the expansion team.
The Bulls even played FIVE regular season games in Evansville with hopes to capitalize on Sloan's college fame in the area.
Promotion aside, the on-court key to drafting Sloan was his old Baltimore teammate Johnny "Red" Kerr. Another native Illinoisan, Kerr finished out his playing career with the Bullets during Sloan's rookie year. Sloan didn't get enough playing time in Baltimore, but Kerr was now head coach of the new Bulls and knew to give Sloan some more of that action.
Years later, in an interview with the Chicago Tribune, Sloan acknowledged Kerr's pivotal role in giving him a chance to shine: "Red was really the reason for me being in Chicago because of the expansion draft. Johnny helped me get an opportunity to play."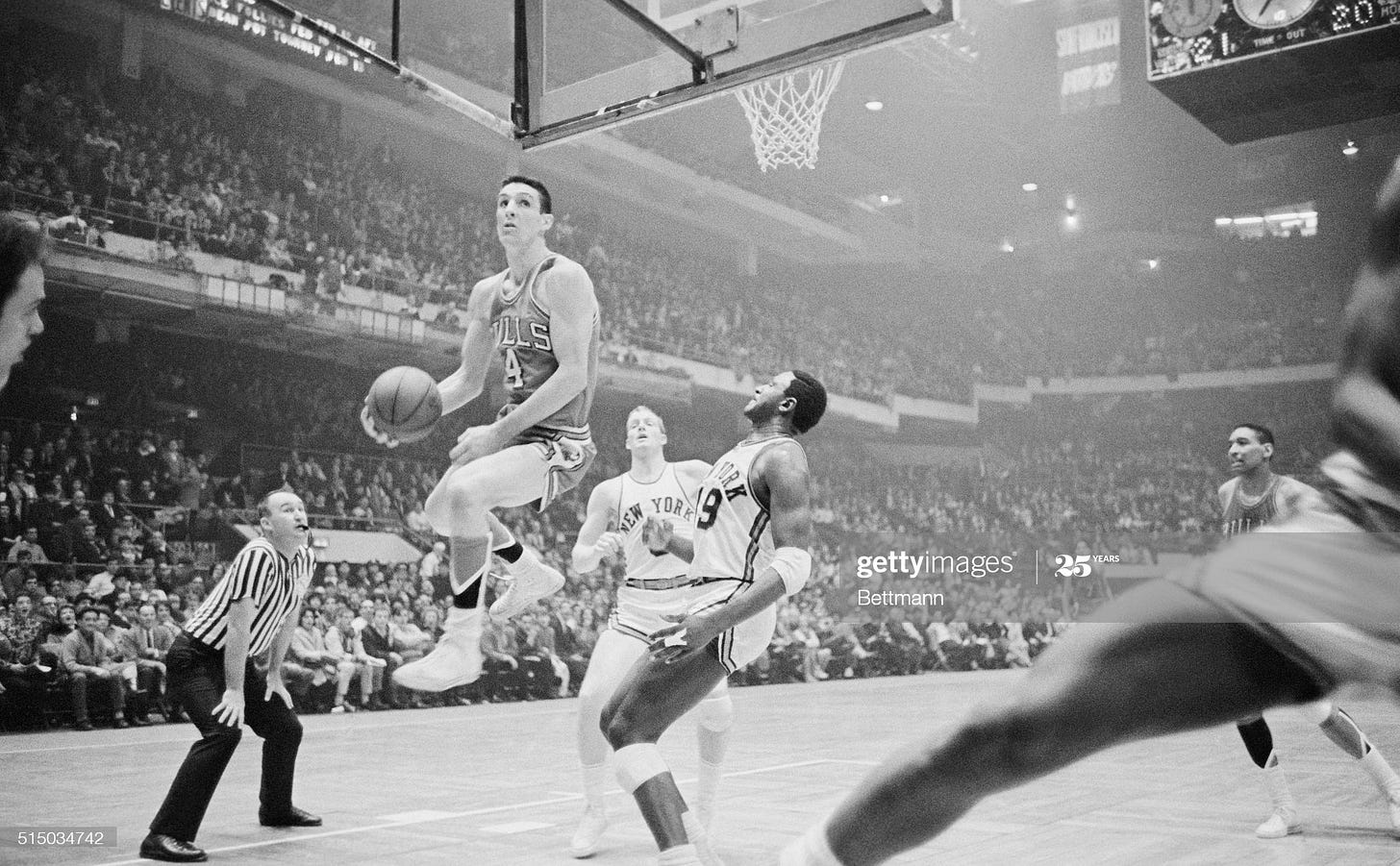 Sloan's playing time rose from a scant 16 minutes per game in 1965-66 with Baltimore to 37 minutes a game in 1966-67 with the Bulls. His other stats predictably rose. His scoring reached 17.4 PPG and the boards topped off at a career-high 9.1 a game. The averages were nice but so were individual moments throughout that season. In March of 1967, Sloan kept Chicago's playoff hopes alive as he torched the Detroit Pistons, the very team they were competing with for the final playoff spot:
The Bulls whipped the Detroit Pistons on the road Wednesday night 98-91 and moved into fourth place in the Western Division a half-game ahead of the now last-place Pistons. The Bulls have two games left to play in the regular season ending Sunday, the Pistons three.

Jerry Sloan threw in 32 points to lead a second half Chicago rally that erased a 69-62 Detroit lead.
The Bulls would indeed sew up that final playoff spot thanks to the young Sloan and veterans Bob Boozer and Guy Rodgers. The always superb St. Louis Hawks, however, would thrash Chicago in the postseason in a three-game opening round sweep. Not the sweetest of endings, but for an expansion team that was quite successful to be bounced in the playoffs no matter what the fashion.
BIGGER AND BETTER BULLS
For Sloan this would just be the beginning of a long and lengthy career as "Mr. Bull."
In his first Chicago season, Sloan was named an NBA All-Star and would garner one more selection to that event in 1969. More importantly, though, Sloan's reputation as a hellish defender justifiably grew and would be cemented over the ensuing years. In total he made six All-Defensive teams in his 11-year playing career that ended in 1976 after surgery to repair damaged cartilage in his knee.
Sloan's 6'5″ lanky frame made him perfect to harass the perimeter. Sadly, words are the only thing to really do Sloan's defense justice since steals weren't logged until 1974 (to say nothing of the potpourri of defensive stats we have nowadays). Nonetheless, at age 31 Sloan still captured 2.4 steals per game the first season steals were tracked. He then had 2.2 SPG the next year. And "just" 1.2 SPG in his final season that was marred by injury.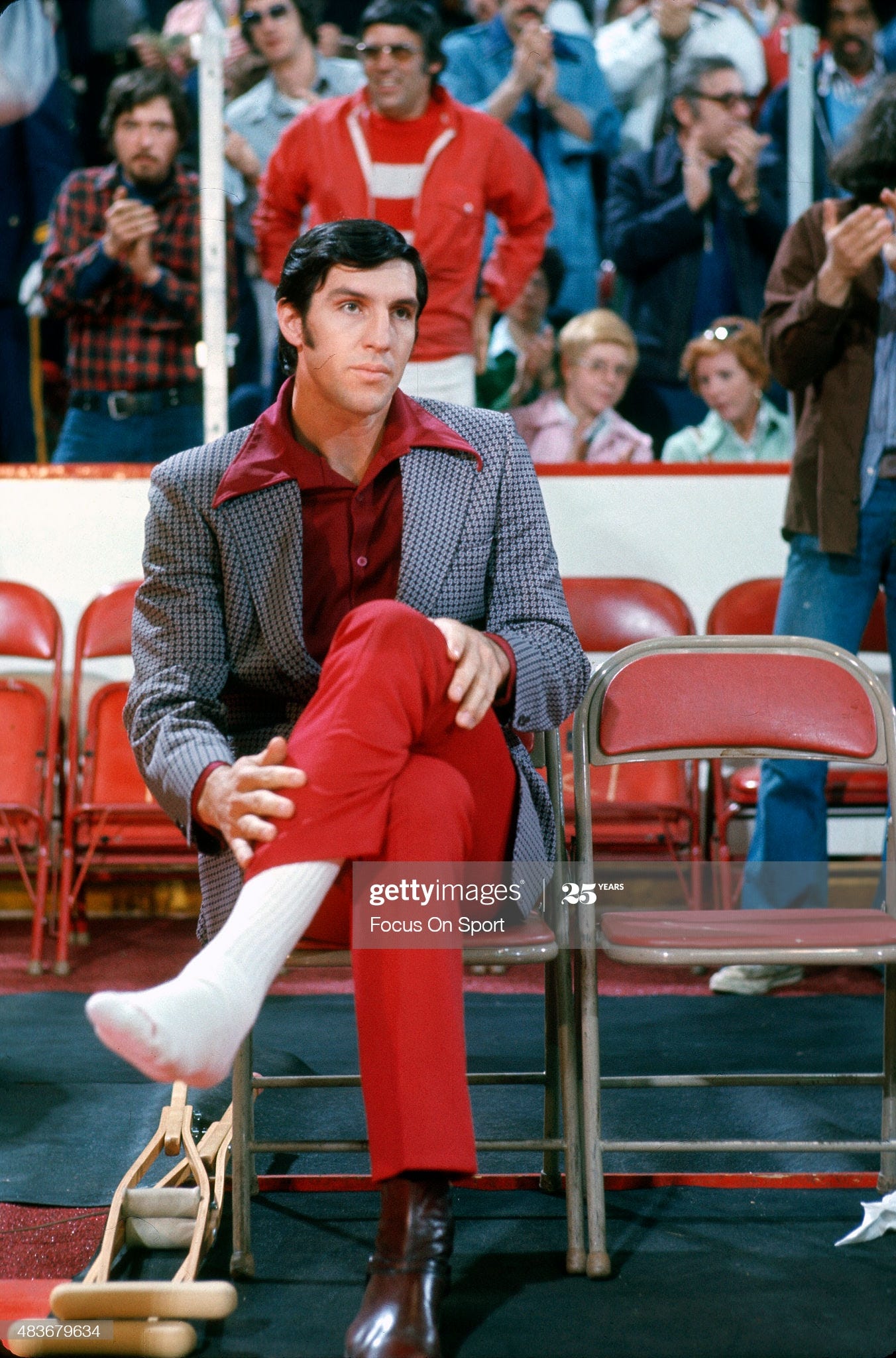 But the words, nonetheless, do Sloan's defense adequate justice.
Three representative stories make the case.
From February 1965, before he was even in the NBA, the collegiate Sloan lived and breathed defense:
"Defense is the key to winning games," Sloan said. "When I play a good defensive game, I feel good. When I look at the box score, I look to see how many points my man scored, not how many I scored."

Sloan's effectiveness on defense is due to his speed, reflexes and innate basketball knowledge.

"I'm not that fast from a dead start," he said. "But I've always been a guard and I've always been a rebounder, too. This combination has made me quick. When I rebound, I don't do it muscle-for-muscle with those bigger guys. I have to out-think them and out-maneuver them."
From February 1972, Sloan was praised by Bud Burns of The Tennessean for his defense that "kept the Pistol holstered."
Best defensive job in the National Basketball Association thus far has to be the effort turned in by Chicago's Jerry Sloan on Pete Maravich when the Atlanta Hawks made their last trip to the Windy City.

Sloan, who is know[n] to Bull fans as "The Evansville Hustler," allowed Pistol Pete only six shots at the basket in 33 playing minutes. Pete made one. His lone two-pointer came on a layup following a rebound scramble. Never before had Maravich been so ineffective.
From November 1974 we have a story from Sloan's winter NBA years. John Rowe of Hackensack, New Jersey's The Record had the scoop.
"We're never going to impress anybody with offense," admitted Jerry Sloan. "Defense has been responsible for where we are and tonight we went back to playing good defense."

Sloan hounded Earl Monroe and although The Pearl had 22 points, 14 came in the third quarter when the Knicks cut an eight-point halftime deficit to one.

"You're never going to stop a scorer like Monroe," said Sloan. "But there was a time or two down the stretch when he didn't take a shot he normally would. That's what I have to do."
Although that defense never brought Chicago a title, it did lead the Bulls to a Golden Era of success from 1970 to 1975 as a mighty core of Sloan (acquired in 1966), Van Lier (1971), Bob Love (1968), Chet Walker (1969) and Tom Boerwinkle (1968) was constructed. The Bulls would secure four straight 50-win seasons and two trips to the Western Conference Finals.
The addition of these other players allowed Sloan's scoring to recede over the years as cats like Walker and Love filled up the bucket. From 1967 to 1972, Sloan averaged 16.3 PPG. From 1973 to 1976 his average fell to 11.7 PPG.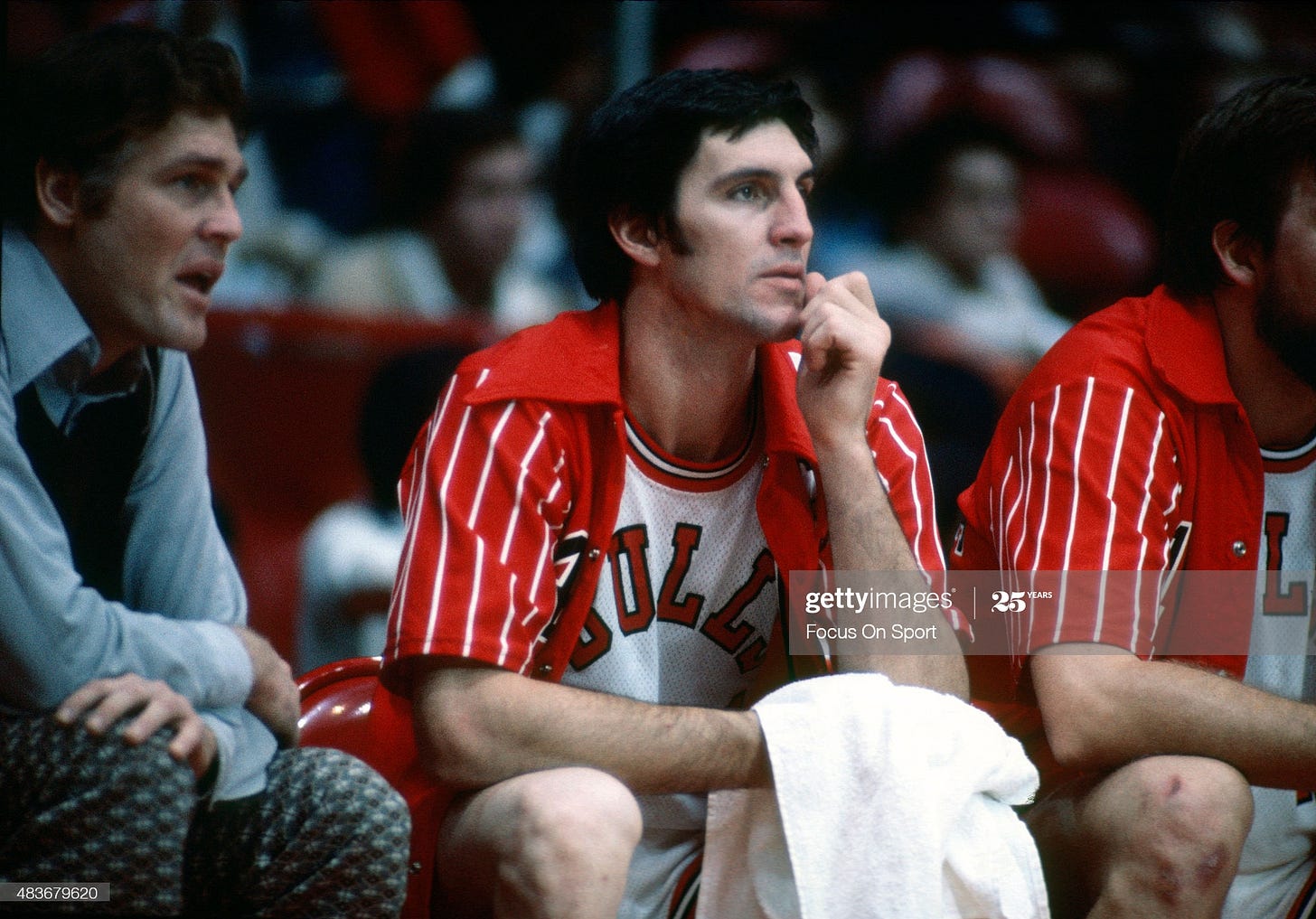 The closest Sloan's Bulls got to the NBA Finals was in 1975. Game 7 of the Western Conference Finals against Golden State was a rock fight. Achingly, the Bulls held an 11-point halfitme lead on the road, but went ice cold in the fourth getting outscored 24-14 by the Warriors who pulled out an 83-79 win. (That game deserves its own article cuz it's so crazy).
The team was so tough in this era, despite never reaching the Finals, that Wilt Chamberlain opened his fantastic 1973 memoir Wilt talking about how terrible it was to play the physical Bulls.
Literally from page 1 of the book:
The Bulls had outplayed us and outhustled us in almost every game. They had given us just about the most physically punishing and emotionally exhausting seven-game series I can recall in my 14 years of NBA play. Chicago, to be honest about it, had deserved to win. The Lakers didn't.
THIS DUDE IS CLEARLY GONNA COACH
So, back to Sloan's career-ending knee injury.
He first suffered it in the fall of 1975. Time off to let the injury heal on its own proved insufficient and he had surgery in March of 1976. By the fall of '76 the injury was still a pain in the ass. Sloan was trying to keep up his playing career, but the finality of retirement was closing in on Mr. Bull.
"Basically, I'm in pretty good shape. It's just that fluid keeps developing in my knee all the time and that's the thing that is keeping me from playing," lamented Sloan to Mark Eickhorst of the Racine Journal Times. "I don't think I can go too much longer."
As the interview progressed, Sloan was adamant that basketball was his life. If he wasn't injured on the bench yelling at the refs, he'd be a fan 40 rows up yelling at the refs.
"Basketball has been my life for the last 15-to-20 years and all of a sudden I find myself not really anything as far as basketball goes," he confessed. "I'm not really anything."
Sloan's knee never cooperated and he had to give up playing. He briefly took on the head coaching gig at his alma mater in Evansville, but quit after a few days. Lucky for him since the entire team was killed in a plane crash later in 1977. He began scouting and coaching for the Bulls getting the head coaching job in 1979. Oh and you might have heard about the brief amount of time he spent as head coach for the Utah Jazz.
None of his decades in the NBA are surprising considering this little quote from Sloan realized his playing days were numbered, but that he also couldn't see himself in another line of work.
"To me basketball is the greatest game going and I love it."