Kiki's Curse?
A ProHoopsHistory Investigation
Kiki Vandeweghe is one of the best scorers in NBA history: 19.7 PPG for his career and 24.9 PPG during the heart of his prime seasons (1982-1988).
The scoring came rather easily too.
.525 FG% on 14.4 FGAs per game

.872 FT% on 4.9 FTAs per game

.594 TS%
But his scoring and presence was sort of… benign. Besides scoring he didn't do much else: 3.4 RPG, 2.1 APG, 0.6 SPG, and 0.3 BPG. He did only turn the ball over 1.6 times a game, though. Big bonus.
During his productive years, he was never on a bad team. But he was also never on a great team. And as we'll see, whenever he journeyed on to a new team, his old club found boosted success.
And that's what takes us today's investigation: Was there a Kiki Vandeweghe Curse?
Did his old teams flourish simply because he left?
---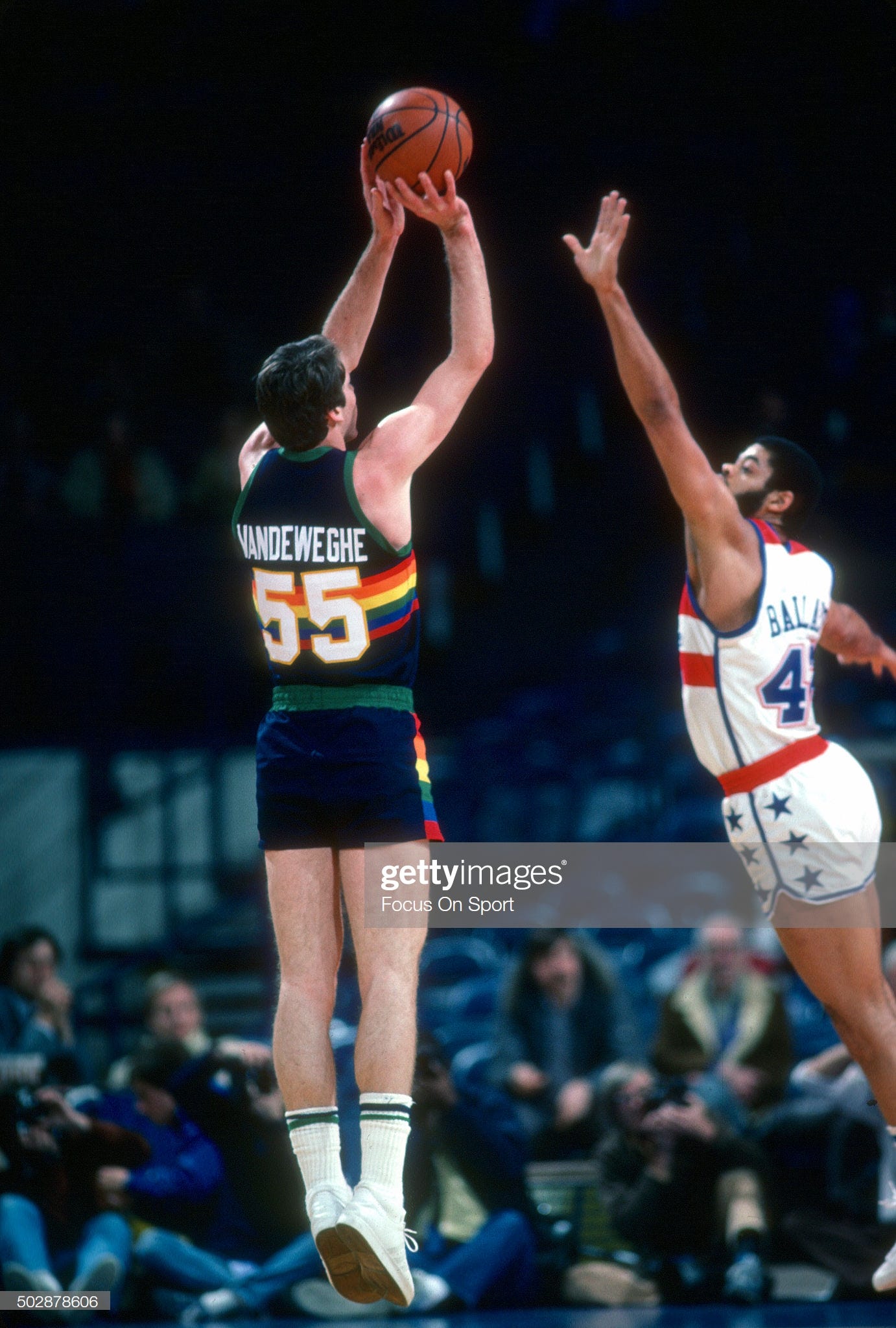 Vandeweghe began his NBA career with the Denver Nuggets, but only after he refused to report to the Dallas Mavericks, who drafted him 11th overall in the 1980 draft. Kiki wanted to play for the Knicks, whom his dad (Ernie) played with back in the 1950s.
In December 1980, Denver sent Dallas two future first round picks to acquire the standout forward from UCLA. Dallas also sent the Nuggets a 1986 first round pick, which was used on Maurice Martin who only played 69 games in the NBA. Not so nice. One of the first rounders Dallas got from Denver was used to select Rolando Blackman in the 1981 draft.
That'll be a whoopsie for the Nuggets!
Getting his bearings after a rocky rookie year, Vandeweghe turned into a scoring machine alongside Alex English and Dan Issel for the rest of his time in Colorado. His scoring average escalated from 11.5 to 21.5 to 26.7 to a career-high of 29.4 PPG in 1983-84.
Denver did fairly well on the court, too. To his immense credit, Kiki helped salvage the franchise from the unfortunate deterioration of David Thompson due to a foot injury and cocaine addiction.
After a catastrophic 1980 season with just 30 wins, the Nuggets picked it up to 37 in Kiki's first year, and then jumped up to 46 and 45 wins in 1982 and 1983 respectively.
However, in 1984 when Kiki hit his career-high in points, the club hit a wall with just 38 wins. Not that it was particularly Kiki's fault.
Thompson was of course long gone, but Issel was now at the very end of his career. Denver needed reinforcements. The trading chips worth a damn on the roster were Vandeweghe and English. They were the only guys who could bring back a worthy haul of players and picks from another team.
The forwards were basically replicas in scoring, but English clearly did more of the other stuff on the court.

So, despite being just 25 years old compared to the 30-year-old English, it was Vandeweghe traded away during the summer of 1984.
---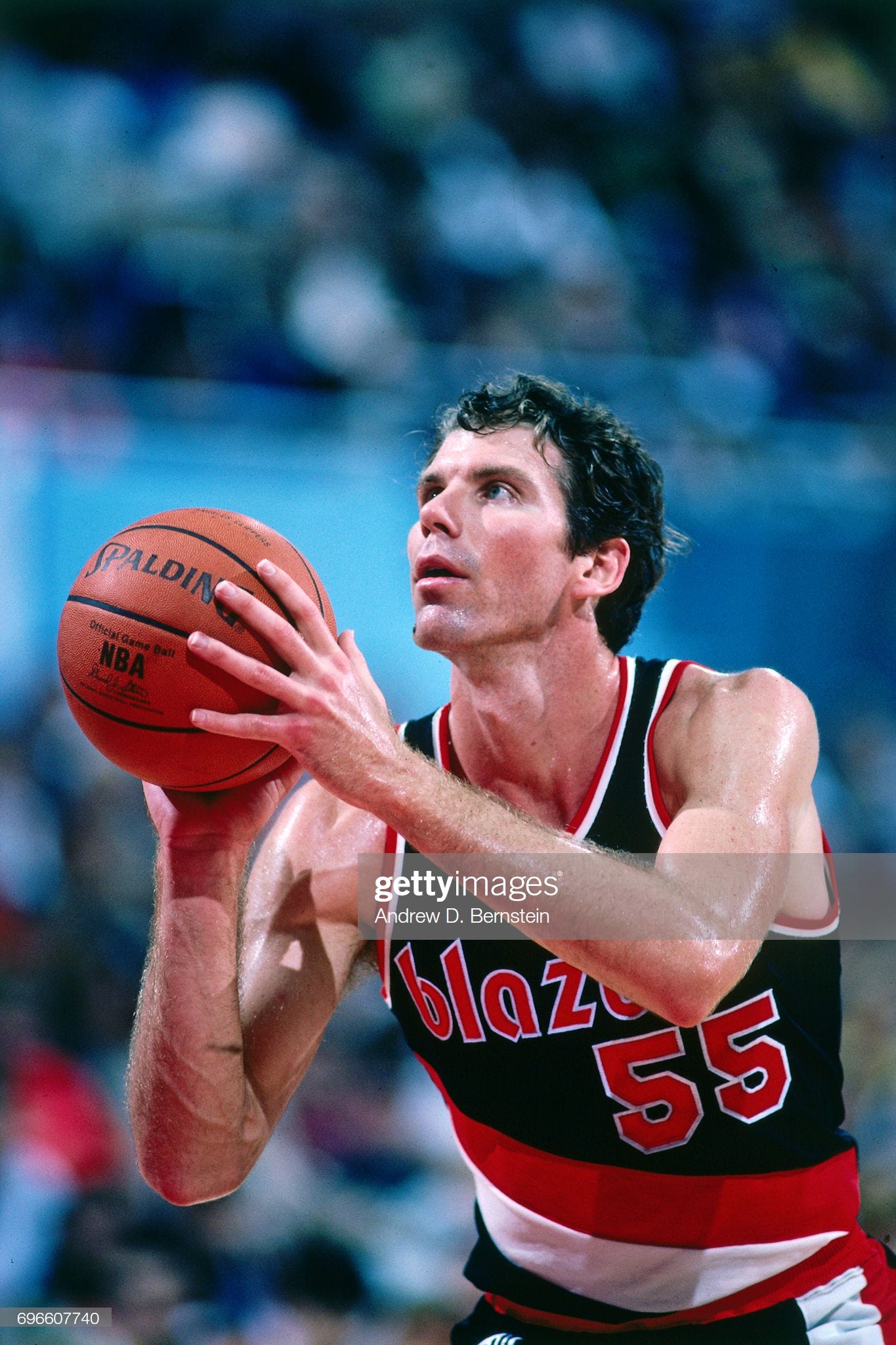 The next stop on Kiki's Express was Portland. In the process of getting Vandeweghe, though, the Trail Blazers committed one of the worst trades in NBA history.
Just for Kiki Vandeweghe, whom I enjoy as a basketball player and person, the Blazers sent Fat Lever, Calvin Natt, Wayne Cooper, a 1985 first round pick, and a 1984 2nd round pick to Denver.
Portland absolutely could have used Kiki, but that was a tremendous overpay and the Trail Blazers basically remained stagnant after the shuffle. Dumping three rotation players and two draft picks for one super scorer wasn't too bright. Plus Portland also drafted the injury-prone Sam Bowie that same summer.
The Blazers sunk to 42 wins in 1985 and just 40 in 1986—their first two years with Kiki. The season before they acquired Vandeweghe, Portland won 48 games.
This middling team performance came despite Kiki being pretty good individually those years: 23.7 PPG on .609 TS% with his typically negligible stats in other categories.
(As for Denver, Calvin Natt and Fat Lever went from "rotation players" to All-Stars. They had surged to 52 wins in 1985 and made the Western Conference Finals. In 1986, they made another good run to the Western Conference Semi-Finals. Unfortunately, Natt suffered a torn Achilles thereafter knocking what should have been a perennial Denver contender out. Still a playoff team, but no longer a contender).
Be like the Trail Blazers and drop some serious cash, if you haven't already
Fortunately by 1987, the Blazers front office had recovered from the blunderiffic summer of' '84.
Clyde Drexler was in his fourth season and had clearly become a star player. Third-year forward Jerome Kersey became a powerful force off the bench. And second-year guard Terry Porter broke out averaging 13 PPG, nine APG, and two SPG.
Portland won 49 games as Vandeweghe averaged 26.9 PPG, his highest as a Blazer. However, Portland came to a similar crossroads as Denver had. Kiki gave a lot of scoring, but other options (Drexler and Kersey) were available to score while still contributing more elsewhere on the court.

So for the 1987-88 season, Vandeweghe was demoted to the bench and Kersey promoted to the starting lineup. A sore back cost Kiki nearly half that season anyways as he appeared in just 37 games. Still, he averaged 20.2 PPG in 28 minutes off the pine. IMO, this was probably the best use of the effortless scorer. Portland also happened to rack up 53 wins in 1988, which was their highest total in a decade.
Unfortunately, Vandeweghe's back troubles didn't dissipate and he missed the first few months of the 1988-89 season. He was also unhappy with his bench role and demanded a trade. For their own reasons, Kersey and Drexler were also unhappy with head coach Mike Schuler. The combined drama helped Portland regress to 39 wins.
Since they were surprisingly on a train to nowhere, Portland obliged Kiki's demand and sent him to the New York Knicks in February 1989 in exchange for a first round draft pick.
Finally, a team hadn't overpaid for Kiki. However, the price was right because of a bad back. Not a good omen!
Nonetheless, Portland still rocketed to success afterwards. Not so much because they got rid of Kiki or that the first round pick (Byron Irvin) turned out to be any good. Schuler was replaced as head coach midway through the 1989 season with Rick Adelman. The Blazers completed revamping their roster in the 1989 off-season by trading for Buck Williams and drafting Cliff Robinson in the 2nd round.
Portland won 59 games and made the NBA Finals in 1990.
Meanwhile…
---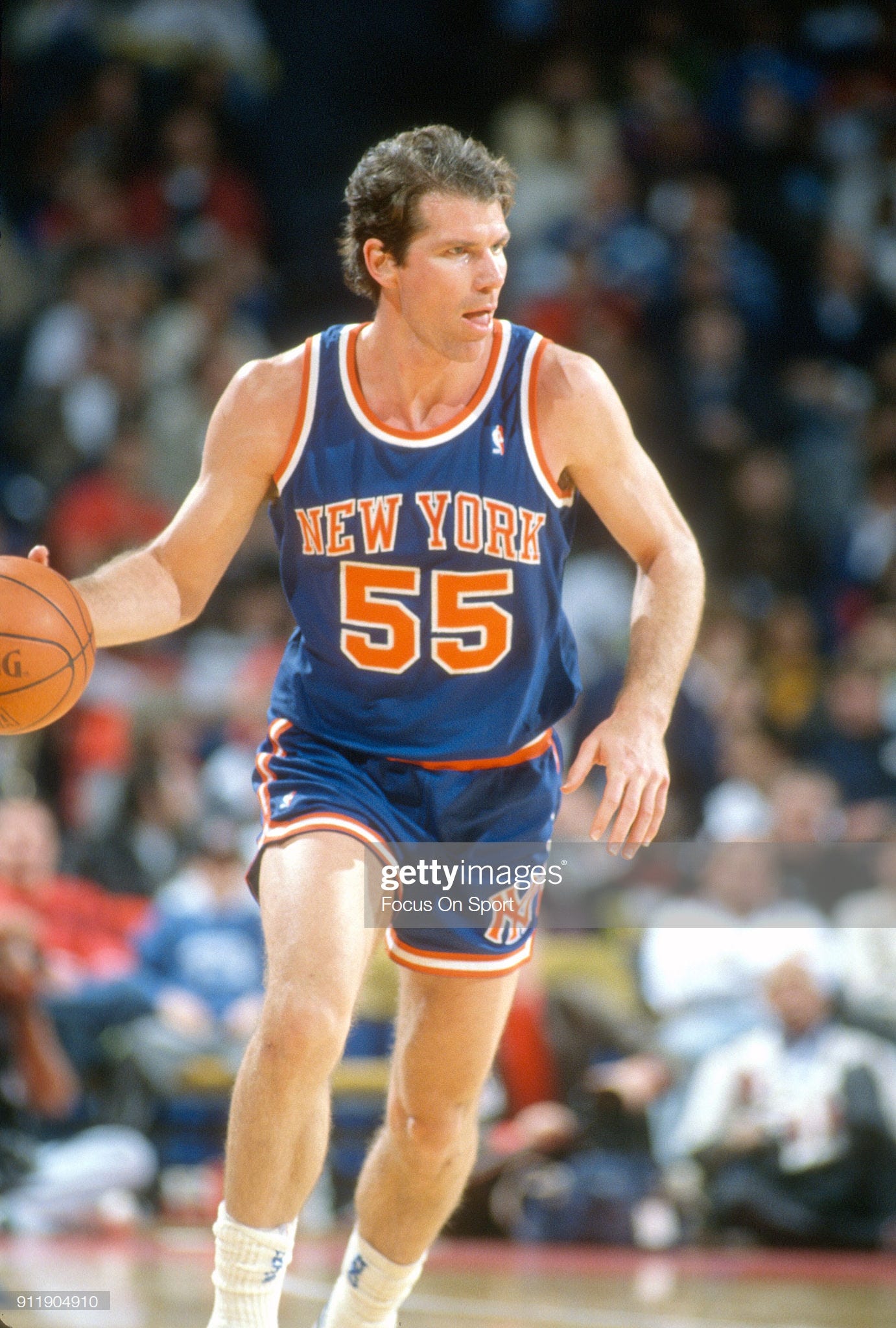 When the sweet-shooting Kiki arrived in New York to finish out the 1988-89 season, the Knicks were undergoing a renaissance under Rick Pitino. Sporting a 35-17 record when the trade went down, the Knicks finished the year strong with a 52-30 record overall. Vandeweghe understandably played a minor role since he was still dealing with that bad back while joining a new team. He averaged 9.2 PPG in 18.6 minutes a game during that half-season.
The struggles kept up for him in the 1989-90 season. Appearing in just 22 games, Kiki once again had an injury-riddled year; his third in a row. The forward still averaged 11.7 PPG when available, but at 31 years old, his lasting effectiveness was seriously in doubt.
For the 1990-91 season, Vandeweghe did put up his final impactful campaign. Healthy for the first time since the 1987 season, he was pressed into the Knicks' starting lineup since former starting small forward Johnny Newman was longer around. Appearing in 75 games total (72 as a starter), Kiki averaged 16.3 PPG on .494 FG%, .362 3PT%, and .899 FT%.
Like I keep saying, this man could put the ball into the basket with ease.
But just as Kiki proved a valuable contributor again, the Knicks underwent turmoil elsewhere. Coach Stu Jackson—who had replaced Pitino—was himself fired 15 games into the year. The front office changed leadership from Al Bianchi to Ernie Grunfeld. The pumpkin-colored club cobbled together 39 wins and was swept by Chicago in the first round.
It was a sign of distress that Vandeweghe was the leading scorer for New York in the series with 17.0 PPG. That's more than fine for Vandeweghe given his age, but it was baaaad for New York to have him as the leading scorer unless he somehow reverted back to his 1984 self.
For his final New York season (1991-92), Vandeweghe returned to the bench as the team filled out a powerful roster. Emphasis on power.
Newcomers Anthony Mason and Xavier McDaniel shored up the forward rotation while John Starks arose as an indispensable guard. Under new coach Pat Riley, the Knicks surged to 51 wins and were ousted by the Bulls in seven highly memorable games in the Eastern Conference Semi-Finals… well except the actual seventh game where Chicago blew New York out by like 75 points.
Vandeweghe barely played a role in the affair, though. He totaled just 19 minutes in the exhilarating series.
With that writing on the wall, New York waived Kiki in the off-season, which brings us to his final stop.
---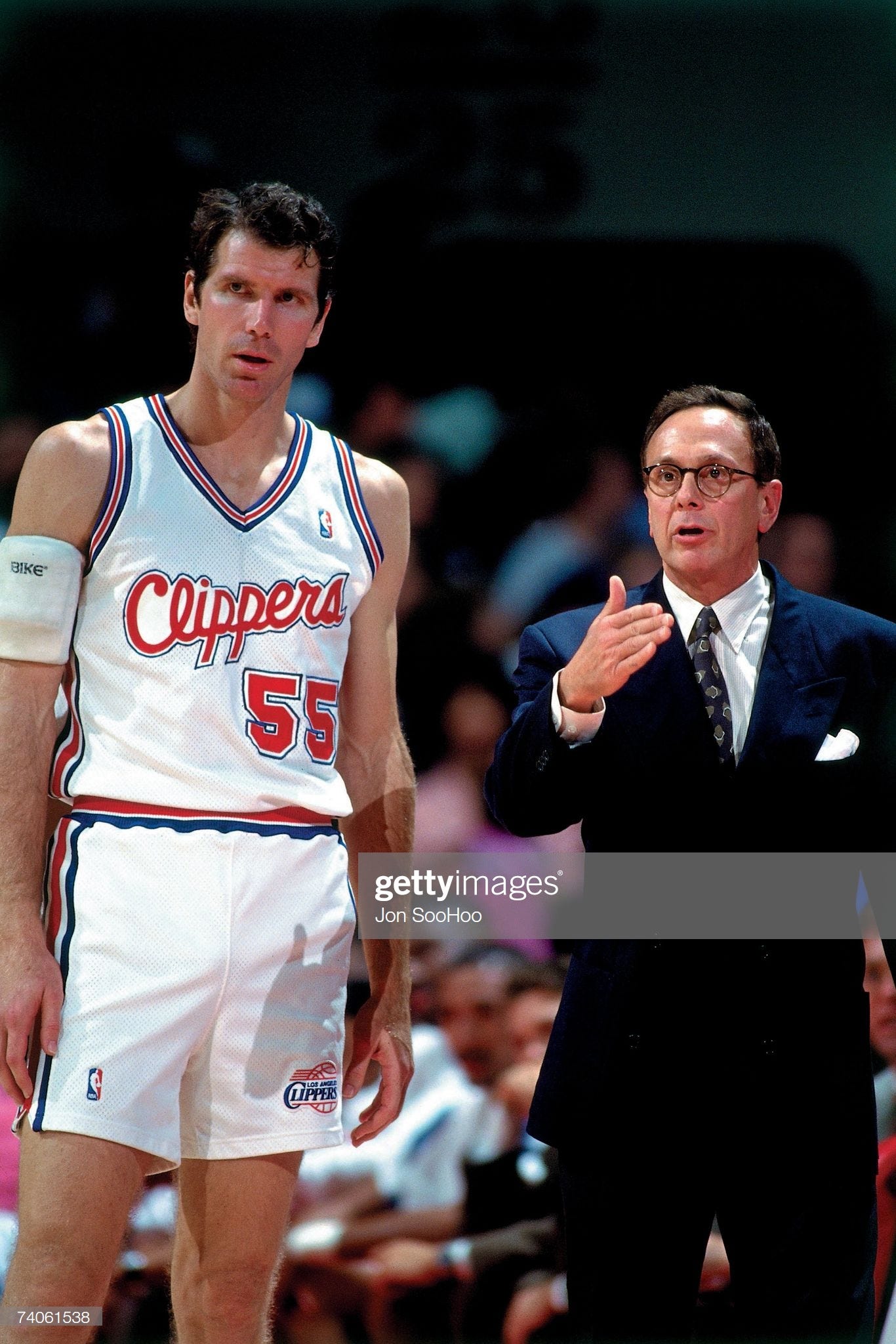 Yep, Kiki ended his career with a season as a Los Angeles Clipper.
Did you know the Clippers had won 45 games the year before? Then after adding Vandeweghe for the 1992-93 season, they dipped to 41 wins. Then from that point the Clippers had just one winning season over the next 20 years!
And all that dysfunction and chaos can be traced back to Vandeweghe showing up and averaging just a measly 6.2 PPG. And that's when he bothered to play—he only appeared in 41 games. A horrific chain of events cascaded from his miserable final year.
Obviously the source of Clipper woes for decades was Ernest Maurice "Kiki" Vande…
wait a minute…
Kiki's not to blame for the struggles that afflicted the Clippers or the Knicks or the Blazers or the Nuggets or the Mavericks.
There is no Kiki Curse.
If anything, the problem was general managers making dumb trades for Vandeweghe. He was certainly worth having on your team. The issue was seeing him as a centerpiece to success and not an accentuating tool.
Like, what the hell was Portland thinking giving up the whole kingdom for Kiki? But that's not his fault. And it's unfair to ding a guy for injuries. It's not like Vandeweghe went out there and hurt his back on purpose.
So, to reiterate, there is no Kiki Curse.
Remember to snoop around a little before thinking a single player is responsible for an entire team's or franchise's shoddy construction.
That's the GM's or owner's fault.
---
SLEEP AROUND
His Purpleness Prince also suggests that you do proper preventative work to make sure all is right in your love life.