Mark Aguirre
In just their second year of existence, the Dallas Mavericks struck pay dirt in the 1981 NBA Draft. With three picks in the first round Big D made off with Jay Vincent (24th overall), Rolando Blackman (9th overall), and Mark Aguirre (1st overall) from DePaul. You'd find it difficult to find any single draft class that good for a specific team.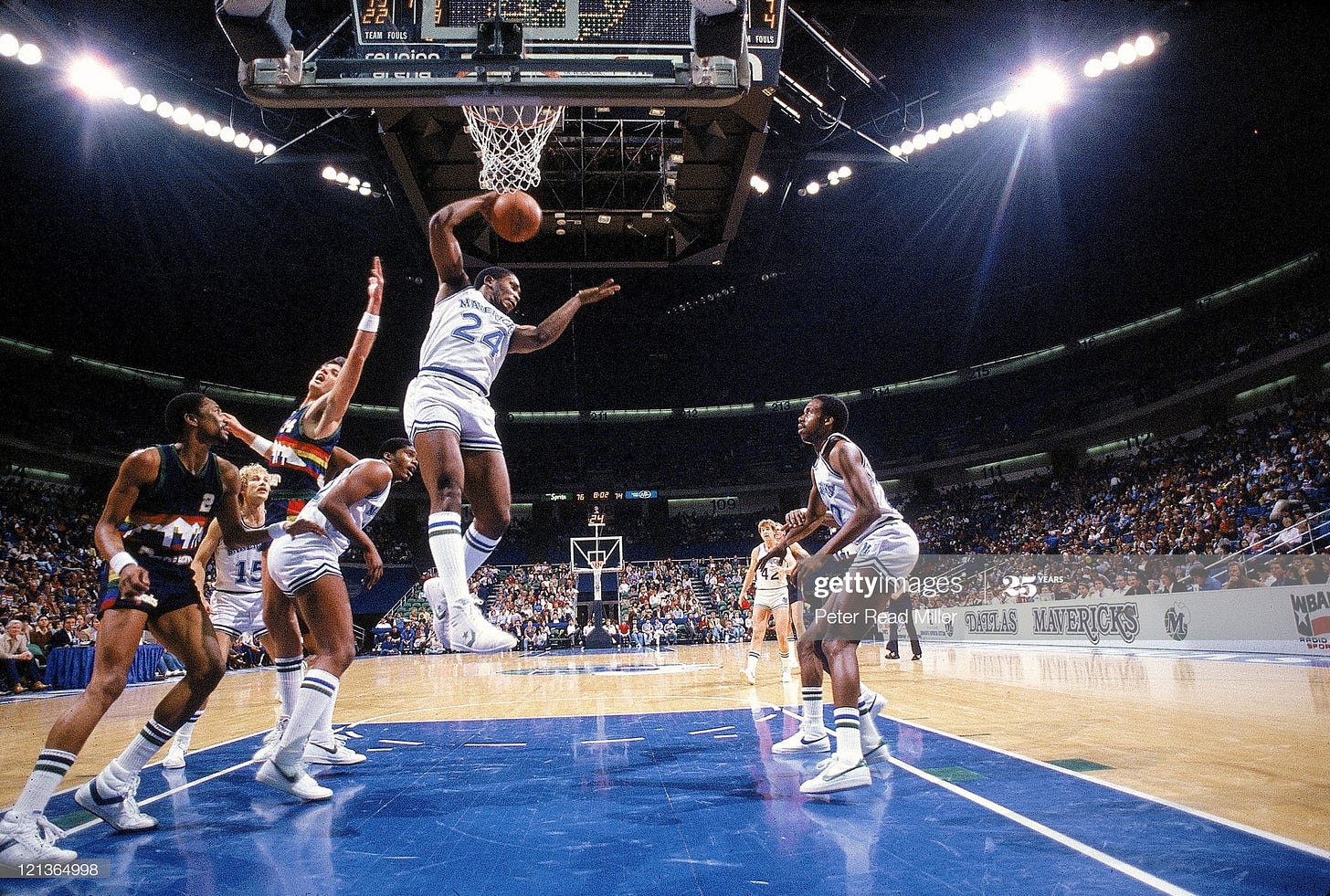 Aguirre's Mavericks career began with rather ominous questions, though.
Specifically, noted the Fort Worth Star-Telegram, "The quality of Aguirre's attitude continues to be questioned." At a press conference shortly after he was drafted by Dallas in June 1981, Aguirre assured the basketball folks that "I think those questions are going to start cooling off once people get to know me." Star-Telegram writer David Moore, however, warned that the word out of DePaul was that the small forward "has as many moods as he does moves."
Well, the mood was celebratory early in the 1981-82 season as Aguirre came out hot in the first 20 games of his career—all starts. The forward averaged 23.6 PPG including a 42-point effort against Golden State. Now the team was only 4-16 during these 20 games, but they were just one year removed from joining the NBA. They were still going to stink to some measurable degree, so it was nice to have Aguirre justify his draft position so quickly.
Then in December, Aguirre's rookie campaign was derailed in Kansas City.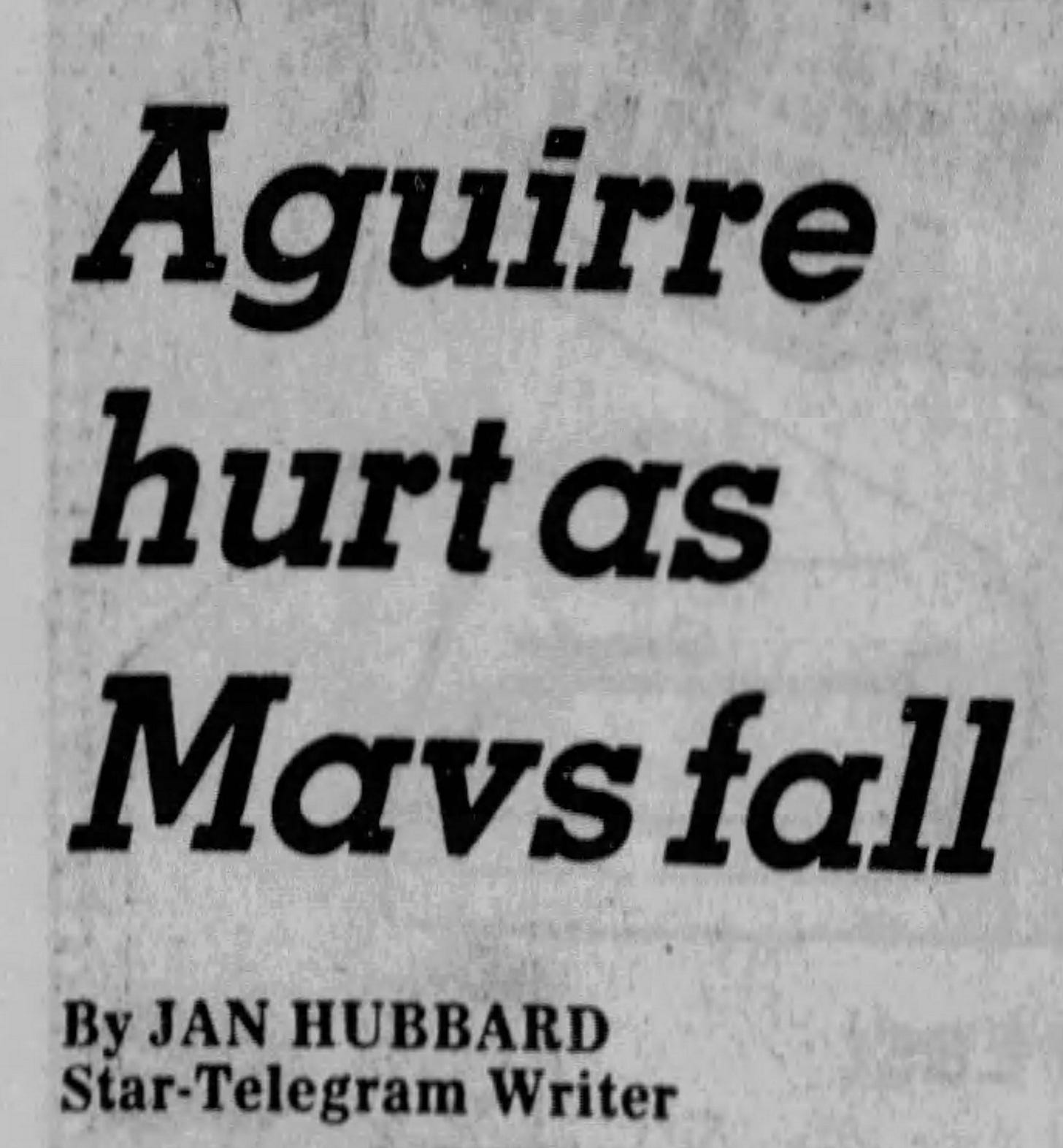 Fort Worth Star-Telegram, December 10, 1981
A broken foot suffered in the fourth quarter of that December 9th game kept Aguirre out until February 20th. Upon his return, Aguirre was utilized off the bench. After all, the team was still in no position to reach the playoffs and their other forward draft pick (Vincent) had lit it up in Aguirre's absence averaging 26.8 PPG.
So Aguirre finished his rookie campaign averaging 15.6 PPG down the stretch to bring his season's average to 18.7. Vincent logged 21.4 PPG overall and Blackman was good for 13.3 PPG. Like I said, not a bad haul.
For the 1982-83 season, Aguirre fully broke out as he played 81 games averaging a robust 24.4 PPG, 6.3 RPG, and 4.1 APG.
His ways of scoring were rather typical for the legion of high-octane small forwards that roamed the earth in the 1980s. Like Bernard King and Alex English, Aguirre possessed a soft mid-range jumper. And much like King, he also had significant power behind his moves despite being a "small" forward. He was a burly 235 pounds and could comfortably ricochet off defenders on his drives to the basket or use his ample posterior to create wiggle room.
On these attacks, Aguirre had the uncanny ability to manipulate the basketball solely with his right hand. It was somewhat like Connie Hawkins, but a little more earth-bound, and a lot less elegant, yet it was still effective. Sometimes he'd get enough air to dunk the ball ferociously with the maneuver.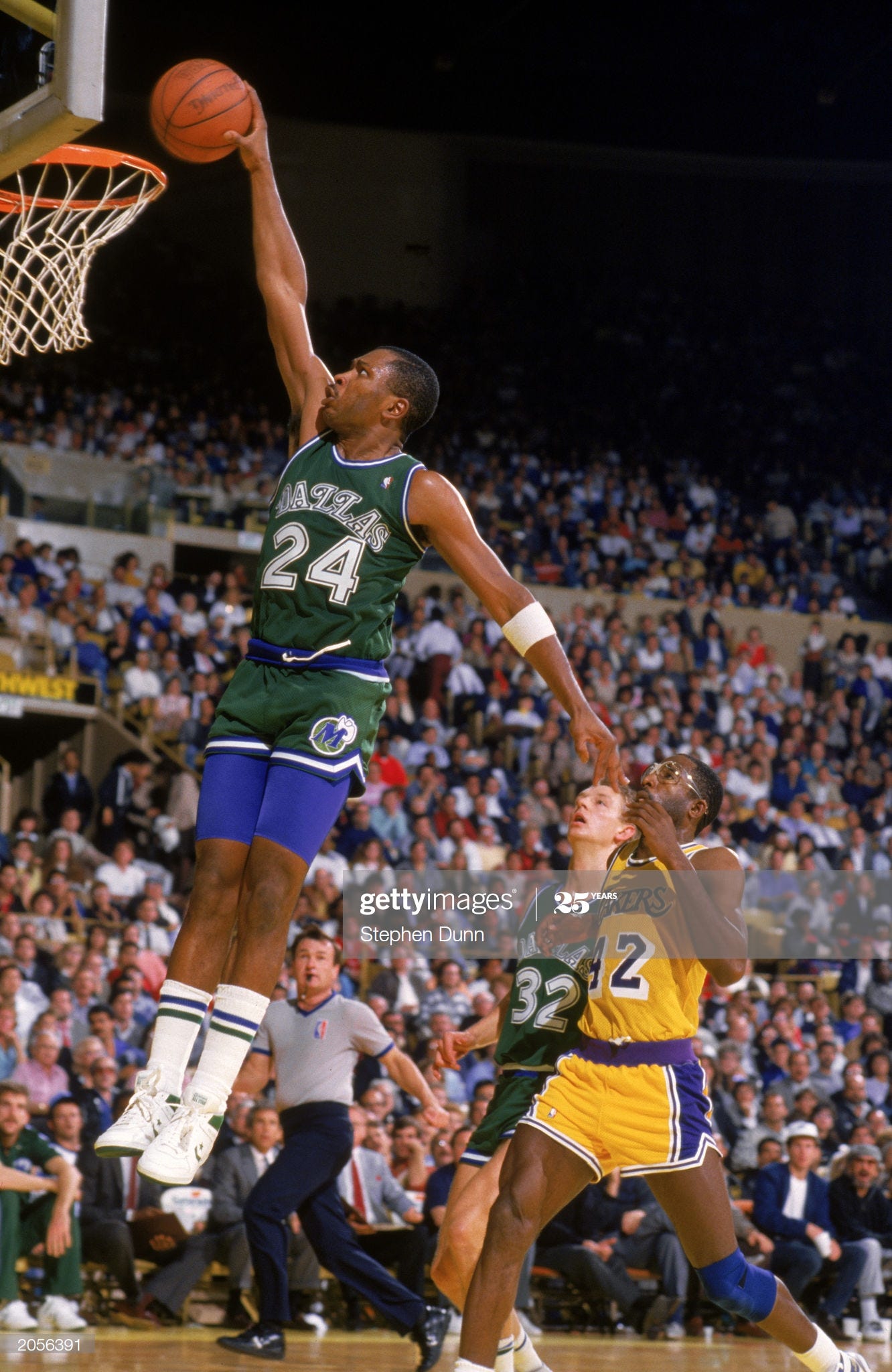 Or he simply avoided the defenders and flipped up unexpected, agile one-handers. Or he could dump off the perfect pass to a teammate hanging along the baseline by the basket. There's a reason why this scoring juggernaut also averaged four assists a night during his 1983 to 1988 prime.
In 1984, Aguirre enjoyed the best season of his career statistically: 29.5 PPG, 5.9 RPG, 4.5 APG, .524 FG% and .749 FT%. He was named to the first of his three All-Star selections. Most importantly, the Mavs made the playoffs for the first time as their 1981 draft class matured.
By this point, Blackman had elevated his game to be a more than worthy co-star of Aguirre's as he notched 22.4 PPG that season. Vincent had taken a step back but was still a potent double-digit scorer. The veteran point Brad Davis kept hungry mouths fed (6.9 APG) and rookies Derek Harper and Dale Ellis gave Dallas an increasingly deep roster.
In their first playoff series, the 43-win Mavs faced off against the 42-win Seattle SuperSonics. The series reflected their nearly identical records. Dallas had a two-point Game 1 win followed by Seattle taking a three-point Game 2 win. In Game 3 Seattle got a 10-point win then in Game 4, Dallas took an 11-point victory.
In Game 5 Aguirre (25), Blackman (29), and Vincent (15) combined for 69 points in a 105-104 overtime win. (It's really one of the wackier endings to a playoff game ever, so I'm saving it for another article).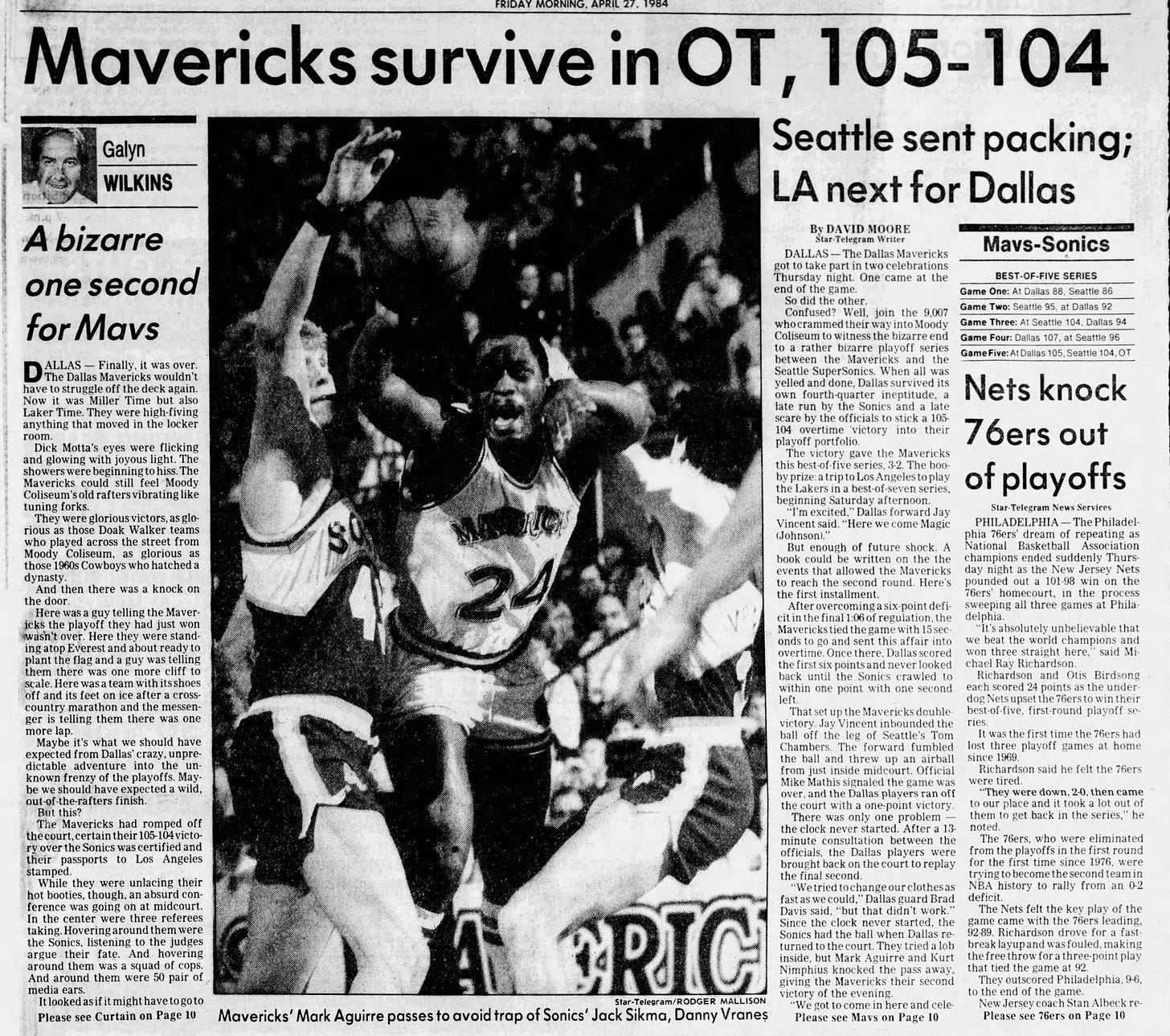 Fort Worth Star-Telegram, April 27, 1984
Unfortunately for the Mavericks their next opponent would be the Los Angeles Lakers, who proved that season and ensuing ones to be too powerful for Aguirre's crew.
Oh sure. Over time, Dallas chipped closer and closer to defeating the Lakers. They lost the 1984 Western Conference Semi-Finals 4-games-to-1. In 1986, the Lakers bested them 4-games-to-2. Finally, in 1988, the Lakers eked out a 4-3 series victory over Dallas in the Western Conference Finals.
And that '88 Mavericks squad was a squad. They ran eight men deep: Blackman, Harper, Davis, Sam Perkins, James Donaldson, Roy Tarpley, and Detlef Schrempf marching behind Aguirre's 25.1 PPG that year. The plethora of talent meant that Aguirre didn't need to score like he used to, but he certainly could light it up.
In the 1988 first round, the Mavericks survived a truly Herculean performance from Hakeem Olajuwon to eliminate the Houston Rockets in four games. In the decisive Game 4, Aguirre scored 38 points including 27 in the third quarter.
Galyn Wilkins of the Fort Worth Star-Telegram described the performance beautifully:
We were inside, packed into a warm, brightly lighted arena, but what the Dallas Mavericks' Mark Aguirre brought down upon Houston last night resembled a spring thunderstorm on Texas prairie.

First there was a barely noticeable gust of wind—a banked layup. Then heavy clouds formed around the Rockets when Aguirre made another layup and a 20-foot jump shot.

Then the sky fell in. In the third quarter Aguirre was lightning, thunder, basketball-sized hail and apocalyptic wind blowing out the Rockets' last playoff candles.

Often as unpredictable as a weather vane, he scored 27 points during those 12 minutes, a spontaneous surge that appeared to have no origin. He simply rolled in almost unannounced, almost forgotten, wound himself into an unstoppable, whirling funnel cloud and flattened the Rockets.
In the WCSF versus the Denver Nuggets, the Mavericks fell behind 1-2 in the series. In Game 4, Aguirre unleashed 34 points, seven rebounds, and seven assists to help Dallas right the ship as they won that game and the next two to dispatch the Nuggets.
Then in the aforementioned Western Conference Finals against the Lakers, Aguirre averaged 24.7 PPG on 51.8% FG shooting, but that series marked the pinnacle of the 1980s Mavericks. The Mavs were down just one point at halftime of Game 7, but the Lakers blew them out in the second half running away with a 117-102 win.

Fort Worth Star-Telegram,
February 16, 1989
Change was afoot as some of the more… *ahem*… lively incidents involving Aguirre began to grate on the franchise's nerves too much. Midway through the 1988-89 season, Aguirre was traded to the Detroit Pistons. The Star-Telegram got a slew of quotes that are absolutely brutal as teammates bid Aguirre farewell. Turns out the many moods of Mark Aguirre were indeed true.
Sam Perkins, elated: "Yesterday was Valentine's Day. This should be an all-day party. Am I happy? Believe it."
James Donaldson, frustrated: "We're working hard all game long to keep those guys off the boards. Here comes [Jerome] Kersey, even [Kiki] Vandeweghe, getting offensive rebounds. You look at who's supposed to be guarding them—Mark. He's just loafing. If you don't want to play, ask to come out."
Rolando Blackman, diplomatic: "I won't miss Mark. What I'll miss is knowing he can be such a great player, someone who can make you better. It's a big shame…. He was the one manipulating everything to make sure he's gone, so just realize we had nothing to do with it."
Derek Harper, blunt: "This will be a good trade for the Dallas Mavericks. Who cares about Mark Aguirre?"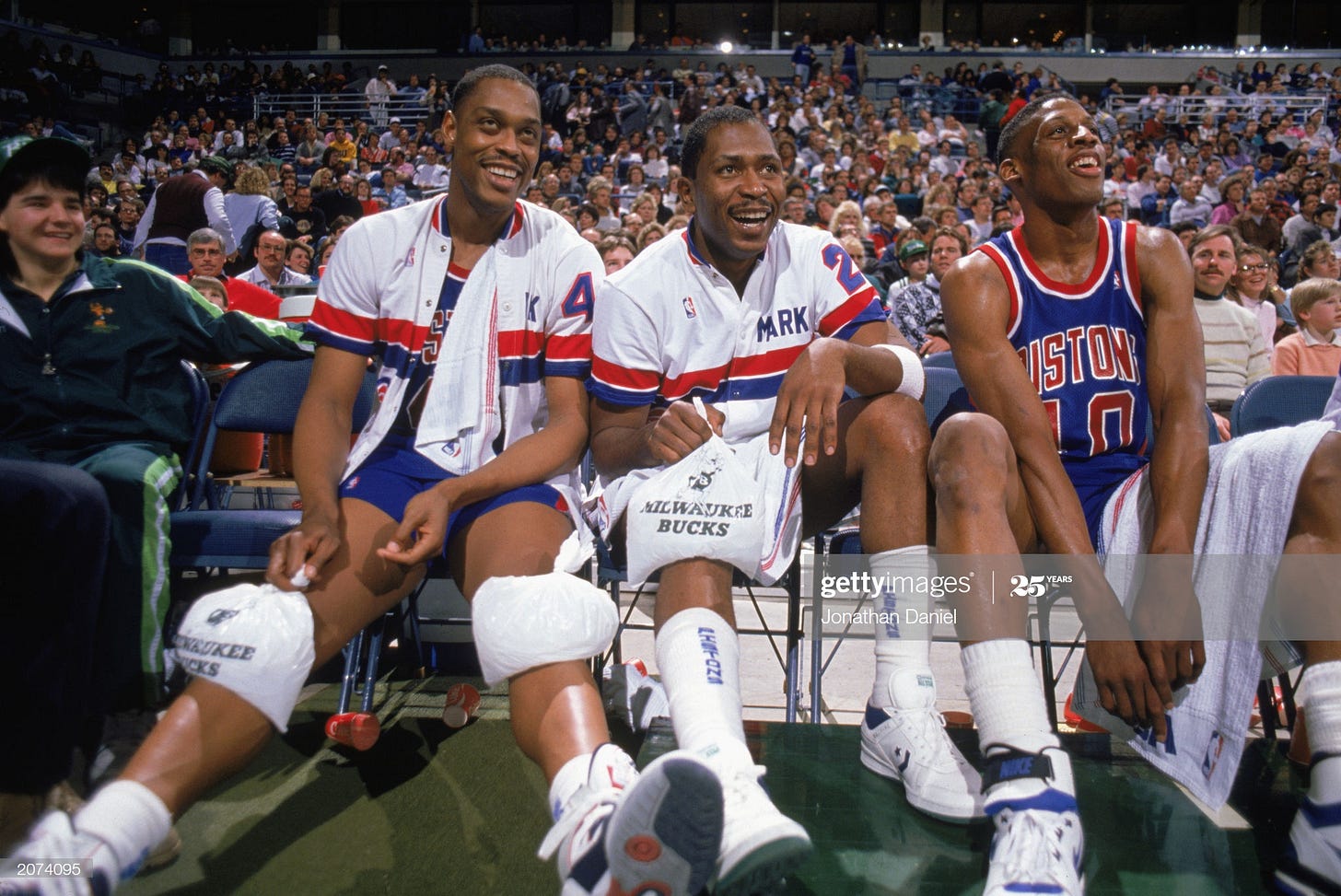 In the Motor City, Mark would no longer be the co-featured option, but one offensive source amongst many. And he'd play as a reserve for the first time since his rookie season. During his four-plus seasons with Detroit, Aguirre averaged a modest 13 PPG. The move nonetheless resulted in him receiving two NBA championships as a member of the Pistons in 1989 and 1990.
He also got a chummy reunion with his good friend and fellow Chicagoan, Isiah Thomas. And therein probably was the key to Aguirre's Detroit success: the friendship with Thomas plus a coach like Chuck Daly.
His old DePaul coach, Ray Meyer, spoke to the Detroit Free Press after the Dallas-Detroit trade and provided insight on the prickly task of working with Aguirre:
"You have to really go out of your way to understand him," Meyer acknowledged Wednesday. "Mark is just a different kind of kid. He just has to have the right surroundings to be happy. And when he's unhappy, he's really unhappy. And he just won't play."

Meyer said Pistons coach Chuck Daly "will be good with him. Mark doesn't like to be yelled at. That's the biggest thing. He knows when he does something wrong, and you have to tell him in a nice, quiet way. It has the same effect if you would hit him with a sledgehammer.

"But he rebels when he gets yelled at."
No wonder Aguirre and former Mavericks coach Dick Motta didn't get along. Motta could be a pain-in-the-neck himself. He even got the affable Chet Walker fired up and disgruntled back in the 1970s when he coached the Chicago Bulls.
Anyways, as his Detroit scoring average alludes to, Aguirre never had a super standout moment with the Pistons like he did in Dallas. But he certainly still had moments.
In Game 2 of the 1989 Finals, Joe Dumars did the heavy work for Detroit with 33 points on 10-16 FGs. Aguirre, reflecting his new role, provided the Pistons with 14 points on 7-11 shooting in their comeback 108-105 win over Los Angeles.
In Game 5 of the 1990 ECSF, Aguirre had one of his deluge scoring events when he poured in 17 points on 8-10 shooting against the Knicks in the second quarter. The effort reversed an 8-point Knick advantage and turned it into a 51-49 Piston halftime lead. Detroit would go on to eliminate the Knicks by a score of 95-84 and Aguirre finished with 25 points total.
In Game 5 of the 1991 ECSF, Aguirre gave the Boston Celtics some work to the tune of 34 points on 11-16 shooting. In the 2nd, 3rd, and 4th quarters Aguirre scored exactly 10 points in each frame giving the Celtics a steady stream of poison.
Normally, though, Aguirre was usually just another player on Detroit. Which again resulted in two titles, so can't complain that much, right? Well, the many moods of Mark Aguirre eventually bubbled up to the surface. Well, during the 1991 season when Detroit was clearly in a struggle to win another title, the moods manifested.
That postseason against Atlanta, Daly yelled and screamed at Aguirre for completely blowing a defensive rotation. The sulking Aguirre later refused to re-enter the game when Daly reached out for him.
Afterwards when tempers cooled, as the Sacramento Bee reported it, Daly acknowledged he might have overstepped his bounds. "Mark was upset at me," Daly said. "That's going to happen at times. Thinking back. I realized that perhaps I might have overreacted."
(Certainly not the tack Dick Motta woulda took!)
Aguirre for his part considered his behavior unimpeachable: "Why should I [apologize] when I didn't do anything wrong? I was just following Chuck's instructions on the play." Aguirre kept up the scene, "How can I not be considered a team player?"
And kept. It. Going.
"I have made numerous sacrifices to make this a better team. I sacrificed my starting position. I sacrificed minutes. I sacrificed getting more money. I wish that those who wish to criticize me would look at the broader picture instead of one incident."
Since we're all up in this drama, an unnamed Pistons source "believes the broader picture has been too much," reported Martin McNeal. That team official elaborated, "There is no (bleeping) way Mark Aguirre will be back on this team next year."
Well, Aguirre actually wound up playing two more seasons in Detroit (1992 and 1993), but hey that's anonymous sources for you. Anyways, Aguirre was finally waived by Detroit in the fall of 1993.
He finished his NBA career with a cup of tea in LA playing for the Clippers. On February 1, 1994, he was released by the Clips and his NBA career came to a close.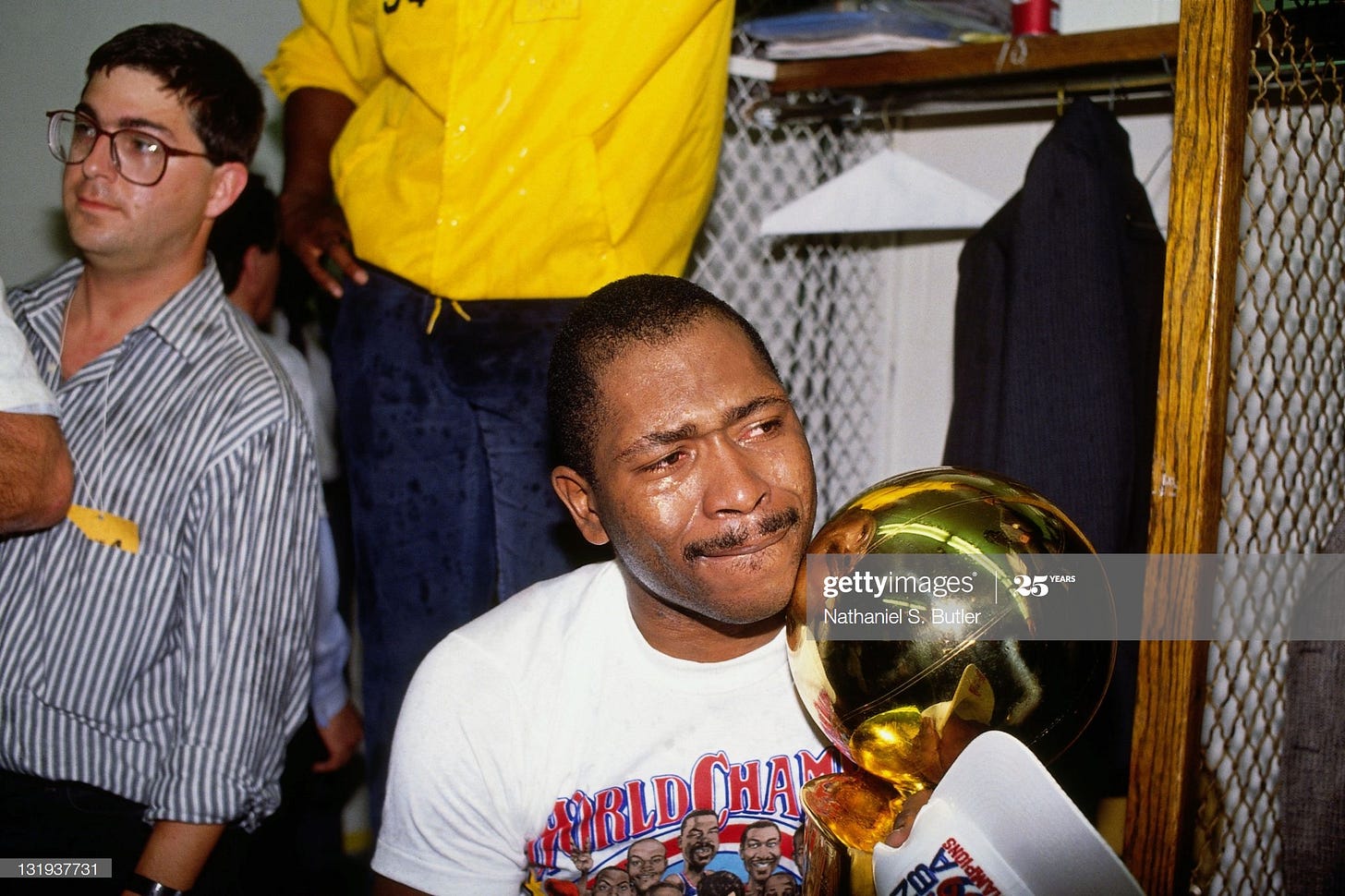 So, Mark Aguirre.
Totally talented. A scorer supreme. Mercurial with the Mavs as a star. (Sometimes) joyful off the bench in Detroit.
NBA careers be that way sometimes.