Nick Van Exel's 2003 Playoffs
High Socks Never Felt So Good
Nick Van Exel is one of the more beloved NBA players from the 1990s. Just a shade over six feet tall, the point guard scored on a bevvy of floaters and herky-jerky maneuvers opened up by his deceptive, hesitating dribbles. Van Exel helped propel the Lakers from a brief early-90s slumber into a fun quirky squad that bridged the gap between the eras of Magic Johnson and Shaquille O'Neal.
We'll get to the Lakers side of Van Exel some other day, but for now we're looking at late-stage Van Exel when he wasn't quite "Nick the Quick" anymore, but had more than enough moxie to make up the discrepancy.
As the article title indicates, we're zooming in on his 2003 playoff run that helped the Dallas Mavericks reach the Western Conference Finals for the first time since 1988. Despite coming so late in his career—and as a Sixth Man no less—this was easily his finest string of playoff performances.
Prelude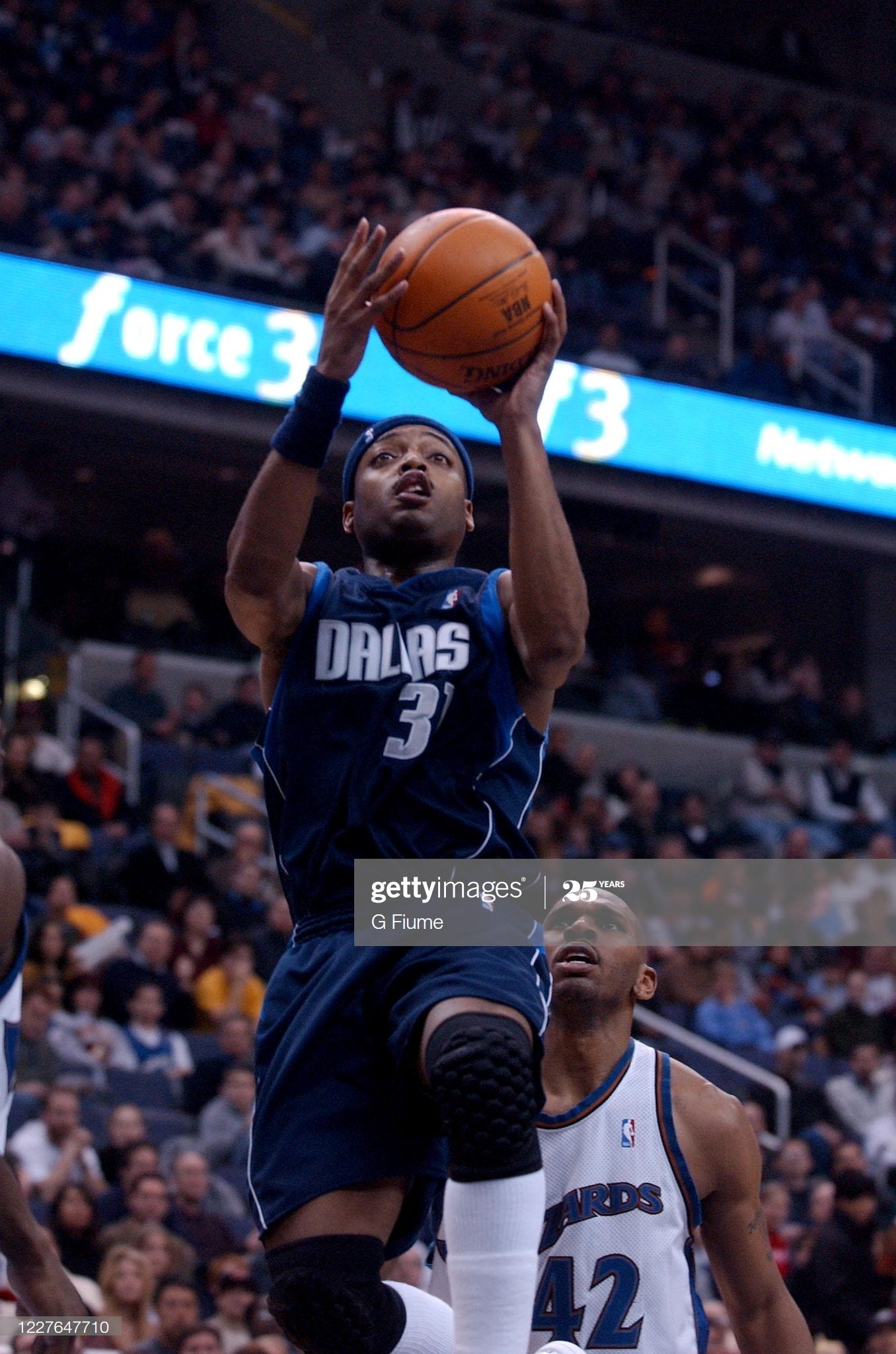 Don't worry Jerry. One day you'll be Dallas's Sixth Man.
Dallas acquired Van Exel in February 2002 from the Denver Nuggets to fill the role of Sixth Man. It was something Nick had never really done in his career. Occurring in his ninth season, Van Exel had played 602 of his 623 career games as a starter prior to the trade.
Yet, Mavs coach Don Nelson plopped Van Exel down on the bench for the start of games. In his one-and-a-half Dallas seasons, Nick played 97 of his 100 games off the bench. The super sub would now be incorporated as a dose of instant offense, often in a double point guard lineup with Steve Nash.
Van Exel performed well enough in the new digs. He finished out the 2002 regular season averaging 13.2 PPG and 4.2 APG for Dallas. Sure, that was down dramatically from the 21.4 PPG and 8.1 APG he'd averaged with the Nuggets during the other 45 games he played that year. But Denver finished with just 27 wins while Dallas topped off at 57.
Then the 2002 playoffs hit and Van Exel struggled quite a bit. A sadly recurring theme in his career to that point, especially when it came to shooting percentages.

Unsurprisingly, the Mavericks were bounced in five games in the semis by the Sacramento Kings. Fortunately, Van Exel came back much better for the 2002-03 season, especially in the playoffs.
Blaze of Glory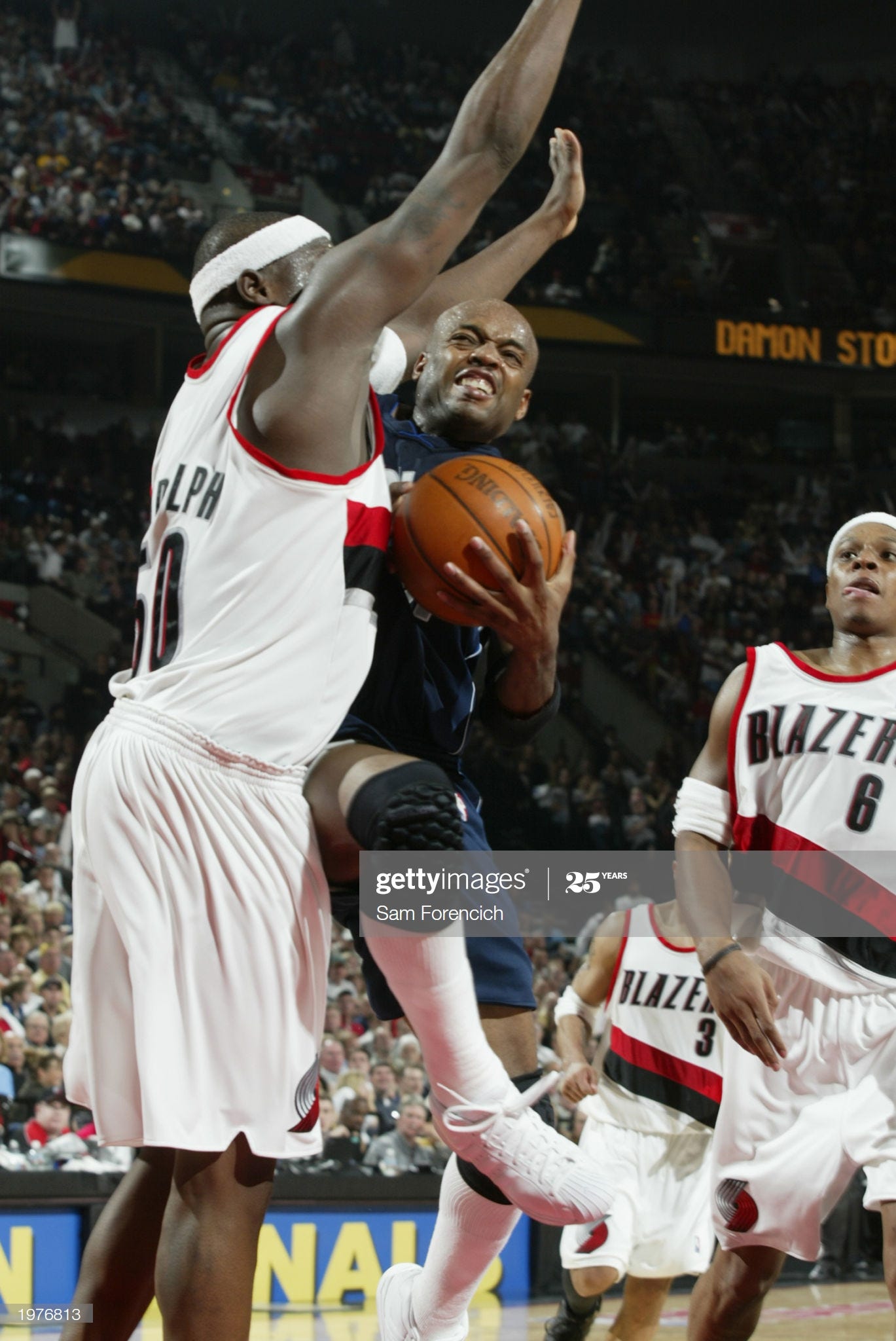 The Mavericks improved from 57 wins in 2002 to 60 wins in 2003. Now there's no doubt that Dirk Nowitzki was the anchor of this juggernaut as he averaged 25.1 PPG and 9.9 RPG. And no doubt that his primary sidekicks were Michael Finley (19.3 PPG) and Steve Nash (17.7 PPG and 7.3 APG).
Van Exel did his bench role pretty darn good, though. In the regular season he maintained a 12.5 PPG average to go with 4.3 APG. His shooting was about as good as you'd expect from him with .412 FG% overall. However, Nick's three-point shooting was .378. One of the best marks of his career.
His '03 playoff run started off as a continuation of the regular season. In the first three games of the post-season he averaged 11.3 PPG, 5.7 APG, and .405 FG%. The Mavericks quickly buried the Portland Trail Blazers in a 3-0 series hole.
The previous season, this would have meant a sweep. HOWEVER, the NBA had expanded the first round from best-of-5 to best-of-7 that season and Portland took advantage.
After scoring a total of 15 points in the first three games, second-year Blazers forward Zach Randolph was taken from the bench and inserted into the starting lineup. Z-Bo proceeded to thrash the Mavericks.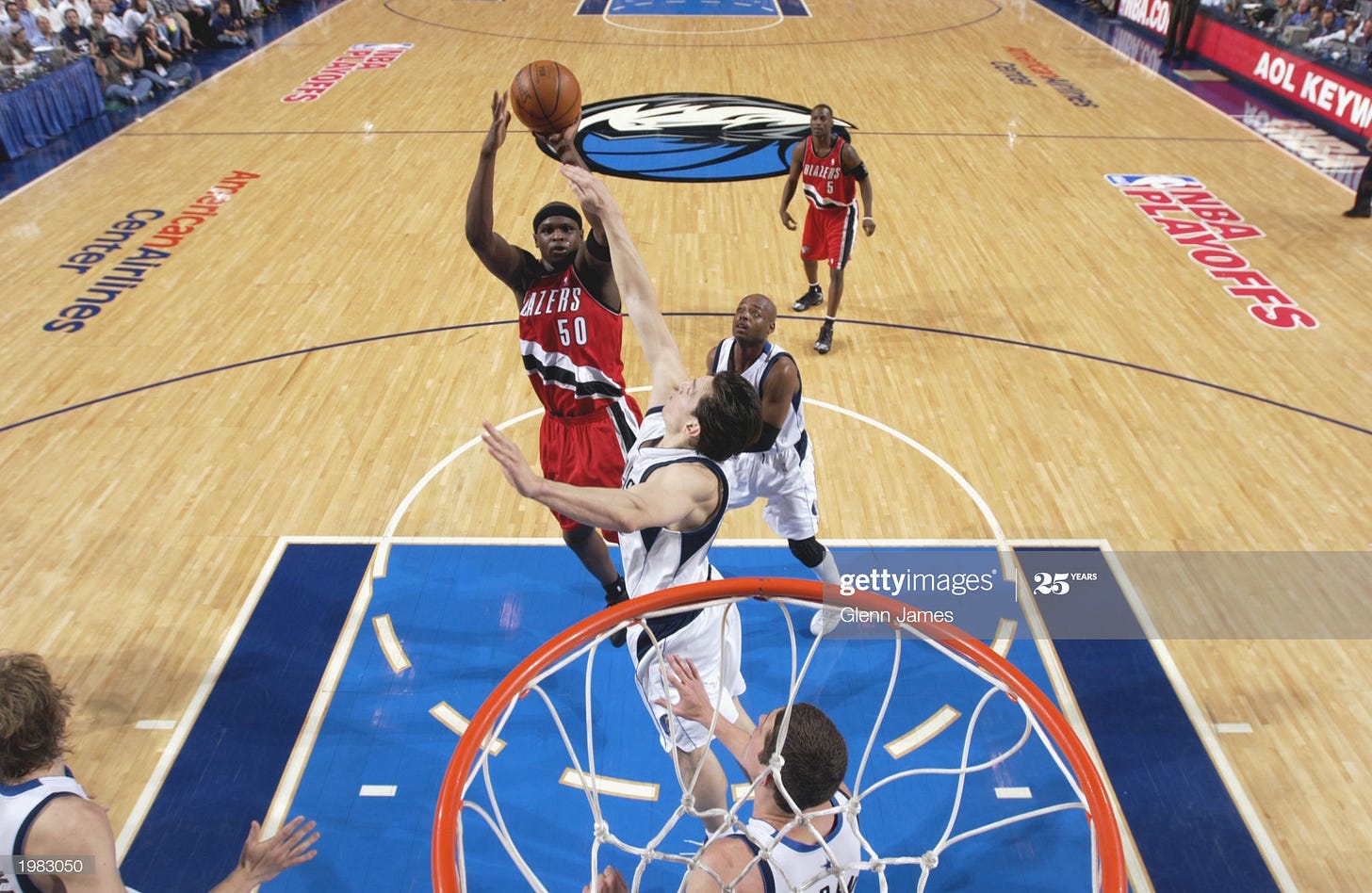 In Game 4, Randolph produced 25 points and 15 rebounds in a blowout 98-79 Blazers win. Van Exel countered with 18 points and seven assists.
In Game 5, Randolph had 22 points and nine rebounds in a 103-99 road win for Portland. Van Exel upped the ante to 25 points and five assists.
In Game 6, Randolph again dominated with 21 points and 10 rebounds in a 125-103 Blazers rout of Dallas. Van Exel disappeared with just four points.
So, uh, the Mavs weren't just in trouble. They were in historic, never-before-seen trouble. No one in NBA history had ever blown a 3-0 series lead.
Despite having Game 7 at home, the first quarter looked to spell doom for Big D. Z-Bo continued to torment Dallas with six points and four boards in the frame. Arvydas Sabonis in his final NBA game logged eight points on 4-5 shooting in the period too. Portland led 22-19.
Not great!
In the second quarter, Van Exel came alive with 10 points as Dallas won the period 26-23 thus sending the game into halftime tied at 45. But the third quarter ended with Portland up two points, 73-71. Van Exel scored zero points in that particular frame.
In the fourth quarter, Dallas finally escaped from the clutches of historical embarrassment. Randolph went scoreless for Portland and Van Exel led the way for Dallas. Playing the whole quarter, Nick the Still Sorta Quick scored 12 points on 5-6 shooting including 2-3 from downtown. He also chipped in three assists as Dallas pulled away 36-22 in the quarter to win the game 107-95.
In sum, Van Exel averaged 15.3 PPG and 5.0 APG on .472 FG% and .813 FT% in the first round.
(Also, Nowitzki averaged a HOLY CRAP worthy 29.9 PPG, 8.9 RPG, .521 FG%, .560 3P%, and .900 FT% in the series, but this article ain't about him, now is it?)
Here's the full Game 7, if you ever wanna watch. It's good!
King For a Series
In the Western Conference Semi-Finals, Van Exel was even better and played the absolute best ball of his whole playoff career. He flummoxed the Sacramento Kings with 25.3 PPG on .519 FG%.
Game 1 saw three Dallas players with 20 points each (Van Exel, Finely, and Nash) plus Dirk with 18. Sacramento wiped the floor with the Mavs by a final score of 124-113. And that despite the Kings losing the fourth quarter 37-26.
For Game 2, Van Exel turned into a blinding light of scoring fury: 36 points on 14-19 FGs and 5-8 3Ps. The Kings were brutally buried 132-110.
Game 3 proved, in retrospect, the series's fulcrum. Chris Webber missed that game and the rest of the series with a bum knee. The Kings having split the first two games on the road in Dallas would have the Mavs on the ropes, if they won their two upcoming home games.
Well, this crazy-ass contest was a rollercoaster. No team won back-to-back quarters and the scores wildly fluctuated. Sacramento got a +13 edge in the first. Dallas +11 in the second. Kings +7 in the third. Mavs +9 in the fourth.
Add it up and you got a tied game at the end of regulation. In the first overtime, the teams each scored 12 points. Finally, in the second OT, Dallas gained a 16-12 edge.
Van Exel shined bright in this ridiculous game. He scored a playoff carer-high of 40 points as Dallas prevailed 141-137. He also added seven assists and seven boards. And knocked down six three-pointers.
The last of his 15 fourth quarter points was a teardrop floater that bluntly hit the front of the rim before plopping through the net. That's the bucket that sent the game into overtime.
In the first of the extra frames, Van Exel went scoreless, but in the second OT he caught fire again with eight points. It was some clutch scoring. A sight to behold.
(Dirk had 25 points and 20 rebounds, while Nash had 31 points and 11 assists, but this ain't their stories, now is it?)
Dallas is lucky to have gotten that game, cuz Sacramento kicked their ass in Game 4, which was played the very next day, 99-83. Van Exel, like the rest of the roster sucked on the short rest. Just five points on 2-11 shooting for the elderly point guard. Game 5 back in Dallas saw the Mavs back in form as they now kicked Sacramento's ass, 112-93.
Van Exel returned to his en fuego form for Game 6: 35 points on 15-23 FGs including five treys. The Kings parried the assault, however, and eked out a 115-109 win setting up a Game 7.
Van Exel was great (23 points) in the series closer serving as wingman to Nowtizki's top-line performance of 30 points and 19 rebounds. The Mavs won 112-99, but it was a slow and steady snuffing out of the Kings not a dramatic blowout. Win's a win, though. Onward to the next round.
Spurred
Well, to this point Van Exel had an epic playoff run going, especially for a bench player: 20.3 PPG, 4.7 APG, .500 FG%, .410 3P%.
Then came the San Antonio Spurs in the Western Conference Finals. Van Exel wasn't bad, but he certainly wasn't up to the caliber he had been. He still got off 17.5 PPG against San Antonio, but his FG% cratered to .375 and his three-point shooting swooned to .345.
(Nowitzki missing the final three games of the series with a bum knee of his own surely didn't help things, but again we ain't talking about him.)
The series ended in a ball of fiery ingloriousness for Dallas. Sporting a 69-56 lead at home, the Mavericks were outscored 34-9 in the final period. The Spurs comeback was famously fueled by Steve Kerr nailing three three-pointers, but it was an all-around meltdown and ass-whooping.
Stung by the loss, Dallas traded Nick Van Exel to the Golden State Warriors in August of that off-season for a new Sixth Man: Antawn Jamison. Jamison actually won the NBA's Sixth Man of the Year Award in 2004 with Dallas and was pretty good in the spot. However, the Mavs lost in the first round of the playoffs after sinking to 52 wins.*
Clearly Dallas missed the glorious heroics of Nick Van Exel!
Well, at least he… got to languish with the moribund Warriors in 2004 (37 wins) and the awful Blazers in 2005 (27 wins)? Yikes. The Spurs rescued Van Exel in 2006. In his final season Nick was purely a bench player. The Spurs won 63 games and… were defeated in seven games by the Dallas Mavericks. Talk about some bull…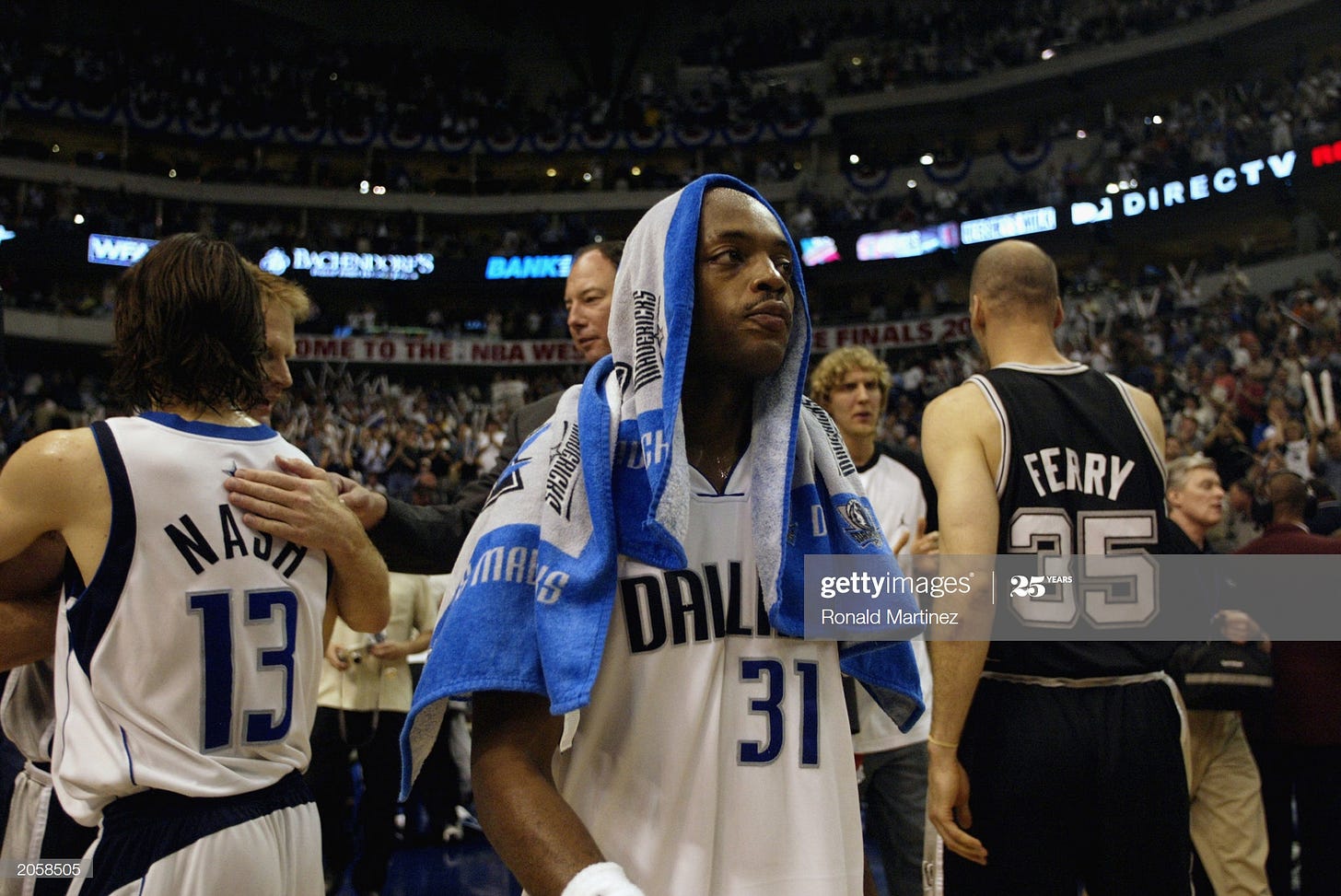 *(It wasn't Jamison's fault. The Mavericks had trigger-happy Antoine Walker in the starting lineup and he's the one who really mucked up the team. Anyways, another story for another day!)