Terry Cummings
The Power Forward Preacher Man
The 1982 draft was a loaded class. Dominique Wilkins, James Worthy, Fat Lever, Clark Kellogg, Ricky Pierce, and Sleepy Floyd are the highlight players, but the man who walked away with the Rookie of the Year crown was Terry Cummings.
T.C. was a lithe combination of power and speed that initially toiled on the moribund San Diego Clippers. Mercifully, he would be traded into the good graces of perennial powerhouse Milwaukee and when that situation began to go south, Cummings again was bailed out with a trade to the San Antonio Spurs. His arrival there helped spark a single-season turnaround not seen again until the 2008 Boston Celtics.
Terry's good fortune soon ran out as a devastating knee injury robbed him of his explosiveness. Nevertheless he soldiered on for another decade as a reserve forward and sterling locker room leader. But when he was at his athletic best, few in the NBA could match his combination of presence grace and strength at power forward.
---
Raised in Chicago as an aspiring hockey player, Cummings's high school growth spurt scuttled the ice dreams, but led him toward basketball glory. The stoic Cummings was selected second overall in the 1982 draft by the San Diego Clippers behind Worthy, who was selected by the Los Angeles Lakers first.
T.C. proceeded to outshine all other rookies including Worthy and third overall pick Wilkins. Terry's blend of power and speed were proved absolutely devastating for opponents:
Cummings is a sinewy 6'9″, 220 pounds, and though there was some concern at first that he might not be able to contain smaller, more mobile forwards, he has made his size work in his favor. "When I play a small forward," he says, "I have to keep my body on him all the time. Hit him, wear him down. But on the other end, with a small forward sticking me, I've got him. He's mine…"

For all his muscle, Cummings has shown he's more than just a power player. "He's really surprised me with his ballhandling," says Clipper Coach Paul Silas. "If we have problems bringing the ball up, we just clear the way and let Terry do it."
Terry did it alright to the tune of 23.7 PPG, 10.6 RPG, 2.5 APG, 1.8 SPG, and 0.9 BPG. He won all but one of the Rookie of the Month awards in 1982-83 and easily secured the Rookie of the Year award.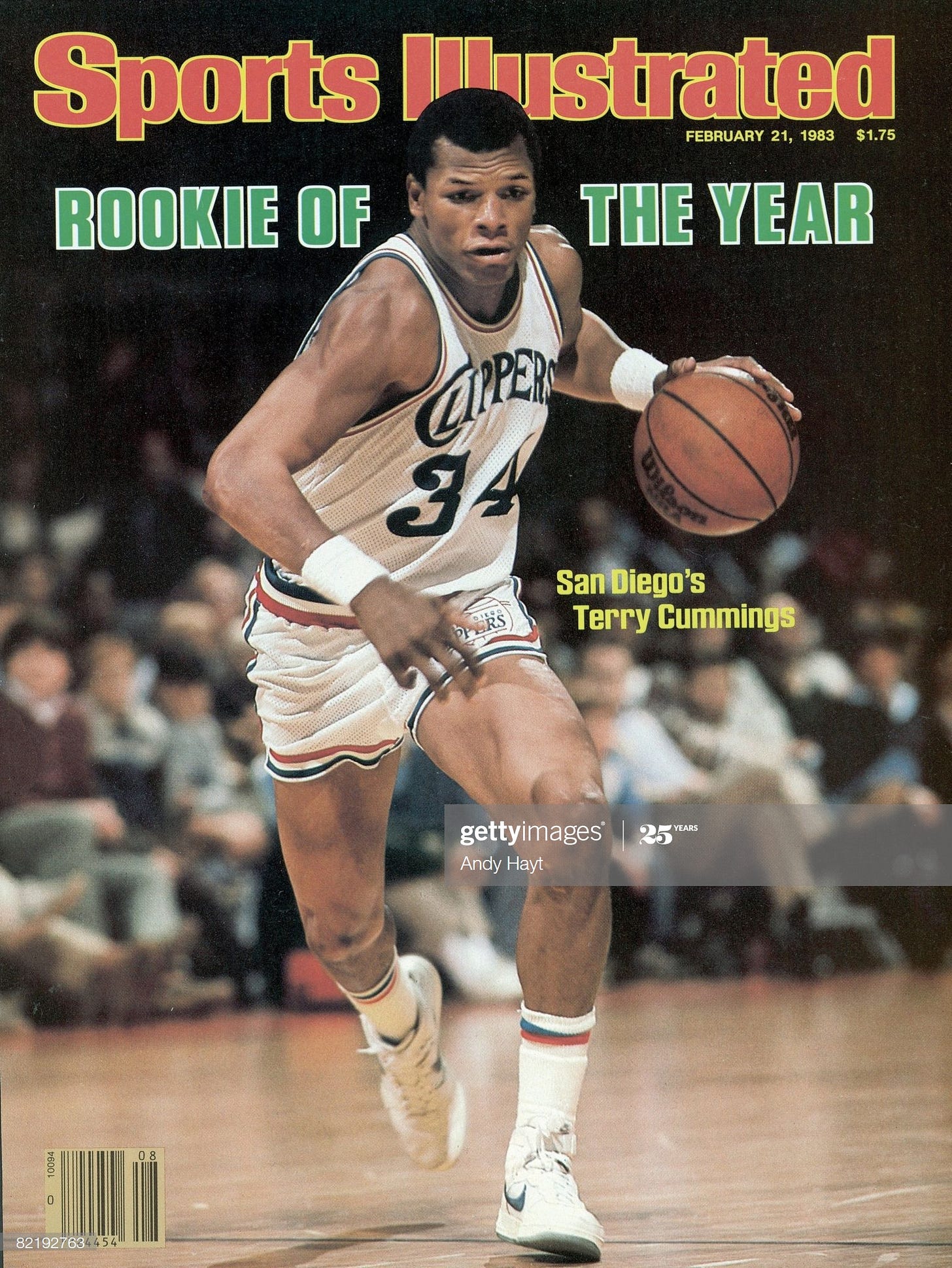 Unsurprisingly, the Clippers stunk, though.
They seemingly had a promising future with Cummings and fellow forward Tom Chambers. But the franchise was already owned by Donald Sterling, whose stewardship was already being called into question just a year after he bought the team:
The Clippers, under the bizarre ownership of Donald Sterling, had become such a laughingstock they held their training camp at a naval base, with players doing their own laundry
Sterling making players do their own laundry? Sounds about right.
In any event the Clippers would trade the young Chambers away to Seattle in 1983 and Cummings followed in 1984 being dealt along with Ricky Pierce to the Milwaukee Bucks for Marques Johnson. No offense to Marques, but the Bucks definitely got the better end of that deal since they got a young All-Star caliber forward and future Sixth Man extraordinaire in Pierce.
The Bucks were no slouches in the '80s.
They had won 50 games the previous year and lost in the Eastern Conference Finals, but Johnson's desire to play in Southern California was obliged with the Cummings trade. Terry came in and immediately gave the locker room more stability in a way only a rock-solid preacher man could.
Oh? Did I forget to mention Cummings was already an ordained preacher at this point of his life? Well, he was.
With the right reverend T.C. on board, the Bucks surged to 59 wins in 1985 and Cummings would be selected to the All-NBA 2nd Team and the All-Star Game that season. In the postseason the Bucks were swept in the second round by the 76ers, but the next season (1986) the two teams again engaged and it went the full seven games with the Bucks taking the final contest by a single point.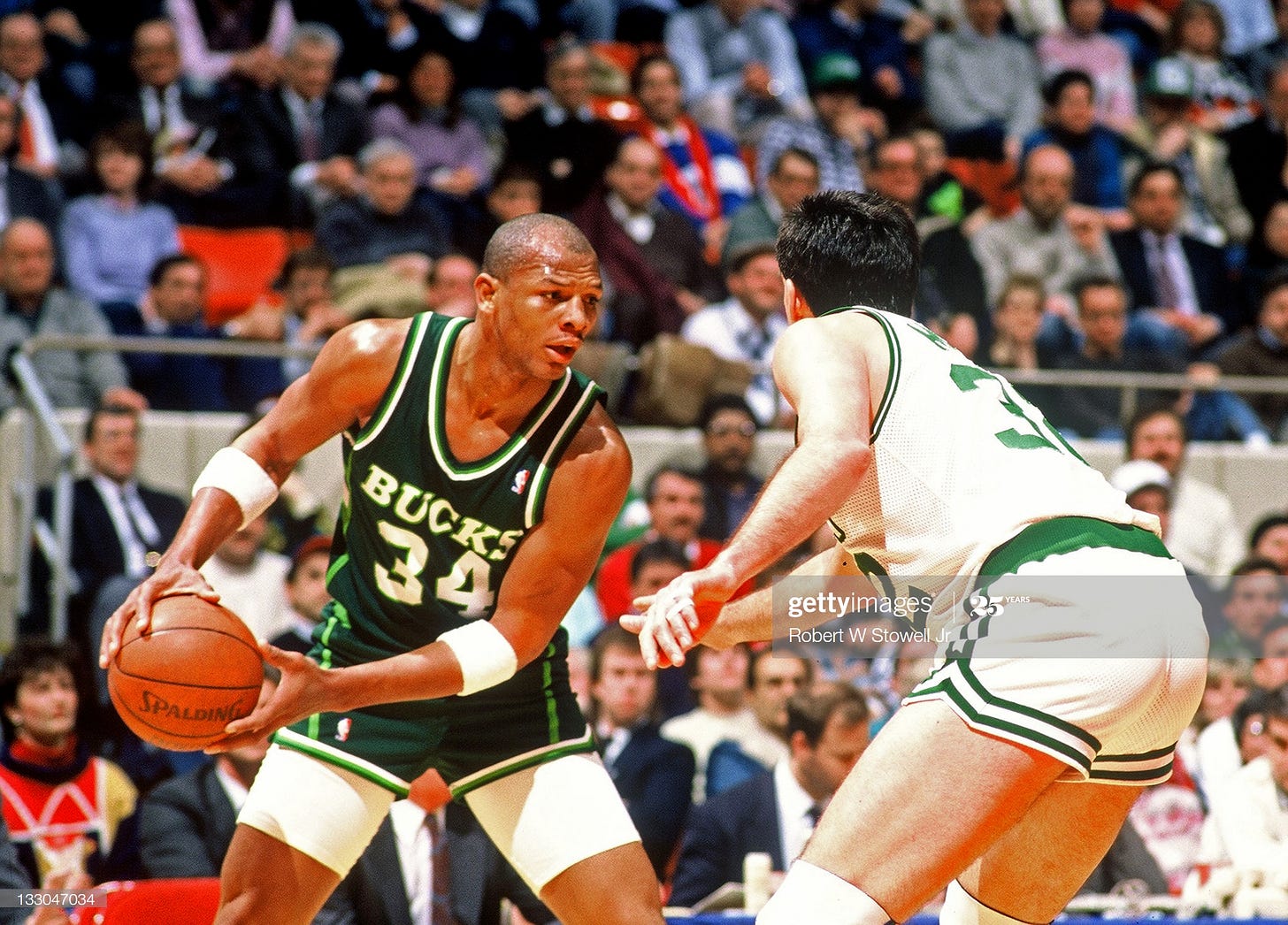 The elation soon dissipated as the Bucks went up against the Celtics in the conference finals. Some consider the '86 Celtics the greatest team of all-time and the Bucks did nothing to disturb the notion. Boston swept them out of the ECF.
From there Milwaukee never returned to those lofty heights despite continued success reaching the Eastern Semis in 1987 and 1989. Indeed in 1987 they were a hair's breadth away from yet another ECF. They lost to Boston 119-113 in Game 7.
After the '89 season, Terry was dealt to San Antonio.
The 1989-90 Spurs were perhaps the greatest single-season turnaround ever. Trades for Cummings and Maurice Cheeks brought in stellar veterans while rookies Sean Elliott and David Robinson brought in the ambitious talent. The team surged from 21 wins in 1989 to 56 wins in 1990.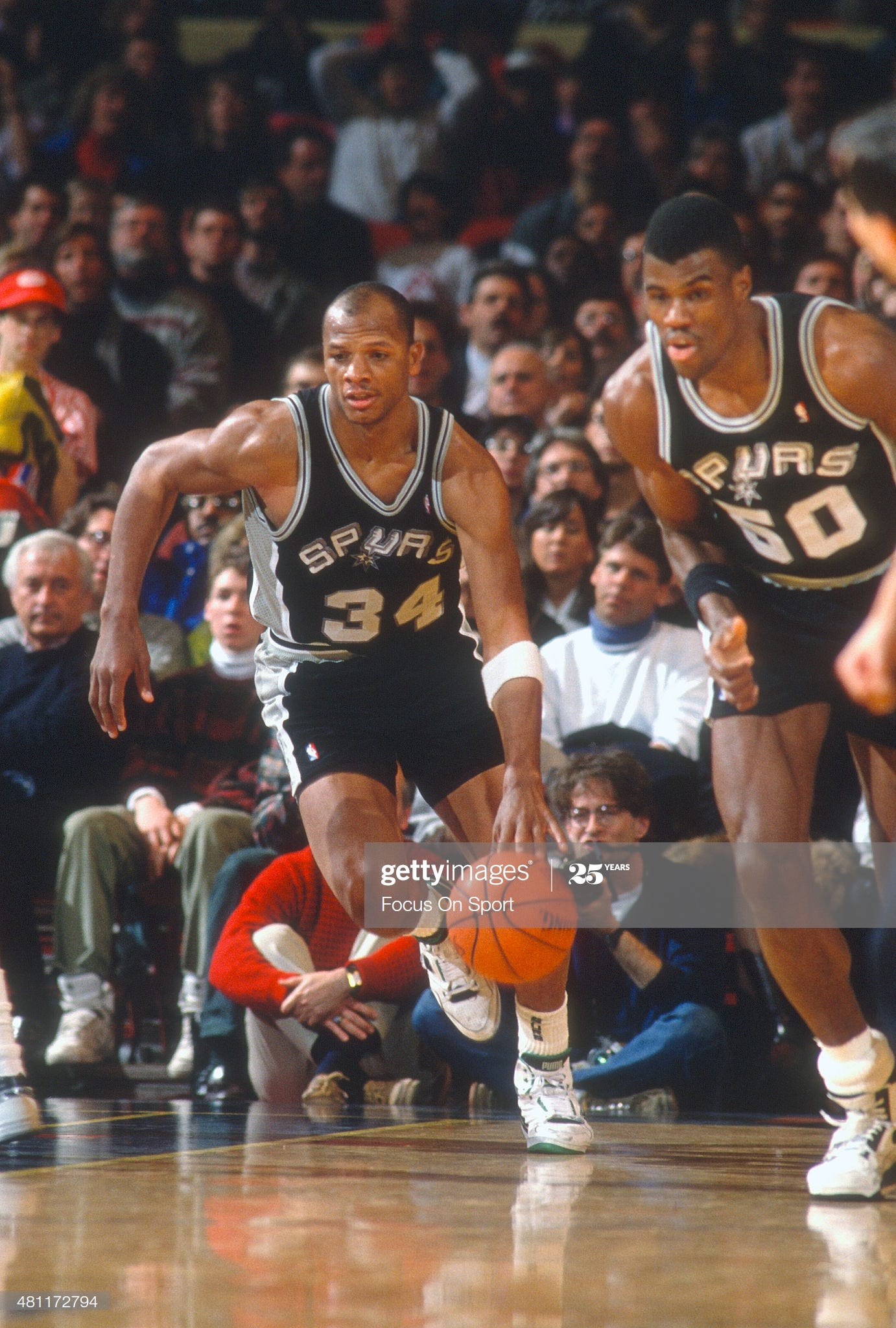 In the postseason the Spurs fell into what would become a disappointing, familiar theme. The Spurs and Blazers tangled in a seven-game semi-finals classic. In the final game, San Antonio took a seven-point lead with 2:28 left in regulation. The Spurs coughed it up, though, and lost in overtime by three points.
The next season the Spurs won 55 games and were bounced 3-1 in the first round by Cummings' old Milwaukee coach Don Nelson who now helmed the seventh-seed Golden State Warriors. For Terry, the Golden State series was probably the worst moment of his career, yet. His minutes were cut and he averaged a disappointing 14 points.
By this point, Spurs coach Larry Brown was beginning to wear out his welcome (where have we heard that before?). Midway through the 1991-92 season, Brown left the Spurs to coach the Los Angeles Clippers. Pretty sure that's the only time someone has coached two different NBA teams in the same season.
And both made the playoffs!
Anyways, Cummings was surely slowing down as he entered his 30s. For the 1991 and 1992 seasons he averaged 17.6 PPG and 17.3 PPG, respectively. From 1983 to 1990, he had averaged 22.2 PPG with only season below 20 PPG. And that was 19.8 PPG in 1986.
For the 1992-93 season Cummings cratered with just 3.4 PPG and 2.4 RPG. The culprit wasn't lack of skill, but loss of health. In the 1992 off-season Terry blew out his knee in a pickup game and missed all but eight games of the '93 season and he was never the same statistically.
Pre-Knee Injury (10 seasons) – 21.3 PPG, 8.7 RPG, 2.4 APG, 1.3 SPG, 0.7 BPG, 49% FG
Post-Knee Injury (8 seasons) – 7.5 PPG, 4.7 RPG, 0.9 APG, 0.6 SPG, 0.2 BPG, 46% FG
However, that he still put together seven more productive NBA seasons after tearing his ACL was proof of Cummings's acumen. Even at age 38 with the Golden State Warriors averaged 8.4 PPG and 4.9 RPG in just 18 minutes a night.
Stinks that he couldn't have had relatively healthy knees for all that time, but that's the way basketball goes.
Besides, Cummings didn't seem too bothered by it. This interview he did with the Basketball Hall of Fame is enlightening and shows you the mentality that made him such a great player and mentor during his time in the league.
---
Terry Cummings sprang out the gate with the fifth-highest scoring average for a rookie (23.7) since the ABA and NBA merged in 1976.
Not letting up for a decade, Cummings from 1983 to 1992 scored more points than any other power forward in the NBA, beating out his old San Diego teammate Tom Chambers by 20 points. Only his nemesis Charles Barkley and the indefatigable Buck Williams grabbed more rebounds in that same period of time.
He was a hearty symbol of stability and durability appearing in 94% of his team's games until the freak knee injury. After eight more seasons of NBA basketball, Cummings seemed relieved and certainly at peace with his retirement in 2000:
For the last seven or eight years, I was coaching—but I just happened to be playing while I was doing it.
South Florida Sentinel,
October 3, 2000
He had plenty to keep himself busy. Aside from the ministering, he had been working on music since 1981 and had even recorded a Christmas song in 1989 with teammate David Robinson.
I'm desperately trying to find that song.
Anyhoo, hope y'all appreciate the power of T.C.