Terry's Last Run
Terry Cummings's Herculean finish to the 1991-92 season
Terry Cummings's 1989 season ended in underwhelming fashion. As the Milwaukee Bucks tangled with the Detroit Pistons in the Eastern Conference Semi-Finals, he missed most of the series with an ankle injury. Shockingly, that was the end of his time with the Bucks. Two weeks after being swept by Detroit, Milwaukee traded Cummings to the San Antonio Spurs.

Arizona Republic
, May 29, 1989
The move caught Cummings by surprise.
"I'm disappointed. I would have liked to finish my career here. I put in a lot of time here. I love the city and the people here, and it was just a big disappointment, even in the way it was handled…. I didn't even know something like that was being considered. And then to get a call [from Bucks coach Del Harris], 'I don't know how to tell you this, but you've been traded.' After five years, I thought there would be more."
Cummings's Milwaukee letdown was met with a jubilant arrival in the Lone Star State. T.C. was part the Spurs' wholesale makeover marked by rookies David Robinson and Sean Elliott and a 56-win season in 1989-90. Up substantially from just 21 wins the year before. The 56 victories were also the most in franchise history to that point. In 1990-91 they nearly duplicated the effort with 55 wins. However, for the 1991-92 season, the Spurs dipped to 47 wins.
The 47 wins, however, were a credit to Cummings's final stretch of All-Star caliber play in the NBA. Robinson was officially lost for the season on March 24th for surgery to repair a torn thumb ligament. Now make no mistake, the Spurs missed the Admiral and went 5-9 to finish the season in those final 14 games without their best player.
But without the work Cummings put in, it woulda been worse. Here's his production prior to losing Robinson and afterwards: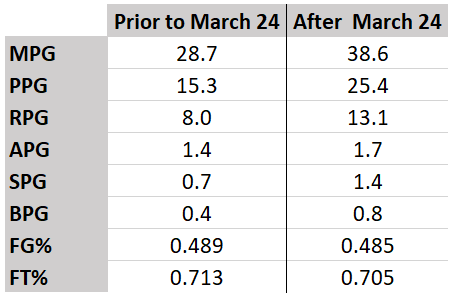 In the first game without Robinson, Cummings promptly scored a season-high of 34 points on 15-28 shooting. He also notched 15 boards in the 113-108 loss to the Charlotte Hornets. The reeling Spurs lost three more games. Cummings did his best to stop the bleeding averaging 28 PPG and 15 RPG in the three losses. Finally the fiesta colored squad won a game on April 1 versus the Lakers. The 18-point blowout win saw Cummings set a new season-high of 35 points. Including the Laker victory, the ship was steadied in Bexar County as the Spurs cruised to a 5-5 mark to finish the season.
T.C. was magnificent as captain in this final stretch. His best game came on April 3 terrorizing the Orlando Magic with 24 points and 24 rebounds in a 113-106 overtime loss. The 24 boards tied his career-high.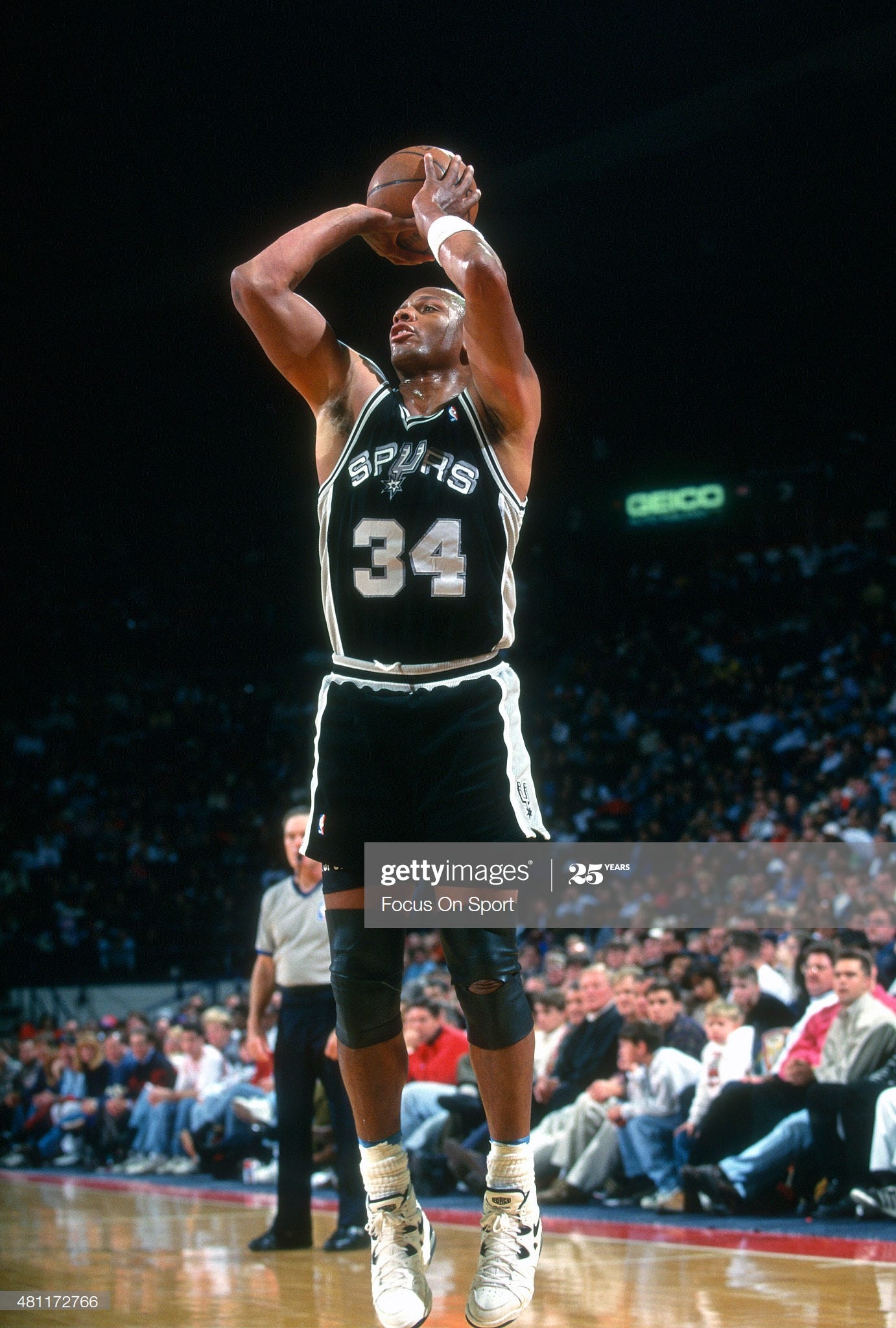 San Antonio held on to the fifth seed in the West with their 47-35 record overall. The eighth seed was held by the 43-39 Los Angeles Lakers. Indeed, the ninth-seeded Houston Rockets had a 42-40 record. The Spurs easily could have easily collapsed to a dingy six, seven or eight seed; possibly even have spun all the way out the playoffs.
T.C.'s Herculean effort earned the Spurs a match-up with the Phoenix Suns in the Western Conference First Round.
---
PLAYOFFS!
Obviously without Robinson, the Spurs were the underdogs against 53-win Phoenix. But the roster disparity was absolutely criminal and you knew the Spurs were running on borrowed time.
Phoenix could count on Cedric Ceballos, Jeff Hornacek, Kevin Johnson, Dan Majerle, Mark West, and Tom Chambers. Even Andrew Lang and Tim Perry could give you a little dose of beneficial action every now and then.
On the silver-and-black's ledger was Cummings, Rod Strickland, Sean Elliott, and Antoine Carr. Their starting lineup was filled out with Donald Royal. You don't even wanna know about the bench…
(well, since you asked: washed up Paul Pressey, Vinnie Johnson, and Trent Tucker).
But the Spurs came to play in Game 1! Cummings led the way with 30 points and 12 rebounds on 14-23 FGs. Elliott, Strickland, and Carr were sensational too combining for 60 points on 25-40 shooting. So, yeah, the Spurs starters shot 61.9%.
The Suns still got the win thanks to shooting 50.5% themselves from the field. MOre importantly they also made 21 free throws compared to San Antonio's 12. Oh and the Spurs committed 20 turnovers, including 10(!) from the lowly bench. Ultimately, Phoenix prevailed 117-111
Game 2 showed the shortcomings of the Spurs, even if Cummings himself still did his job. T.C. scorched Phoenix with 31 points on 14-23 FGs. Elliott and Carr also kept up good production with 40 points combined. But the rest of the Spurs roster faltered. Meanwhile Majerle for Phoenix scored only two points after pouncing on the Spurs with 25 in Game 1. No fear. Tim Perry, who scored zero points in Game 1 took up Majerle's slack with 31 points and 10 rebounds in Game 2.
Suns won the game fairly easily, 119-107.
Phoenix closed out the series 101-92 in Game 3 as the Spurs were without an injured Strickland who broke a finger the previous contest. San Antonio had its chances, though. Particularly at the free throw line. They attempted 35 to Phoenix's 25. But the Suns made 22 compared to just 20 for the home team.
*does some math*
Yeah, the Spurs made only 57% of their FTs, while Phoenix was at 88%. Cummings was a putrid 5-10 from the line. He still managed 17 points and 12 rebounds, but he also shot 6-20 from the field. Bad timing, but Terry was bound to have a stinker after his month-long hot streak. Elliott had 17 points as well, but on 6-16 shooting. Only the Big Dog fully came through with 20 points, 12 boards, and seven blocks. But even he shot just 7-16 FGs. The Suns meanwhile had a randomly hot game from Steve Burtt (14 points, 4-6 FGs, 6-6 FTs).
Anyways, with the playoffs over, you'd think San Antonio's injury woes would let up, but nope. Injury struck Cummings in July that off-season.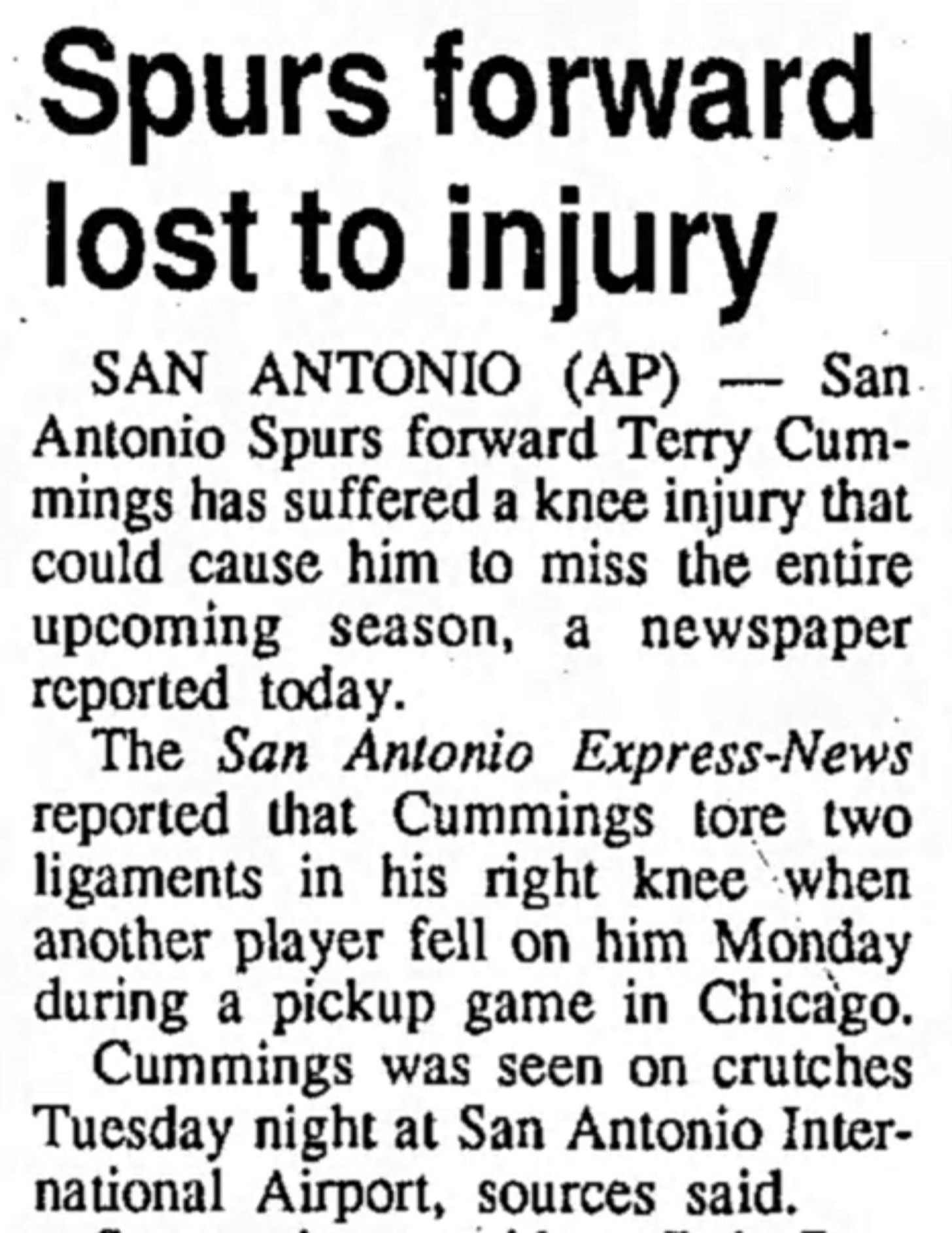 Seguin Gazette-Enterprise, July 9, 1992
Cummings's injury turned out to be a torn ACL. Surgery followed in August 1992 keeping him out until April 1993. He appeared in eight regular season games plus another 10 in the playoffs in the 1992-93 campaign. Cummings proved to still be a useful reserve for the rest of NBA career, but the magic power and speed that made him an All-Star was gone.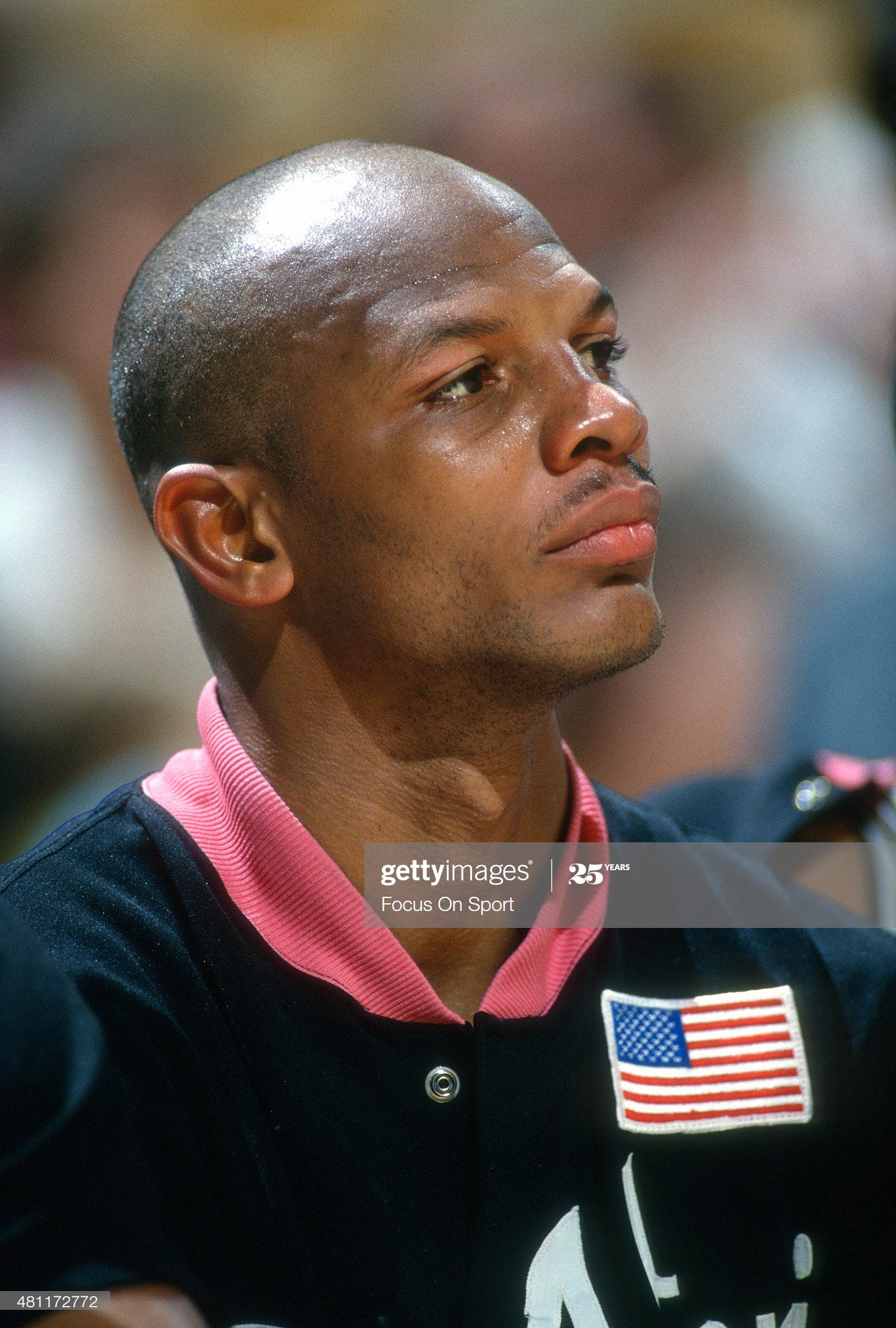 So it is with a bit of irony that Cummings's last hurrah of unadulterated NBA glory was due to an injury. Superstar David Robinson being lost for the season in late March 1992 proved Cummings—at age 31—could rise to the occasion after having dialed back his game for a couple seasons to accommodate the Admiral.
In his first Texas season (1989-90), Cummings had averaged 22.4 PPG while Robinson averaged 24.3 PPG. In 1990-91 it was Cummings 17.6 PPG and Robinson 25.6 PPG. For 1991-92 it was Cummings at 15.8 PPG (before David's injury) and Robinson at 23.2 PPG. Then remember that when the injury took out Robinson, Cummings rocketed up to 25.4 PPG to settle his overall season average at 17.3 PPG.
In San Diego and Milwaukee, he needed to be the primary scoring threat. His slicing drives and automatic midrange jumper fit the bill nicely. In San Antonio, he was happy to play supporting star to Robinson. After his ACL injury, Terry remained happy and productive as a reserve, which is how he still milked eight more seasons of NBA basketball even after blowing out his knee.
He was a man content to play the role that his team needed and he always did it well. The mark of a great player and true professional.