Discover more from ProHoopsHistory
History of Professional Basketball
Over 1,000 subscribers
The Iceman Leaveth
George Gervin's Exit from San Antonio
First of all, thanks to Sean Sylver for his unknowing contribution to this article…
Second of all, it's usually not pretty when a beloved longtime superstar leaves a team.
George Gervin leaving San Antonio in 1985 was not pretty.
The Iceman was the most important* player in Spurs history to that point. From the 1973-74 ABA season through the 1984-85 NBA season, Ice averaged 26.3 PPG for the Spurs, made the All-Star Team every year no matter the league, and was a four-time scoring champion.
*(I deliberately chose important. I'll argue to the grave that James Silas was the better player, but untimely injuries suck.)
Gervin's individual stats peaked in 1980 when he hit for a ridiculous 33.1 PPG on .528 FG% and .852 FT%. Even in 1984 Gervin was still churning out 25.9 PPG on absolutely solid .490 FG% and .842 FT%. And he was only 31 years old. Certainly not at the apex of his powers anymore, but clearly a useful player.
So the problem wasn't necessarily Gervin's production. It was the context.
Let's pick up in 1978 for this rundown of the Spurs' team success…
1978: 52 wins, lose in semi-finals
1979: 48 wins, lose in conference finals
1980: 41 wins, lose in first round
1981: 52 wins, lose in semi-finals
1982: 48 wins, lose in conference finals
1983: 53 wins, lose in conference finals
1984: 37 wins, no playoffs
Stop the tape! There it is! For the first time in their San Antonio history, the Spurs franchise had missed the playoffs AND had a losing record. Just a season after losing 4-2 in the Western Conference Finals, too.
After sticking with Gervin as the meal ticket for a decade, maybe a shakeup was in order? Or maybe the 1984 season was just a fluke caused by injuries up and down the roster?
Only way to find out is to read on…
1984-85 Season
On the heels of the disastrous 1984 season, the Spurs hired a new head coach: Cotton Fitzsimmons. Fitz had been coaching in the NBA since 1970 and had guided the Phoenix Suns, Atlanta Hawks, and Kansas City Kings to success. So he was a reasonable choice to right the Spurs' ship.
However, one could see the warning flags from the jump for how Fitz and Ice would get along. The Los Angeles Times in late October reported on Spurs training camp and the new attitude being instilled by Cotton.
"Fitzsimmons has reshaped the Spurs, beginning with an emphasis on conditioning and defense. The Spurs held two-a-day workouts until Wednesday, and Fitzsimmons asked 35-year-old center Artis Gilmore and scoring ace George Gervin to devote more time to defense."
Just to emphasize the philosophical clash about to happen, Gervin was never one to focus on defense. He began his pro career with the ragamuffin Virginia Squires in the ABA. Then he'd played the vast majority of his career in San Antonio under Stan Albeck and Doug Moe. Albeck was famously a "player's coach" and Doug Moe is DOUG MOE. The best defense for him was outscoring the other team.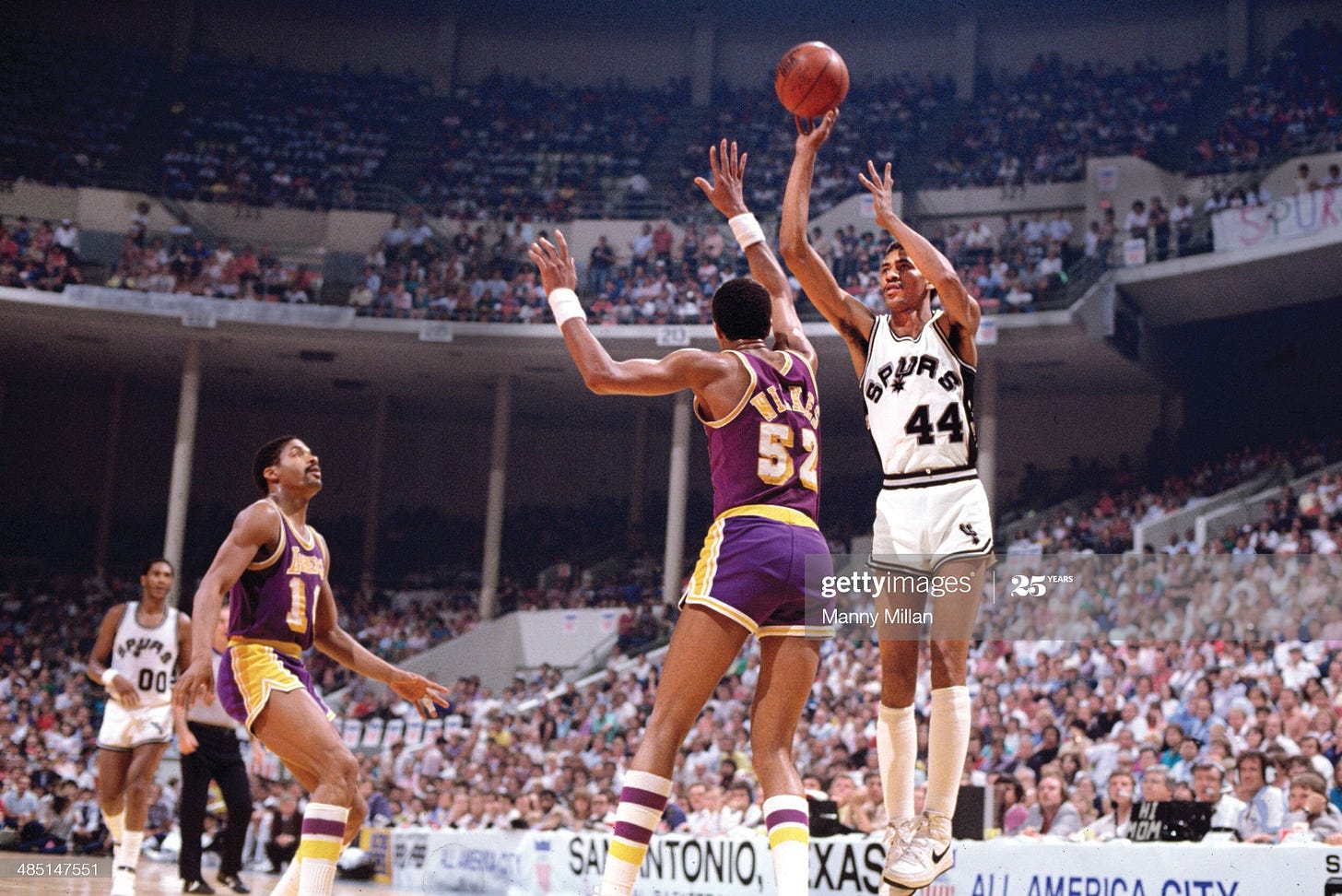 Another factor in the impending crisis was Gervin's age. He was now 32. Certainly not over-the-hill, but the chances of his scoring exploits papering over his lapses elsewhere on the court were thinner than ever.
He opened the season with a 32-point performance on 14-21 shooting in a 113-112 win over the Los Angeles Lakers. And on November 10, Gervin poured in 42 points on 18-23 shooting against the hapless Cleveland Cavaliers. Clearly, he could still get buckets.
A game on November 14 made it clear that the Iceman was nonetheless getting a little stiff making ZERO field goals and just three free throws.
In a game in which 231 points were scored, it was the scant three points of George Gervin that drew all the attention.

"There's a first time for everything," the San Antonio scoring machine said quietly after being blanked from the floor for the first time in 652 [NBA] games as the Washington Bullets walloped the Spurs 125-106 Wednesday night.

"I can't worry about one game," Gervin said. "I'd go crazy if I did."
Fitzsimmons limited his star guard's playing time because "George Gervin is 32 years old and we play in Indiana on Friday." Fitz continued his reasoning: "There's no reason to get back into a 'garbage' game just to get double figures… I've talked with George about that."
By Christmas, the New York Times ran a story questioning whether Gervin's "talents [are] melting with age?"
The Times noted that rookie guard Alvin Robertson, instead of Gervin, was getting more and more playing time down the stretch because of his defensive abilities. And when he was on the court, Gervin—the oldest starting guard in the NBA—often had the role of setting screens to free up leading scorer Mike Mitchell.
Gervin admitted that it was "tough" to make that adjustment.
"I play 10 minutes and then give in to one of the younger guys for defensive reasons, or something. But I think I can still accomplish a lot of personal things. But we've got a more team-type system, and I can accept that I have nothing to prove."
For all the diminished playing time, Gervin was still going strong all things considered. By the All-Star break, he was averaging 21.9 PPG, .504 FG%, and .844 FT% in 30.4 minutes per game. Plus the Spurs were 25-25 and squarely in the playoff picture. Ice was voted by fans to play in his 12th and final All-Star Game. He glided his way to 23 points on 10-12 shooting. Not bad for an All-Star farewell.
Shortly after the break, the Austin American-Statesman ran a glowing profile on the Spurs. Gervin shrugged off suggestions the game was passing him by. "The media has been talking about me losing a step. But it never entered my mind," Gervin claimed. "I'm very comfortable with my season. I'm just doing whatever it takes to win."
Wellllllll, fast forward a month and the glow was less warm.
Fitz benched Gervin citing an arm injury. However, the Detroit Free Press had quoted ole Cotton musing that being a sixth man would be good for Gervin since he could still score, but had proven a defensive liability. "At this point, he'll come off the bench until he gets in the flow of things and is feeling good," Fitzsimmons said. "To be honest, I really don't have a role for him yet."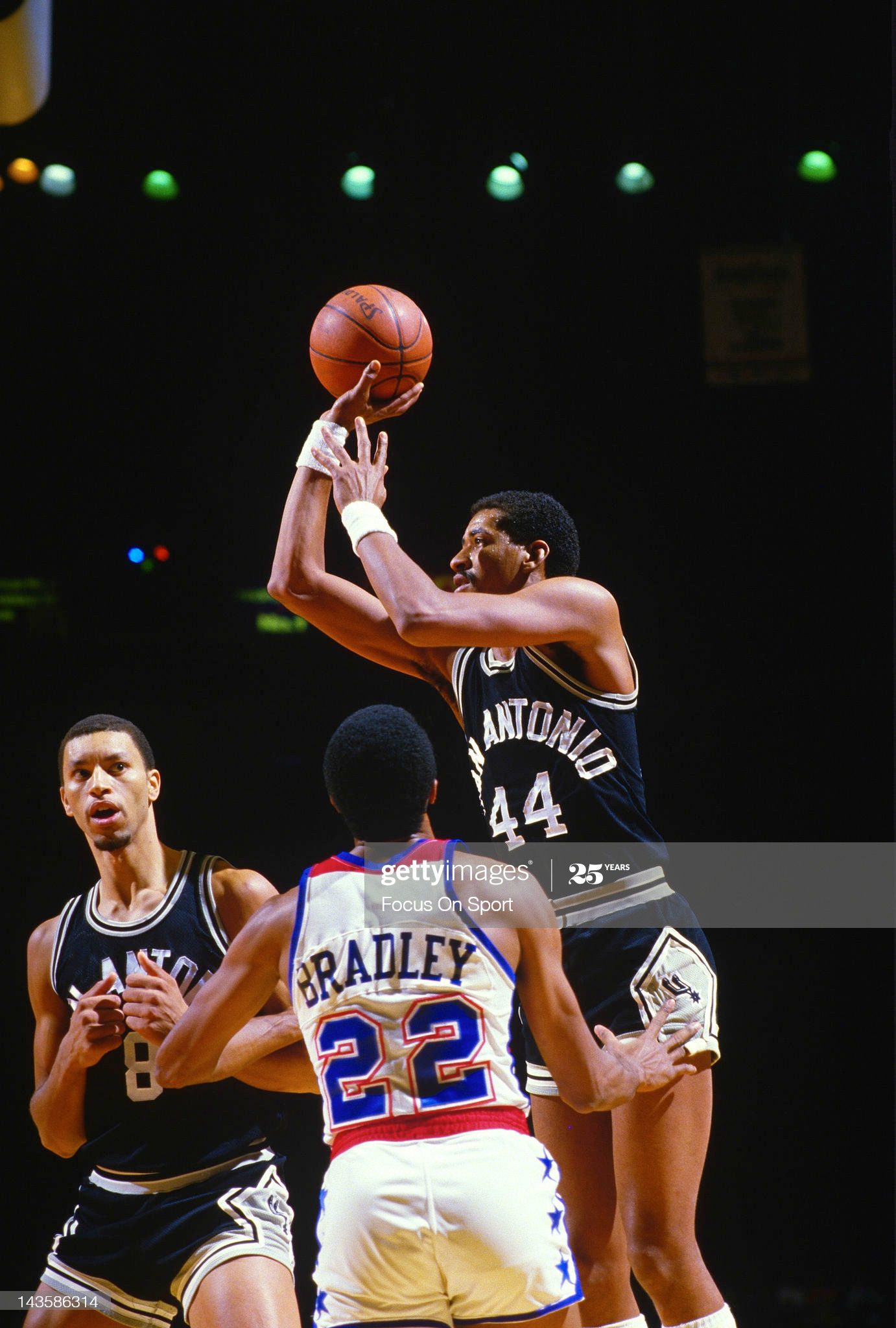 Although Gervin technically reclaimed his starting spot after just two games, it appeared to be a nominal concession as his overall playing time still decreased significantly. From February 24 to March 29, Gervin averaged just 23.2 minutes a night. His scoring average in this same span was a mere 15.9 PPG.
Gervin's regular season ended on March 29 due to an ankle sprain.
Over this stretch of diminished and lost play for Gervin, the rookie Robertson was showing some definitive flash and probably making it easier—from an on-court perspective—to move on from Gervin should the franchise choose to do so.
From February 24 until April 7, when he broke his foot, Robertson averaged 10.7 PPG, 4.5 APG, 3.7 RPG, and 2.0 SPG in 27.5 MPG. He didn't score like Ice, but he was terrorizing teams everywhere else on the court in ways Gervin couldn't.
Finishing the season 41-41, the Spurs qualified for the playoffs and had a date with the #2 seed Denver Nuggets. Shockingly, the Spurs could have won the series. Make no mistake, Denver was the better team. They did deliver some heinous blowouts in Games 1 and 5. A combined victory of 57 points there. But in between there was some competitive hoops!
With Gervin back from his ankle injury and without Robertson for the playoffs, Fitz decided to let Gervin loose and see what might happen, especially after the Game 1 ass-whooping.
In Game 2, Gervin ignited for 41 points in 42 minutes of play. The Spurs won 113-111 on Denver's home court. In Game 3, the Spurs made a furious rally that fell short in a 115-112 loss. Gervin led all scorers with 30 points in 41 minutes. Game 4 was a Spurs win, 116-111, but Gervin returned to earth with a mere 12 points.
In Game 5, Denver won 126-99 as Gervin again scored just 12 points on 4-11 shooting. That blowout ended the series and was Gervin's final game as a Spur.
OFFSEASON HIJINKS '85!
Following the playoff defeat to the Nuggets, Gervin was metaphorically put on the curb for hauling off. The Galveston Daily News on May 5 ran an Associated Press story detailing the impending end of the Ice Age in San Antonio.
"This team has been intact for three seasons. I don't think you can stay intact another year," coach Fitzsimmons concluded. "We need some quicker people on the ball." A 33-year-old George Gervin doesn't sound like the answer to Cotton's musing, but that young guard Alvin Robertson sure does!
Team owner Angelo Drossos was a bit more cryptic, but not exactly reassuring: "Anything is possible[.]" He was, however, "reluctant to trade a George Gervin because he has been such a major part of this franchise since our first year." Team spokesman Wayne Witt proffered, "It's going to be an interesting summer."
"Interesting" became "awful" when a proposed trade to the Cleveland Cavaliers was reported by the American-Statesman on June 13. Just my hindsight opinion, but George Gervin and Johnny Moore for World B. Free and Ron Anderson was just a bad idea for both sides.
The contemporary speculation was that Cavaliers head coach George Karl (a former Spurs player and teammate of Gervin's) and assistant coach Morris McHone (a former Spurs assistant under Stan Albeck) could work just fine with Ice.
Plus, World B. Free was apparently a thorn in Karl's side and vice versa.

Well, the proposed Cleveland trade fell through. Another proposal popped up that had Gervin going to the Chicago Bulls for Quintin Dailey. Quoted in the Fort Worth Star-Telegram, Gervin sounded resigned to his fate as an ex-Spur: "I don't care if I go to Cleveland…. That's OK with me. Cleveland is on the way up and San Antonio is on the way down."
In true scuttlebutt fashion, the Chicago Tribune's Bob Sakamoto had an inside man feeding him info on why it was so hard for San Antonio to unload a four-time scoring champion.
"The Spurs want to get rid of Gervin badly," said a San Antonio source. "They can't even get a second-round pick for him. His base salary is $750,000, and he is the oldest starting guard in the league, and Gervin and Cotton Fitzsimmons don't get along. They are going to totally restructure the team and need a power forward desperately. And they want to trade Gervin to a team in the East so he can't come back and haunt them."
After the draft came and went it was all quiet on the Ice front until October.
After Gervin failed to show for a few San Antonio practices, he was finally traded to the Chicago Bulls for forward Dave Greenwood. If any team would trade for Gervin, Chicago was the frontrunner at that point. Their newly hired head coach was Stan Albeck.
Bulls executive Jerry Krause knew that Gervin "has been classed as an inadequate defensive player." However, he believed that "Stan Albeck will have him back again and he assured me that Gervin will not give away too many points."
"Teamed with Michael Jordan in the backcourt, we are going to be a hard act to follow," Krause said.
1985-86 Season
The idea of having Gervin back up Jordan wasn't hairbrained, but it lasted only a few games. On October 29, Jordan broke his foot, unexpectedly thrusting Gervin into the Chicago starting lineup.
Naturally, having missed much of training camp and joining a new team, Gervin initially struggled. During the first 12 games of the 1985-86 season, he averaged 12.8 PPG on .392 FG%. Finally on November 19, Gervin looked like his old self, exploding for 34 points on 15-18 shooting against the Indiana Pacers.
"Stan gave me the opportunity to score and that's what I came to do," said Gervin. "I'm always looking for my shot but tonight I really felt it."
Ice didn't score quite like that for the rest of the season. Who could honestly? Gervin's scoring did help keep the Bulls within striking distance of the playoffs in the someones-gotta-get-it race for #8. From the Indiana game through Jordan's return on March 15, 1986, Gervin averaged 18.3 PPG on .489 FG%.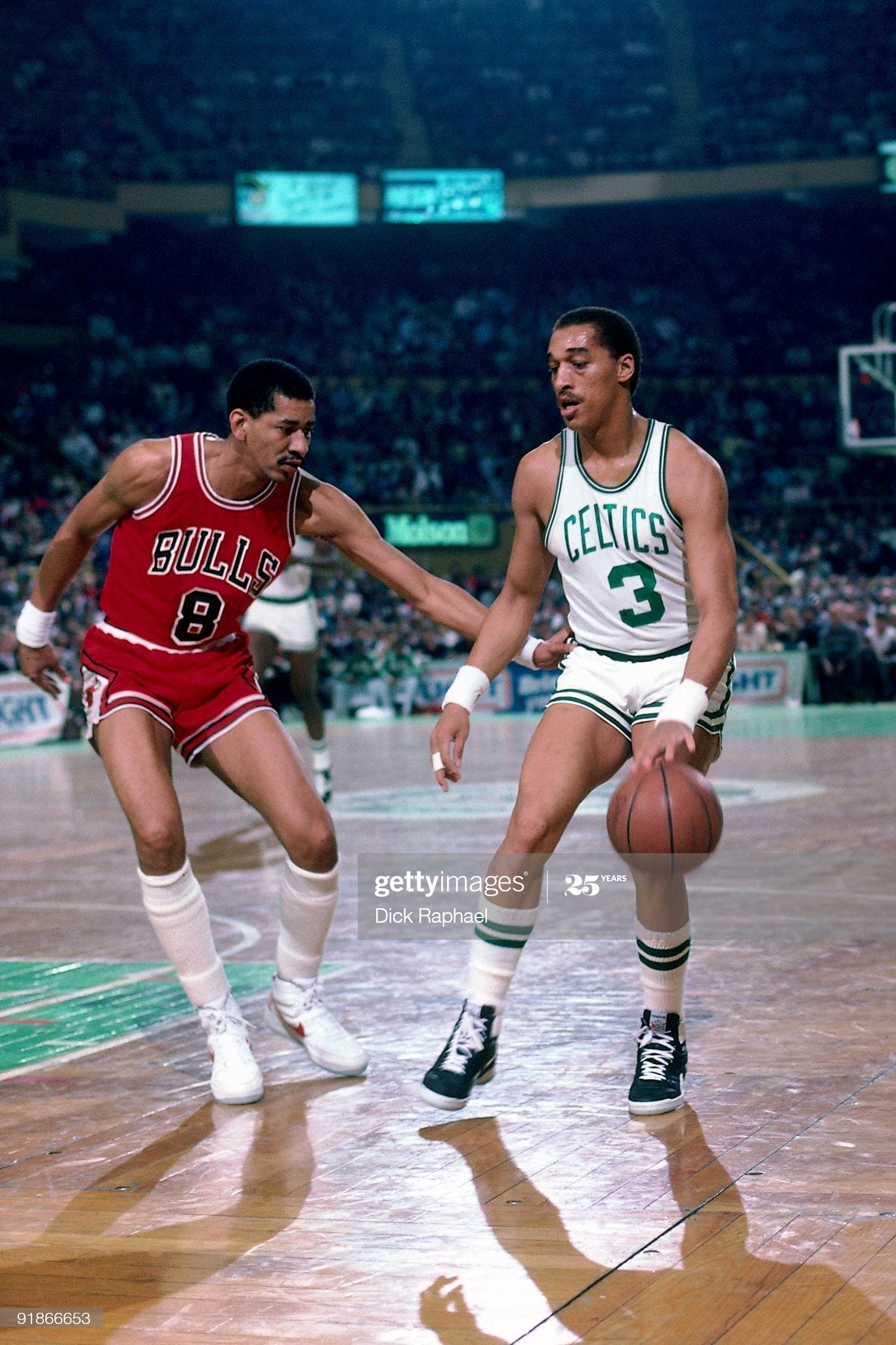 The highlight of the season for Gervin was probably December 6, 1985, when the Bulls rolled into San Antonio. Coach Albeck had former Spurs Gervin, John Paxson, Dave Corzine, and Gene Banks in the starting lineup along with Orlando Woolridge.
The strategy was deliberate by Albeck:
"I thought about it the other night in Phoenix. All those guys have played tremendous basketball here. George Gervin belongs in a San Antonio Spurs uniform. It's difficult for everyone to see him in red and black."
Gervin received a 90-second standing ovation from the San Antonio crowd. "Coming here gives me that home feeling again," he said. "San Antonio fans are and always will be the best."
The ex-Spurs did a number on their former club. Paxson had 16 points. Corzine 16 points and 13 rebounds. Banks 12 points. Gervin finished with 21 points in the 131-123 win.
Anyhoo, Jordan eventually came back in mid-March and that was basically the end of Gervin's playing time. In April, he was glued to the bench averaging a scant 6.1 PPG.
Despite a lowly 30-52 record, the Bulls qualified for the playoffs. Gervin barely had a role in the festivities. He played a combined 11 minutes in two games scoring zero points. Hell, he took just one shot.
An underwhelming end to his ABA/NBA career.
---
FROZEN COTTON
Hey let's not forget about the man who drove Ice out of Texas!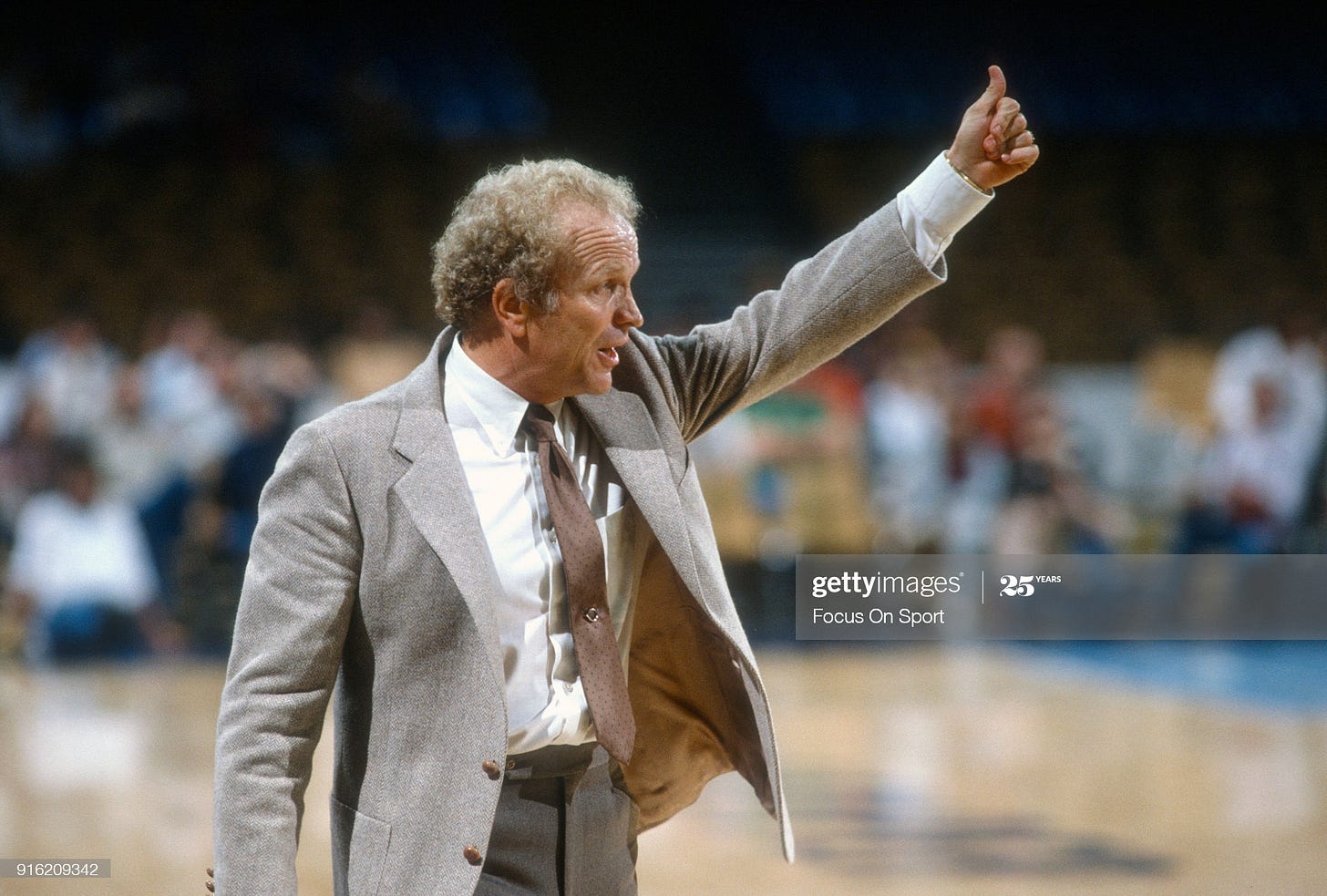 The Spurs actually played decently in the 1985-86 season before starting point guard Johnny Moore was debilitated by desert fever.
Moore averaged 13.0 PPG, 9.0 APG, and 2.5 SPG in the 28 games he appeared in that year. Robertson had his predicted breakout season averaging 17.0 PPG, 6.3 RPG, 5.5 APG, and an NBA record 3.7 SPG on his way to Defensive Player of the Year and Most Improved Player. Mike Mitchell kept the scoring-fire burning with 23.4 PPG. And the 36-year-old Artis Gilmore averaged 16.7 PPG and 8.5 RPG on .618 FG%.
The Spurs were 17-12 on December 21 when Moore played his final game of the season. They held onto the proverbial rope through the All-Star break with a 27-25 record. But the damn broke thereafter as they went 8-22 down the stretch to finish the year 35-47.
Still they snuck into the playoffs and were smashed by the Los Angeles Lakers in a 3-0 sweep. The average margin of victory for LA was 31.7 points!
Fitz was quickly fired after the season. Sure the disastrous playoff series factored in, but the Arizona Republic on May 4 probably had a better pulse on the situation.
Fitzsimmons' biggest mistake might have been the trade of George Gervin to the Bulls. In San Antonio, Gervin is something of a folk hero. First, the fans booed Fitzsimmons. Then, they stayed home.

The Spurs' average attendance of 8,206 was second to last in the league and their lowest in 10 years. Drossos had to make a move. If the fans don't come back, the Spurs might be forced to leave San Antonio.
I mean Drossos did cry at the press conference announcing Gervin's trade to Chicago back in October 1985, so he probably had Cotton on thin ice thereafter. He knew full well that pro basketball was in San Antonio only because of the frosty scoring ace that was George Gervin.
"We might not be in the NBA and San Antonio might not have a basketball team right now if it weren't for George Gervin…. A lot of fans got upset when we traded Gervin, which is only natural. Heck, I was upset."
The last two seasons of Gervin's NBA/ABA career may have been a bit of a mess, but Drossos was right. Without the Iceman, the San Antonio Spurs may not have survived.
To this day, Ice is still royalty in central Texas.
Deservedly so.
Take that, Cotton.