The NBA's First All-Star Game
Haskell's and Walter's Bright Idea; Easy Ed's Ambush on George Mikan
It's All-Star Weekend! And the NBA over the last few seasons has been tinkering with the game's formula to make it more competitive.
Hard to blame them after the 2016 and 2017 All-Star Games were laughable scoring fiestas where teams approached 200 points. The East-West delineation was broken up in favor of the top two fan-vote-getters drafting the rosters. In 2018 this seemed to rectify some of the problems as the score was Team LeBron 148 to Team Steph 145. HOWEVER, fiesta time crept right back in for 2019 as the scores rose to 178-164 in favor of Team LeBron over Team Giannis.
As Friend of the Program, Kelly Dwyer explains it:
Rather than attempt to render some competitive spirit out of a 184-172 score, the league decided to make each quarter a competition in itself — the scores will reset after each period, with $100,000 going to the team's selected charity after each quarter-long win.

The totals still count, in the fourth quarter the scores will re-appear. If the totals are, say, 132-122, then the NBA will add 24 points to the leading score as a winning target, a tribute to Kobe Bryant. The winner in our instance would be the first team to hit 156 points, and the NBA won't use a game clock in the final period.
This new twist is a great time to remember that at one point, the All-Star Game itself was a new twist on the NBA.
Nearly 70 years ago, NBA publicity man Haskell Cohen believed an All-Star game would raise interest in the fledling league. NBA president Maurice Podoloff could perhaps be best described as curious but not wholly convinced on the matter. Boston Celtics owner Walter Brown thought it was a fantastic idea. He even offered his Boston Garden as the host site AND would cover any potential financial losses.
Much like today, though, there were questions whether the players themselves would take the game seriously.
---

Rochester Democrat and Chronicle, February 27, 1951
Columnist George Beahon of the Rochester Democrat and Chronicle laid the issue of competitiveness before his newspaper audience in February 1951:
Some observers have prophesied that the pro cage classic might develop into a scatter-armed, "everybody shoots" affair because most of the 20 players chosen for the Eastern and Western Division squads are high up on the circuit's individual scoring listings.
These unnamed prophets didn't bother Rochester Royals star Bob Davies. The All-NBA guard confidently stated "Professional pride in doing a good, winning job" would propel the participants. Furthermore,
"I'm sure that most of the players will be trying just as hard to set up plays, pass off, and play smart defensive basketball, as well as score. When you play with an all-star team, you don't want just to convince the paying customers - you want to convince your teammates, the men you've been playing against most of the time - that you can do a real job."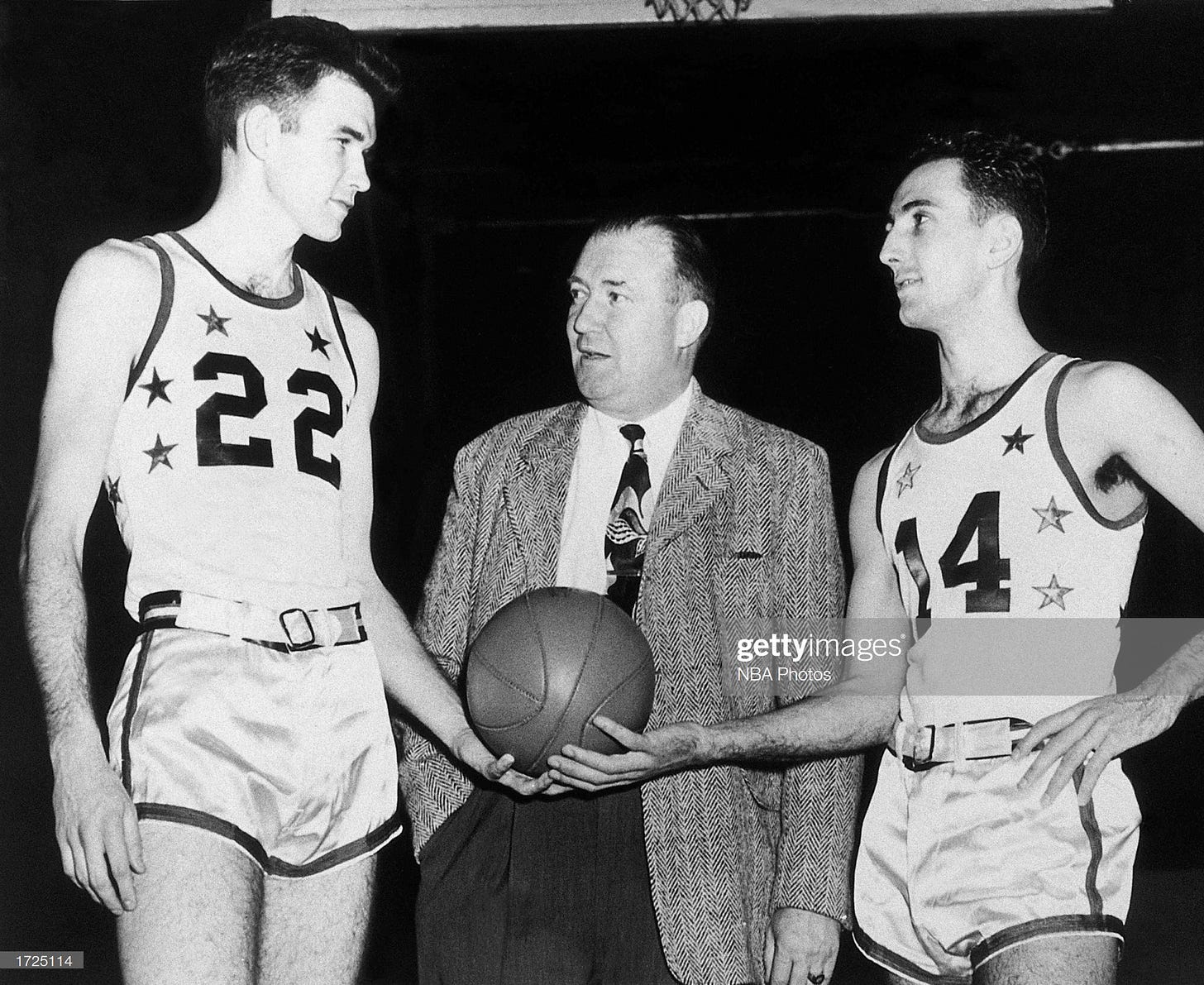 Ed Macauley, Walter Brown and Bob Cousy at the 1951 All-Star Game
There was no fan voting in this first all-star contest. According to the Times Record (Troy, NY) all players on the East and West squads "were chosen by writers in the several [NBA] cities whose selections were confined to players in cities other than their own."
The East squad featured unanimous selections in Vince Boryla and Dick McGuire (New York Knicks); Dolph Schayes (Syracuse Nationals); and Ed Macauley (Boston Celtics). The rest of the East roster was…
Joe Fulks, Paul Arizin, and Andy Phillip (Philadelphia Warriors)

Red Rocha (Baltimore Bullets)

Harry Gallatin (New York Knicks)

Bob Cousy (Boston Celtics)
The West's unanimous selections were George Mikan and Vern Mikkelsen (Minneapolis Lakers); Fred Schaus (Fort Wayne Pistons); Alex Groza and Ralph Beard (Indianapolis Olympians); Frankie Brian (Tri-Cities Blackhawks); and Bob Davies (Rochester Royals). The rest of the West roster was…
Larry Foust (Fort Wayne Pistons)

Jim Pollard (Minneapolis Lakers)

Dike Eddleman (Tri-Cities Blackhawks)
---
Held on March 2, 1951, the NBA's inaugural All-Star Game was a success.
Players were introduced individually dribbling a basketball through a "giant paper hoop, into a spotlight that pierced the darkened Boston Garden." A crowd of 10,094 fans crammed into the arena to watch the East All-Stars shock the West, 111-94. Our good friend George Beahon is back again to provide the after-action report from March 3, 1951:
The West was favored mainly because of the presence of Minneapolis' George Mikan, "Mr. Basketball." Mikan walked smack into probably the worst ambush in his glorious professional career - a one-man ambush engineered and executed by easy Ed Macauley, a Garden crowd favorite until the end.

Macauley, enjoying one of his greatest defensive nights, handcuffed Mikan and threw the key away. Easy Ed rained 11 points through the rim in the first quarter, while the anguished Mikan was going scoreless from the field for 11 minutes, 10 seconds. When Mikan finally broke through with an easy cripple bucket on a pass from Jim Pollard, the East held a 25-20 lead.
Besides MVP Macauley, other standouts for the East included a three-guard platoon that diced the Westerners up:
Bob Cousy - 8 points, 9 rebounds, 8 assists

Dick McGuire - 6 points, 5 rebounds, 10 assists

Andy Phillip - 6 points, 10 rebounds, 8 assists
Youngsters Dolph Schayes (15 points, 14 rebounds, the first basket in All-Star Game history) and Paul Arizin (15 points, 7 rebounds) did quite well. Even the old-timer Joe Fulks managed 3 assists and 7 rebounds to go with his typical 19 points.
For the West, the only players who mustered a fair performance were Alex Groza (17 points, 13 rebounds) and Bob Davies (13 points, 5 rebounds, 5 assists).
The team box scores give credence to Beahon's observations that the Westerners were indeed ambushed.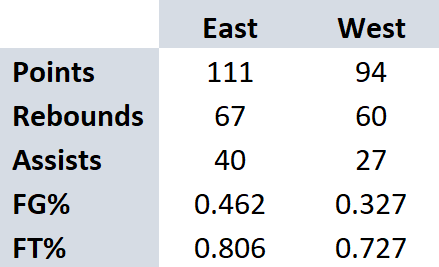 According to Beahon, "Players from both 10-man squads received $100 War Bonds for their efforts" in the All-Star Game. Not a bad pay day for an exhibition game, which players typically weren't paid for at the time.
---
The All-Star Game was held once more in Boston in 1952. I guess the league wanted to make sure the first one wasn't a fluke.
Well, it wasn't.
Cohen's idea - and Brown's unflappable faith in it - is now approaching its 70th iteration. Although it is curious that Boston hasn't hosted the game since 1964. Would be nice if the NBA makes it back there one day to show a little appreciation for Cohen and Brown.
Nonetheless, here's to hoping for an exciting game as yet another generation of publicity men and players put their twists on the ever-evolving classic that's morphed from an All-Star Game to an All-Star Weekend.
---
BREAKOUT!
Whether it works or not, at least the NBA tries new stuff and doesn't stay stale… usually…