Tom Heinsohn: The Man Who Shot Too Much
Or maybe not enough?????
For decades now, Tommy Heinsohn has been best known as a broadcaster for the Boston Celtics. His *ahem* enthusiasm for the Celtics has become legendary as has his rants at bad calls from referees and his love for Waltuh McCarty.
Of course before becoming a local broadcaster for the Celtics, Heinsohn covered the NBA nationally on CBS during the 1980s with Dick Stockton. Personally, it's my second-favorite broadcast duo in NBA history behind only the truly legendary pairing of Bill Walton and Steve "Snapper" Jones.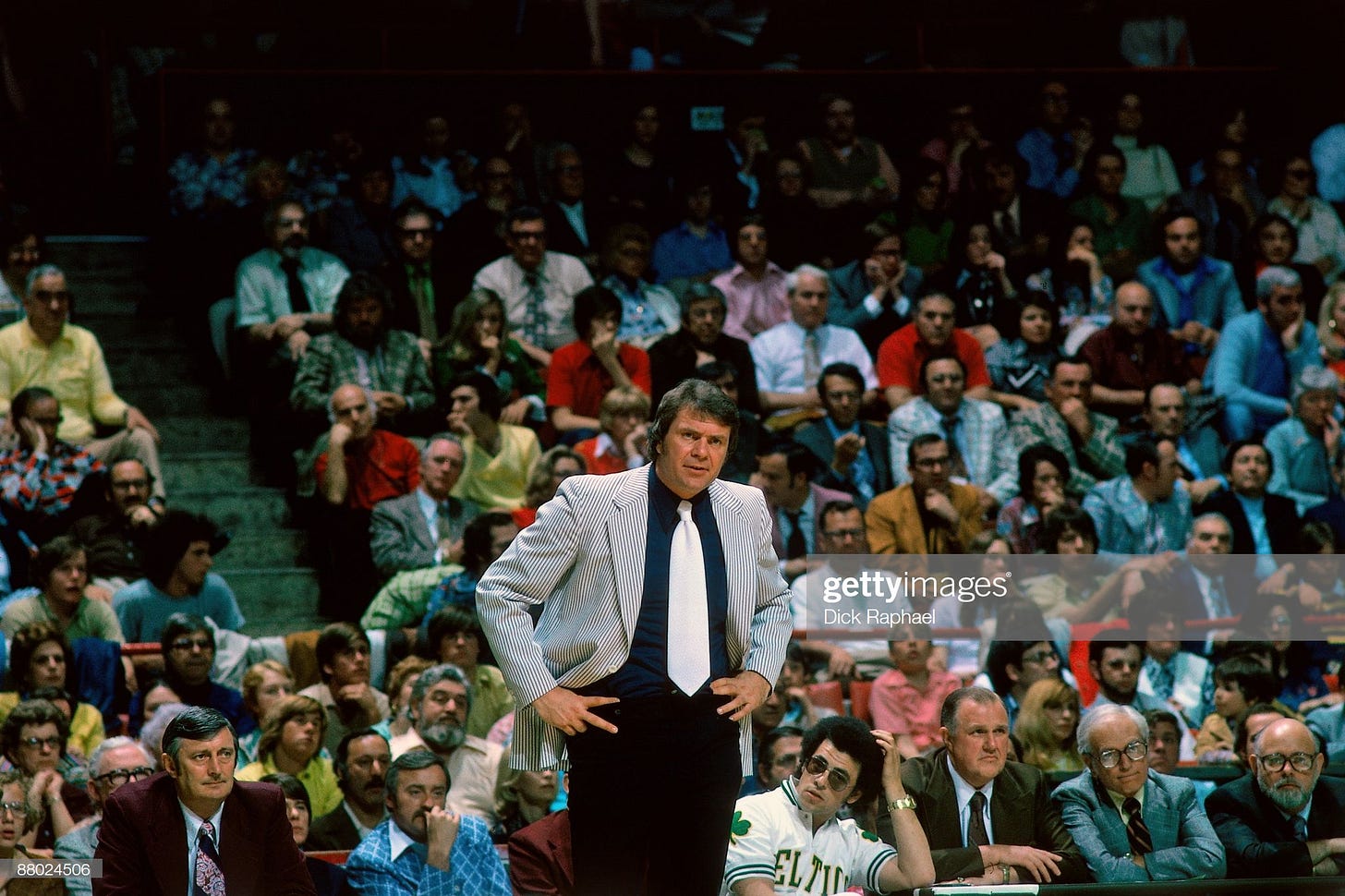 But even before that Heinsohn coached the Celtics in the 1970s to two NBA titles during his nine seasons in the role.
And even before that Heinsohn won eight NBA titles, was a four-time All-NBA selection, and earned the 1956-57 Rookie of the Year award with the Celitcs.
Since nineteen-fitty-six, the 85-year-old Heinsohn has been involved with the NBA.
Yet, today, I give you the most astonishing Tommy Point ever: Heinsohn pound-for-pound is the most voluminous shooter in NBA history.
---
TOMMY GUN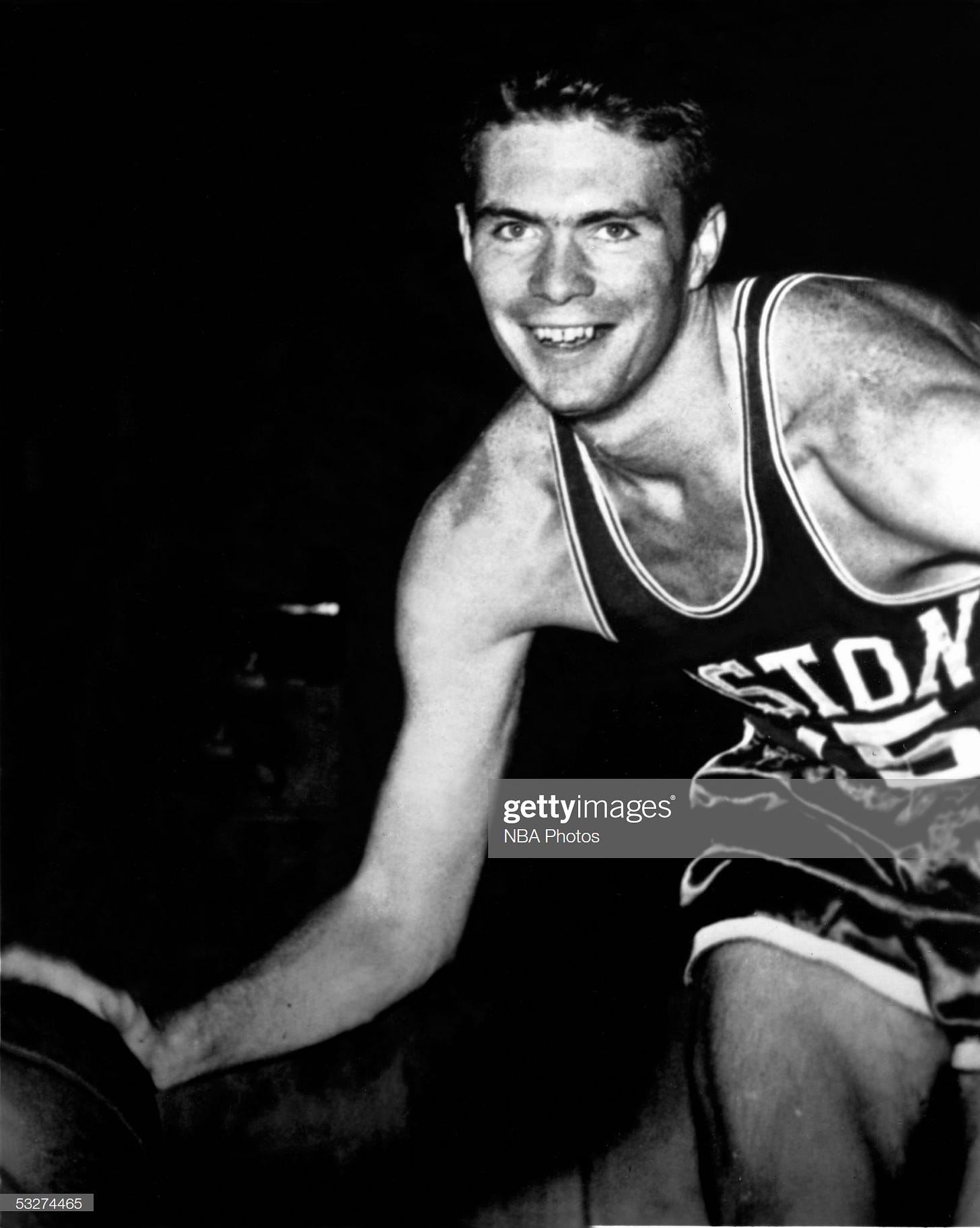 Tom Heinsohn—with that Cheshire Cat grin—put up more shots per minute than any other player in NBA history!
Now, like any stat, this comes with caveats and isn't perfect. Nonetheless, I divined the factoid by applying certain parameters:
Minimum of 10,000 field goal attempts (FGAs) over a player's NBA/ABA career. Like any cut off it's somewhat arbitrary, but it does provide some control in weeding out players who may have shoot a lot, but didn't play all that long.

Career FGAs were divided by total minutes played — this means that only FGAs beginning with the 1951-52 season were included with the calculation. Prior to that season, the NBA did not track minutes played. This had a minimal impact since only two NBA seasons (1949-50 and 1950-51) were lopped off. Sorry, Kenny Sailors.
So with all that in mind, here are the top players in NBA history, as far FGAs per minute played are concerned: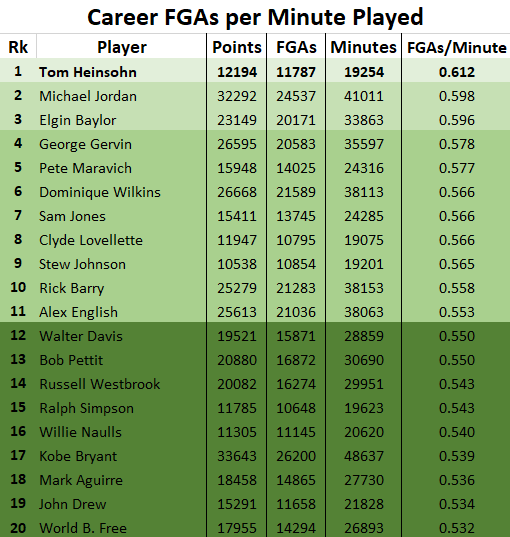 Now Heinsohn's total career points aren't anywhere comparable to runner-up Michael Jordan and even looks a little pale next to third-place Elgin Baylor.
Their secret sauce to getting the point bump?
Besides playing many more minutes, MJ and Elgin took more free throws per game than Tommy; MJ got a little bump from three-pointers being a thing; and they were both more accurate from the field than Tommy.
49.7% for Jordan

43.1% for Baylor

40.5% for Heinsohn
So how did Heinsohn get away for his nine NBA seasons firing away at such a prodigious rate that he rightfully earned the nickname Tommy Gun?
Simple. That's what the Celtics needed.
---
THE CELTIC SHOOTING MACHINE
I'll spare y'all all the details of the Celtics Dynasty and Red Auerbach's genius and Bill Russell's goatee.
The important thing to know for this article is that Tommy Heinsohn's role as power forward was to be the gunner and—to a lesser extent—rebounding sidekick of Russell. Whenever the vaunted fastbreak of the Celtics sputtered, Heinsohn was the half-court option to bail the team out.
Doesn't mean he always got a good shot, but he could provide a better shot than the team might otherwise get without him.
Heinsohn could hit mid-range jumpers, drove to the basket pretty well*, and had an absurd hook shot that had could throw in from 20 feet out.
Other players took on other roles and did them well enough that Heinsohn need only concern himself with what he needed to do. That's the beauty of a great team.
*(given his legendary propensity to smoke and his less-than-stellar physique since retiring from playing, you may be forgiven for thinking Heinsohn was a plodder.)
So put it altogether and you have Tommy Gun: the Celtic Shooting Machine who put up more shots per minute than any player in NBA history.
---
SHOTGUN!
Motherf***ing Junior Walker and the All Stars with "Shotgun" is just as good as any Tommy Gun. And then! by the end of the song you can hear them morphing into "Shoot Your Shot" the step-child jam of "Shotgun".
Thank God Motown allowed these fellas to stay greasy.