Vern Mikkelsen
The Original Power Forward? Perhaps. A Great Dane? Absolutely!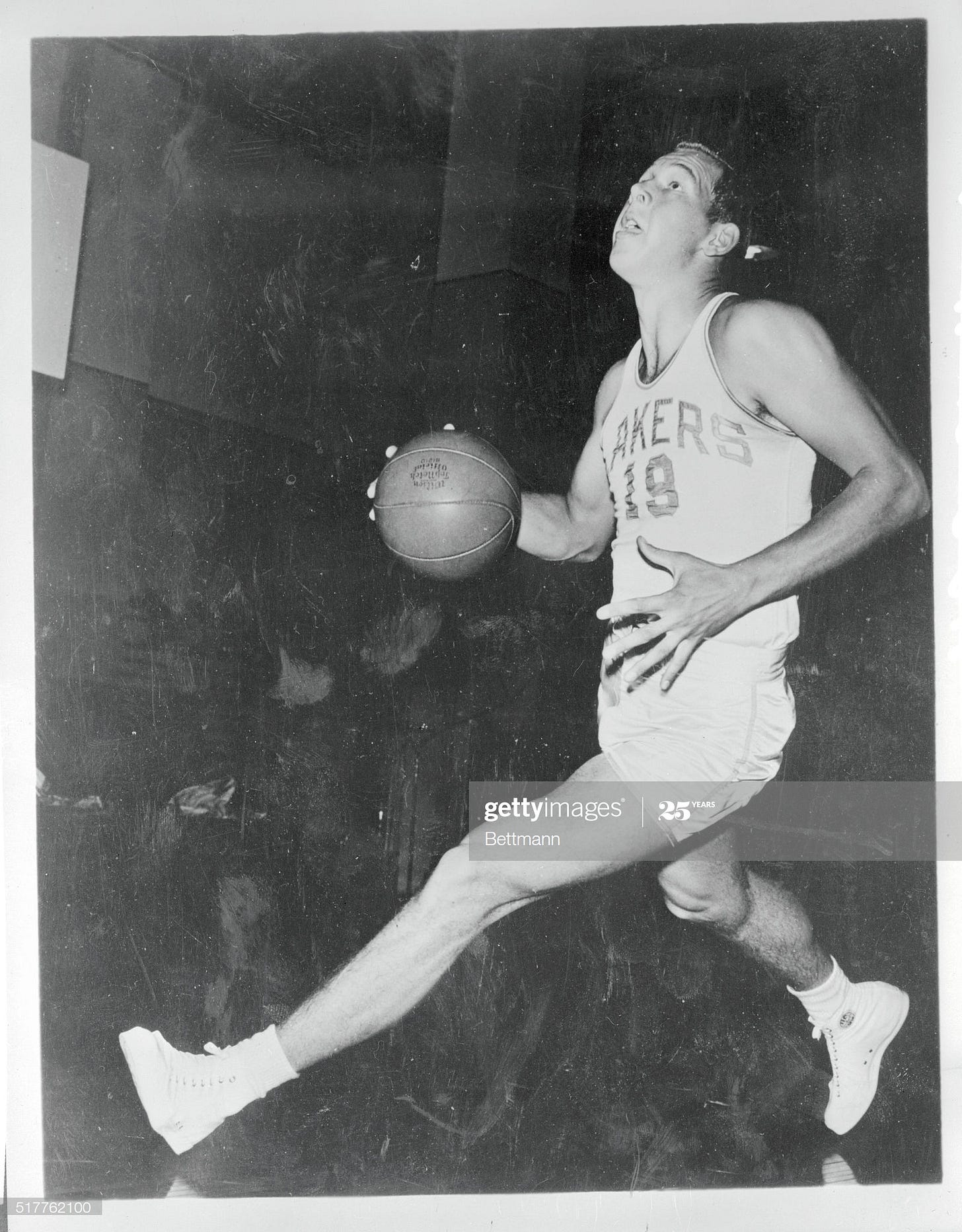 Along with Slater Martin, Arild Verner Agerskov Mikkelsen was the youthful injection needed to prolong and sustain the Minneapolis Lakers dynasty of the 1940s and 1950s. The Lakers had already won back-to-back titles in 1948 (NBL) and 1949 (BAA) with George Mikan and Jim Pollard as the twin stars of the Twin Cities. In Vern's rookie year of 1950 they snagged a third title, their first in the NBA. After a one-year interregnum, the Lakers struck back with a second three-peat of titles in the NBA: 1952, 1953, and 1954.
Known as "The Great Dane," Vern's place on these titles teams and his successful 10-year career overall, as with most things, wasn't a certified given. What ultimately made it so was Mikkelsen's penchant for overachieving and his unparalleled level of ass-busting, as well as some smart moves by Laker coach John Kundla.
So, about that ass-busting.
Vern Mikkelsen wasn't a man who played basketball in what can be described as a beautiful fashion, unless you're Gregg Popovich and you like some nasty. You can believe that Mikkelsen brought the nasty night and day for the Lakers. But Vern's nasty almost never got a chance to show its bad self.
Standing 6'7" and weighing 235 pounds, Mikkelsen had excelled as a center in college and high school. So, during Mikkelsen's first few pro games he played in a double-center lineup with Mikan. After a rocky start (for MPLS) in the 1949-50 season, Kundla made a fateful decision to have Vern play more like a forward despite Vern's unfamiliarity with the position.

Minneapolis Star Tribune, December 6, 1949
Kundla ordered Vern to just scrap and bruise opposing big men. He was to fight for rebounds, careen on defense, gobble up garbage second-chance points if Mikan or Jim Pollard missed shots, and set bone-chilling picks to free up the quicksilver Martin and sharp-shooter Bob Harrison on offense.
The results were bountiful.
After a 16-10 start, Minneapolis finished the 1949-50 season on 35-7 tear and captured the first NBA title over the Syracuse Nationals.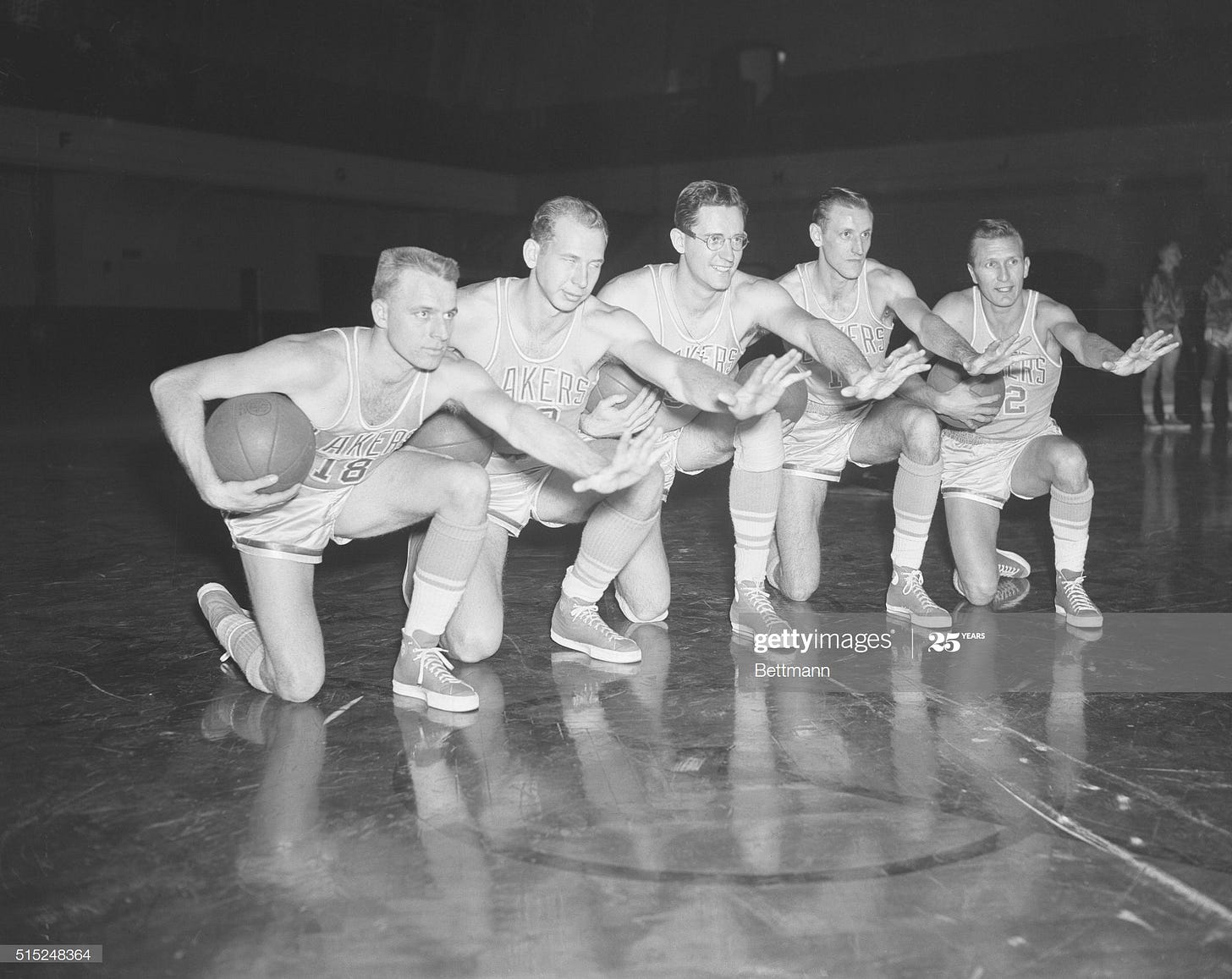 L to R: Pep Saul, Vern Mikkelsen, George Mikan, Jim Pollard, and Slater Martin
This experiment of Mik at forward eventually coalesced into the Great Dane instigating the evolution of the power forward spot. A few years later Bob Pettit came along and solidified the notion. Pettit surely gave the offensive side of power-forwarding more finesse, but Vern eventually learned how to space the floor well with a dependable mid-range shot. Not deadly like Pettit, but good enough to keep defenses honest and prevent them from sagging down too much on Mikan.
But that shot was a nice touch.
Mikkelsen's real purpose was all about that rough and tumble play. During his career, Mikkelsen earned four fouls a game which places him in the vanguard for that category. Heck, during the 1957 playoffs, Vern averaged 5.8 fouls a game. For the 1950s, he racked up more personal fouls than any other player, finishing 359 ahead of second-place Dolph Schayes.
Disruption was basically the name of Vern's game.
The Dennis Rodmans, Charles Oakleys, and other agitators owe Vern a solemn debt for his groundbreaking brawn in the 1950s. It should be noted that Vern did all of this with a gentlemanly air and was a completely affable man off the court. Being nasty didn't mean he was dirty. He hustled his butt up and down the court on every play. He just happened to knock you upside the head every know and then as he harassed you on defense.
That kind of tireless motor was respected by his contemporaries.
Averaging 14.4 PPG and 9.4 RPG for his career to go with the superb defense, Mikkelsen was honored with six All-Star Games and was on the All-NBA 2nd Team for four straight seasons. For the 1952 season, Mikkelsen led the NBA in WS/48 (.270) showing just how integral he'd become in keeping Minneapolis the NBA's premier team.
But nothing lasts forever. Following their sixth title in 1954, Mikan retired ending the dynasty. In 1955, Pollard followed suit. In early 1956, Martin was traded away, leaving Vern as the only key cog of the dynasty years. He was a star player, but not a superstar player, so the Lakers crumbled to just 19 wins in the 1957-58 season.
The 1958-59 season saw the Lakers add a superstar in Elgin Baylor making Minneapolis a contender again. The Lakers upset the defending champion St. Louis Hawks in the West Finals. In the decisive Game 6, Baylor did the heaviest lifting with 33 points, but the veteran Mik was stellar with 18 points on 7-9 FGs and 4-4 FTs in the 106-104 win.
And versus the Boston Celtics, Mikkelsen had his best statistical output of any Finals series he participated in: 21.0 PPG, 12.3 RPG, and even just 3.0 fouls per game! But the Celts swept MPLS in four games.
Instead of trying for another title with Baylor, Mikkelsen had had enough of professional basketball and officially retired in August 1959. And his explanation is so very very early NBA.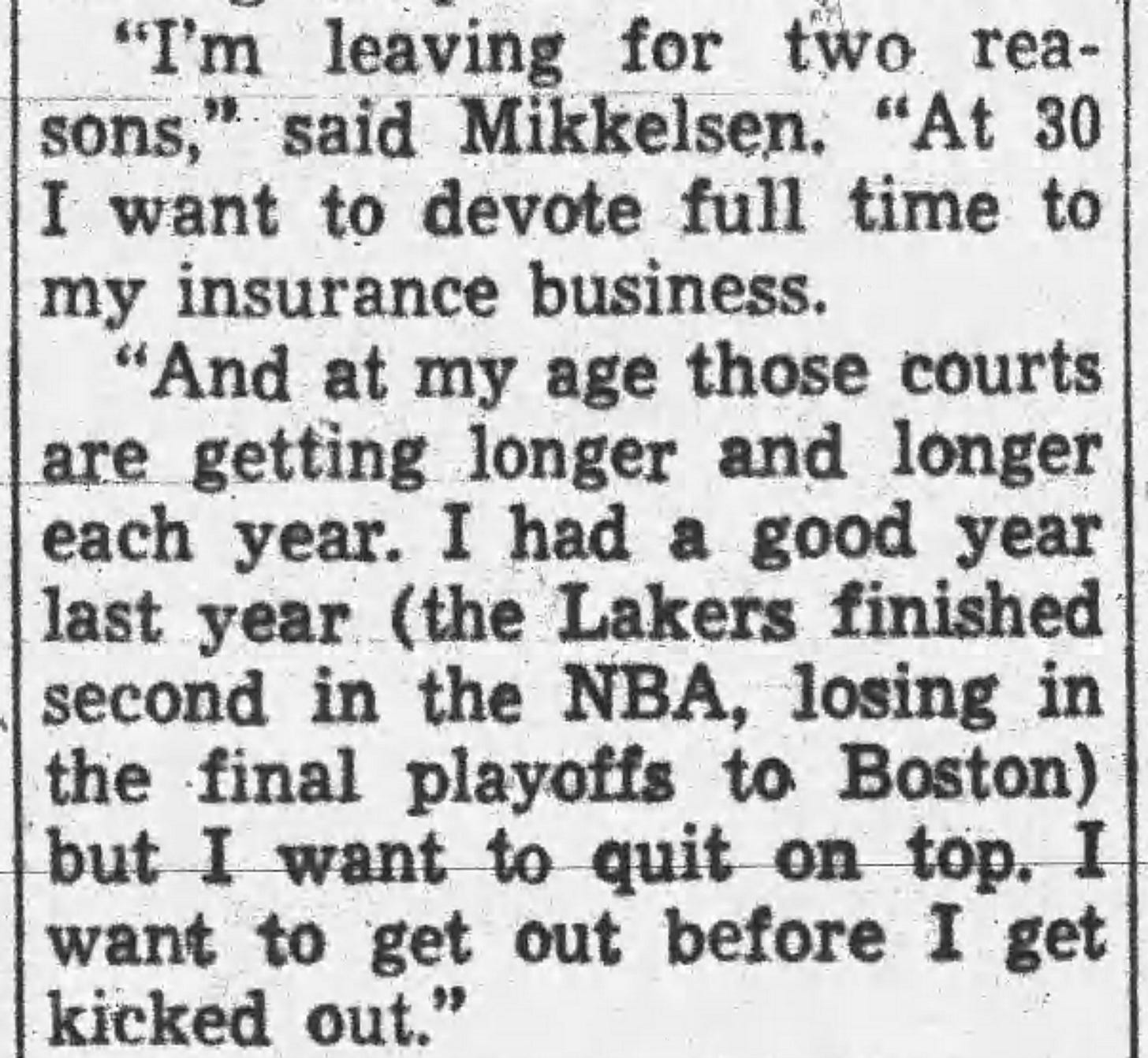 Oakland Tribune, August 30, 1959
That's Vern Mikkelsen. The eternal overachiever, who missed just one game out of a possible 700 in his career and would rather leave gracefully instead of hanging around for a "Hakeem Olajuwon in Toronto" moment.