Antoine Walker
The Jekyll and Hyde of Stretch Fours
Over the last few weeks, we've begun a conversation about the Stretch Four. We started with an unheralded pioneer of the practice: Terry Mills. We continued with another practitioner who needed more practice at it: Charles Barkley.
Now we turn our attention to the Jekyll and Hyde of Stretch Fours: Antoine Walker.
Toine had a variety of notable skills but we will focus just on the three-point shooting of His Shimmyness.
He reliably attempted numerous threes per game even though his shooting percentage on them went up and down like a roller coaster from season to season. The percentage was never great but it was certainly good some years while bad in others.
This is what makes him the Jekyll (GOOD) and Hyde (BAD) of Stretch Fours.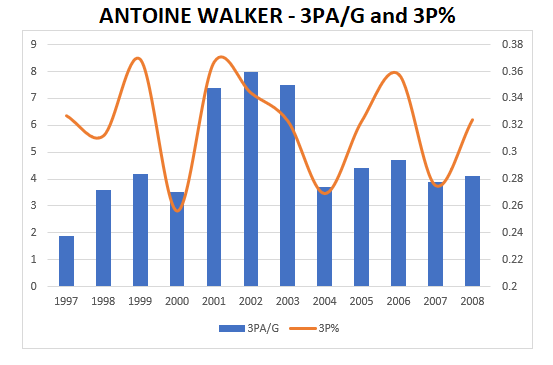 DR. JEKYLL
The Celtics under coaches Rick Pitino and Jim O'Brien in 2001 - and solely under O'Brien in 2002 and 2003 - utilized the three-point shot to get the club a needed edge over opponents.
In each of those three seasons, they led the NBA in threes made and attempted. Like Walker, however, the team had fits in the percentage department. In 2001, they were 8th in the league (.363); in 2002 they were only a tad worse at 11th (.359); and in 2003 they collapsed to 21st (.334).
But before the collapse, it was magical for all involved!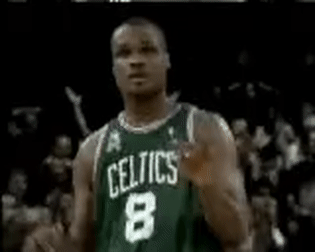 Each of those three seasons (2001-03), Walker led the NBA in total three-point attempts and in 2001 also led the league in total threes made. That 2001 campaign was the apex of Antoine's prowess as he also shot .367 from downtown.* The percentage isn't excellent, but you'll definitely take that percentage from a power forward.
*(That was a smidgen off his career-high percentage of .369 from the 1999 season, but came on fewer attempts.)
In 2002, Walker's percentage dipped to .344, but he led the NBA in minutes played and was a key cog - second only to Paul Pierce - on a surprise Celtics club that made the Eastern Conference Finals.
Despite the regular season dip, Walker was never better than in the 2002 playoffs. In his first postseason run, the power forward made a blazing .385 percent of his 6.8 3PA/G.
In the first round, Walker was 7-13 from downtown versus the 76ers in Game 3. The seven connections set a Celtics playoff record that lasted only two games. In Game 5, his running mate Paul Pierce was 8-10 from downtown. In that same contest Walker was 4-9 himself, and the team 19-29 overall from three-point range as they knocked out Philadelphia, 120-87.
Life was never quite that good again for Walker's (or Boston's) three-point shooting. The stingy Detroit Pistons defense ground things to a halt in the 2nd round. Nonetheless, Boston dispatched them in five games.
Things perked backed up against the New Jersey Nets in the Conference Finals, but not quite to their 1st Round apogee.
For half the series Walker was sensational: he shot 9-19 from downtown in Games 1, 3, and 4. However in Games 2, 5, and 6 his accuracy plummeted to 5-23 from long-range.
Like I said, Dr. Jekyll and…
---
MR. HYDE
Remember that in 2001, Toine had lit it up with a .367 3P%. 2002's percentage could have been a blip (.344), but turned out to be the harbinger of things to come.
The Mr. Hyde three-point shooting fully came out in 2003. Walker connected on just 32.3% of his threes, but still led the NBA in total three-point attempts. Once more, Walker's three-point average rebounded somewhat in the postseason (.356), but the Celtics appeared unimpressed by the small sample size theater and traded Walker in the offseason to the Dallas Mavericks for the 2003-04 season.
With the Mavericks, Walker cratered badly (.269) on his three-point accuracy. Clearly regretting the trade, Dallas quickly repackaged Walker to the Atlanta Hawks in the 2004 offseason. For half-a-season with Atlanta, he kept up the downtown blues with a woeful .317 3P%.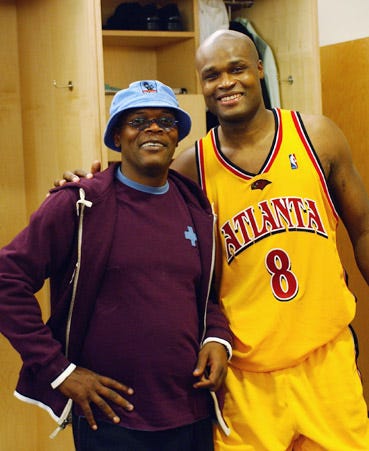 Scott Cunningham/Getty Images
Walker made a surprise return to the Celtics at the trade deadline of that 2004-05 season as the Hawks sent His Shimmyness packing.
With Boston once more, Walker regained a little of his old magic perking up to nearly 37% from three-point range in the Celtics' brief playoff run in '05. But the Boston reunion was never intended as a long-term project.
Unlike Antoine Walker and Boston in 2005, this newsletter is a long-term project.
Your sweet sweet cash can help it stay so!
---
ONE MO'GIN
Walker was traded to the Miami Heat in the summer of 2005. However, his first season in Miami was the type of redemption you love to see in sports.
The Heat were powered by the slashing Dwyane Wade and the hulking Shaquille O'Neal. Walker's ability to spread the floor (along with the sneaky good James Posey) would be crucial for Miami having a shot at reaching the NBA Finals.
But Walker had to make good on that ability. By the 2005-06 season, it had been several years since Walker had been a reliable Stretch Four and the trade was a gamble.
Luckily for Miami, the risk paid off during the regular season. Walker proved he had some fuel left in the tank as he connected on 35.8% of his threes. That was his highest percentage since his 2001 campaign with the Celtics.
The 2006 playoffs, though, were his Jekyll and Hyde career in a nutshell. For one series he ran red hot and the rest were a mighty struggle.

Walker's mixed comeback year was fleeting.
For the 2006-07 season, he again was stuck in the muck shooting just 27.5% from three for the Heat. In his final NBA season (2007-08) he played for the Minnesota Timberwolves and fittingly hit 32.4% of his long-range attempts.
His career average settled at .325.
At his best, Walker held the full promise of what a Stretch Four could do for a team. At his worst, he gave reason for folks to smash the PANIC button in hopes of stopping another three from being hoisted.
But that's Antoine Walker for you, in all his glorious and maddening shimmy.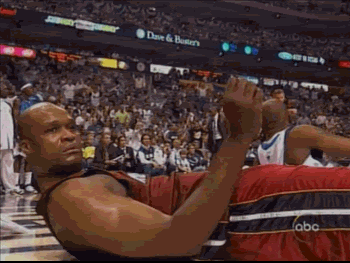 ---
YOU MAKE ME WANNA WIGGLE
Another great duo on par with Dr. Jekyll and Mr. Hyde… the Thunder Thumbs and Lightnin' Licks of the Brothers Johnson!