Black Hole Suns
Phoenix's most prodigious shooters and non-passers
Coming on the heels of my look at Tommy Heinsohn being the most trigger-happy shooter in NBA history, we're now looking at the Phoenix Suns and their black holes on offense.
Now this back-to-back feature wasn't planned, but while thinking about Heinsohn, Soundgarden's "Black Hole Sun" randomly popped into my brain… and well… a basketball history article was born…
---
MATHEMATICAL BID'NESS
The process for figuring out who the Black Hole Suns are was partly scientific, one partly intuitional (I think that's a word). After using Basketball-Reference to find the 100 players with the most field goal attempts (FGAs) in Phoenix Suns franchise history, I subjected them to two mathematical formulas:
FGAs per Minute Played: Gives a good idea for how brazen these players were at shooting the ball. Still, this doesn't mean they were a black hole. Charlie Scott for example had a very high FGA/MP ratio, but he also made lots of assists. Which led me to the following metric…

FGAs per Assist: This serves as a proxy for figuring out how often a player passed the ball. Obviously not every pass leads to an assist, so many passes are lost in this process, but I think it still gives a good indication for how willing a player was to give the ball up after receiving it.
I did ponder doing something with turnovers, but since they can occur in a number of ways—traveling, offensive fouls, etc—unrelated to passing I left them out of the calculations.
Lastly, we got the intuition.
After comparing the leaders in FGA/MP and FGA/AST, I used some good ole fashioned eyeballing and context to weed out some players. Take Robin Lopez for example. He had a sky-high FGA/AST number, but a pretty low FGA/MP number. Plus, he was never one to demand the ball on offense.
So I left him off the Black Hole Suns list.
But with that let's see the list, which includes the franchise ranks for players in FGA/AST and FGA/MP plus my observations for their Black Hole Sun rank.
---
"HONORABLE" MENTIONS
KELLY OUBRE
9th in FGA/AST (9.22) — 21st in FGA/MP (.439)
A rising star in this realm with plenty of time to climb the ranks. But with only 1.5 years with the Suns, I don't want to give him too much credit too soon. I've no doubt that in another couple years, he'll crack the top 5.
TOM CHAMBERS
20th in FGA/AST (7.27) — 6th in FGA/MP (.511)
Somehow passed too much for his own good even with Kevin Johnson and Jeff Hornacek on the team dominating assisting duties. Still, gotta appreciate his absurdly high FGAs.
---
#5 - CEDRIC CEBALLOS
11th in FGA/AST (9.00) — 9th in FGA/MP (.471)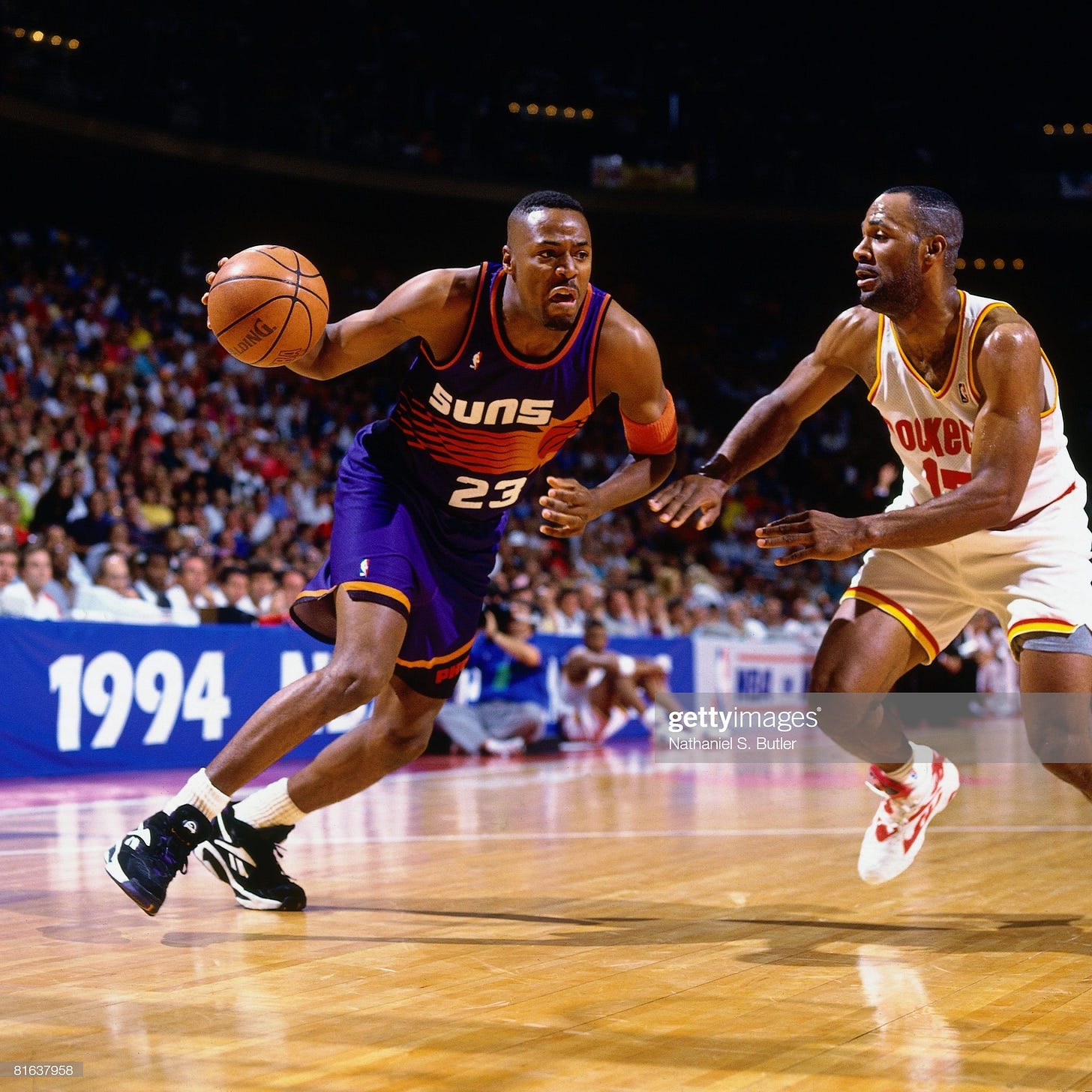 I didn't want to include Ceballos on this list because his scoring with the Suns so often came on fast, quick strikes alongside the dominating Charles Barkley and Kevin Johnson. And he led the NBA in FG% (.576) in the 1992-93 season. The data was too hard to ignore in his case, though, he settles in at number 5. Banking on Oubre to oust Ceballos in a couple years.
#4 - T.J. WARREN
5th in FGA/AST (10.73) — 22nd in FGA/MP (.434)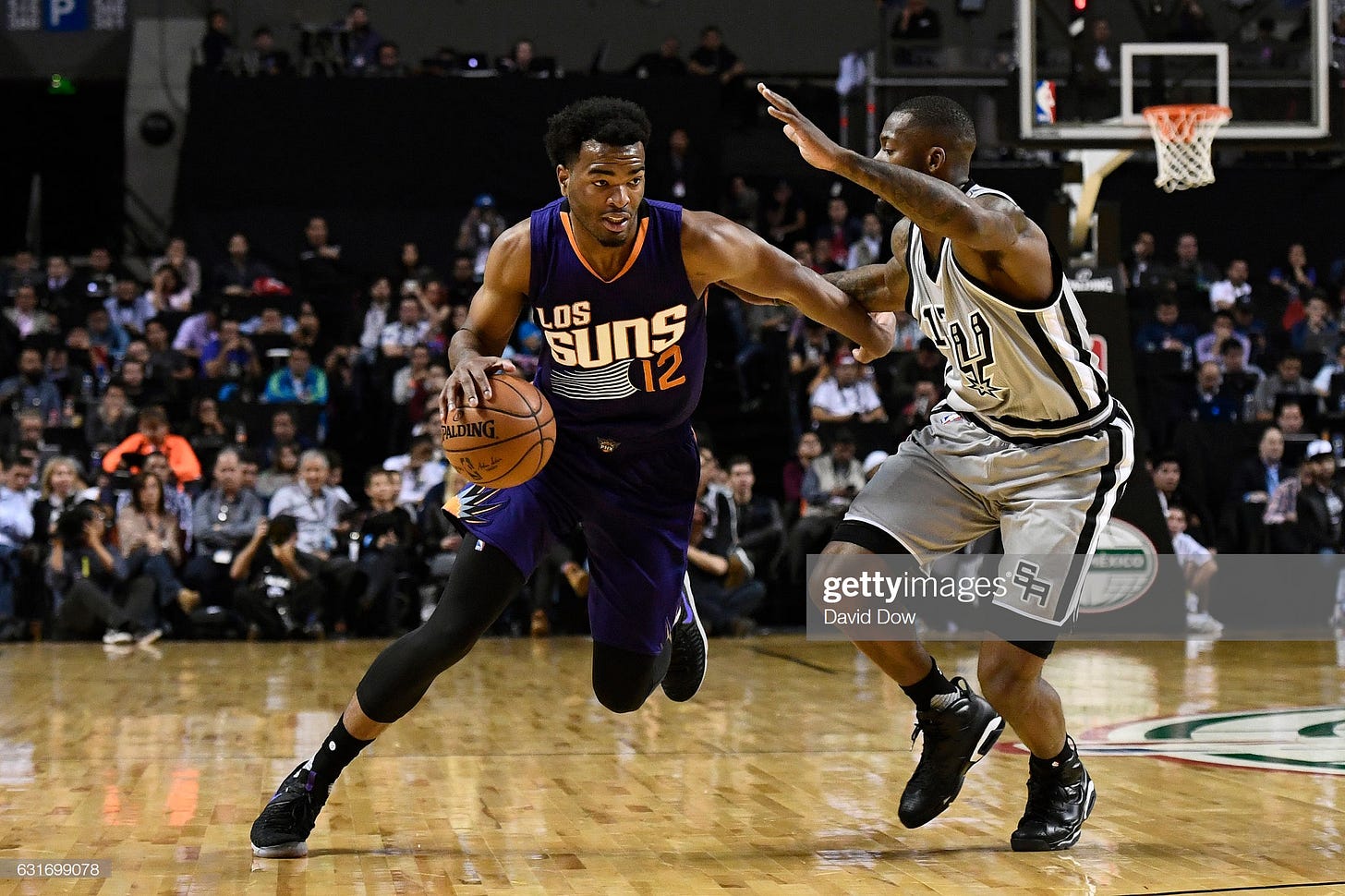 Much like Ceballos, I don't want to get too hard on Warren for being a Black Hole Sun. Whereas Ceballos worked his magic gliding through the powerhouses of Barkley and KJ, Warren was actually a powerhouse for the Suns. (It's been a bleak few seasons for Phoenix in the late 2010s.) Except for Devin Booker, Warren really was the main scoring option for the Suns, so can't fault him too hard for chucking into the abyss.
Enjoying this article and you aren't a paid subscriber, well you can fix that right quick…
#3 - WAYMAN TISDALE
3rd in FGA/AST (12.27) — 10th in FGA/MP (.471)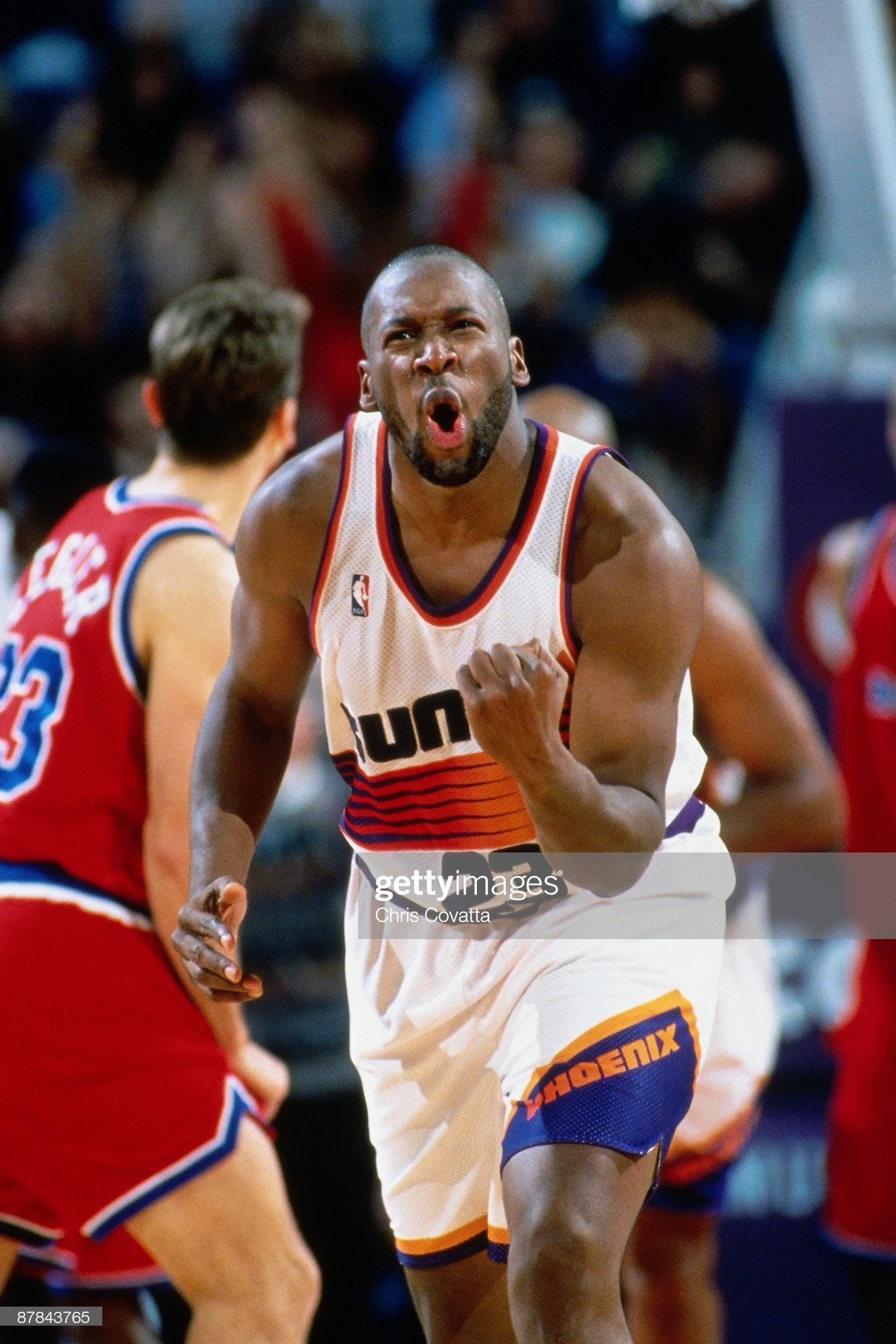 Does that look like the face of a man who's gonna pass you the ball? Hell no!
Tisdale finished out his long NBA career with three seasons in the Arizona desert. Instead of taking it easy, Tisdale averaged a career-high in points per 100 possessions (30.0 in 1995-96) while also cranking out a career-low in assists per 100 possessions (1.3 in 1996-97). If not for his role as a bench player, he'd have easily secured the top spot as Phoenix's #1 Black Hole Sun.
#2 - ARMEN GILLIAM
2nd in FGA/AST (13.42) — 25th in FGA/MP (.422)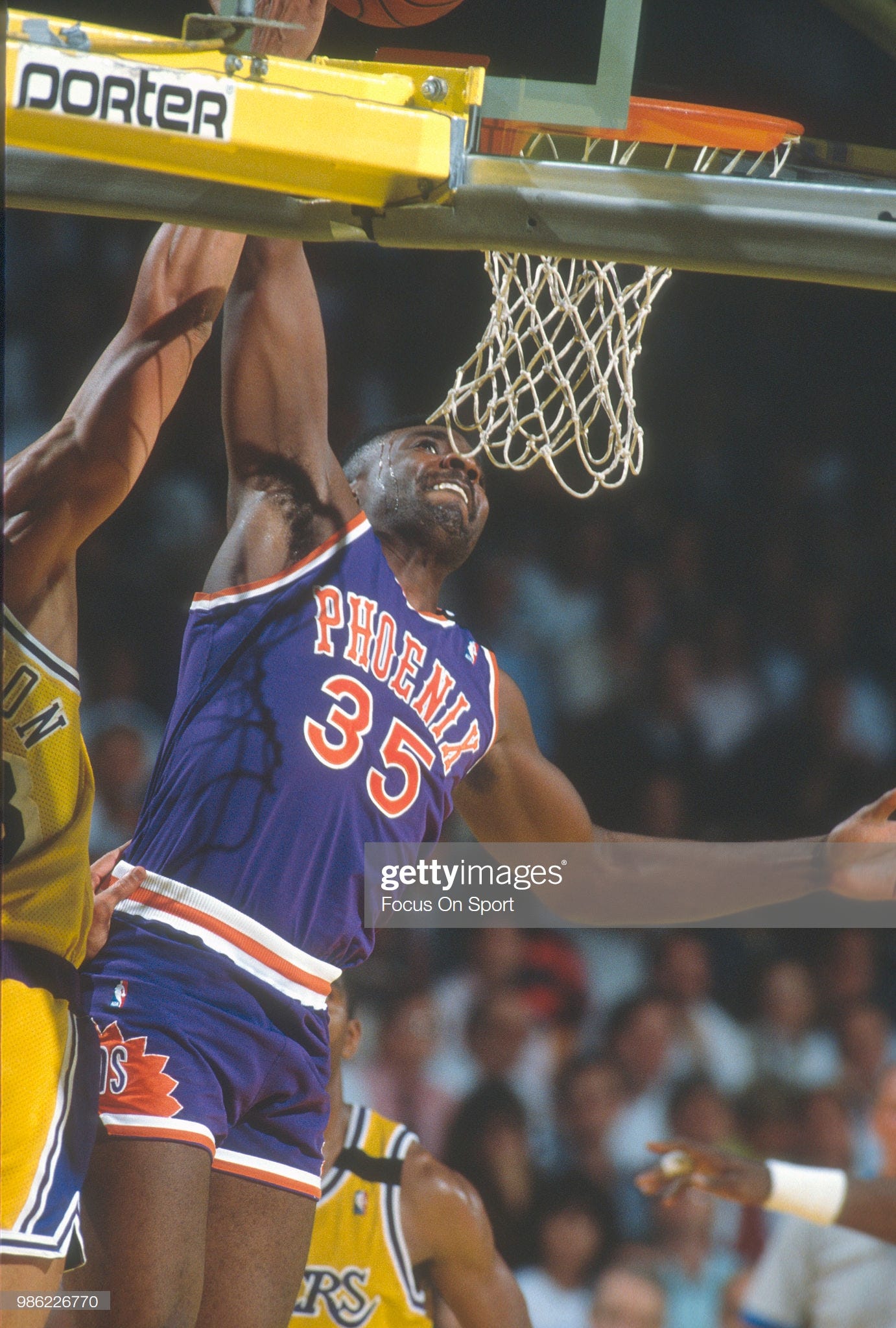 Frankly, I'm not sure anyone ever saw Armen Gilliam pass the ball. His actual nickname was "Black Hole." There really isn't much to add. If you passed the ball to Gilliam, you either go in for the offensive rebound or sprint back on defense. No sense in cutting, setting off-ball screens, or anything else. A shot was going up no matter what, so act accordingly.
#1 - AMAR'E STOUDEMIRE
4th in FGA/APG (10.84) — 32nd in FGA/MP (.415)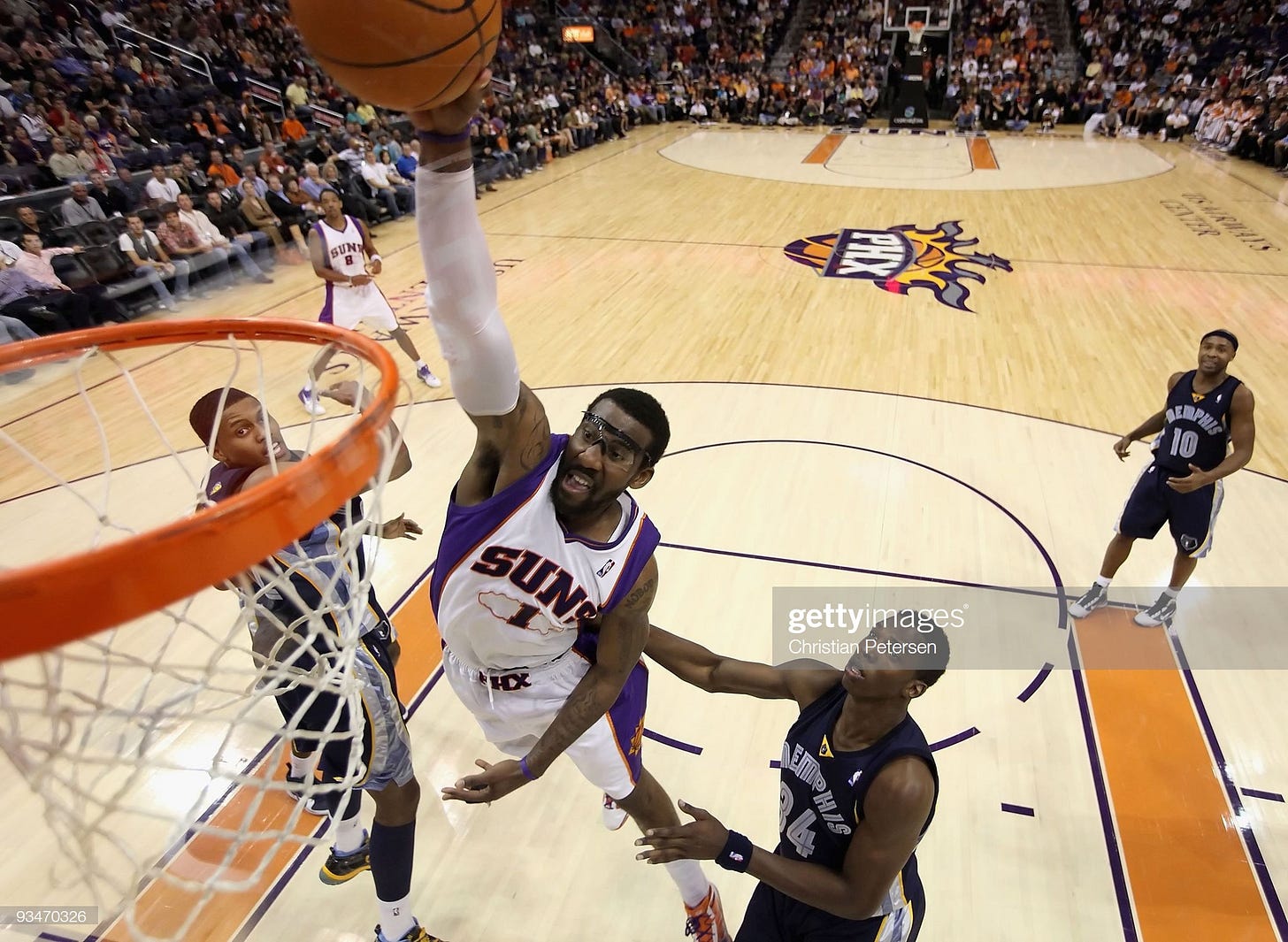 The only reason he outranks Gilliam in this here rundown is the sheer longevity. Gilliam and Tisdale only vacuumed up the ball for 2.5 and three seasons respectively. For eight looooooong years, Amar'e was funneled the ball and looked to instantly score.
Now this isn't necessarily a bad thing.
In fact, I'd say he was easily the most useful player of this whole bunch. The best Black Hole Sun possible. When Steve Nash hit him rolling to the basket, you didn't want Amar'e trying to pass it. Just keep on rolling till you dunk the ball or get fouled, Amar'e.
To this point, Stoudemire had an amazingly high FG% almost every year. And STAT actually got to the free throw line unlike his rival black holes, Gilliam and Tisdale.
Stoudemire — 8.2 FTAs per 36 minutes

Tisdale — 3.6 FTAs per 36 minutes

Gilliam — 4.9 FTAs per 36 minutes
So, give it up for Amar'e Stoudemire, the #1 Black Hole Sun!