Joe Fulks's Top Five Games
In the Esteemed Opinion of Basketball-Reference's Mike Lynch
When I wanted to remind the world of the greatness of Joe Fulks, I knew that it wasn't a one-man task. Perhaps no one currently on God's green earth loves Fulks more than Mike Lynch of Basketball-Reference. So, naturally, emailed him up to provide us all with what he considers five outstanding Joe Fulks games.
I've cleaned things up a bit, but this is Mike's effervescent appraisal of Jumpin' Joe!
Be sure to follow him at @sportinfo247 and thank him for his great work in keeping the BBR databases organized. A truly indispensable website.
Ed. Note: The records Fulks set during his BAA days carried over to the NBA when the BAA and NBL merged in August 1949.
---
Top 5 Joe Fulks games (how do I pick just 5?!)
Ed. Note: I told your ass to pick five, so five it is.
#1
—
63 Points versus Indianapolis
February 10, 1949 —
Box Score
Number 1 has to be his 63-point game. Not only did he set the BAA single-game scoring record, but he obliterated the old record. It was not only the first 60-point game in league history, but also the first 50-point game. The old record was 48 points by George Mikan. Fulks also set a league record by attempting 56 shots in this game (breaking his own record of 55). Perhaps most impressive is that Fulks didn't record a single assist in this outing. His 56 FGA are easily the most in the Basketball-Reference database by a player with 0 assists. Also of note is that Fulks did this while battling a stomach ailment and opposing coach Burl Friddle shook his hand as he left the game in the final minute.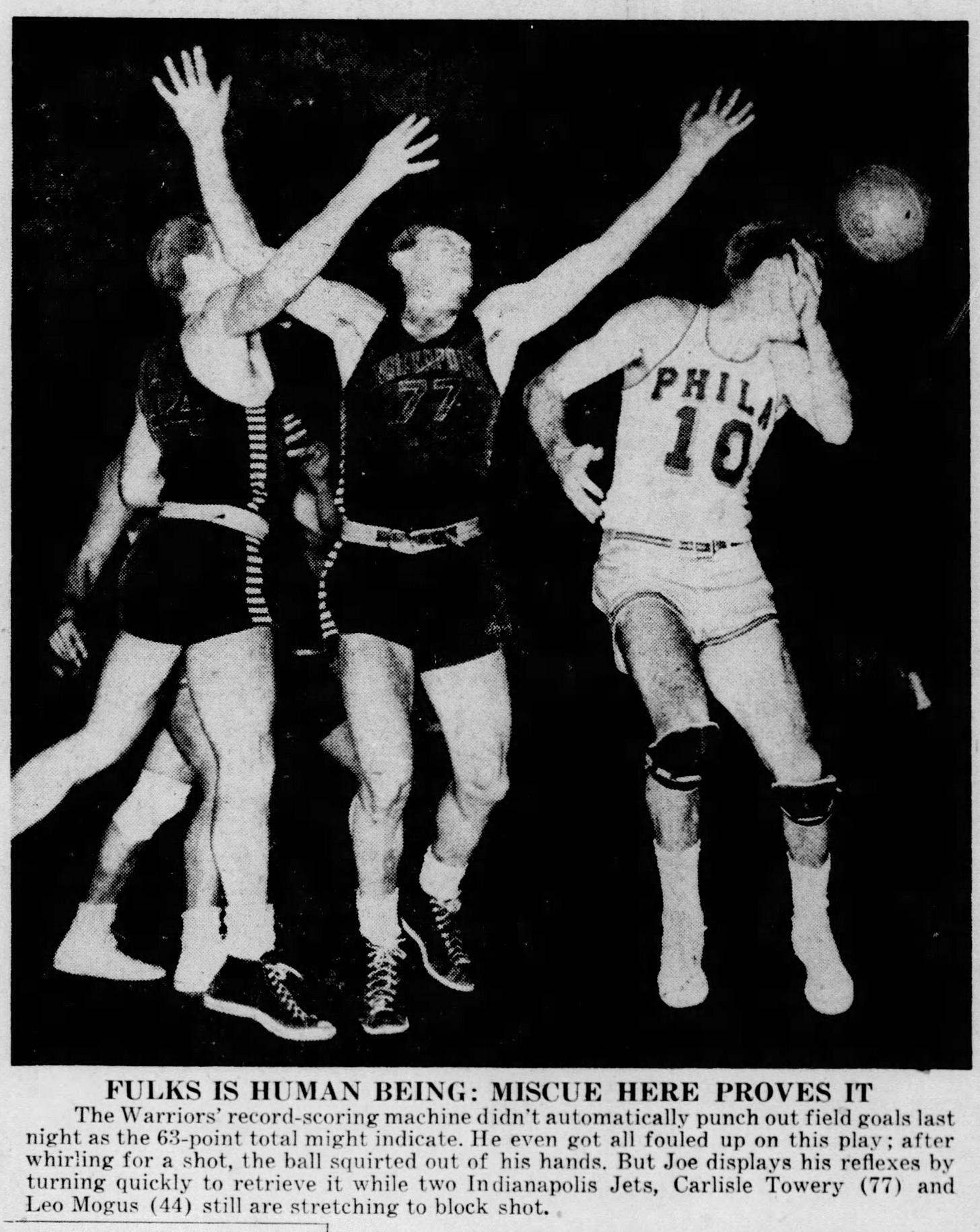 Philadelphia Inquirer, Feb. 11, 1949
#2 — Sets BAA Record of 55 FGAs
What can I say, I love the games where Fulks is fully immersed in being Joe Fulks. It's hard to top this one, in which he set a BAA record 55 FGA (until he broke his own record the following year, that is). What makes this one truly special is that he only made 13(!) of the shots! Yet somehow his team still won by 31 points thanks to 22-105 shooting by the Providence Steam Rollers. Jack Toomay shot 7-12 for Providence, meaning his teammates shot, uh, 15-93. So I guess that 13-55 was pretty good after all. Speaking of Toomay, chew on this: He holds the single-game BAA/NBA playoff record with 8 personal fouls. However, he was credited with an official total of 6 personal fouls for the entirety of the 1949 playoffs. I'm sorry for ruining your day.
Ed. note: Mentioning anything related to the Providence Steam Rollers actually improves my day.
#3 — Fulks leads Warriors to the Title
In leading the Warriors to the first-ever BAA championship, Fulks scored 34 points in the clincher. The Stags tried 4 different defenders on Fulks and 3 of them fouled out.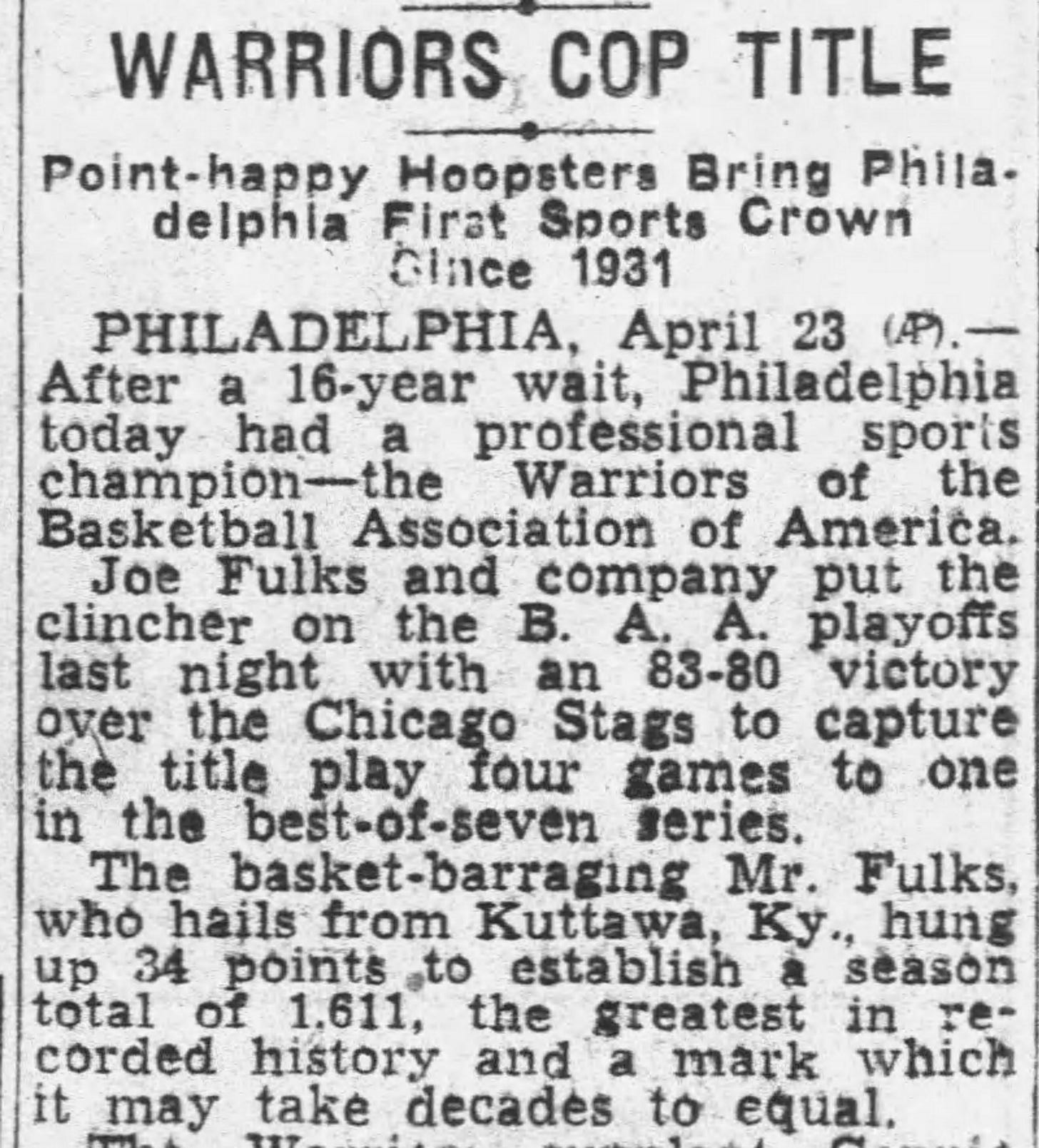 York Dispatch, April 23, 1947
#4 — Sets Playoff record for FGAs vs St. Louis
This is simply the stuff of legend. Fulks set a playoff record with 46 FGA and hit only 8 of them! All while registering zero assists. Quintessential Fulks, here. The Warriors missed 23 straight shots at one point and finished 20-113, meaning Fulks shot only slightly worse than the rest of the team.
#5 — Fulks Trash Talk
Perhaps one of the earliest chroniclings of NBA/BAA trash talk. You love to see a guy who was probably shooting 10-35 at the time talking smack as he releases a couple set shots.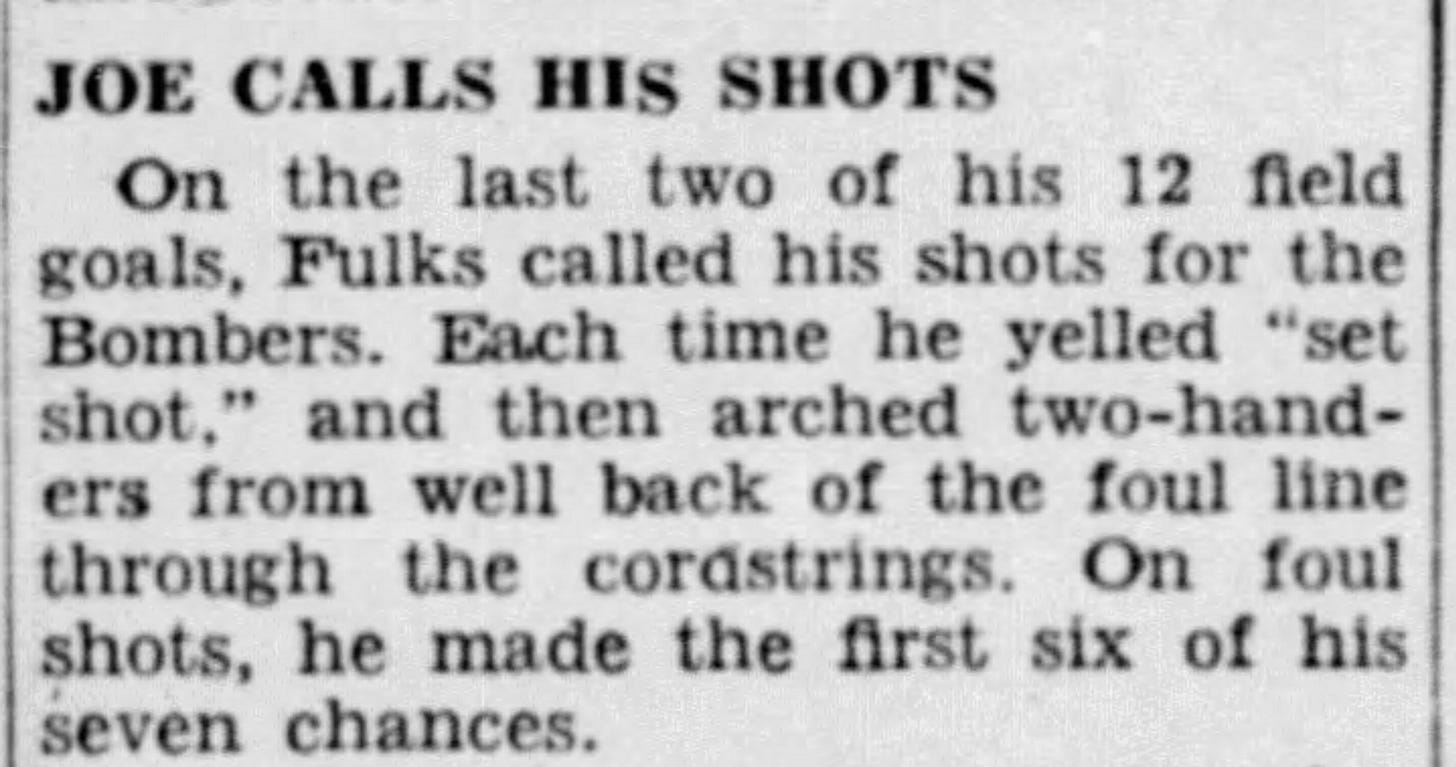 Philadelphia Inquirer, March 28, 1948
Before I go, I'd just like to stress that Fulks was a very special player and it's clear that contemporaries were amazed by his skill (even if they weren't sure he played the right way). I just find it enjoyable to look back at some of his box score lines in amazement.
---