Ladies' Firsts
An Introduction to Women's Pro Hoops
In case you haven't noticed, this newsletter thus far has been derelict on having material on women's pro basketball.
Admittedly, I'm more knowledgeable on the men's side of things, but I've also been purposely holding back because I've had Women's Hoops Blog waiting in the wings to provide a proper kick off on the topic.
Run by Helen (no last name needed), Women's Hoops Blog is currently on the Inactive Blog List, but she still tweets.
HOWEVER, the blog has a sterling timeline of women's basketball as well as a listing of books and other resources to learn more about the sport, which I've found useful.
Highly recommend you bookmark both.
Helen graciously agreed to do a Q&A with me and some of her responses have provided me with some good philosophical fodder and facts to explore in future posts.
Like all Q&As this post is open to all, but to make sure you can see all the research and musings on basketball history become a paid subscriber.
Anyhoo, let's get to the Q&A…
---
Helen: Thanks, Curtis, for giving me the opportunity to respond to your questions about women's basketball history. I will say, first and foremost, it's important that your readers know that I am a women's basketball history enthusiast. That means I did a deep dive into the history of women's basketball about 15 years ago when I started writing about the WNBA. I read and googled like a woman possessed. Simply put, I didn't want to come off as an idiot when it came to talking to players who knew far more about the sport and its history than I did. The deeper I delved into women's basketball history the more intrigued I became with its roots, its roadblocks, its groundbreakers and the countless of unnamed women who played the game not just because they loved it – but because they HAD to play.
Q1: Unlike many sports, women's basketball is just as old as men's basketball, both starting in the winter of 1891-92. However, men had a professional league by 1900. It took women longer to enjoy professional and/or paid outlets to play. What were some of the first opportunities women had to play basketball in a professional or paid capacity?
Helen: You have to consider how you define "professional or paid outlets." My understanding is the men may have had those opportunities in the 1900s, but it was not "professional" as we call it today. It was a seasonal gig for most players, and they worked other jobs on the side.
That being said, women's and girls' basketball was wildly popular. The women's game chased the men's game across the country. It was played in big and small towns on outdoor grass courts and indoor attics in front of small crowds and crowds of 10,000. So, there was a population of young women playing basketball who wanted to continue playing after high school and college.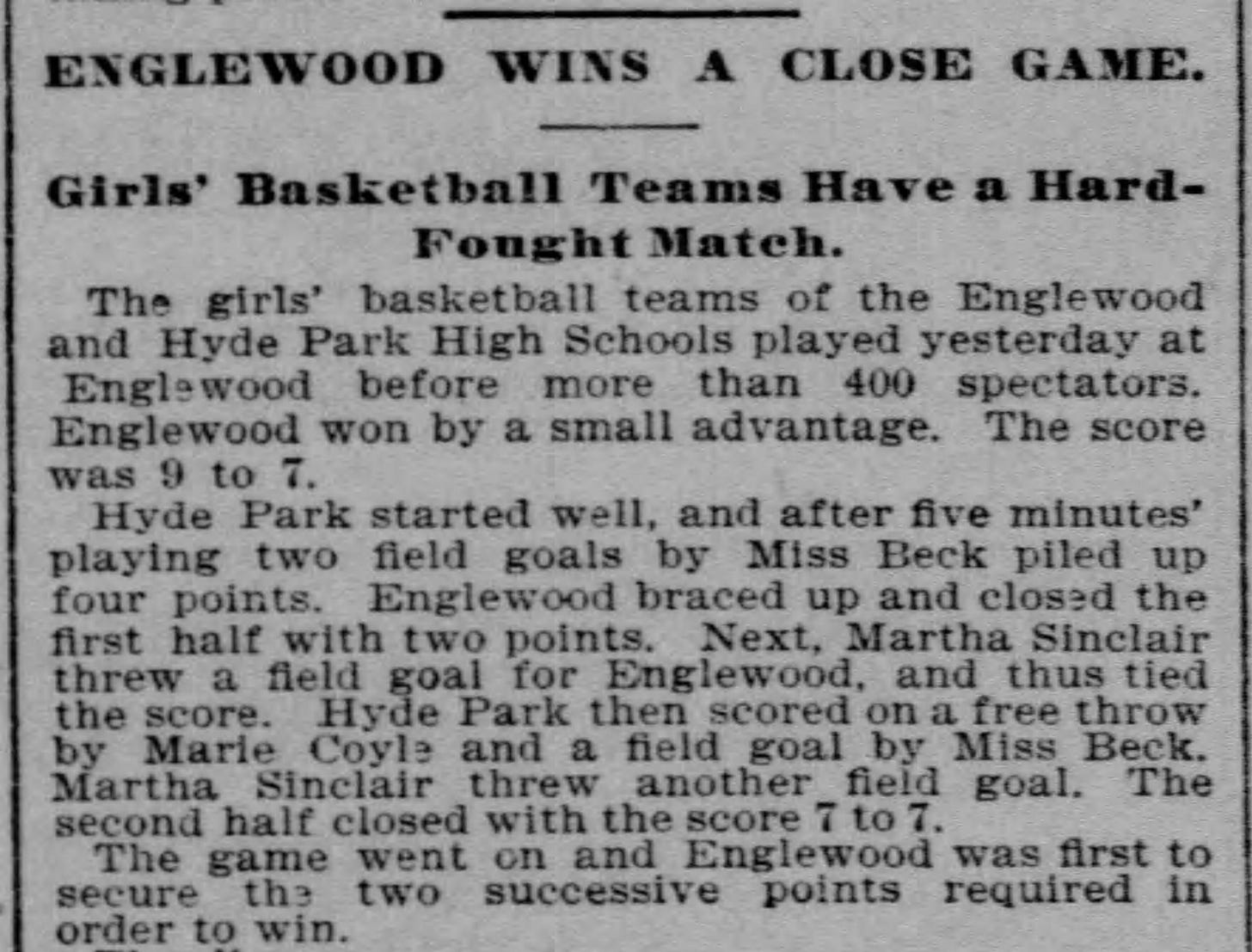 Report on high school basketball for girls,
Chicago Tribune,
March 17, 1900
Someone would have to do a more clear and careful research job, but I'm betting that somewhere in the 1910s or '15s you would find women playing on what were called "industrial teams": teams sponsored by a company as a form of advertisement. Just like the men, they were not earning a heck of a lot but they were earning something for playing ball.
Scratch a local newspaper and you will find semi-pro teams featuring women basketball players. You might encounter teams like Wingfoot sponsored by Goodyear Tire. Other sponsors included Hanes Hosiery, Wichita Coleman Lamps, the Oklahoma Gas and Electric's and the Thurston Garment Company. It's not unlike sponsorship these days of minor-league teams and local AAU tournaments.
In 1929, for example, Babe Didrikson, played for the Dallas Cyclones which were sponsored by an insurance company, Employer's Casualty. Officially she "worked" for the insurance company. Unofficially she played basketball for them. She was amongst hundreds of women who either earned their full salary or supplemented their office work playing basketball.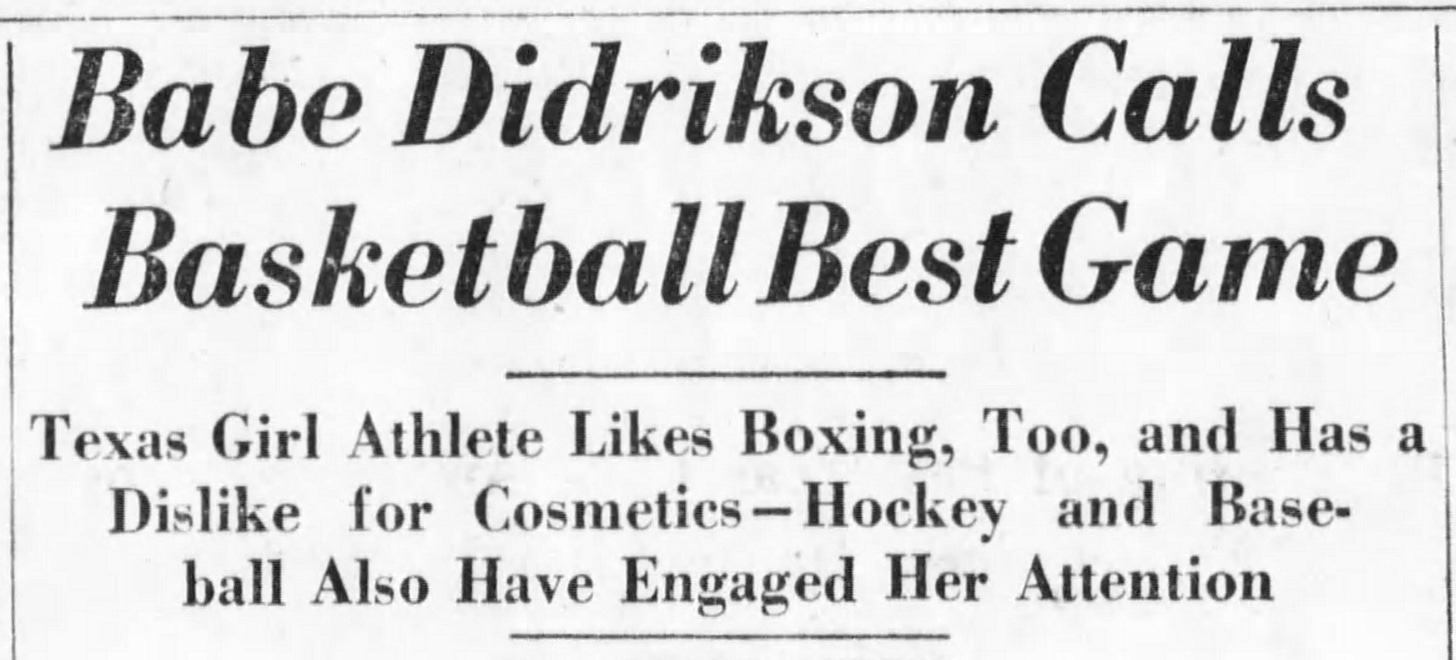 Brooklyn Daily Eagle
, January 5, 1933
Q2: I know this is a big question, but I'd like your thoughts on it. Barnstorming women's teams existed in the mid-20th century, but it wasn't until the 1970s that an attempt at what we think of as "typical" professional league was made for women. Why do you think it took so long for that to happen?
I think there are several things that come into play here.
There was space in the United States for female athletes and athleticism. At the turn of the century you can see a "strong body, strong mind" Protestant movement that celebrated bodies in activity. Just look at the creation of the YMCA and YWCA.
[ed. note: our previous Q&A with Paul Putz address a lot of this.]
That being said, the history of women's athletics is rife with the tension between "individual" and the "team" sports. You could probably point to some names of early women athletes and they all be in individual sports: Didrikson (yes, she played basketball but most people know her as an individual athlete), Sonja Henie the skater, Gertrude Ederle, who swam the English Channel, etc. All individual athletes. Remembering who controlled the media, who controlled the purse strings, who controlled the venues, who dictated what was proper or not for women to do, it should come as no surprise that there were "fears" stoked about women playing on teams. So, sexism and homophobia played a huge role.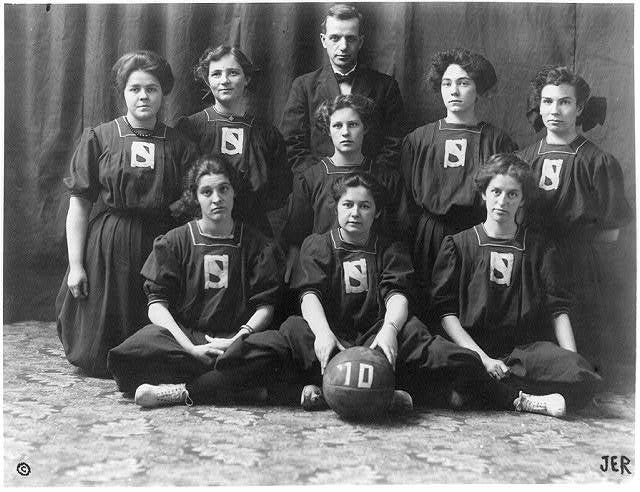 Women's basketball team from 1910 (Library of Congress)
The rise of women's basketball through the "roaring" 20s was meteoric – but there was a backlash from those upset at women not being "proper." The game was stopped dead in its tracks when (most) state tournaments were banned by the early '30s.
Without the pipeline of high school to college (college varsity teams were eliminated) the institutional support for women's sports was undermined and generations of fans were lost. Add to that, when the stock market crashed, women's sports were the first on the chopping block.
That's not to say women weren't playing basketball – they were, thanks to individual stubbornness and advertising budgets. But until Title IX was passed in 1972 - which was a civil rights amendment, not initially thought to include sports - and restarted the flow of athletes, women's professional leagues were destined to struggle. Yes, the WNBA is much farther along on its growth "timeline" than the NBA was when they were 23 years old. But, not only is the sports media market far more crowded than when the men's teams started, there is a double standard when it comes to investing in men's vs. women's teams. (XFL redux, anyone?) For all intents and purposes, women's basketball is 50 years behind the men's game.
Q3: I'm familiar with Babe Didrikson being one of the early semi-pro players. However, you've mentioned Margaret Wade to me before, someone I'm unfamiliar with. Could you tell me and the readers who Wade is and what she contributed to professional basketball?
Helen: I think most people associate who with women's college basketball would recognize the name Margaret Wade if only because the Wade Trophy (the sport's most prestigious award) is the given to the best college player.
[Ed. Note: As I've mentioned before, I'm amazingly ignorant of college basketball specifics. That's why I run a pro hoops history newsletter and ask for outside help].
At the next level of knowledge, they would recognize Wade as a coach in the early 70s at Delta State in Mississippi. She had been a high school coach in Cleveland Mississippi and was recruited by Delta State to revive a women's basketball program that had been shut down in the early 30s. This was when Title IX was making its impact on athletics by providing scholarships for women athletes. Wade went on to build a powerhouse that won 3 back-to-back AIAW championships (the NCAA wasn't interested in sponsoring women's tournaments). Many would consider her the mother of modern college athletics.
But, when I went down a rabbit hole of research (as one does) I discovered that she had played at Delta State and was one of the athletes who protested when the program was eliminated (because an administrator had decided that basketball was too strenuous activity for women- a theme that wiped out most of the college programs across the country.) A little deeper down that rabbit hole I discovered that she also played semi-pro. Her team was the Tupelo Red Wings (don't think it's the shoe company) and she led them to a Southern League championship in 1935 before her playing career was ended by a knee injury.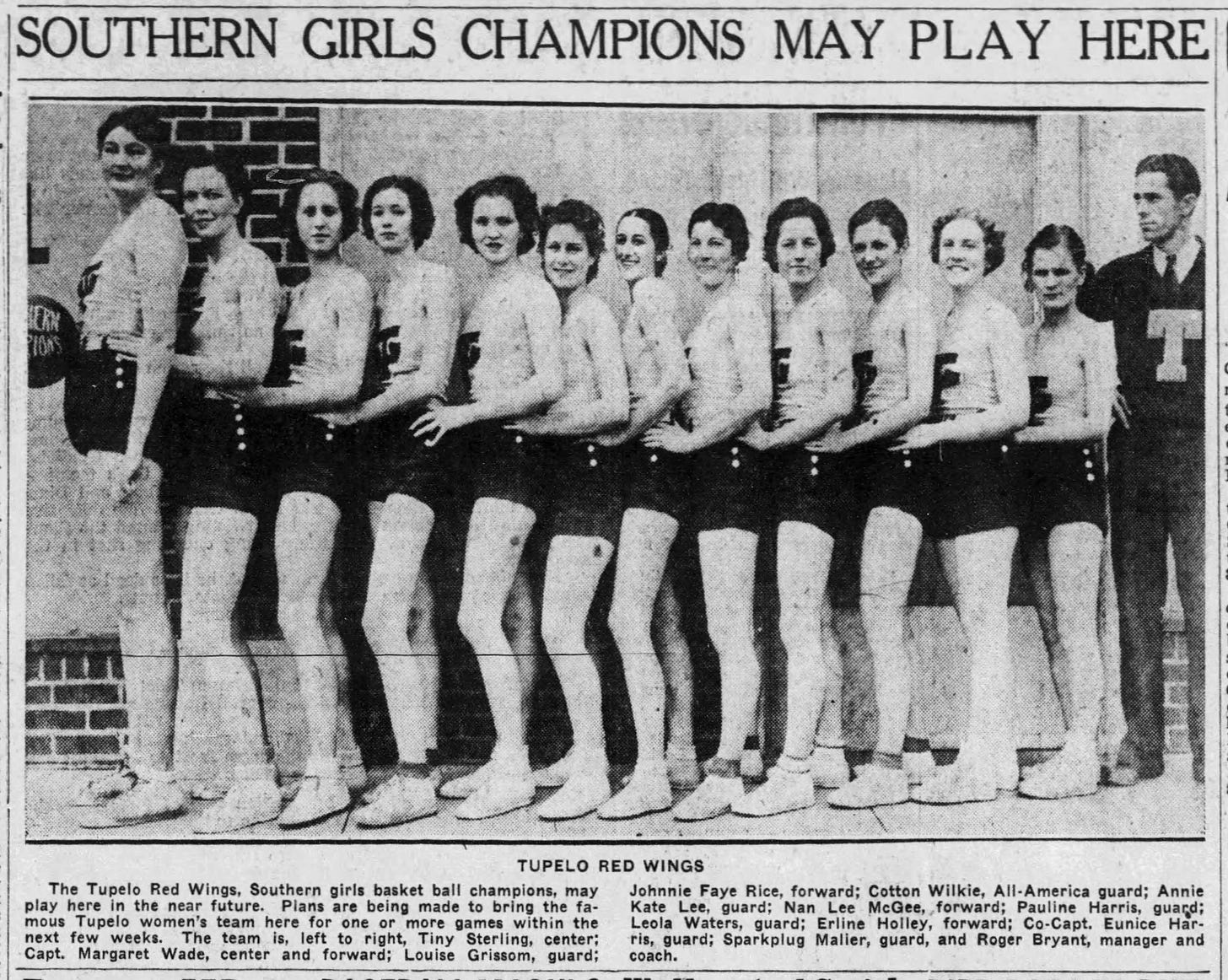 The Tupelo Red Wings. Margaret Wade is 2nd from the left.
Birmingham News,
January 13, 1935.
I think Margaret Wade is symbolic of so many other women of her generation who just found a way to play. And when they couldn't, they gave back to the game they loved by becoming coaches or administrators. Without them there is no WNBA.
Q4: Before I let you go, who are some other important figures - players, coaches, teams - in the early years of (semi-)pro women's basketball who deserve a shout out?
Oh, I'm just gonna throw out a bunch of names and let your readers be intrigued and hunt down the facts. It being Black history month, I have to start with Ora Mae Washington who by, all accounts, was an extraordinary athlete. Born in 1899, she was a beautiful tennis player, winning several American Tennis Association titles. (note: individual sport).  She played basketball with Germantown (PA) Hornets and then the Philly Tribunes (sponsored by the newspaper), winning 11 straight Women's Colored Basketball World's Championships.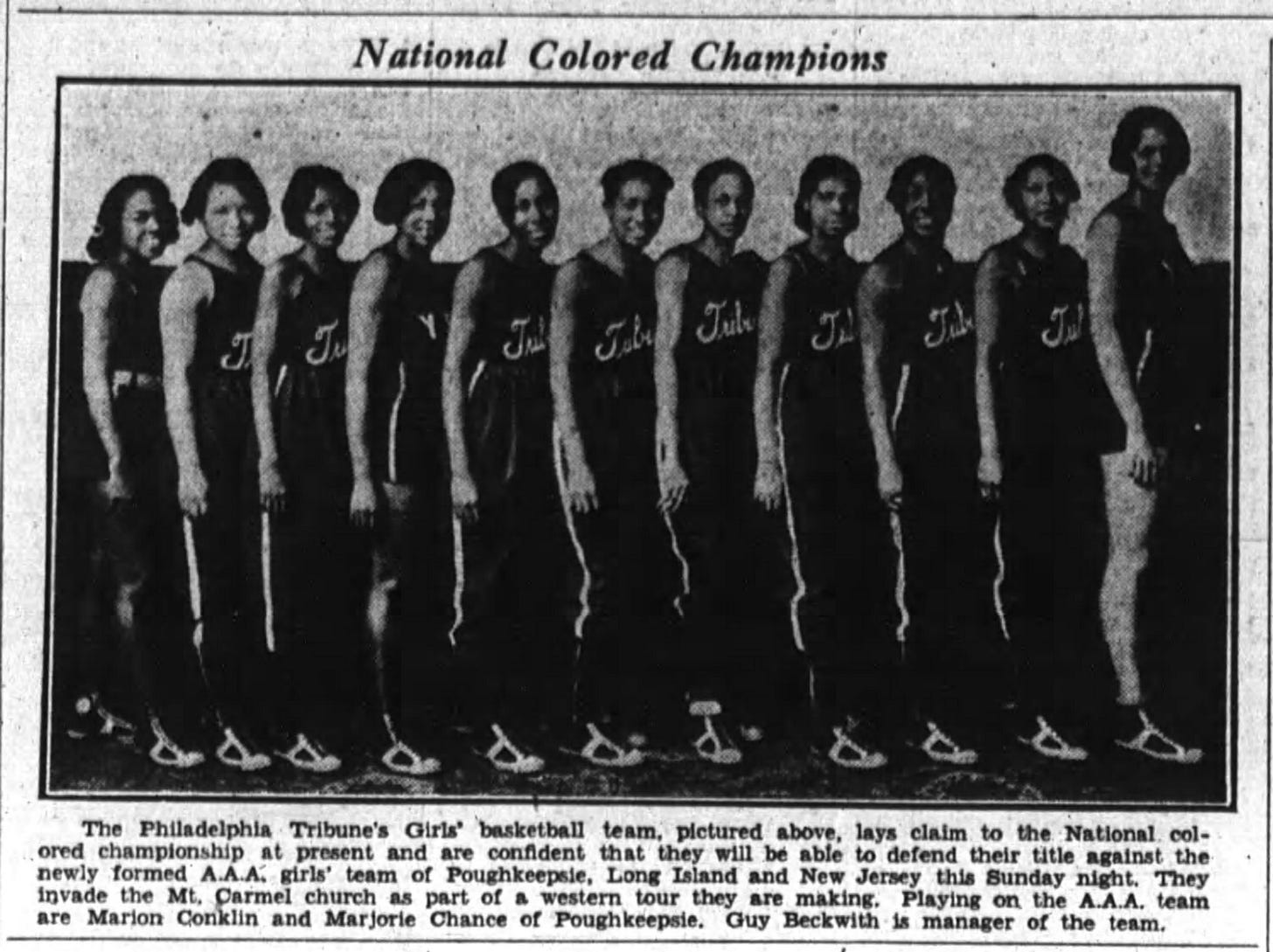 The Philadelphia Tribunes,
Poughkeepie Eagle-News
, January 21, 1937.
Arkansas' Hazel Walker was unstoppable in the 30s and (eventually) gave way to the players of the 40s like Alline Banks and Corenne Jaax. In the early 50s it was Eunies Futch, Evelyn Jordan and the legendary Nera White. The 60s saw the likes of Joan Crawford and Doris Rogers. In the 70s, names readers might recognize were Annie Meyers and Carol Blazejowski.
You should read all about John Head, who piloted the Nashville Business College team in the 50s and also coached for USA basketball in the world championships. Alberta Cox, also a USA basketball world championship coach, helmed the Missouri based Raytown Piperettes. The Haines Hosiery team has already been mentioned, as well as the Dallas Cyclones. And while they were "officially" attached to a college, do not miss the story of the Wayland Baptist College Flying Queens.
---
LADIES FIRST
Give it to 'em Queen (and Monie Love)!