Potpourri of Really Good LA Lakers
In the latest installment of the Retired Jersey Project, I focused on four MPLS Lakers who should have their jerseys retired by the Los Angeles Lakers. They honor the jerseys, but someone can still put the number on.
Pfft.
In there, I also hinted that there have been some very very good LA Lakers, who under similar circumstances with many other franchises would have their number retired. Or at least be strongly considered before being turned down.
So, here are five Lakers from back in the day who are franchise greats, even if they aren't gonna have their number retired anytime soon.
---
#35 Rudy LaRusso (1959-1967)
4x NBA Finalist—3x All-Star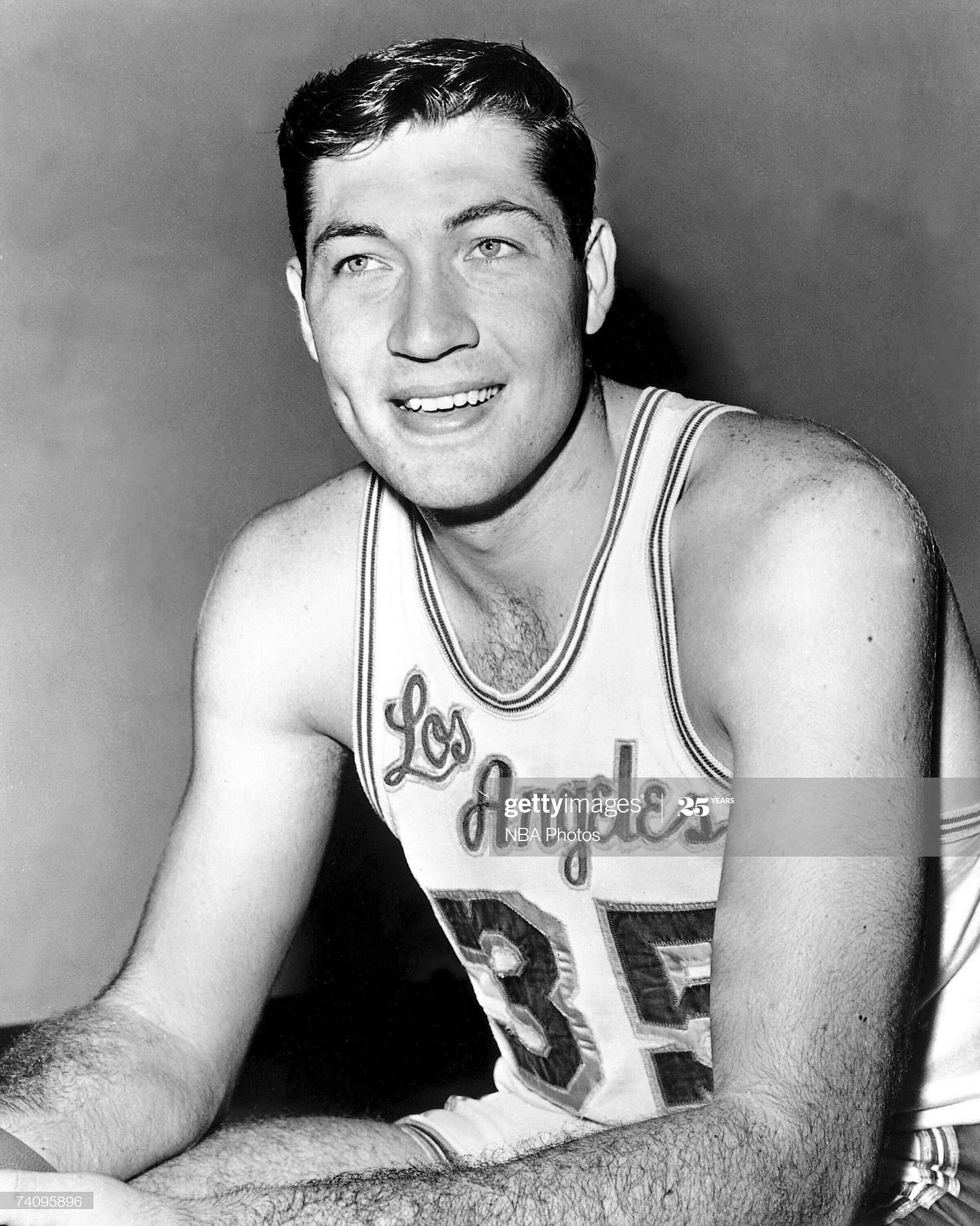 The unheralded third-wheel of the Lakers' 1960s teams that came up juuuust short in championship series versus Boston. He also sacrificed quite a bit of scoring to accommodate Elgin Baylor and Jerry West. In his eight years with the Lakers, LaRusso averaged 14.1 PPG to go with 9.6 RPG.
During his final two NBA seasons, played with the San Francisco Warriors, LaRusso was allowed more offensive freedom and averaged 21.3 PPG making two more All-Star Teams before retiring after the 1969 season.
He did pop off for the Lakers every now and then, though. In the 1961-62 season, LaRusso scored a career-high 50 points on March 14. Baylor had five 50-point games that year while West had two of his own. This meant that LaRusso, Baylor, and West were and remain the only the trio of teammates to have 50-point games in the same season.
And don't let Rudy's Ivy League pedigree (he graduated from Dartmouth) fool you. He loved to fight on the court.
All n all an excellent power forward who would be a two-time NBA champ if the Lakers had scored just a tiny pittance more points in two Game 7s.
#52 Happy Hairston (1969-1975)
NBA Champion—3x NBA Finalist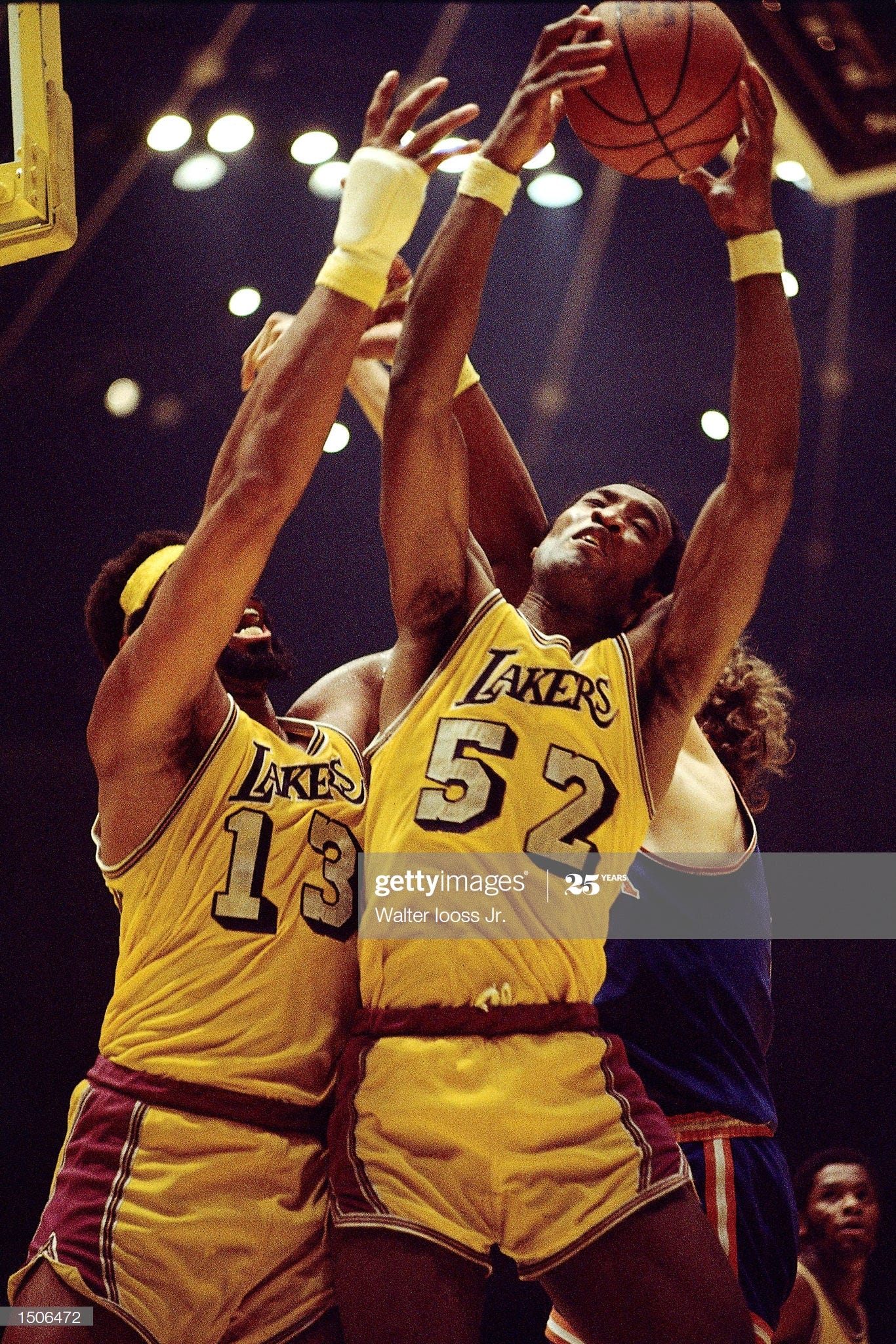 One of the best players to never make an All-Star team, Happy Hairston was a fleet-footed rebounding dynamo that perfectly fit with Wilt Chamberlain in the frontcourt of the early 1970s Lakers.
If he grabbed a rebound, Hairston was quick to outlet pass it to Jerry West or Gail Goodrich. If Wilt got the rebound, Hairston was even quicker to get running up the court to finish off the Laker break.
The finest fruition of this was the 1972 season when the Lakers won 69 games and the NBA title. A repeat title in 1973 was not in the cards for LA largely because a Hairston knee injury that essentially knocked him out for the season in December 1972. He tried a playoff comeback, but managed just 26 minutes over three lackluster games.
Over the totality of his six Laker campaigns, though, Hairston averaged 15.2 PPG, 12.4 RPG, .485 FG%, and .785 FT%. Not bad at all.
#5 Jim McMillian (1971-1973)
NBA Champion—2x NBA Finalist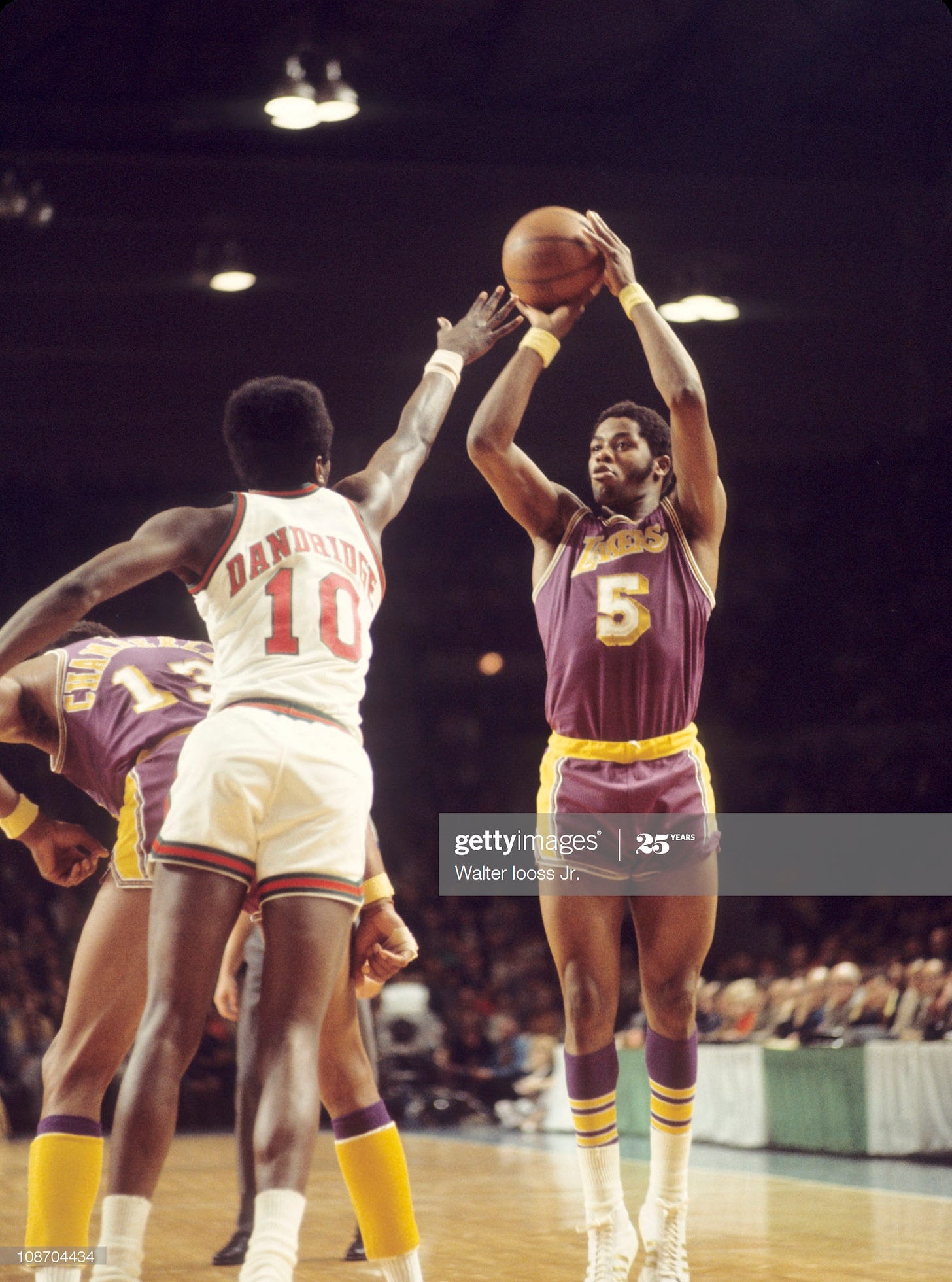 Jim McMillian had a short but sweet tenure with the Lakers.
When Elgin Baylor succumbed to knee injuries early in the 1971-72 season, McMillian permanently took his place in the starting lineup at small forward. The Lakers won their first 33 games under this new arrangement with McMillian.
His feathery jumper was the fulcrum balancing the waterbug backcourt of West and Goodrich with the power of Wilt and Hairston.
The second-year man was just as effective in the playoffs as in the regular season. His best performance was a 42-point outburst on 16-25 FGs that keyed a 135-134 Laker win over the Milwaukee Bucks that kept LA from going down 0-2 in the West Finals. That Milwaukee team, which had won 63 games of their own that year, had blown LA out in Game 1.
Not quite as hot in Game 3, McMillian still had 27 points to push the Lakers to a 108-105 win. Milwaukee smashed the Lakers again in Game 4.
So, that means that in a series tied 2-2, the Lakers had their two wins by a combined four points. Milwaukee had theirs by a combined 47 points.
Laker fans, thank your lucky stars McMillian was there to save the day.
(Sorry, Bucks fans).
#10 Norm Nixon (1977-1983)
2x NBA Champion—3x NBA Finalist—All-Star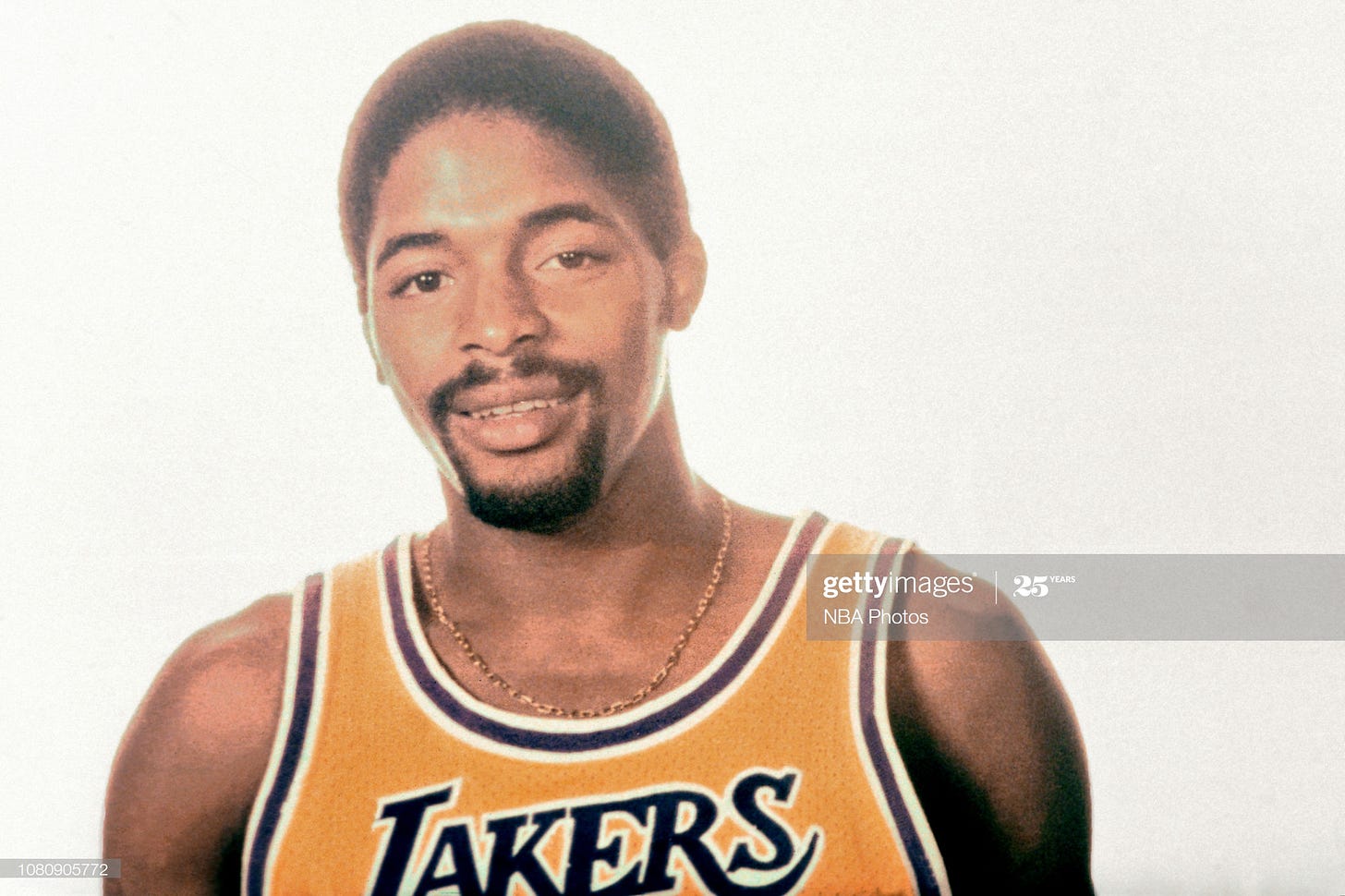 People forget that the Showtime Lakers had not one, but TWO all-world point guards.
Norm Nixon was a handful even at 6'2". In the 1978-79 season he averaged 17.1 PPG, 9.0 APG, 2.5 SPG, and .542 FG%. Then Magic showed up, but the two worked well in juicing up the Showtime break.
During their four seasons together, Nixon averaged 16.9 PPG and 7.9 APG. Magic averaged 18.3 PPG and 9.0 APG.
Appropriately, Johnson led the Lakers in assists in the 1980 Finals with 8.7 per game. Nixon followed with 7.0. In 1982, they switched places. Nixon led the way with 10.0 APG and Magic had 8.0 APG.
And the Lakers got two titles plus another Finals appearance in 1983.
Simply based on size, Nixon had a different take on point guarding. He buzzed in through defenses and could sneak up shots and deliver passes the 6'9" Magic couldn't pull off with his larger frame.
Unfortunately for Norm, LA gave up on the dual point guard lineup and traded him to the Clippers for Byron Scott.
#21 Michael Cooper (1978-1990)
5x NBA Champion—8x NBA Finalist—Defensive Player of the Year—5x All-Defensive 1st Team—3x All-Defensive 2nd Team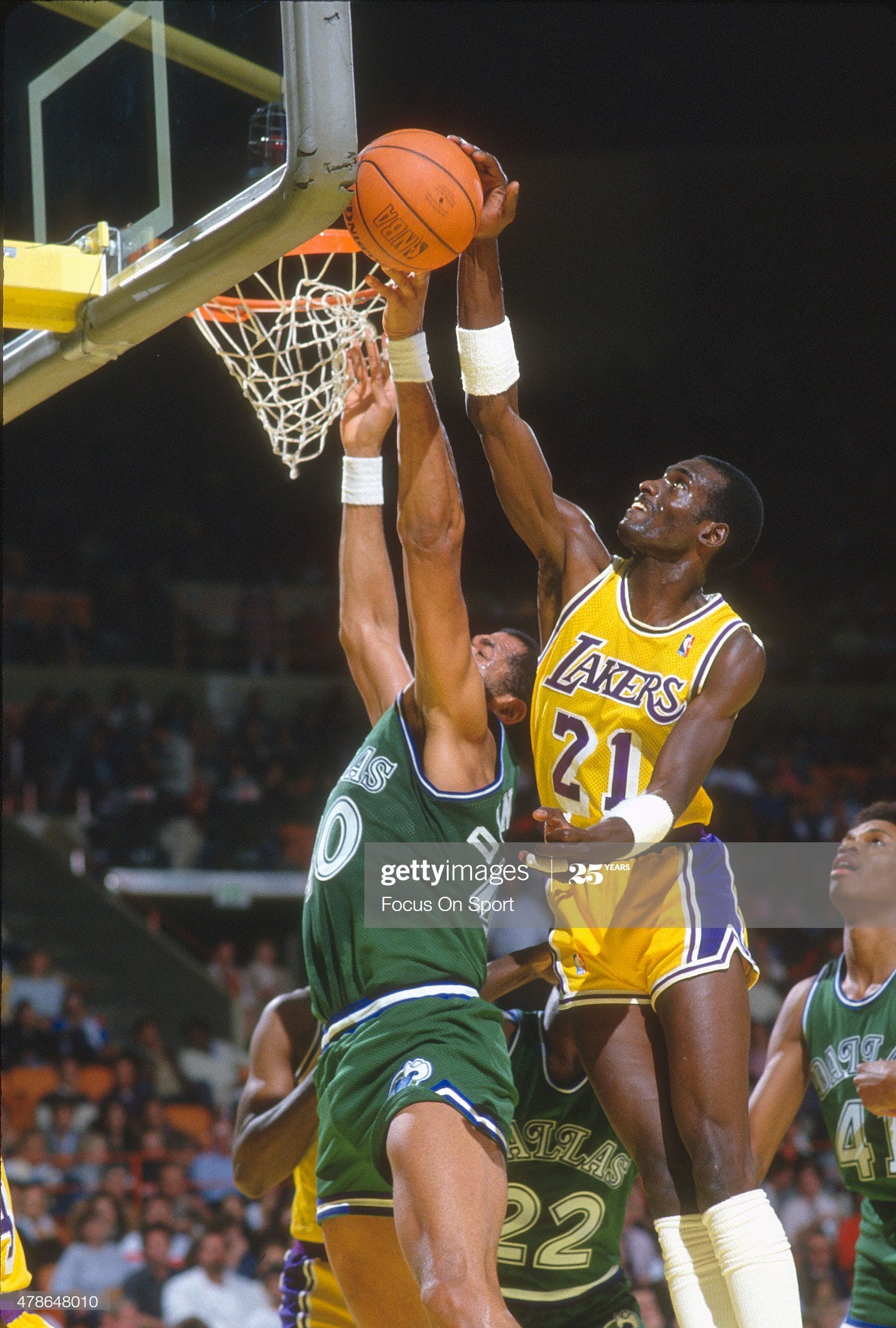 People forget that Coop and his high socks were there for every Showtime title. The only other players who can say that? Kareem and Magic.
The toothpick Coop was a hallmark of versatility. He could play 1, 2, or 3 on offense or defense. And on defense he was a terror. Offensively, he was a great finisher on the break with elongated dunks and lay ups. Plus he served as a release-valve ballhandler. And was able to start or come off the bench, didn't matter.
After the Lakers traded Nixon, Cooper's assists took a pretty good jump showing his adaptability. From 1979 to 1983, his assists per 100 possessions were 5.7. After the Nixon trade, it jumped to 8.3 per 100 possessions.
He was also one of the first three-point specialists in the NBA.
Up through the 1983 season, Cooper took just 77 threes at a .208 clip.
Thereafter, he attempted 1183 threes at a .348 clip, including back-to-back seasons (1986 and 1987) where he sat juuust below 39%.