RJP: Los Angeles Lakers
Doin' right by Minneapolis
The Retired Jersey Project is chugging along! (Read this if you need to catch up on the rules.)
The Los Angeles Lakers will be taken to task today for half-steppin'. Yes, they've rightfully honored the Minneapolis Lakers with a sweet banner featuring the years the team won BAA and NBA titles. However, the banner doesn't acknowledge the franchise's 1948 NBL title AND the players honored on the banner have their numbers only honored not retired.
Come on.
Them dudes collectively were responsible for SIX championships. A third of the glory Lakers fans be strutting around talking about. Better get them jersey numbers retired.
For the record, here are the Lakers with full-fledged retired jerseys:
#8/#24 Kobe Bryant

#13 Wilt Chamberlain

#22 Elgin Baylor

#25 Gail Goodrich

#32 Magic Johnson

#33 Kareem Abdul-Jabbar

#34 Shaquille O'Neal

#42 James Worthy

#44 Jerry West

#52 Jamaal Wilkes
Now there are some other LA Lakers I'd strongly consider retiring jerseys for… before ultimately, tearfully ending their candidacy…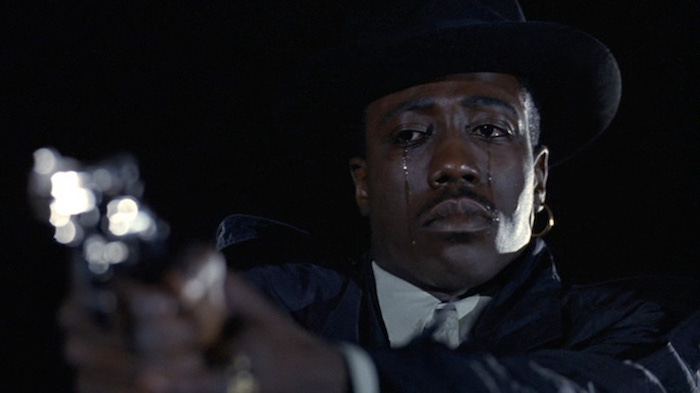 I'll reveal those Lakers in a future article, but in this here piece, we're gonna focus on four Minneapolis Lakers so good, no other Laker should dare wear their number.
Also, check out the origins of the Lakers here in my recent post about the Detroit Gems!
---
Jerseys to Retire
#17 Jim Pollard (1947-1955)
Hall of Fame—6x NBA/NBL/BAA Champion—3x All-NBA/NBL/BAA 1st Team—2x All-NBA 2nd Team—4x All-Star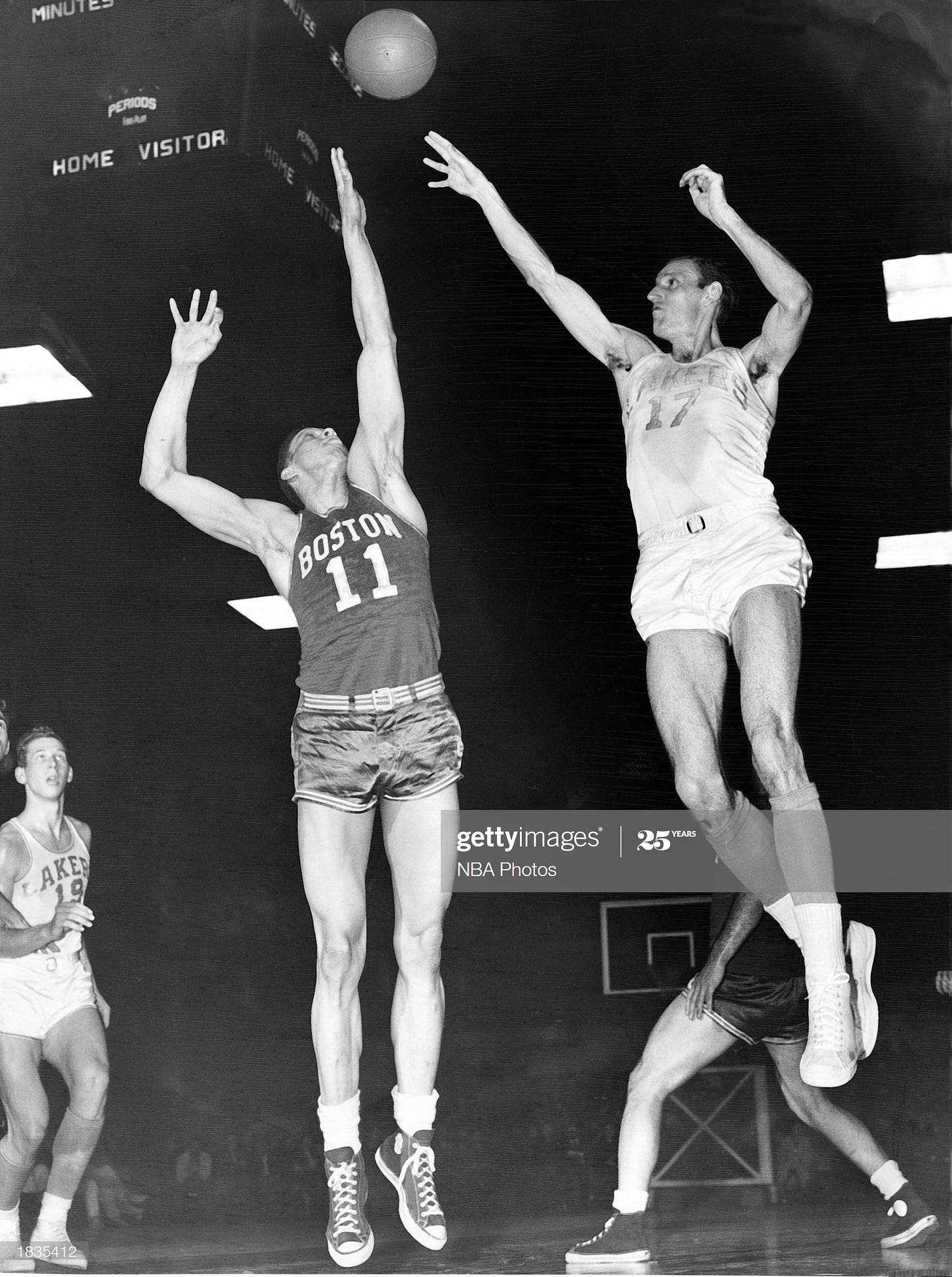 Jim Pollard was the first star of the Lakers. Before all these other fellas came along in Minneapolis and Los Angeles, this Kangaroo Kid was the star attraction. Pollard actually hailed from the Golden State growing up in Oakland and attended Stanford before World War II hit. After the war, he still played in California but now with AAU clubs.
Finally in 1947 Pollard got a sweet financial offer he couldn't refuse to join the Lakers in their first season in Minneapolis.
The 6'4" forward was a jumping jack who could dribble, pass, shoot, and drive expertly. Your Elgin Baylors and Scottie Pippens decades down the line were in many ways perfecting and advancing the style of Pollard. Just wish Pollard himself played in an era where it wasn't frowned upon to dunk. Otherwise we'd have pictures and video of him finishing fast breaks in style.
As it were, teammates and opponents spoke wondrously of his dunks in practice and warm-ups. We're not talking 360s or windmills here, but anybody zooming for a flush in the 1940s would be talk of the town. I mean, check out the picture above. That's him getting some decent air on a regular ole jump shot, which was also fancy and new in the era.
Anyways, Pollard's turn as the star of the Lakers didn't last all that long. Really, just a few weeks. George Mikan fell into their lap early in the 1947-48 season and a dynasty was born. Given his all-around abilities, Pollard's adjustment to Mikan succeeded beautifully and the Lakers won six championships in their first seven seasons together in the NBL then BAA then NBA.
#19 Vern Mikkelsen (1949-1959)
Hall of Fame—4x NBA Champion—4x All-NBA 2nd Team—6x All-Star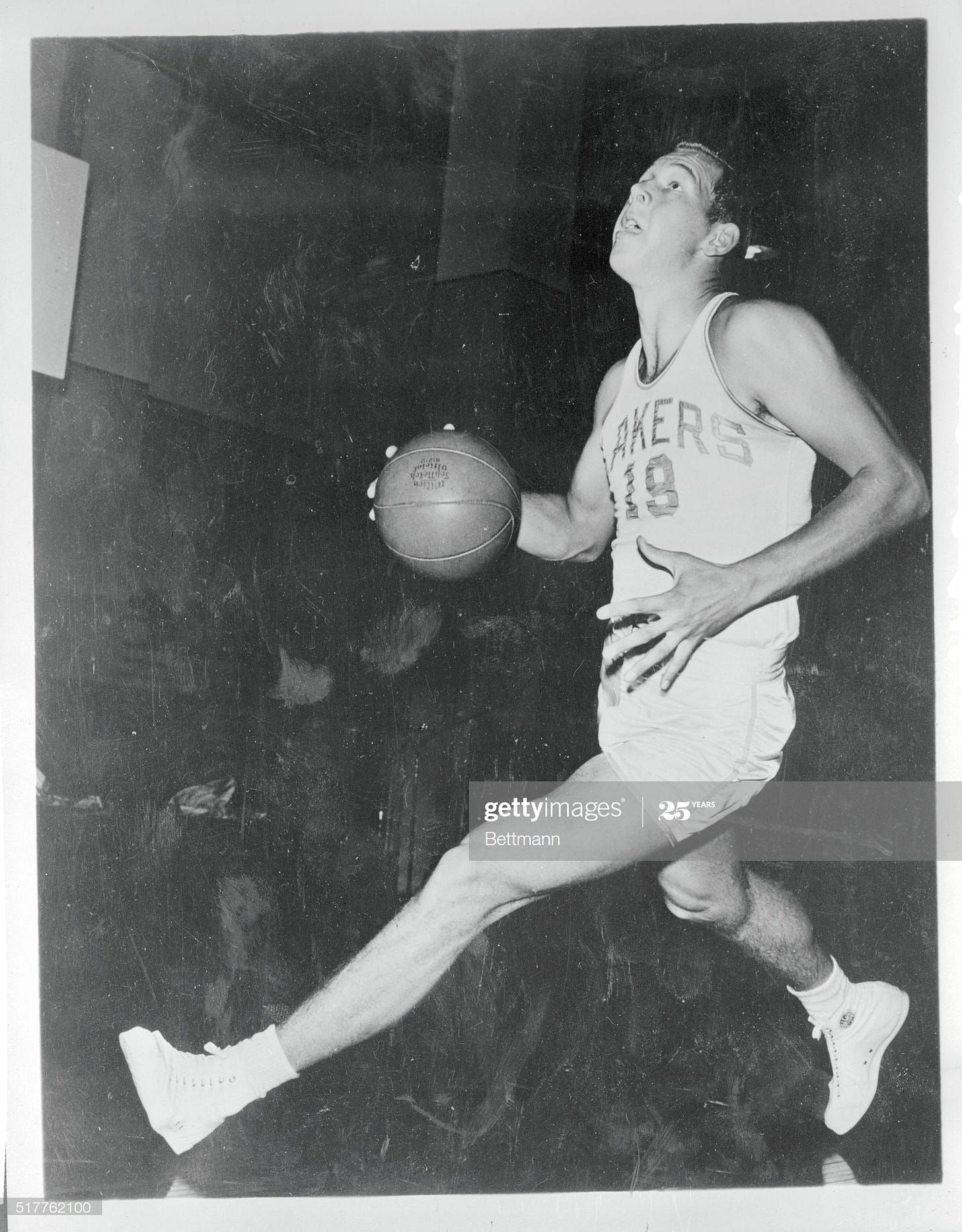 If Mikan and Pollard were the foundation of the Lakers' dynasty, then Vern Mikkelsen was the necessary injection of youth that actually made them a dynasty for the ages. Back-to-back titles had been done and would be done again. With Mik and the following player Minneapolis could stand the test of basketball time.
I've written a lot about Mikkelsen already, so read that article to get all the details. Just know that during his decade in Minneapolis he was a standout who helped create the power forward position.
#22 Slater Martin (1949-1956)
Hall of Fame—4x NBA Champion—2x All-NBA 2nd Team—4x All-Star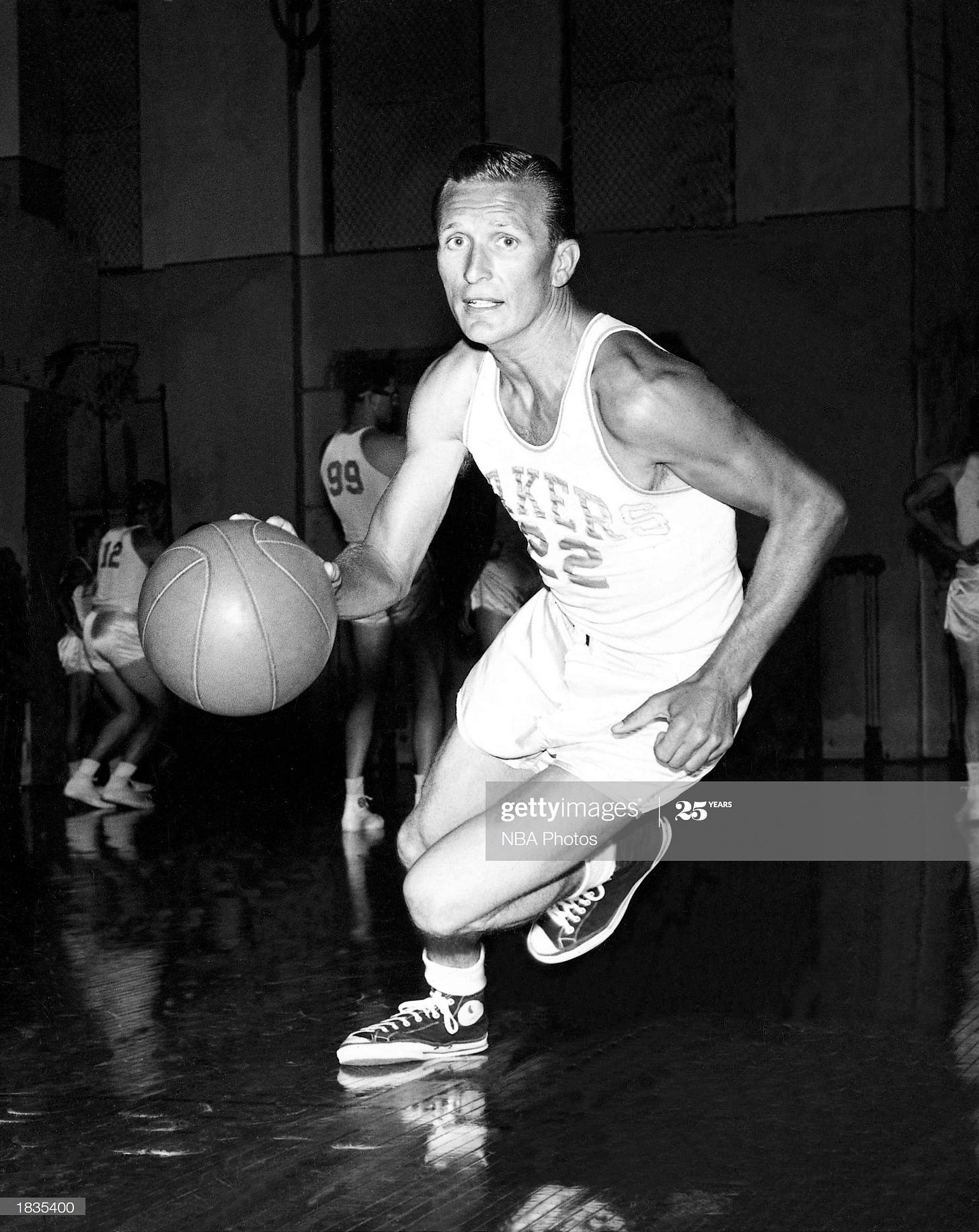 Drafted the same year as Mikkelsen, Slater Martin was another stone cementing a prolonged Lakers dynasty in the 1950s. His stardom—or at least acknowledgement of his skills—took a bit longer to realize.
I mean their frontcourt was Mikan-Pollard-Mikkelsen, one of the best in basketball history. Mikan was the best player in basketball at the time. Pollard probably had the most all-around skills. Mikkelsen was the talented understudy who'd follow in their footsteps.
Martin who wasn't even six feet tall was part of the overlooked MPLS backcourt. And his talents didn't lend themselves to a 1950s box score. He was a tenacious defender during an era where the NBA didn't track steals or name All-Defensive Teams. He also orchestrated the offense superbly keeping the frontcourt fed and outside shooters like Bob Harrison and Whitey Skoog satisfied enough with their junior roles.
It wasn't until 1953 that he finally made the All-Star Team and not until 1955 that he made an All-NBA Team. The delayed appreciation came in bundles, though, as he ultimately was named a 7x All-Star and 5x All-NBA 2nd Team member with the Lakers and, later, St. Louis Hawks.
#99 George Mikan (1947-1954;1956)
Hall of Fame—6x NBA/NBL/BAA Champion—NBL MVP—7x All-NBA/NBL/BAA 1st Team—4x All-Star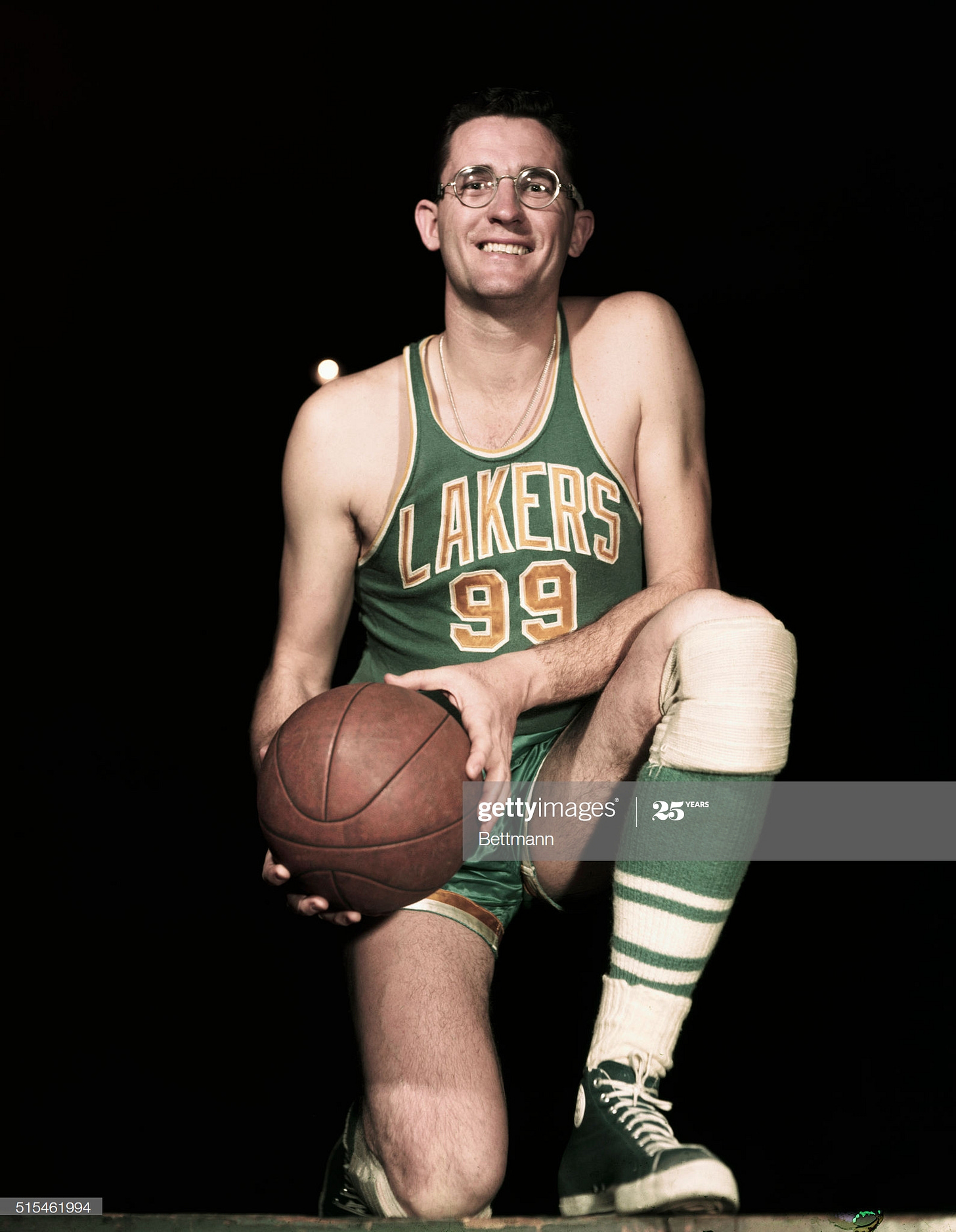 It's George Mikan.
Hands down the most important player in basketball during the NBA's first decade. There were fissures and cracks in the old system of hoops that had carried on with alterations since the 1890s. But Mikan was the hammer that smashed that old system to pieces forcing the sport to recreate itself with the shot clock.
Now, Mikan didn't purposely do that. It's just that no one 6'10" tall had ever been so damn good at basketball and opponents responded with stall tactics and fouling that slowed the game down way too much.
Didn't stop Mikan, though. As mentioned already, during his first seven seasons with Pollard and the Lakers, they won the title six times. The one year they didn't win was because the bespectacled giant was hobbled by a leg injury in the 1951 playoffs.
Speaking of 1951, he averaged 28.4 PPG to lead the NBA that year. Second place was Alex Groza with 21.7 PPG. His domination is waived off and underappreciated all these decades later, but he was a problem… 😤
(As usual, ProHoopsHistory has a standing policy to never mention or acknowledge Mikan's attempted comeback during the 1956 season.)
Other Fancy MPLS Lakers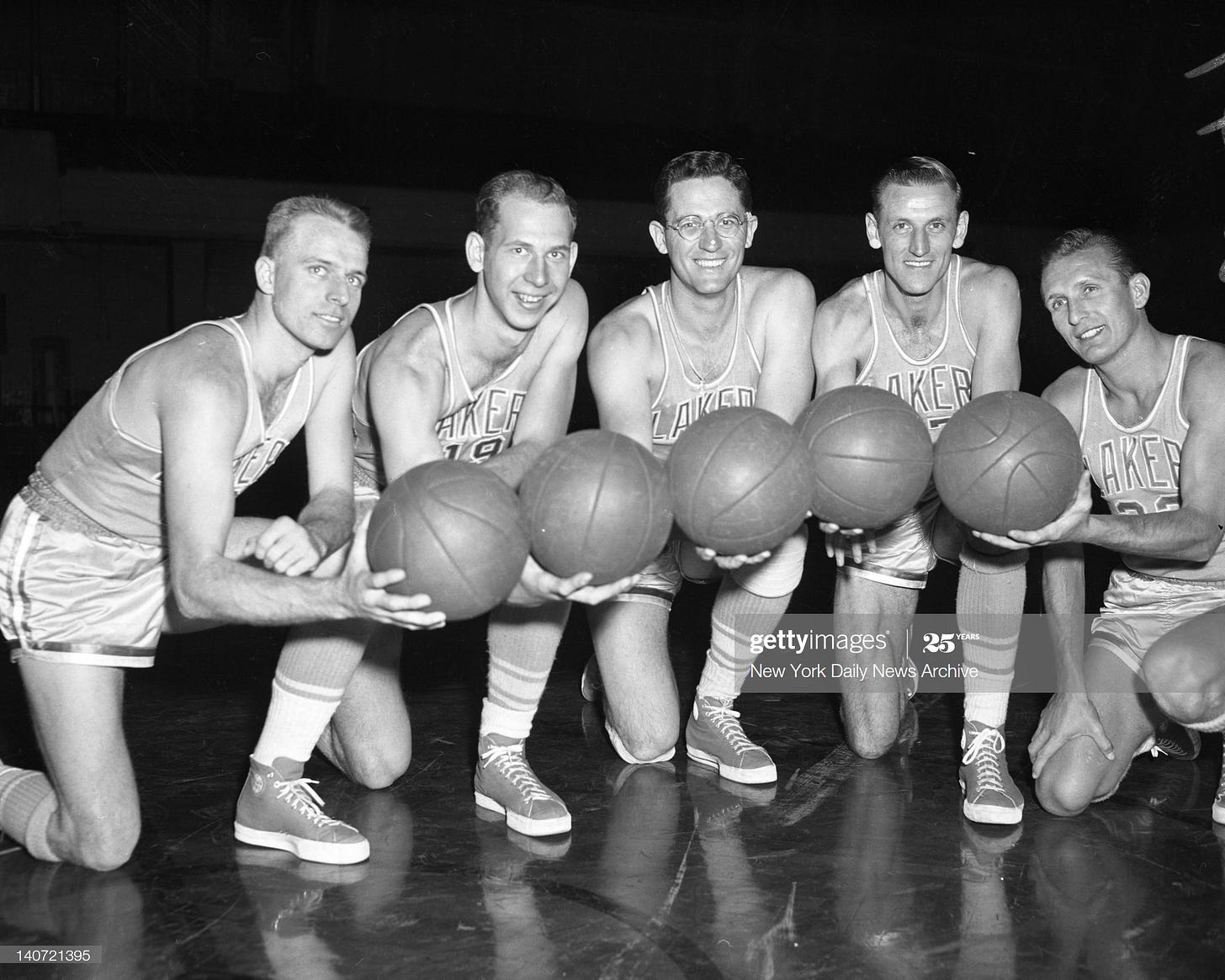 The Minneapolis Lakers were only in Minnesota because the horrifically failed experiment of the Detroit Gems. Well that carcass of a team lasted one season before being sold off to Minnesota where they became the gold standard of pro basketball franchises.
(Again, check out my Gems article if you haven't yet!)
Here are some other noteworthy Lakers who played predominantly in Minneapolis:
#14 Larry Foust (1957-1960)—2x All-Star; the last great Minneapolis center. Helped club reach the 1959 NBA Finals.
#15 Dick Schnittker (1953-1958)—2x NBA Champion; helped give the Lakers some juice at small forward whenever Pollard hit the bench as well as between Pollard's retirement and Elgin Baylor's arrival.
#16 Bob Harrison (1949-1954)—3x NBA Champion; made a 40-foot with a second left to win Game 1 of the 1950 NBA Finals.
#16 Dick Garmaker (1955-1960)—3x All-Star; 1957 All-NBA 2nd Team.
#18 Frank "Pep" Saul (1952-1954)—3x NBA Champion; another hot shot in the backcourt especially in the 1953 playoffs.
#20 Myer "Whitey" Skoog (1951-1957)—2x NBA Champion; jump-shooting pioneer in the backcourt.
#21 Bobby "Slick" Leonard (1956-1960)—Hall of Fame; much more famous as coach of the Indiana Pacers in the ABA, but ole Bobby could ball at guard.
#33 "Hot Rod" Hundley (1957-1960)—All-Star; continued playing with the club after their move to Los Angeles through 1963. And of course a great TV announcer.
#34 Clyde Lovellette (1953-1957)—Hall of Fame; NBA Champion; 2x All-Star; All-NBA 2nd Team; the giant successor at center to George Mikan.