RJP: Atlanta Hawks
Verdict: Mildly Disappointing, which is perfectly cromulent for ATL
It's time to get the Retired Jersey Project rolling! (Read this if you need to catch up on the rules.)
First up are the Atlanta Hawks!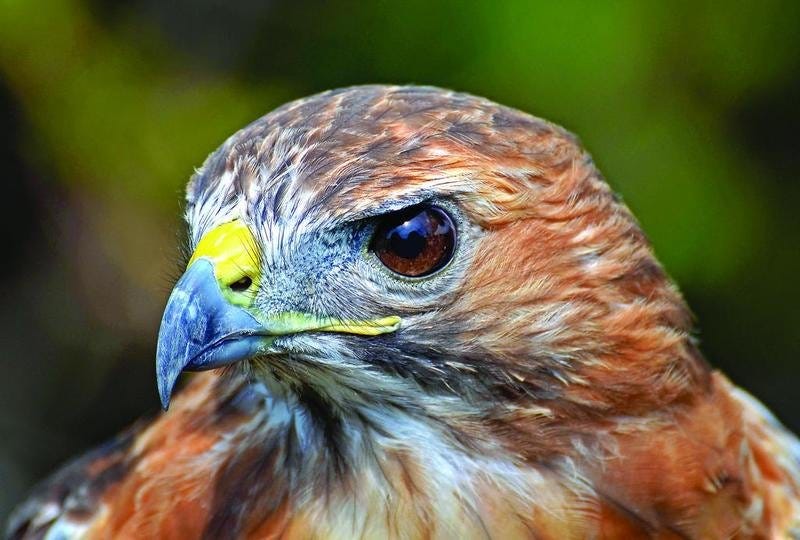 One of the NBA franchises that began in the NBL, the Hawks were founded in 1946 as the Buffalo Bisons by Leo Ferris and Ben Kerner. However, they left New York State around Christmas 1946 for what has been a winding journey to Atlanta.
Buffalo Bisons (1946)

Tri-Cities Blackhawks (1946-1951)

Milwaukee Hawks (1951-1955)

St. Louis Hawks (1955-1968)

Atlanta Hawks (1968-present)
Overall, I'd say they're mildly disappointing with the jersey retirements they've done: Bob Pettit, Lou Hudson, Dominique Wilkins, Pete Maravich, and Dikembe Mutombo. Those players are obviously deserving, but they've been bleh about the whole thing. Not until the last couple years did they do Maravich and Mutombo. So for a good long while it was just Pettit, Hudson, and Wilkins.
Anyways, below I have two players who should absolutely have their numbers retired before we even begin a conversation about others like Dan Roundfield or eventually Al Horford.
Given their many stops, the Hawks will also get the honorary banner treatment.
NOTE: All accolades mentioned pertain only to that player's time with the Hawks franchise. Also, feel free to comment here or on Twitter with your jersey hot takes.
---
JERSEYS TO RETIRE
#14 Lenny Wilkens (1960-1968)
NBA Finals—5x All-Star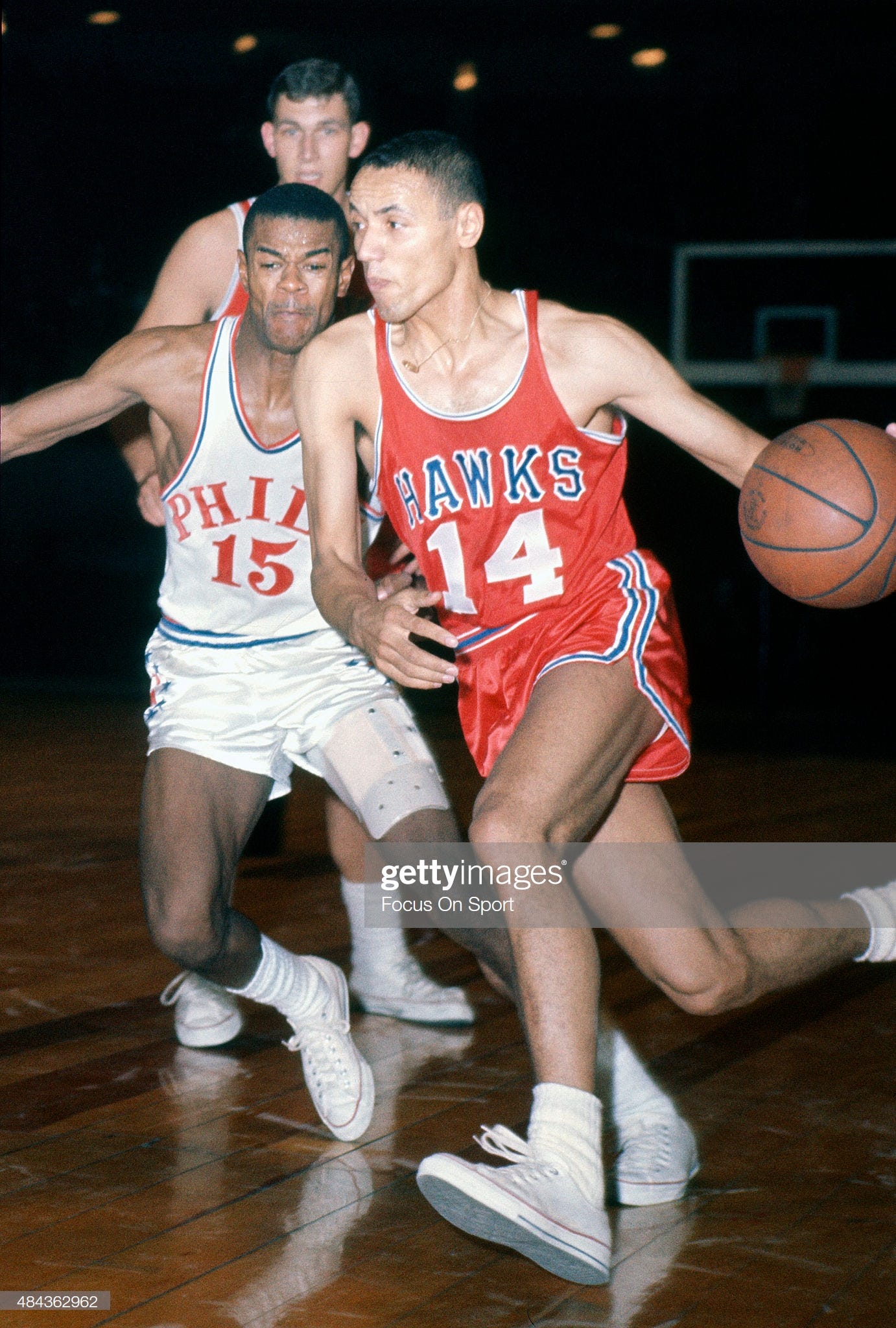 A Hall of Famer as a player and coach, Wilkens's time as point guard for the Hawks didn't end well. When the club moved from St. Louis to Atlanta for the 1968-69 season, it would have been wise to assume he'd lead the team in Georgia. After all, Lenny had just finished 2nd in MVP voting for the 1967-68 season.
But a contract negotiation deteriorated—amidst some ugly racist insinuations from the media—and Wilkens was traded to Seattle. The Hawks subsequently lost black stars Zelmo Beaty (1969) and Joe Caldwell (1970) in similarly nasty acrimony.
Before he was stupidly traded, though, Wilkens logged eight seasons of increasingly great basketball with the Hawks, culminating in his near-MVP finish. His first four seasons were somewhat constrained.
As the point guard, Wilkens was tasked with feeding the high-scoring frontcourt of Bob Pettit, Cliff Hagan, and Clyde Lovellette, which he did quite well. However, as each of those veterans faded in ability, Wilkens demonstrated he had a scoring punch of his own to respect.
In both roles—set-up man and primary cog—Wilkens was recognized as an All-Star. Folks knew his on-court value and that the stats his first few years were depressed by pumping up Pettit, Hagan, Lovellette.
1961-1964: 12.4 PPG, 4.9 RPG, 4.3 APG
1965-1968: 18.0 PPG, 5.0 RPG, 6.5 APG
Undoubtedly, what pushes Wilkens into a retired jersey lock, IMO, is also his time as Hawks coach. The southpaw returned to the franchise in the mid-1990s earning Coach of the Year honors in the 1994 season. Staying on through 2000, Wilkens has the 3rd most coaching victories in club history, just a mere 17 games off the all-time lead.
---
#16 Cliff Hagan (1956-1966)
1958 Champion—Four NBA Finals—2x All-NBA 2nd Team—5x All-Star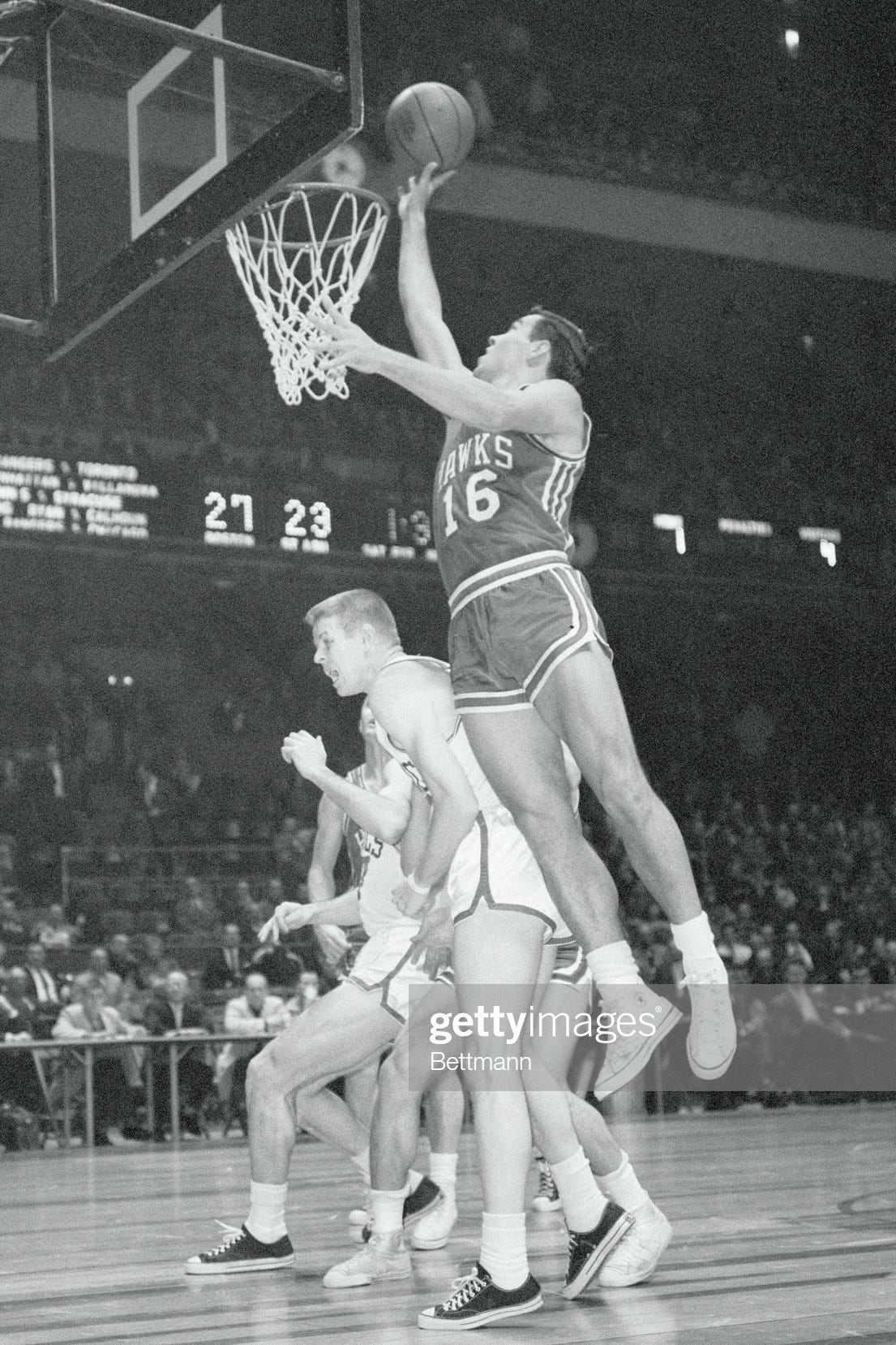 Hagan retired from the NBA in 1966 when the Hawks were still in St. Louis.
Five-and-a-half decades later he still has the 3rd most win shares in franchise history. He's in the Basketball Hall of Fame. If the NBA did a Playoff MVP award, he would have been named so in 1958 when the Hawks won the NBA title. In that postseason, Hagan led all players in PER (27.5), TS% (.576), total win shares (2.7), WS/48 (an astronomical .312) and PPG (27.7). He also chipped in a cool 10.5 RPG and 3.4 APG as a 6'4" forward.
The previous year (1957), when he was merely a rookie, Hagan's ascension during the season's second half elevated St. Louis to the West's premier team as he became the much-needed accomplice on offense to Bob Pettit.
His most memorable Finals moment was tipping in a missed shot at the buzzer to win Game 6 of the 1957 Finals. The tip-in capped a 16-point, 20-rebound performance. In Game 7, Hagan was again spectacular with 24 points and 16 rebounds before fouling out in the double overtime loss. Losing by two points, Hagan was that close to being a two-time NBA champ.
Like many players of the 1950s, Hagan was denied more gaudy total stats because he lost a couple years to military service; he didn't reach the NBA till age 25.
Nonetheless his five-year peak from the 1957-58 season through the 1961-62 season saw him make the All-Star team every year and the All-NBA 2nd Team twice as he averaged 22.7 PPG, 9.8 RPG, and 4.0 APG.
As much of a lock as there can be for jersey retirement. Get on it, Atlanta!
---
FLYING HIGH
Did you know the Commodores aren't in the Rock and Roll Hall of Fame? They really hate funk bands.
---
BANNER HONORS
Buffalo Bison and Tri-Cities Blackhawks
Leo Ferris — co-founder of franchise
#5 Pop Gates (1946-47) — Hall of Fame; first black player in franchise history
#6 Whitey Von Nieda (1947-50) — All-NBL 2nd Team (1949); played in NBA's first game (10/29/1949)
#10 Hank DeZonie (1950) — first black player in franchise's NBA history
#15 Don Otten (1946-50) — NBL MVP (1949); All-NBL 1st Team (1949); All-NBL 2nd Team (1948)
?? Bob McDermott (1947-49) — Hall of Fame; All-NBL 2nd Team (1948)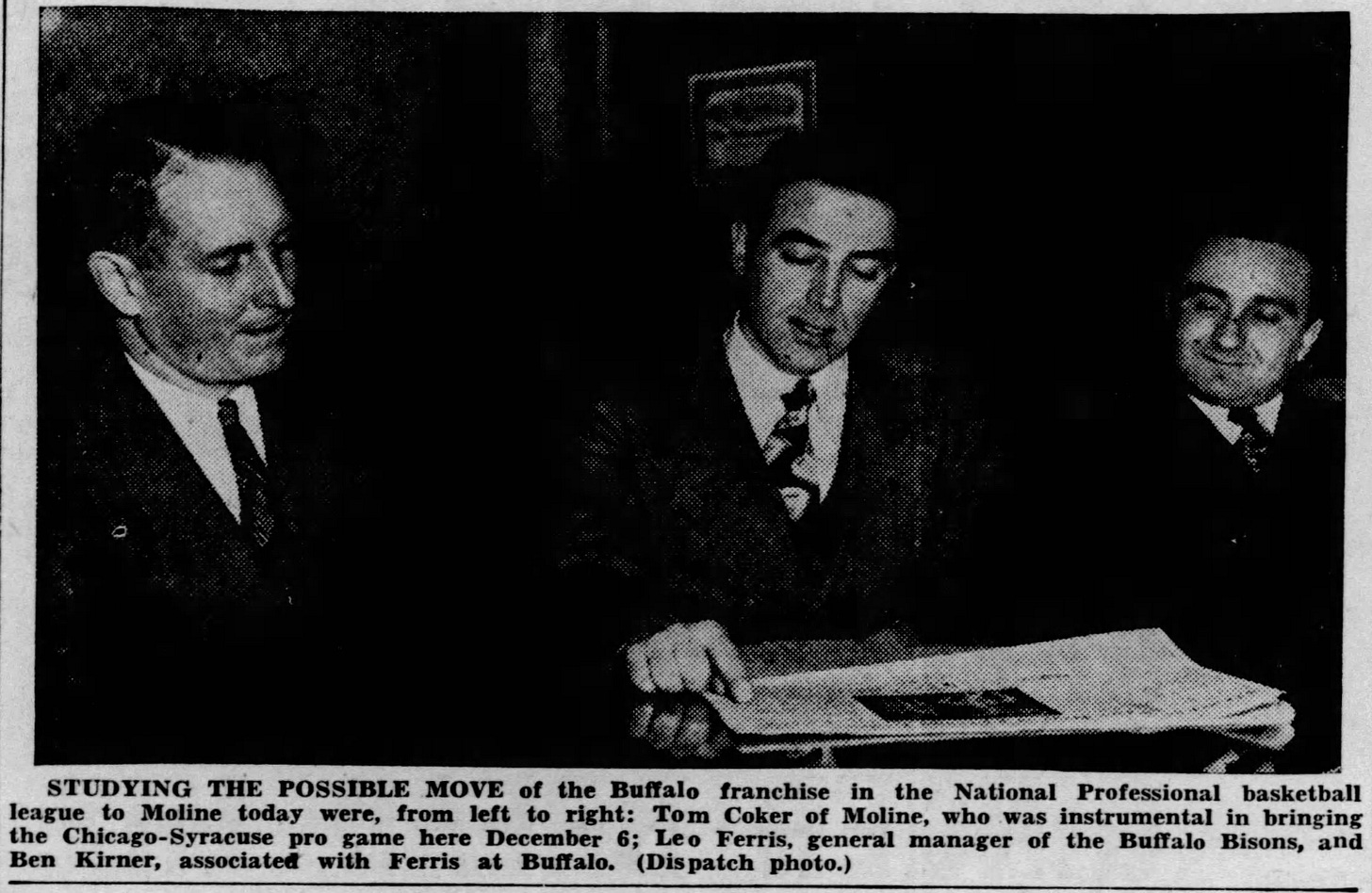 Franchise co-founders Leo Ferris (center) and Ben Kerner (right),
Moline Dispatch
, Dec. 18, 1946
St. Louis and Milwaukee Hawks
Ben Kerner — co-founder of franchise; assumed sole ownership from Ferris in late 1940s
Alex Hannum — Hall of Fame; coach of 1958 NBA title team and 1957 NBA finals runner-up
#9 Bob Pettit (1954-65) — Hall of Fame; 2x MVP; 11x All-NBA; 11x All-Star; 4x ASG MVP; ROY (1955); 1958 champion
#13 Charlie Share (1953-60) — 1958 champion
#14 Lenny Wilkens (1960-68) — Hall of Famer; 5x All-Star
#15 Richie Guerin (1963-70) — Hall of Fame; NBA Coach of the Year (1968)
#16 Cliff Hagan — Hall of Fame; 2x All-NBA; 5x All-Star; 1958 champion
#20 Ed Macauley (1956-59) — Hall of Fame; All-Star (1957); 1958 champion
#22 Slater Martin (1956-60) — Hall of Fame; 3x All-NBA 2nd Team; 3x All-Star; 1958 champion
#31 Zelmo Beaty (1962-69) — Hall of Fame; 2x All-Star
#32 Bill Bridges (1962-71) — 3x All-Star
#34 Clyde Lovellette (1958-62) — Hall of Fame; 2x All-Star