RJP: Boston and Brooklyn
No Real Complaints Here
The Retired Jersey Project keeps on rolling! (Read this if you need to catch up on the rules.)
Today we're checking out the Boston Celtics and Brooklyn Nets. And they do pretty well. I really can't complain too much. I have some suggestions, but nothing to be up in arms about.
---
Boston Celtics
The Celtics rather famously have retired a shitload of jerseys.
20 retired jersey numbers for players

#1 and #2 retired for franchise founder Walter Brown and coach/executive Red Auerbach, respectively

"Loscy" for legendary hatchet man "Jungle" Jim Loscutoff

"Mic" for the gravel-voiced Johnny Most
Excluding recent retirees (*ahem* Ray Allen) the only people I would consider adding would be Tiny Archibald (#7), Paul Silas (#35), Chuck Cooper (#11), and Bailey Howell (#18). And the good news is that two of those numbers are already retired for other players—Reggie Lewis (#35) and Dave Cowens (#18)—so it wouldn't even shake things up too much.
Nonetheless a few quick words on these four Celts.
#35 Paul Silas (1972-76) — made the All-Star Team in 1975 and was a key force on the 1974 and 1976 title teams. His defense and rebounding were the perfect accentuation to Dave Cowens.
#18 Bailey Howell (1966-70)— akin to Silas, Howell made the All-Star Team in 1967 and was a key force on the 1968 and 1969 title teams. Without his addition, it's doubtful Boston would have closed out the Russell years with some championships. Indeed, in the 1968 Finals, Howell torched the Lakers with 21 PPG and 7.5 RPG on 57% FG.
#11 Chuck Cooper (1950-54)—Cooper's place here comes from being the first black player drafted by an NBA team. It was a monumental act and every team, not just Boston, from this era should seriously think about honoring the player(s) who integrated the club.
#7 Tiny Archibald (1978-83)—the diminutive point guard arrived in Boston during the late 70s after some awful foot and Achilles injuries. Archibald made one of the best comebacks in NBA history making the All-Star Game 3x and the All-NBA 2nd Team in 1981, the same year the Celtics won the NBA title.
I'm not calling these four players LOCKS, but I certainly wouldn't be mad if any of them got the honor. In fact, I'd be happy. But for each of them, I'm just a touch away from the LOCK designation.
---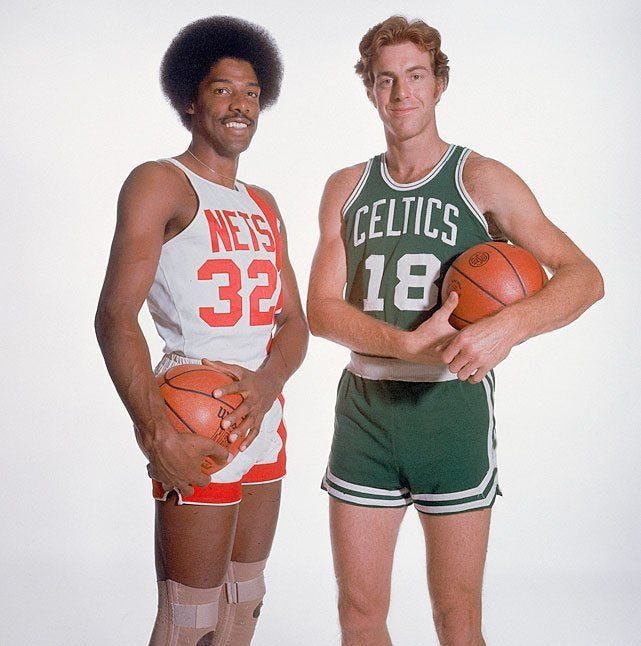 ---
Brooklyn Nets
For a franchise portrayed as a laughingstock, the Nets actually are pretty good with retired jerseys. Can't do everything wrong, I suppse.
The Nets' honorees:
#3 Drazen Petrovic

#5 Jason Kidd

#23 John Williamson

#25 Bill Melchionni

#32 Julius Erving

#52 Buck Williams
A nice representation from their ABA glory days with Erving, Melchionni, and Williamson. Strongman Buck Williams is up there for anchoring the franchise during the 1980s, when they actually did make the playoffs quite a bit. Petrovic gives the 90s some love. And of course Kidd—having led the franchise to back-to-back NBA Finals—is rightfully there too.
Honestly, I can't even do to them what I did to the Celtics. I'm not pining over the Nets retiring Richard Jefferson's or Derrick Coleman's numbers.
I mean on the horizon, I guess there's Brook Lopez. But he's not retired yet… so as of right now… GOOD JOB NETS!
Never thought I'd say that with gusto.
---
GOOD TIMES
Chic is yet another funk band not in the Rock and Roll Hall of Fame. Disgraceful.