RJP: Charlotte Hornets
Inexplicably Frustrating
First off, sorry about the unexpected week-long hiatus. My university went to online classes cuz of the coronavirus. Boy did that throw a wrench into my semester! Wash your hands, don't kiss strangers, and don't go out partying. That's just a dumb thing to do right now.
---
The Retired Jersey Project keeps on rolling! (Read this if you need to catch up on the rules.)
Today our focus turns to the Charlotte Hornets, who have a weird history. There are, of course, the 1990s glory years where the Hornets weren't just a good team, but a cool team. The jerseys, the Starter jackets, and most importantly the players.
But their idiot owner George Shinn ruined everything.
Long story short, he was a jack ass and in 2002 moved the team from a city that absolutely loved their Hornets to New Orleans, a city that's had a blasé attitude toward pro basketball for over half-a-century. However, thanks to comic-book-style retconning, the current NBA franchise in New Orleans (the Pelicans) is not considered successors of the Hornets.
The sorrowful Bobcats brought into the league in the 2004-05 season are considered the official continuation of the Hornets franchise.
The bottom line is that Horncats inexplicably have no retired jerseys—except for the deceased Bobby Phills—despite three decades of NBA basketball.
Now I think there are reasonable and persuasive arguments for Larry Johnson and Alonzo Mourning because they were so iconic and instrumental to the franchise's most beloved run of success.
But I'm only here to suggest LOCKS for jersey retirement and I got two of them.
NOTE: All accolades mentioned pertain only to that player's time with the Hornets franchise. Also, feel free to comment here or on Twitter with your jersey hot takes.
---
JERSEYS TO RETIRE
#1 Muggsy Bogues (1988-1997)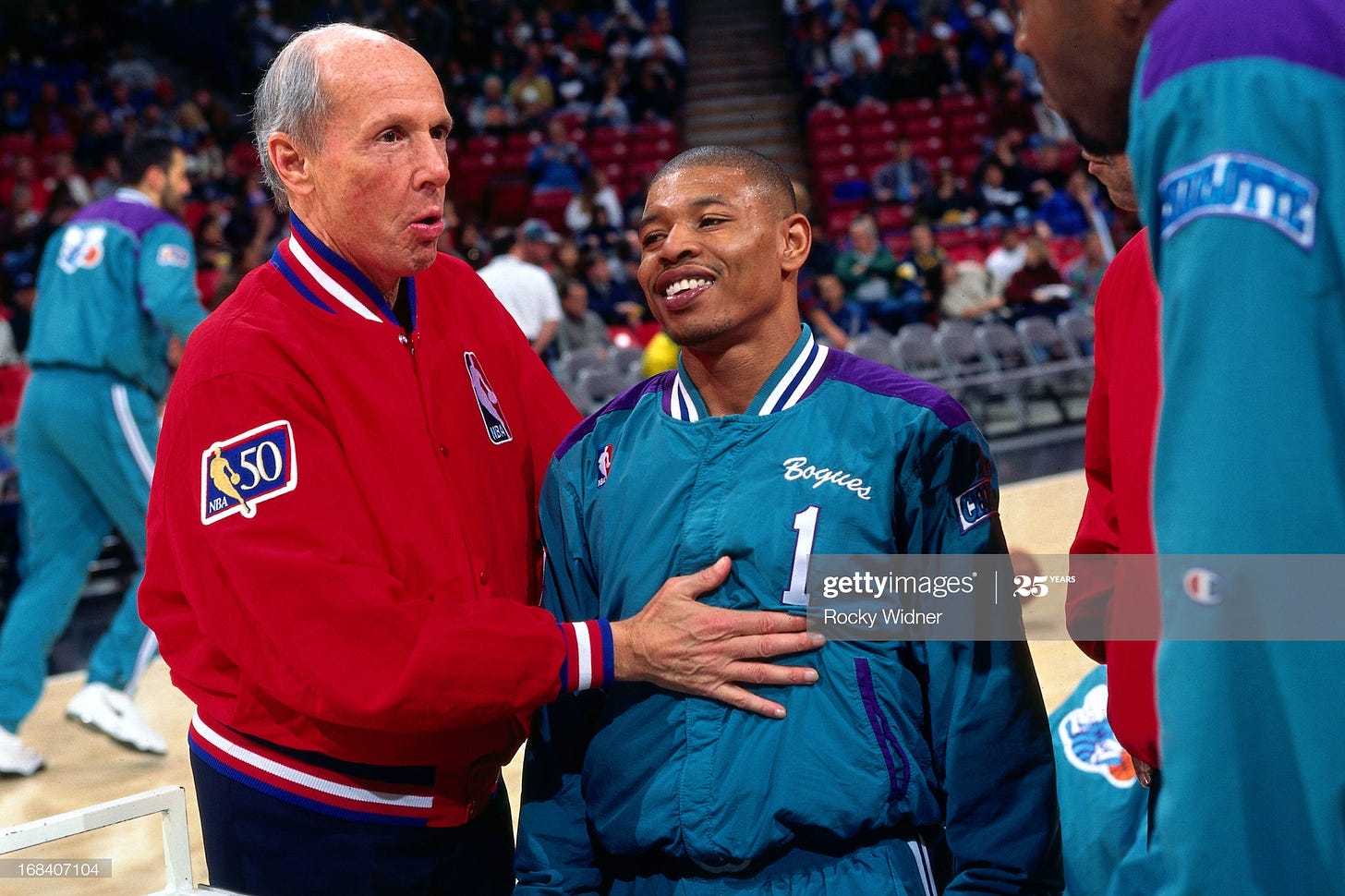 Muggsy Bogues might be the most beloved player from the 1990s NBA and he spent a decade in Charlotte. I can't believe the Hornets didn't retire his number in 2014 when they got the "Hornets" name back from New Orleans.
That's one surefire way to get fans back in the seats and back in their good graces, but no one ever accused the Horncats of being a well-run franchise for the last two decades.
Anyways!
Besides being popular, Muggsy was a damn good basketball player. The shortest player in league history was a defensive pest and fantastic passer. And because he was so short, it was hard to disrupt his dribble.
You try stealing the ball from the muscular 5'3" point guard.
During his peak seasons (1988-89 through 1994-95) Bogues essentially averaged 9 points, 9 assists, and 2 steals per game.
He holds the following ranks in Horncats franchise history:
1st in Assists (by a country mile)

1st in Steals (by a regular mile)

2nd in Games Played

2nd in Minutes Played
I love Muggsy, you love Muggsy, everyone loves Muggsy.
Retire that #1 instead of letting Malik Monk sully the number.
---
Sting Me!
I need to make a playlist of songs about stinging for the Hornets. The Black Crowes at least get the thang started.
---
#30 Dell Curry (1987-1998)
Sixth Man of the Year (1994)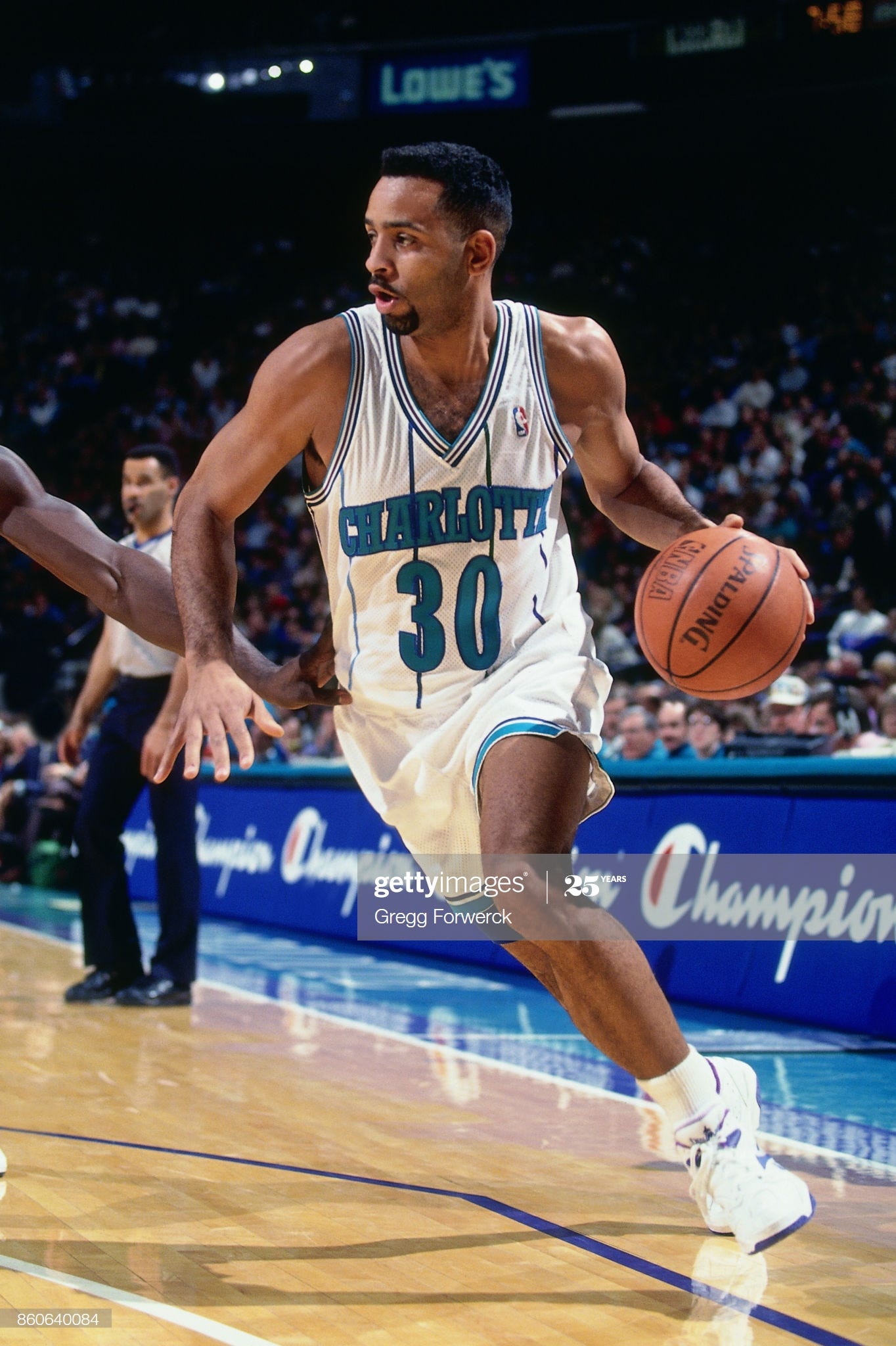 Dell Curry's overall statline was relatively anemic. The shooting guard averaged 2.9 rebounds and 2.0 assists a game during his 10 seasons in Charlotte. Didn't steal the ball much, certainly didn't block a lot of shots.
But the dude was a shooting guard and he was sweltering on that front. He averaged 14.0 points as a Hornet on some silly-ass percentages.
In his first three seasons, Curry shot only 35% from three-point range. Then in 1991, he perked up to 37.2%. Then from 1992 until the end of his time in Charlotte, he connected on 41.2% of his treys. That means seven consecutive seasons above 40% to finish out his stay in the Tar Heel State.
Importantly he did all this damage as a the team's perennial sixth man averaging 25 minutes a game. The Hornets roster had a cavalcade of 90s luminaries: Mourning, Johnson, Rex Chapman, Hersey Hawkins, Kendall Gill, Glen Rice, Vlade Divac, Anthony Mason, etc. But Curry (and Bogues) were the dependable mainstays through all these good times.
Like Bogues, he too has a vaunted place in the franchise record books:
1st in Games Played

3rd in Minutes Played

2nd in Three-Point FGs
And Dell currently does a great job on the team's local broadcast.
Does this make Curry a great player? I wouldn't make that argument. But does all this make Curry a great Hornet? Absolutely.
Get that #30 in the rafters.