RJP: Chicago Bulls
SUPREMELY Disappointing
The Retired Jersey Project keeps on rolling! (Read this if you need to catch up on the rules.)
Today we're checking out the Chicago Bulls and they suuuuuuck at retiring jerseys. The franchise has been around for over 50 years and has a grand total of four retired numbers. Frankly, it's a basketball scandal they haven't retired more and you'll understand once I get to the four players worthy of the honor below.
Now, the two numbers I'm sure you all know that the Bulls have retired are Michael Jordan's #23 and Scottie Pippen's #33.
The other two make perfect sense as well: Bob Love (#10) and Jerry Sloan (#4). There are also banners to honor Phil Jackson and Jerry Krause.
Now comes the bullshit.
If Bob Love and Jerry Sloan are good enough to have their jerseys retired, then where is Chet Walker and Norm Van Lier? And what about Artis Gilmore? Bringing up the rear of this shameful train is the goggled great, Horace Grant.
So, let's chide the Bulls, shall we?
NOTE: All accolades mentioned pertain only to that player's time with the Bulls franchise. Also, feel free to comment here or on Twitter with your jersey hot takes.
---
JERSEYS TO RETIRE
#2 Norm Van Lier (1971-1978)
All-NBA 2nd Team—7x All-Defensive—3x All-Star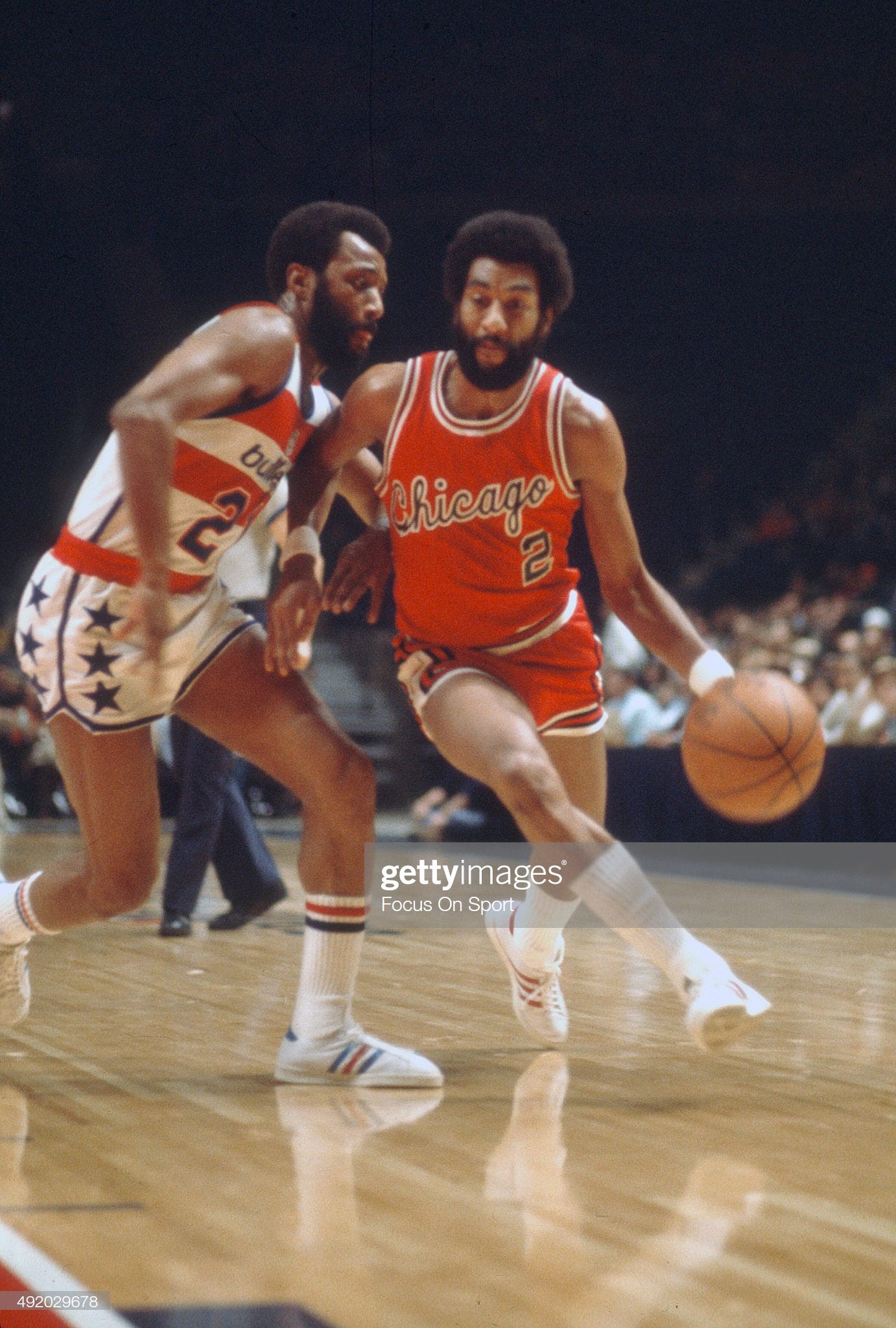 Van Lier was undisputedly the greatest point guard in Bulls history until Derrick Rose won MVP in 2011 and you really can't fault someone for still going with Van Lier as their choice.
(DISCLOSURE: Van Lier is still my choice)
Van Lier was not much of a scorer. Don't get me wrong. He certainly contributed in that category and had some slinky moves. Over the course of seven seasons, he averaged 12.2 PPG with a peak of 15.0 in 1975.
He probably woulda scored more if not for the presence of Love and Walker.
But what earned him the "Stormin' Norman" nickname, though, was the defense. Steals weren't officially tracked until the 1973-74 season, but Van Lier had 1.9 pilfers per game as a Bull once the stat was recorded. And that's just the steals.
Defense goes well beyond that. Stormin' Norman was a barbaric terror putting pressure on the ball. Standing just 6'1", he had extremely long arms and had a wonderful ease in sliding and moving his feet to bother opponents.
Guess that's why he made seven consecutive All-Defensive Teams: three as a First-Teamer, four as a Second-Teamer. You truly earned your points if you got past Van Lier for a bucket.
Oh and he racked up assists with a 6.9 average in the Bulls offense, which is a miracle given how deliberate and slow the Dick Motta coached team could play.
As for team success, the Bulls had been to playoffs in the preceding two years, but after acquiring Van Lier via trade for the 1971-72 season, they busted loose with 57 wins, which would remain the most in club history until the 1991 Bulls won 61 games and the NBA title.
A travesty his jersey ain't retired.
---
#25 Chet Walker (1969-1975)
4x All-Star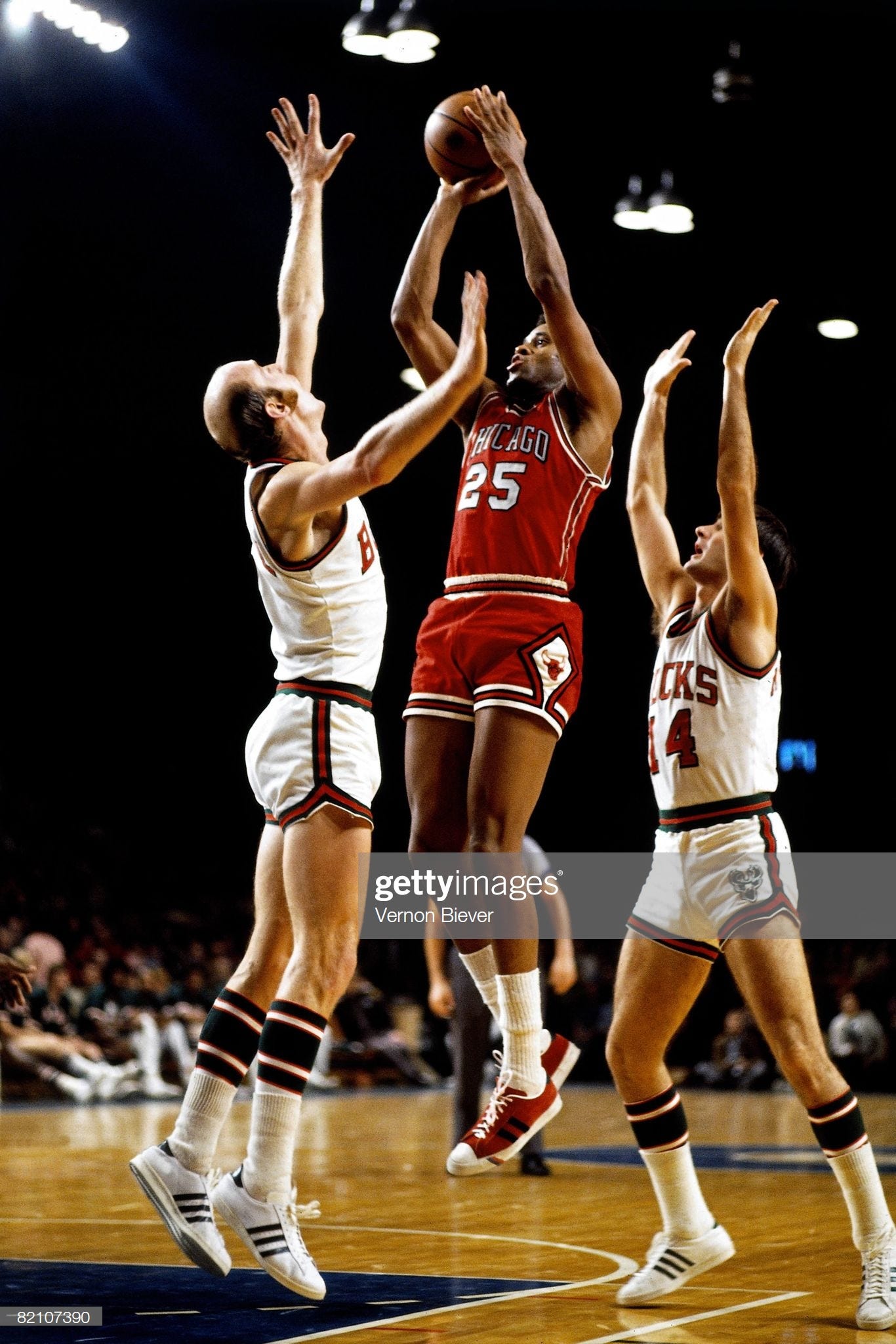 Look, this man is the best scorer the Bulls have ever had not named Michael Jeffrey Jordan.
Over the course of six seasons he averaged 20.6 PPG on .483 FG% and .854 FT%. It's all the more remarkable considering that Chet Walker was often the safety valve for the Bulls.
Offense breaks down? Get the hell out the way and let Chet and his deliberate footwork and broad shoulders make something up.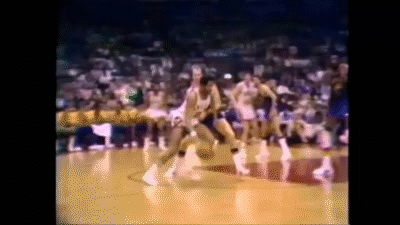 And it's even MORE remarkable considering that at the end of the 1975 season at 35-years-old, Chet had just averaged 19.2 PPG on .487 FG% and .860 FT%. But Walker contends that the ham-fisted and recalcitrant Bulls ownership effectively blacballed him from the NBA.
Another story for another time…
Anyhoo, it's just remarkably obscene how the Bulls had an unmistakable core four of Walker, Van Lier, Jerry Sloan, and Bob Love during the early and mid 1970s, yet somehow only retired the numbers of two of them.
They had four straight 50-win seasons and made the Conference Finals twice in what's easily the best period of success for the franchise outside the title years.
Chet Walker's offensive firepower was a key in that ignition when he arrived in 1969.
---
Highlights of the Chi-Lites!
One of Chicago's finest groups, the Chi-Lites were cooking on the R&B charts at the same time Chet the Jet and Stormin' Norman were tearing up the NBA courts.
---
#53 Artis Gilmore (1976-1982; 1987)
4x All-Star—All-Defensive 2nd Team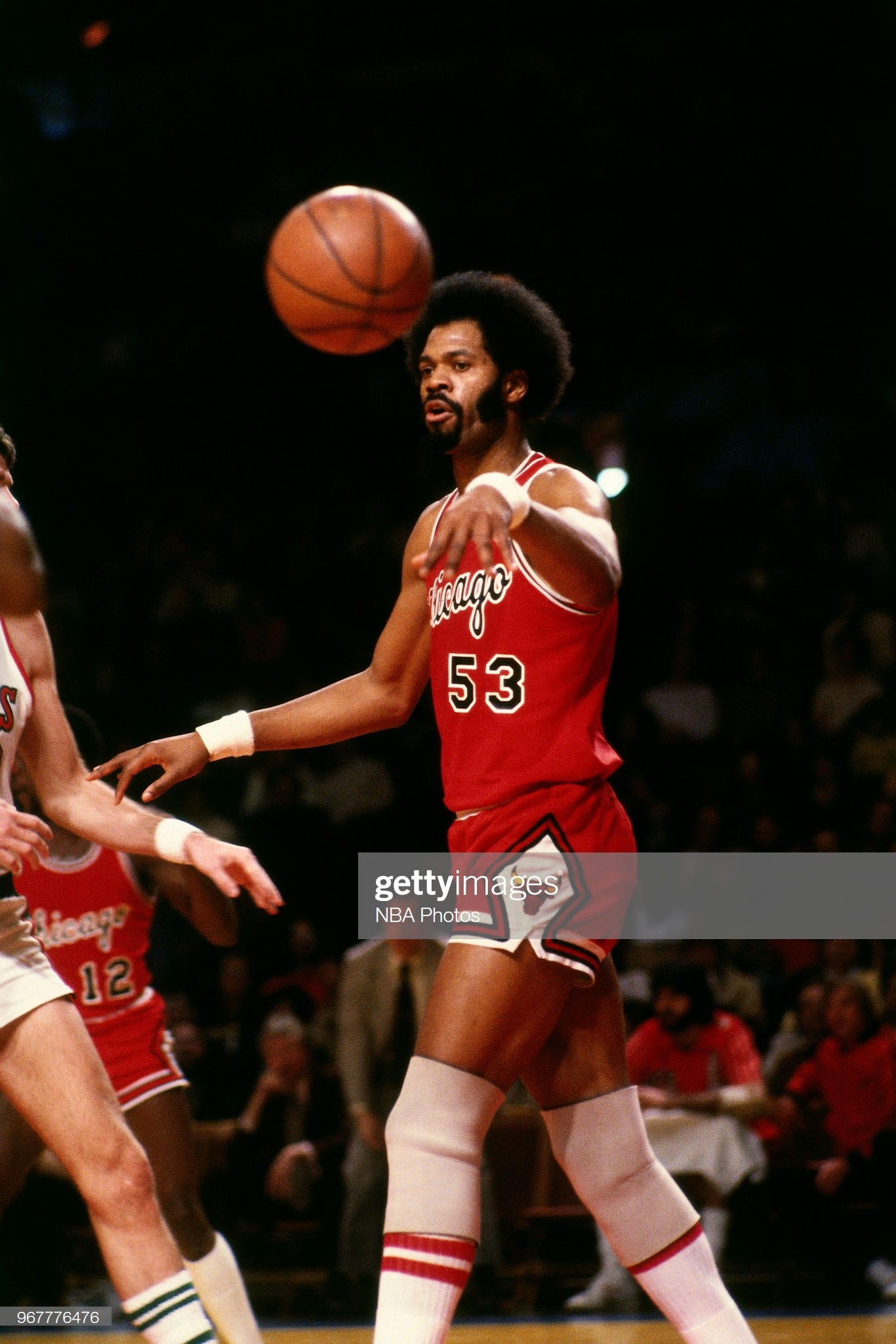 Not to besmirch other people (I'm really sorry Reggie Theus and Mickey Johnson), but Artis Gilmore is the only player who really mattered in Chicago between the end of the Core Four years of the early 70s and Jordan's rise in the mid-1980s.
In those fallow years, the Bulls made the playoffs only twice and it was on the powerful back of Gilmore in 1977 and 1981. This includes their only playoff series win (1981) between 1976 and 1988. Now that's seemingly faint praise, but the franchise really stunk those years.
They needed every bit of the A-Train's 20.1 PPG, 11.5 RPG, and 2.2 BPG on .588 FG%.
Sometimes a player's greatness is in making a horrific team simply mediocre and keeping a franchise in America's 3rd-largest city alive.
That's the Gilmore years in Chicago.
It's truly a shame that Chicago was never able to routinely pair him with other great players and thus waste his left-handed hooks, powerful jams, and stout defense.
---
#54 Horace Grant (1987-1994)
3x Champion—2x All-Defensive 2nd Team—All-Star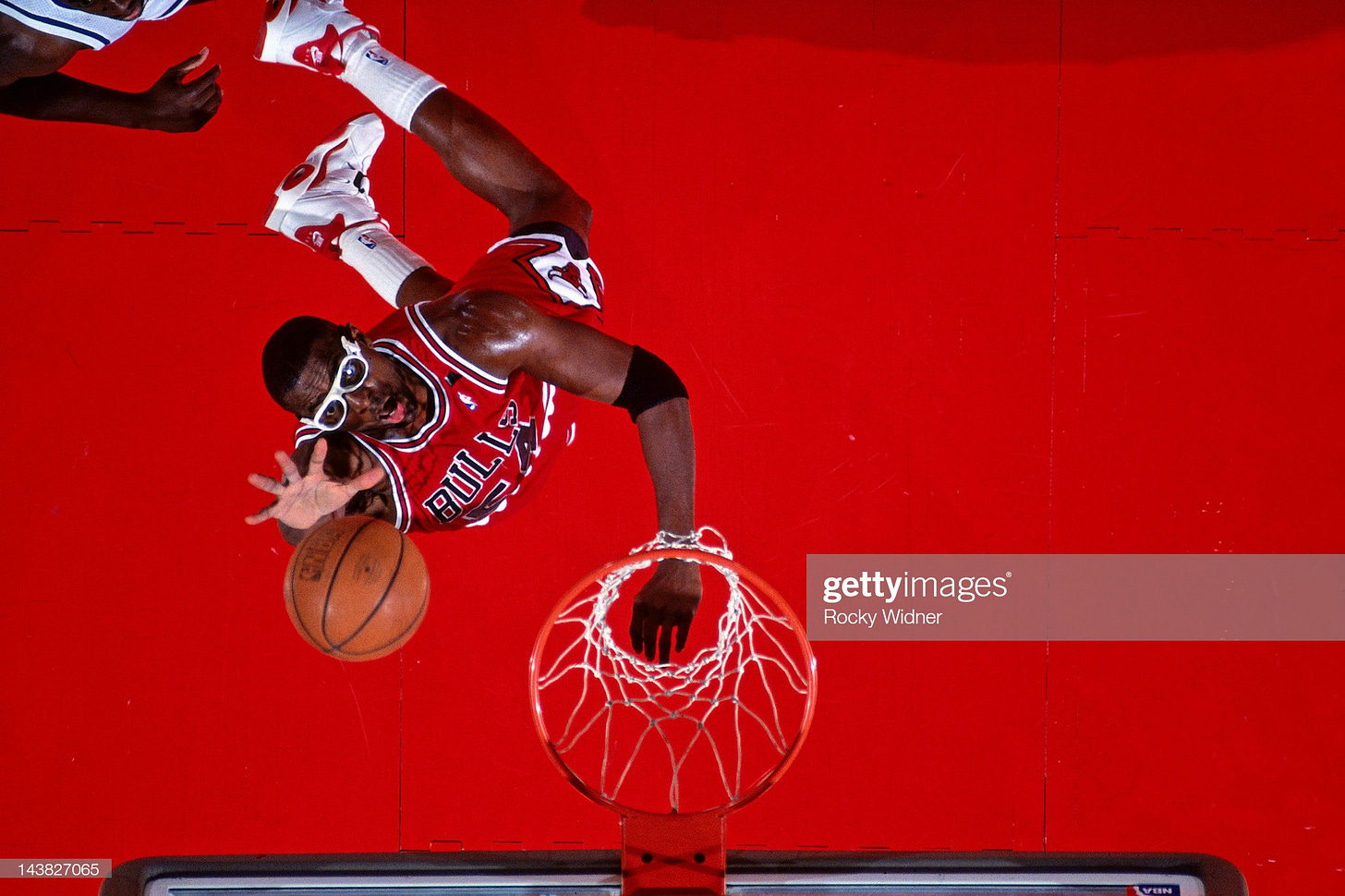 Horace Grant's stats don't overwhelm: 12.6 PPG, 8.6 RPG, 1.1 BPG, 1.1 SPG and .530 FG%. It's certainly respectable.
However, his impact is tremendous.
Jordan and Pippen rightly get the limelight for the first three-peat, but without Grant it wouldn't have been possible. Looking at Basketball-Reference's historical ORtg and DRtg gives away the power of Horace.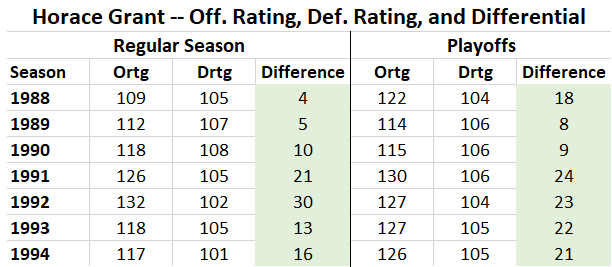 The only player who beat, let alone challenged, Horace's positive differential was Jordan. When Grant stepped on the court, the Bulls became their best selves.
Grant's defense was only belatedly recognized with a couple All-Defensive 2nd Team appearances at the end of his Bulls tenure.
And hardly anyone remembers Grant blocking Kevin Johnson to end Game 6 of the 1993 Finals. Yeah, John Paxson's three-pointer to get the lead is rightly remembered. But will ESPN's upcoming documentary on the Bulls even bother to mention Grant's block?
Hell, go look back at Paxson's shot and notice who made an absolutely perfect and quick swing pass to hit the open man.
That's right, Horace.
Get that man's number retired!