RJP: Detroit Pistons
We got some work to do
The Retired Jersey Project keeps on rolling! (Read this if you need to catch up on the rules.)
The Detroit Pistons are an ancient franchise. They began play in the National Basketball League (NBL) as the Fort Wayne Zollner Pistons in that league's 1941-42 season. Until 1957, the franchise made Fort Wayne proud winning the NBL title twice (1944 and 1945); winning the World Professional Basketball Tournament thrice (1944, 1945, and 1946); and finishing runner-up twice in the NBA Finals (1955 and 1956).
That kind of success can't be ignored right?
Wrong.
As we'll get to below, the Detroit Pistons are pretty miserable at giving love to their Indiana roots.
As for jerseys the team has actually retired they've done a good, if incomplete job. And I know that sounds crazy considering they've retired 10 numbers for players plus another (#2) for coach Chuck Daly. AND they should have a banner for the Fort Wayne (Zollner) Pistons era.
Since I have several players lined up, I'll give more written attention to the older players you might be less familiar with than some of the more recent suggestions.
(As usual all stats unless otherwise mentioned pertain to time as Pistons.)
---
Jerseys to Retire
#12 George Yardley (1953-1959)
Hall of Fame—All-NBA 1st Team—All-NBA 2nd Team—5x All-Star—2x NBA Finalist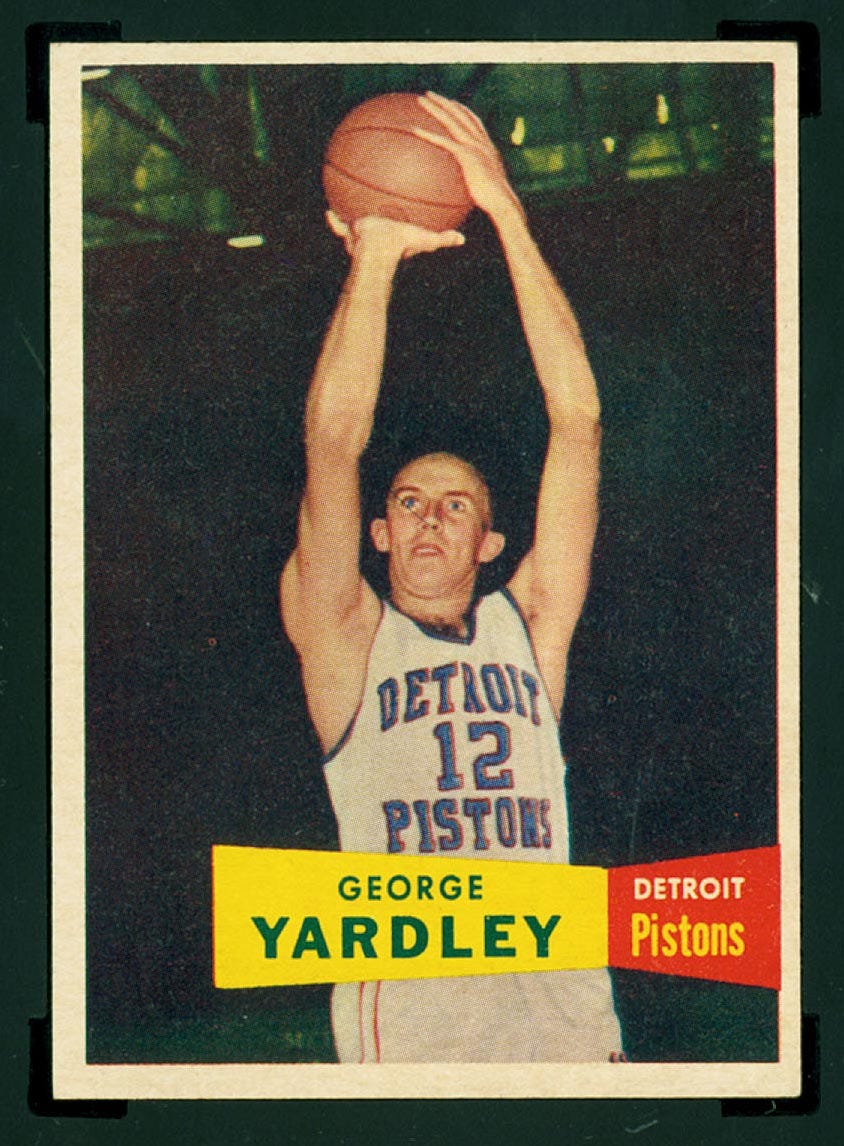 George Yardley is one of the more important small forwards in basketball history. He didn't pass much, if at all, and was a fairly good rebounder. But is calling card was scoring, where he operated smoothly as one of the first masters of the jump shoot and could glide up the court up for buckets.
He joined a stacked Fort Wayne squad for his rookie season in 1953-54. Limited to just 23.6 minutes a game he averaged 9.0 PPG. From there on out, Yardley was the man in Fort Wayne as far as scoring was concerned.
From 1955-1959, Yardley led the team in PPG every season with a cumulative average of 21.1 PPG. His scoring reached its apex in the 1957-58 season, the franchise's first in Detroit. Yardley scorched the nets with 27.8 points a night and totaled 2001 points for the season making him the first player breach the 2000-point barrier.
The only thing missing from Yardley's time with the Pistons was an NBA title. He did his best though. The team fell short by one point in Game 7 of the 1955 Finals. In the 1956 Finals, Yardley was Herculean with 25 points and 15 rebounds per game. In Game 5 he blistered the Philadelphia Warriors with 30 points and 20 rebounds, but the overmatched Pistons fell to Philly.
Still, Yardley's time as the team's premier scorer and being the first star of their Detroit years is more than enough for the retirement honor.
---
#16 Larry Foust (1950-1957)
All-NBA 1st Team—All-NBA 2nd Team—6x All-Star—2x NBA Finalist
This fella gets no respect. Not only should his jersey be retired by the Pistons, he should be in the Basketball Hall of Fame. He was an All-Star for six of his seven Pistons seasons. Already an extremely good player, his blossoming into a great player during the mid-1950s elevated the Pistons to true NBA title contender.
As noted already, Fort Wayne lost in back-to-back Finals in 1955 and 1956.
Foust in 1955 set an NBA record with a .487 FG% and led the league in WS/48 as he made the All-NBA 1st Team. In 1956 he again led the league in WS/48.
Alas, Larry gets no love.
---
#18 Bailey Howell (1959-64)
Hall of Fame—All-NBA 2nd Team—4x All-Star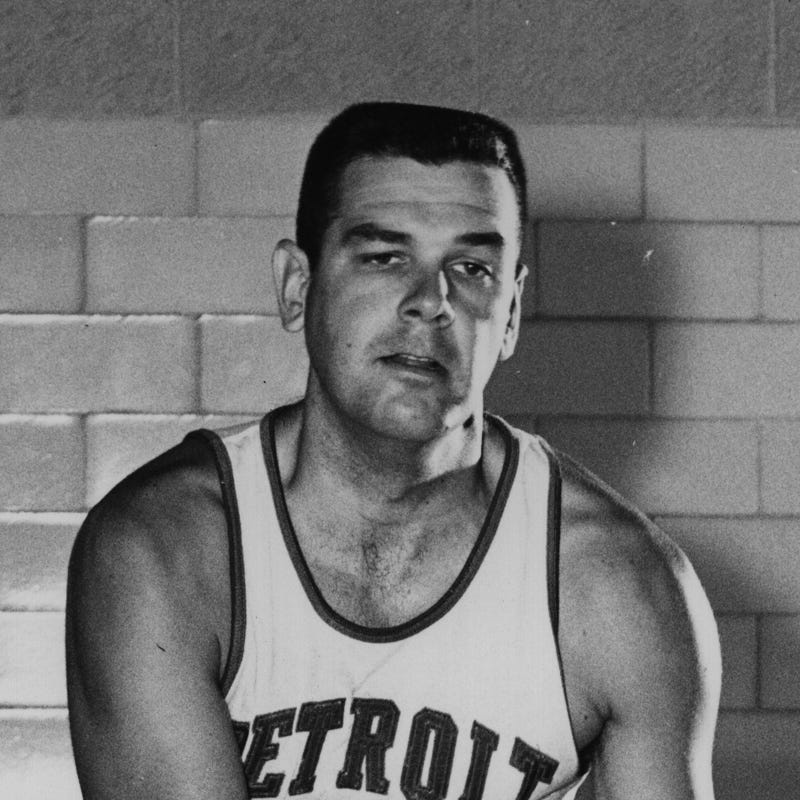 The best way to describe Bailey Howell is as the next generation of power forwards in the mold of Bob Pettit. I don't say that simply because they're both white guys from the Deep South.
Bailey had a dead-set jumper and attacked the offensive glass relentlessly, both things Pettit did well. What makes him evolutionary Pettit is that Howell's FG% as a Piston was .476 while Pettit was a very respectable .436. Remember, these were the 1950s and 1960s. These are the men who were refining what we think of as modern hoops.
Trouble for Howell was that the Pistons didn't match the success of Pettit's St. Louis Hawks. Bailey couldn't manufacture a powerhouse all on his own. The Pistons made the playoffs every year he was in Detroit even advancing to the Western Division Finals in 1962, but they were never a threat to win the title. And in 1964, Detroit prematurely traded him away instead of letting a contender naturally coalesce around him. After all, Howell played through 1971 as an extremely good and All-Star caliber player winning two titles with the Celtics.
Daves Bing and DeBusschere could have used him during the mid-and-late 1960s.
---
#20 Bob McDermott (1941-1947)
Hall of Fame—4x NBL MVP—2x NBL Champion—3x World Professional Basketball Tournament Champion—5x All-NBL 1st Team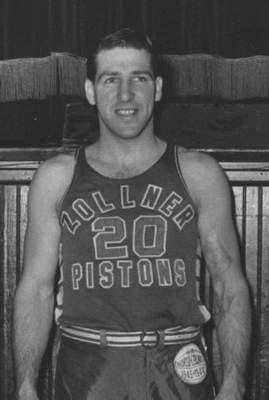 If Howell had trouble bringing team success to Detroit, McDermott had no trouble with that in Fort Wayne. I mean, shit, just look at the accolades summary above. The Pistons were the most decorated team in professional basketball during the World War II years and that's largely thanks to McDermott.
Famed for his long-range set-shot, Bob was a dangerous scorer. He even cracked 20.1 PPG in the 1945 NBL season. That type of scoring was exceedingly rare in the era before the shot clock.
Unfortunately, McDermott also had a legendary temper. His time with the Pistons ended rather rudely in the 1946-47 season under an indefinite suspension. Traded off to the Chicago Gears, McDermott kept on winning with them as he teamed up with George Mikan.
Still, can't deny that McDermott was the linchpin of the Pistons' greatest period of success, be it Fort Wayne or Detroit.
---
#21 Gene Shue (1956-1962)
All-NBA 1st Team—All-NBA 2nd Team—5x All-Star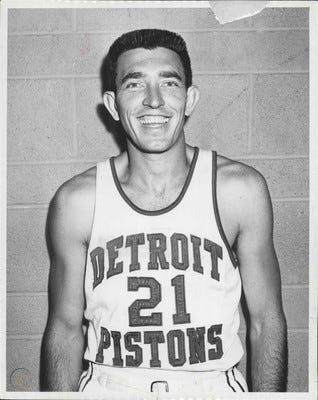 Shue is another fella who oughta be in the Hall of Fame as well. His days as a Piston started thanks to a disastrous trade. The New York Knicks (shocking, I know) traded Shue for the draft rights to Ron Sobie.
Well, here's how that worked out…
Gene Shue (1956-1962): 18.3 PPG, 5.0 RPG, and 4.4 APG
Ron Sobie (1956-1960): 8.4 PPG, 4.1 RPG, 1.8 APG, and out the league.
Gene's finest season came in 1959-60 when he set an NBA record for total points (1712) and PPG (22.8) by a guard; finished second in FT% (.872); and was named to the All-NBA 1st Team, the first guard in franchise history to do so.
Like his fellow travelers in the Pistons' first decade in Detroit, he goes unappreciated.
---
MOTOR CITY SOUND
A musical interlude courtesy of one of Detroit's finest acts, Martha and the Vandellas!
---
#22 Dave DeBusschere (1962-1968)
Hall of Fame—3x All-Star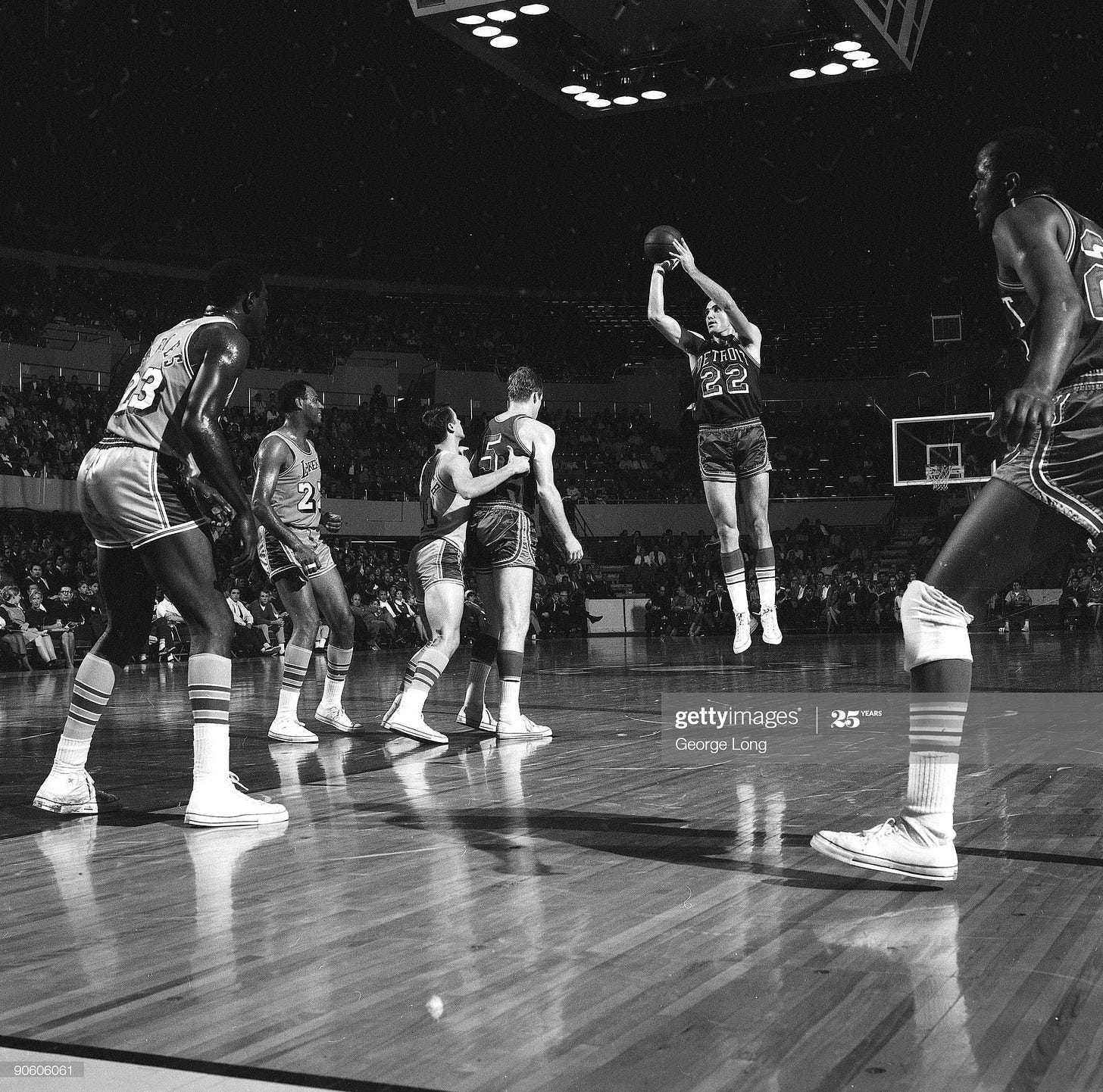 If Shue, Howell, and McDermott can be chalked up to amnesia and apathy for the murky years of early Pistons basketball, DeBusschere's absence is particularly striking.
He's one of the more beloved people in NBA history, he played college ball in Detroit, and is from Detroit. If nothing else, a DeBusschere retirement night woulda sold some tickets. Like Bailey Howell above, the Pistons discharged Dave too soon and for not enough in return. He too played for many years after as an extremely good, All-Star caliber player and won two titles.
In any event, he does stand on his own merits. 16 PPG, 11 RPG, and immeasurable defensive impact should make Dave a shoe-in for the honor.
---
#22 Tayshaun Prince (2002-2013)
NBA Champion—4x All-Defensive 2nd Team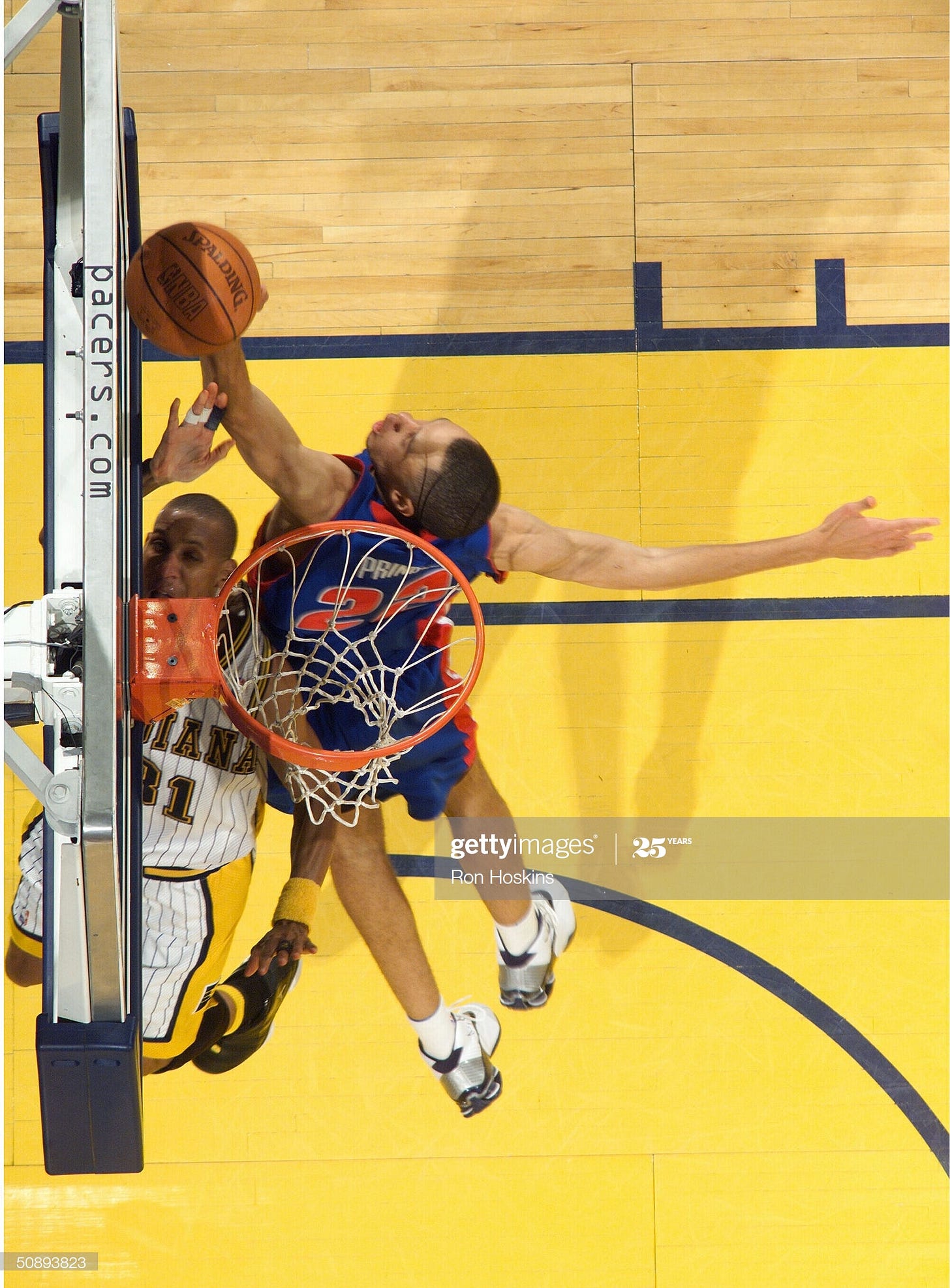 Most of y'all are familiar with Tayshaun Prince's work, so not too much to go over here. 11 years of superb defense and the relatively unheralded piece of the Pistons quasi-dynasty of the 2000s.
Still can't believe this block he made on Reggie Miller. Saw it live at the time and lost my mind. This man was a pterodactyl with amazing basketball instincts.
---
#33 Grant Hill (1994-2000)
Hall of Fame—All-NBA 1st Team—4x All-NBA 2nd Team—5x All-Star—Rookie of the Year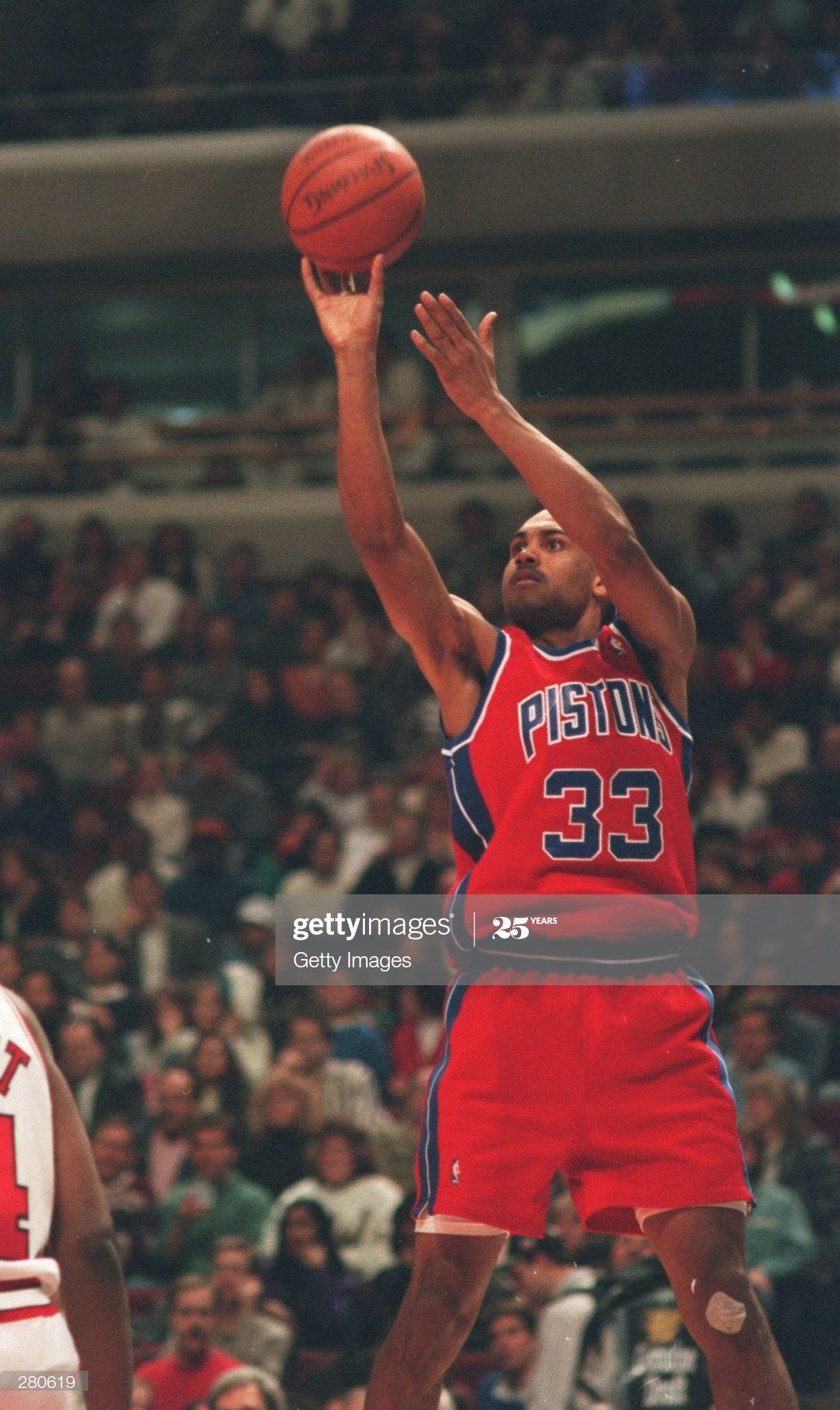 Another inexplicable lapse in ticket-selling judgment by Detroit.
Hill remains, IMO, the best post-Bad Boys player in Pistons history. I know his time didn't end well there, but the man was a perennial All-NBA player for Detroit. And he did so wearing those terrible teal jerseys, which I will most certainly not be linking to here.
---
#36 Rasheed Wallace (2004-2009)
NBA Champion—2x All-Star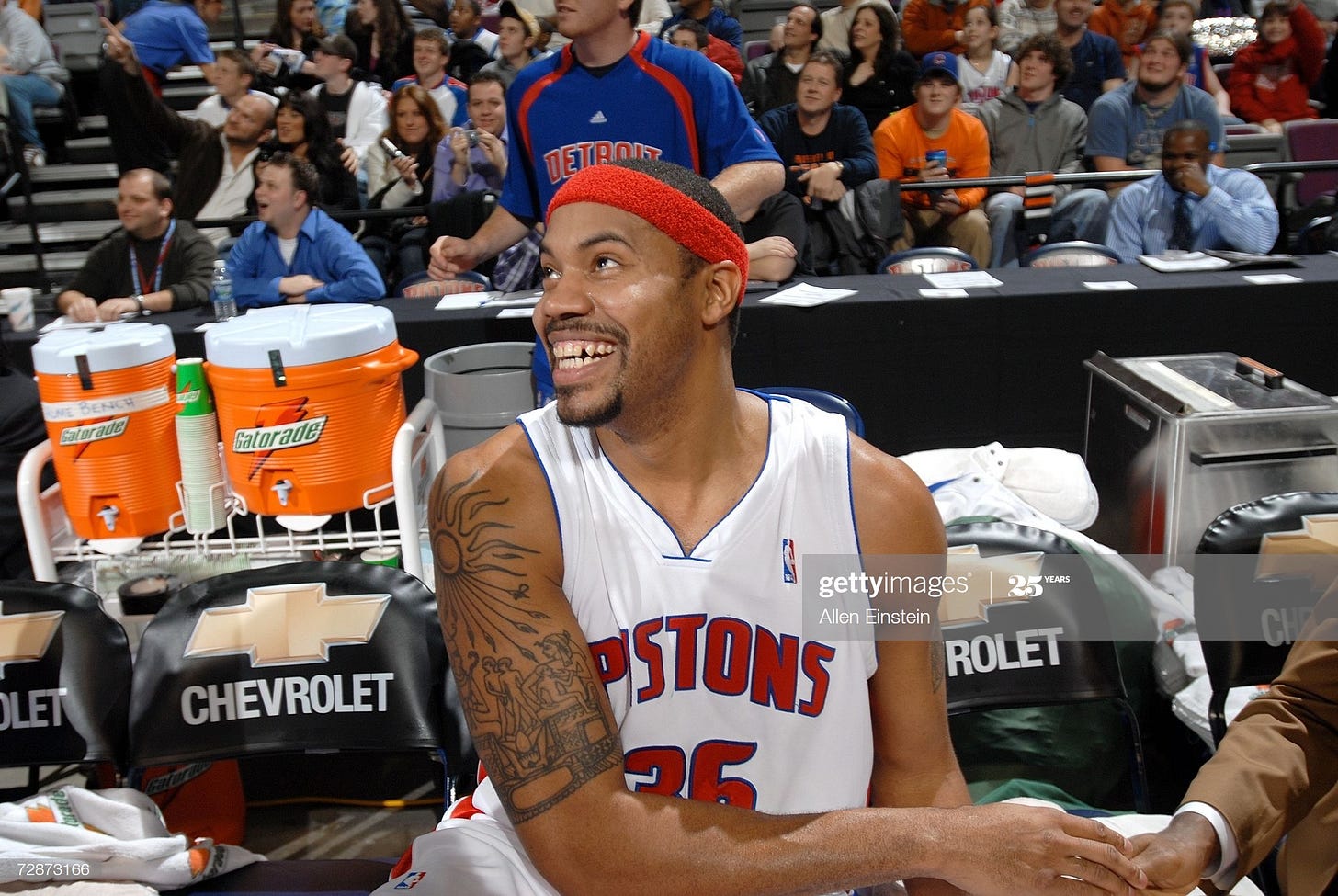 If Tayshaun was the unheralded piece in the quasi-dynasty, Sheed is the ballyhooed addition that made Detroit a bona fide contender. The bally hoo was justified too.
And y'all know about Sheed, so nuff said.
That's a lot of Motor City and Fort Wayne history! And I know that's a lot of retired numbers, but that's what happens when you have an ancient franchise like the Pistons that also had a lot of great players.
Stop! Banner Time.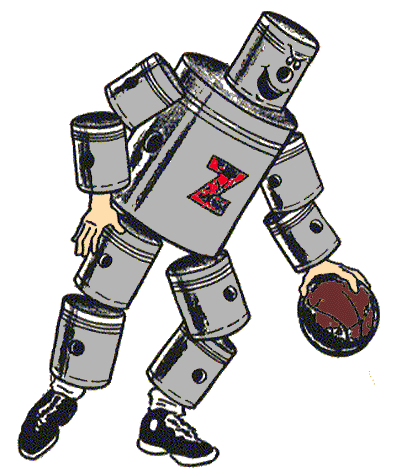 Finally, we conclude with Detroit hoisting a banner to honor the champions and great players from their Fort Wayne years.
Fred Zollner — franchise founder

#20 Bobby McDermott — discussed above

#12 George Yadley — discussed above

#16 Larry Foust — discussed above

#14 Andy Phillip (1952-1956) — Hall of Fame; 2x All-Star

Curly Armstrong (1941-1948) — All-NBL 1st Team

Jake Pelkington (1942-1948) — 2x All-NBL 2nd Team

Buddy Jeannette (1943-1946) — Hall of Fame; 3x All-NBL 1st Team

Ed Sadowski (1945-1946)

#9 Mel Hutchins (1953-1957) — 3x All-Star

#8 Fred Schaus (1949-1953) — All-Star

#7 Frankie Brian (1951-1956) — All-Star