RJP: Houston Rockets
A Big E-Mac
The Retired Jersey Project is chugging along! (Read this if you need to catch up on the rules.)
The Houston Rockets have done a pretty good job retiring jerseys. All the big names are up in there in beautiful Rocket red…
#11 Yao Ming

#22 Clyde Drexler

#23 Calvin Murphy

#24 Moses Malone

#34 Hakeem Olajuwon

#45 Rudy Tomjanovich
I only have two suggestions to add to the assemblage. They happen to be two players who had a somewhat rocky relationship with the organization, but I'm all about healing and reconciliation.
Plus we also have a banner for the short-lived and hapless Houston Mavericks of the ABA.
Personal Note: I would retire Otis Thorpe's #33 in a heartbeat, but taking a step back in an "objective" manner, I don't think he makes the final cut. Y'all PLEASE feel free to disagree with me though and advocate for OT's jersey retirement.
All stats/accolades pertain to the player's time with the franchise.
---
JERSEYS TO RETIRE
#1 Tracy McGrady (2004-2009)
Hall of Fame—All-NBA 2nd Team—2x All-NBA 3rd Team—3x All-Star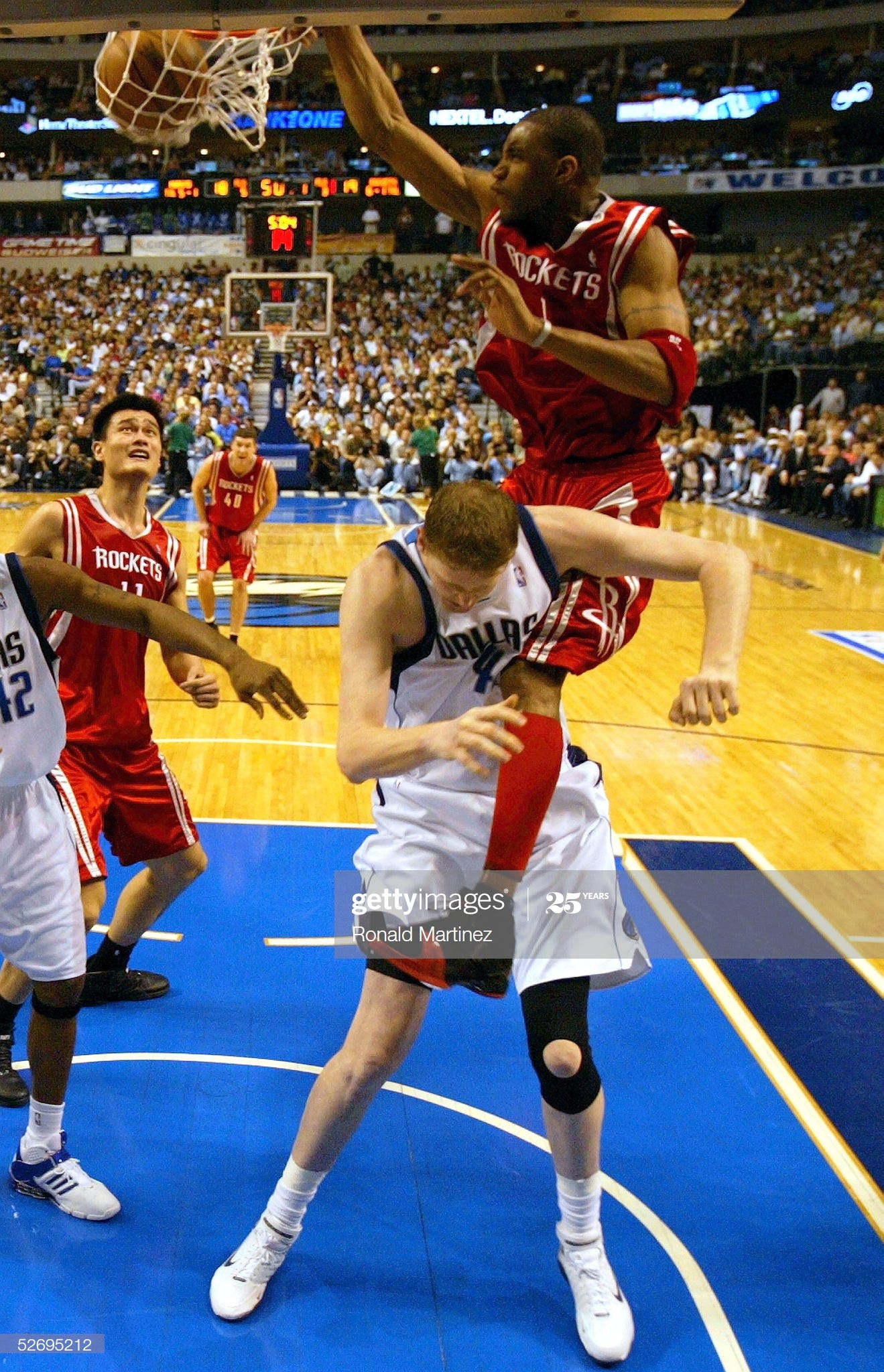 There's no doubt Tracy McGrady went out on bad terms in Houston. But before the bullshit there was some good times. Even great times! Sure they were undermined by injury to him and/or Yao Ming that precluded the Rockets from achieving their full potential in the mid-2000s, but it was still fun, whenever the feet and/or backs weren't busted.
I mean, there's this…
But what I'll remember most about McGrady's Houston tenure was his final playoff series in 2008. Yao was injured and Houston was over-matched against the Utah Jazz. Nonetheless, McGrady absolutely wielded the offense to his whims and somehow managed to get the MASH Rockets to a sixth game.
McGrady scored 28 points in the first half of that Game 6 to keep Houston within six points. In the second half, the damn broke and Utah finished off the Rockets. McGrady's time in Houston in a nutshell. I ain't mad about it though.
---
#44 Elvin Hayes (1968-1972; 1981-1984)
Hall of Fame—4x All-Star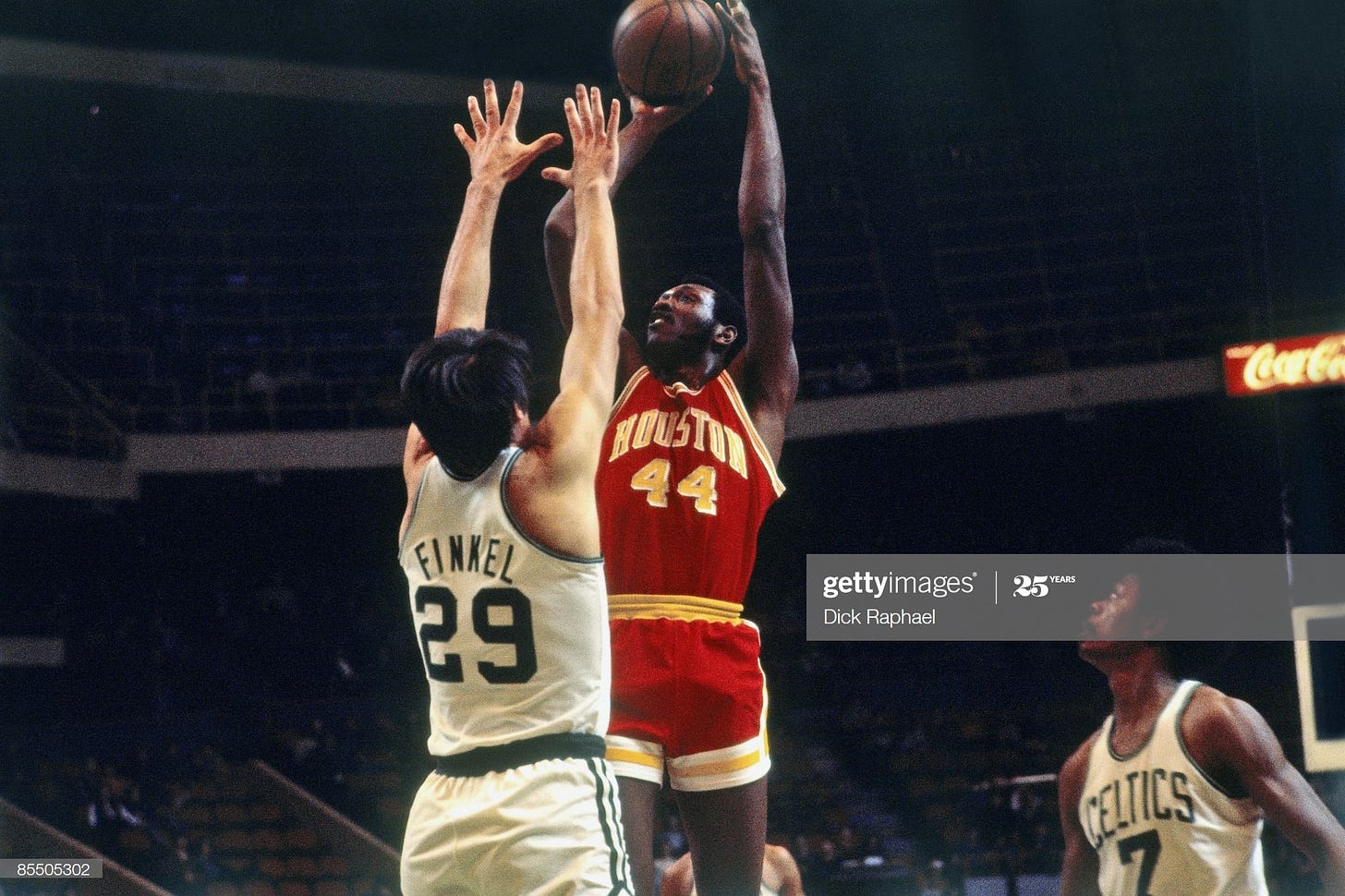 Elvin Hayes occupies a borderline case until I remember that he was also a star at the University of Houston, so the Cougar affiliation gets him over the hump.
He was also damn good in the NBA, of course.
As a rookie he led the league in PPG. His sophomore campaign he led the league in RPG and MPG. During his first stint with the Rockets, Hayes averaged 27.4 PPG and 16.3 RPG.
After a decade with the Bullets franchise, Hayes returned to Houston in 1981 during the twilight of his career. He had one final good season (16.1 PPG, 9.1 RPG) as he helped Houston reach the 1982 playoffs.
Thereafter his final act of glory, at age 38, was gamely participating in the Rockets' tanking for the #1 pick in the 1984 draft that turned into another Cougars star: Hakeem Olajuwon.
Much love to the Big E for giving me my childhood basketball idol, Hakeem the Dream.
---
Stop! Banner Time
Houston Mavericks
Totally unrelated to the Dallas Mavericks, the Houston Mavericks were a really lackluster squad that spent only two seasons in Texas before decamping for the Carolinas to become the Cougars.
In 1967-68, the team went 29-49. The next season it was an even worse 23-55.
Honestly, the only reason why I'm bothering including them is that this was Houston's first "major league" basketball team. And they were coached by Houston-native and NBA legend Slater Martin. So, this gives us an excuse to acknowledge Space City's first basketball great in the NBA aegis.
And… uh… the logo looks like a confused Looney Tune?