RJP: Indiana Pacers
C'mon, loosen up a little
The Retired Jersey Project keeps on rolling! (Read this if you need to catch up on the rules.)
For a place that claims to love basketball, Indiana sure is stingy on paying tribute to its Pacer greats. Been around 53 seasons and only have four retired jersey numbers.
#30 George McGinnis

#31 Reggie Miller

#34 Mel Daniels

#35 Roger Brown
I guess the key is to be a great Pacer and have a number in the 30s. Otherwise you get passed over. Oh and there's coach Bobby "Slick" Leonard. They hung a banner with "529" on it to celebrate his number of coaching victories.
Well, friends, I have four Pacers I think are absolute locks to have their numbers join the ranks of McGinnis, Miller, Daniels, and Brown. And none of them wore a number in the 30s!
(As usual, all stats unless otherwise noted pertain to time as Pacers.)

---
#7 Jermaine O'Neal (2000-2008)
All-NBA 2nd Team—2x All-NBA 3rd Team—6x NBA All-Star—NBA Most Improved Player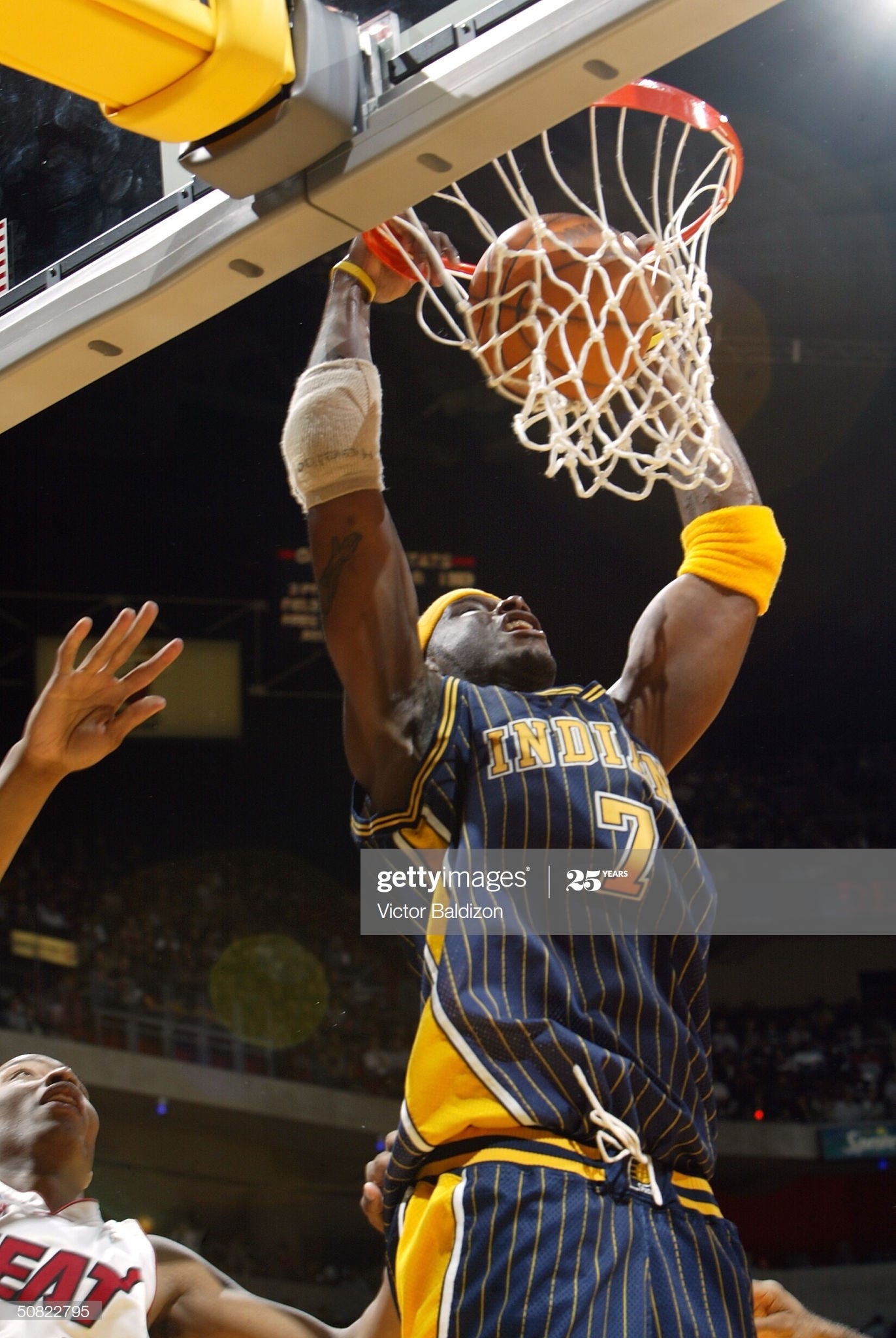 After missing out on the NBA title in 2000, the Pacers commenced a rebuild-on-the-fly. Longtime center Rik Smits retired and longtime muscle man Dale Davis was traded to Portland for Jermaine O'Neal.
O'Neal had entered the NBA straight out of high school in 1996, but basically languished for four years in Portland. I'm not joking. He accrued more of everything during his first Indiana season than he had in those four Blazers seasons.

O'Neal's defense anchored the new Pacers—along with the ageless Reggie Miller—as the team rose from 41 wins in 2001 to 61 in 2004. They were perhaps even better in 2005, but well, the Detroit brawl happened and ruined Indiana's best chance at a title in those years. At least Jermaine got in the best punch of the night with that electric slider.
Anyways! O'Neal also began to battle injuries during the latter-half of his eight years in Indiana, which also sapped some of the Pacers' strength.
However, there's no doubt he was the focal point of Indiana's successful early and mid-2000s teams. And this may surprise you, but O'Neal made the All-Star Team six times and the All-NBA Team three times. The ASG selections are tied with Mel Daniels for most in franchise history (NBA and ABA).
---
#14 Freddie Lewis (1967-1974; 1976-1977)
3x ABA Champion—ABA Playoffs MVP—3x All-Star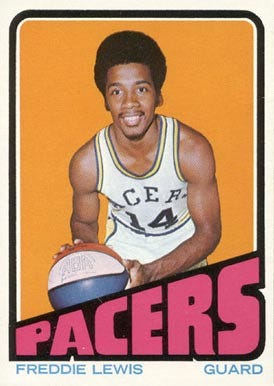 Ridiculous that Fritz isn't honored by the Pacers. Playing either point or shooting guard, Lewis was a steadying backcourt presence for the Pacers dynasty that won three ABA titles in four seasons. In 1972 he was named MVP of the ABA playoffs as he led the Pacers in scoring during their 4-2 series victory over the New York Nets.
Lewis most likely sealed the honor for his heroics in Game 5 of the Finals.
Lewis and Billy Keller induced a 23-8 run in the third quarter to bring Indiana back into the game versus New York. Then in the final seconds of the game, and down 99-98, Lewis stole the ball from Ollie Taylor. Flying in for a dunk, Lewis was fouled by Taylor. The Pacer guard made what turned out to be the game-winning free throws as Indiana prevailed 100-99.
That one play and series doesn't speak entirely for Lewis's great career, but it does sufficiently convey his importance on the best teams the Pacers ever fielded.
---
#24 Bob Netolicky (1967-1972; 1973-1976)
2x ABA Champion—All-ABA 2nd Team—4x All-Star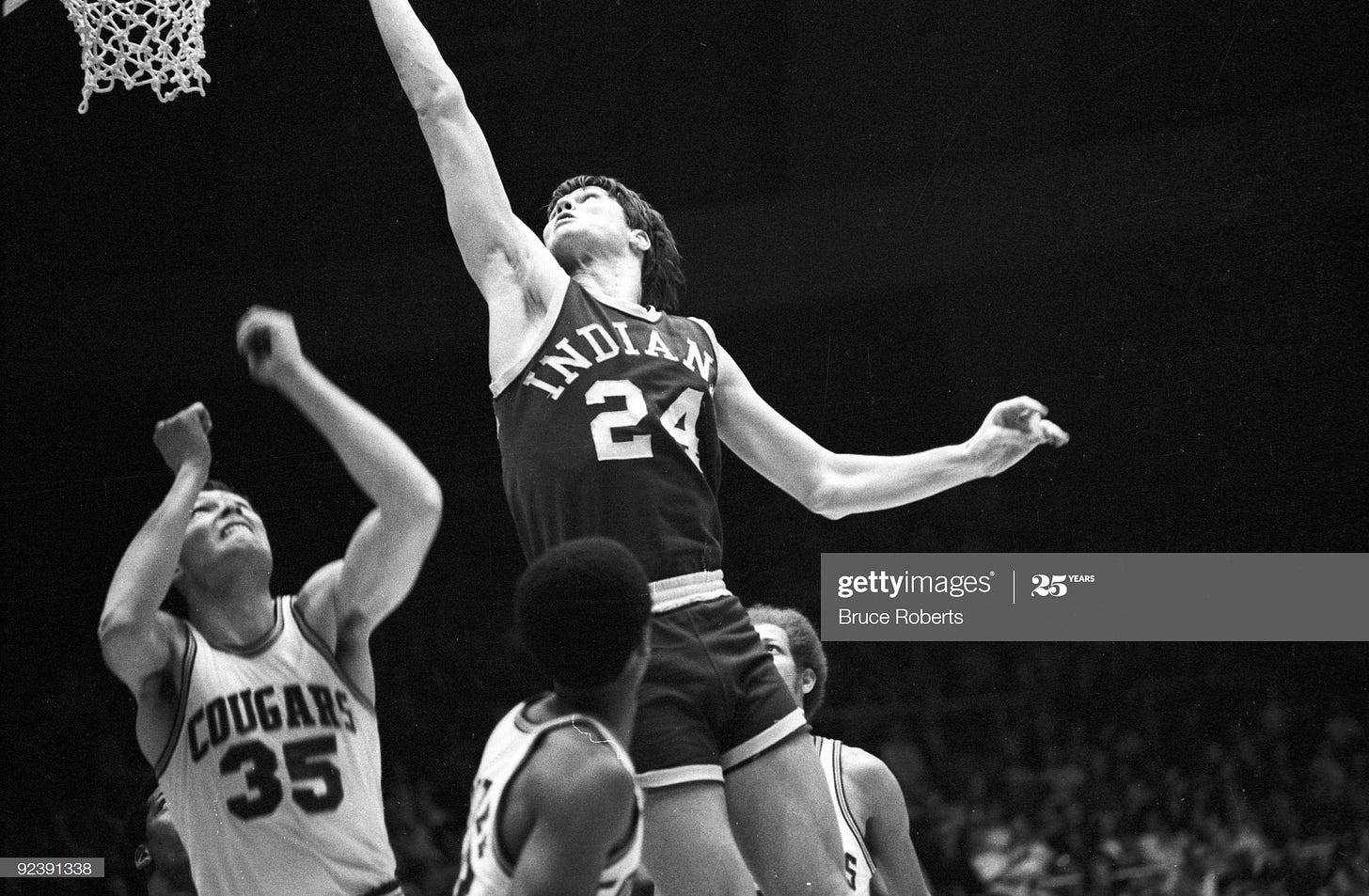 Another head-scratcher.
Neto was a key piece on two Pacers title teams and wasn't around for the third only because of an expansion draft. The San Diego Conquistadors were joining the ABA and the Pacers could only protect six players. Looking at the roster, they decided that Netolicky was too good to lose for nothing. He was sold to the Dallas Chaparrals.
The cruel business decision to maximize resources had logic.
Netolicky had averaged 18.7 PPG and 10.4 RPG in four All-Star seasons before ceding some ground to the man-child George McGinnis in the 1971-72 season.
Perhaps just as important to Neto's role on the court as a superb power forward was his legendary bar that players flocked to after games. It was basically Pacers HQ during these years.
You can't put a price on the booze, but you can show some rafter appreciation.
---
#45 Rik Smits (1988-2000)
NBA Finalist—All-Star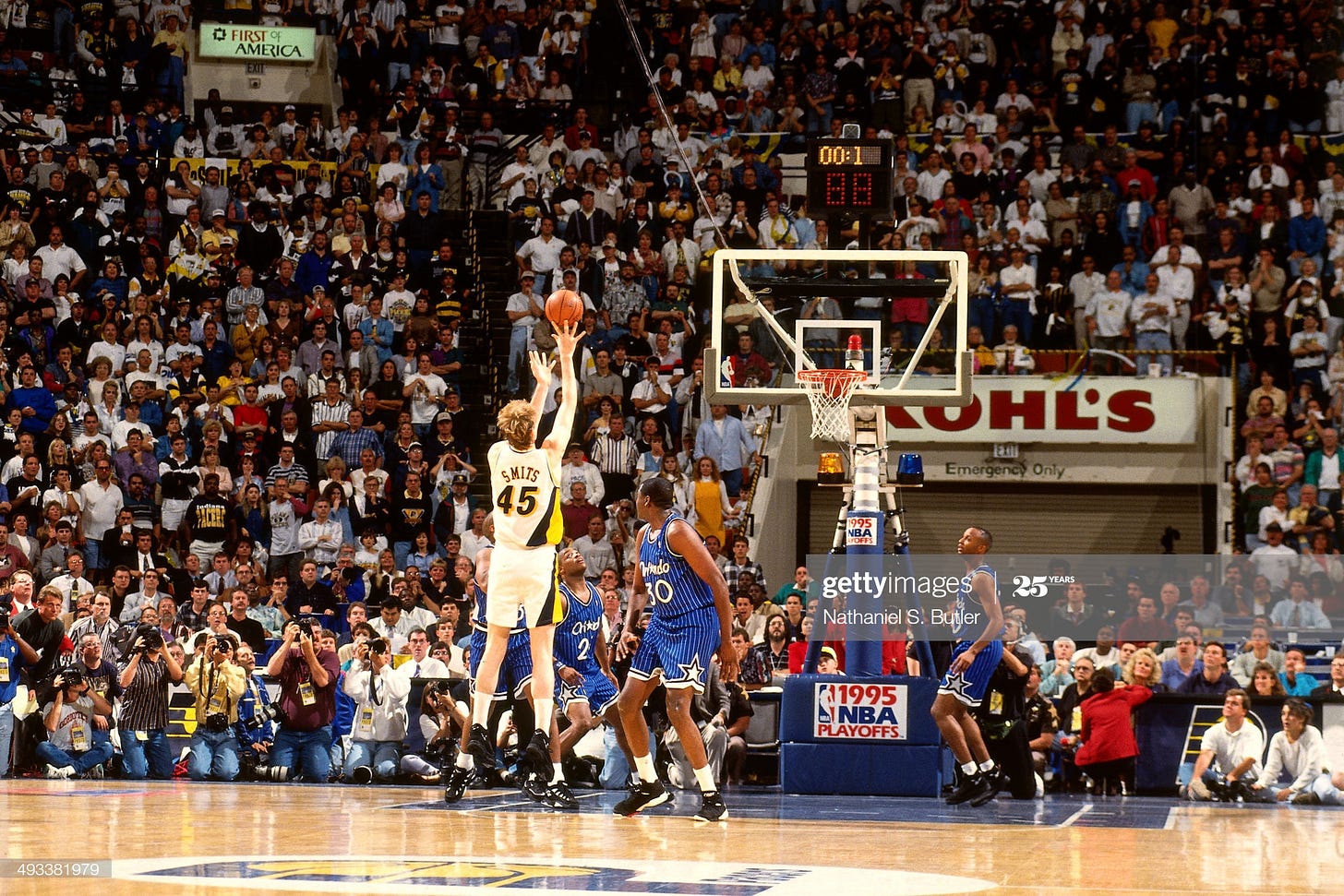 Another inexplicable decision. I mean, who doesn't love Rik Smits? And who would dare to wear his #45 in Indiana ever gain? (We'll ignore the first few years of his career when wore #24. That's Neto's number, man!)
The Dunking Dutchman spent his entire NBA career with the Pacers covering 12 seasons. He wasn't your stereotypical center since he didn't bang down low or muscle people. And besides, you get Davises Antonio and Dale to handle the musclin'.
Smits never failed to average double-figures in scoring despite playing fairly limited minutes. The Pacers kept him between 25 and 30 MPG for his career. The key to his success was the touch on his shots. He had very good footwork, moved well, and obviously had supreme height, but all that meant nothing without the exquisite touch he'd put on his jumpers and hooks.
And no touch was better than this one.
---
STOP! Banner Time
Okay, so Indiana has had a long history of being in the NBA aegis (NBA/NBL/BAA/ABA). So there should be a banner acknowledging the other Hoosier teams who've called Indiana home plus a few of their notable players. The only exception are the Fort Wayne Zollner Pistons, since they still exist in Detroit.
Indianapolis Olympians (1949-1953)
Slated to start in the NBL, but the merger with the BAA took place, so they are the first NBA team for Indianapolis. Started out a powerhouse, but the loss of Alex Groza and Ralph Beard doomed the club. Their connections with point-shaving in college led to lifetime NBA bans. Shabby treatment for Groza and Beard who were on the fast track to the Hall of Fame.
#12 Ralph Beard—All-NBA 1st Team; All-NBA 2nd Team; All-Star

#15 Alex Groza—2x All-NBA 1st Team; All-Star
Indianapolis Kautskys/Jets (1935-1949)
This franchise was so old they were playing in the Midwest Basketball Conference, the embryonic version of the NBL. A World War II hiatus interrupted things, but they rejoined the NBL in 1945 and joined the BAA in 1948, upon which time they changed their name to the "Jets." However, after one season in the BAA, the club ran asunder financially opening things up for the Olympians to slip in as Indy's pro basketball team.
Frank Kautsky—owner of the club

Frank Baird

Arnie Risen—Hall of Fame; All-NBL 2nd Team

Jewell Young—2x All-NBL 2nd Team

John Wooden—Hall of Fame
Anderson (Duffey) Packers (1946-51)
Located just outside Indianapolis, the city of Anderson boasted one of the best teams in pro basketball during the late 1940s. They won the NBL title in 1949 and then nearly reached the NBA Finals in 1950. However, their small-town status doomed their continued success as the NBA looked to move on from such "backwaters." The Packers played one more season in the National Professional Basketball League.
Ike Duffey—franchise owner; one of main men behind the NBL-BAA merger

Frankie Brian—NBL Champion; All-NBL 1st Team; All-NBL 2nd Team; All-NBA 2nd Team

Milo Komenich—NBL Champion
Hammond Ciesar All-Americans (1937-1941) and Hammond Calumet Buccaneers (1948-1949)
Two franchises called Hammond, Indiana, home during the NBL years. Like many clubs, the first franchise was put under by World War II. And like many other franchises, the second was born out of the optimism of pro sports following the war. Neither was all that successful. But the first Hammond squad had a great Hoosier baller.
John Wooden—Hall of Fame; yep, he shows up again.
(And since you made it this far… the next Pacer to retire on my list is Dale Davis)