RJP: Los Angeles Clippers
The Retired Jersey Project is chugging along! (Read this if you need to catch up on the rules.)
So… the Los Angeles Clippers…
***awkward silence***
The Clippers… of Los Angeles…
***more awkward silence***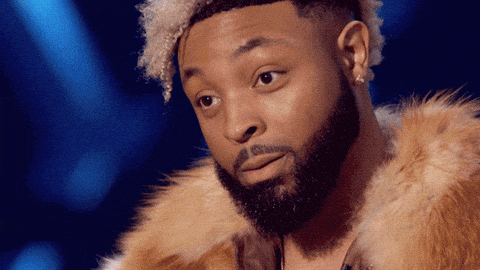 Man this franchise been rough hasn't it?
Donald Sterling taking the ownership tag a little too seriously for decades really set them back. Wasn't until the 2010s that they had any consistent success and even then there was an honest-to-goodness player revolt.
Well, somewhere down the line, I hope the Clippers find it in themselves to retire the jerseys of Blake Griffin, DeAndre Jordan, and Chris Paul.
As things stand right now, though, the franchise hasn't retired a single jersey, which seems forgivable, if not laughable, until you remember the Buffalo Braves…
And when you remember the Braves of Buffalo, you know there's two absolutely necessary jerseys that need retiring.
---
Jerseys to Retire
#9 Randy Smith (1971-1979; 1982-83)
All-NBA 2nd Team—2x All-Star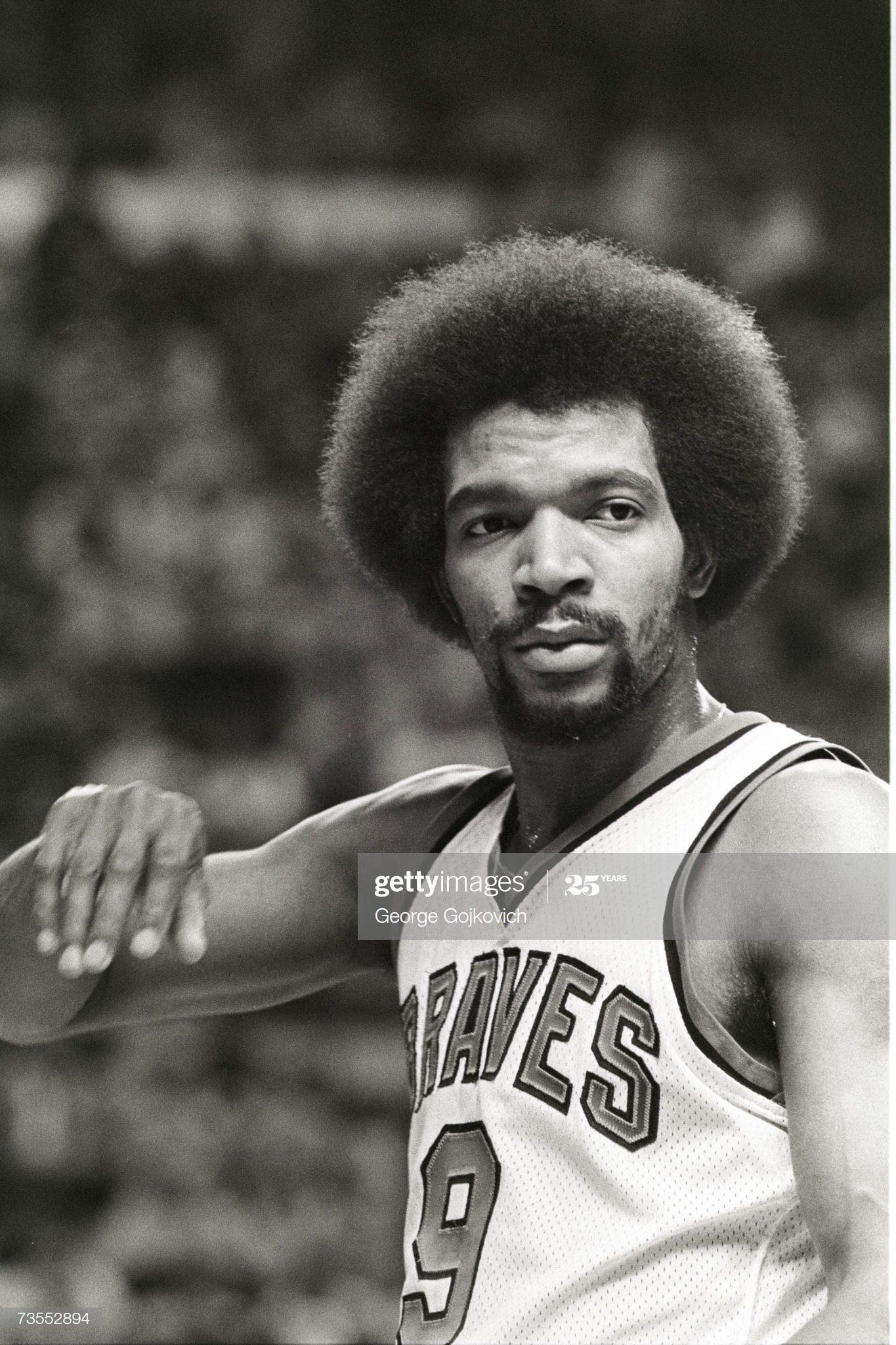 Randy Smith might be the best all-around athlete to ever play in the NBA. He excelled in soccer, set a New York State record in the high jump, and of course was a boss on the basketball court.
The 104th(!) overall pick in the 1971 NBA draft turned out to be the most durable and omnipresent player in franchise history.
Smith missed six games during the first half of his rookie season. Then from February 18, 1972, through April 7, 1979, he played 595 consecutive games for the franchise in Buffalo and San Diego. He then played two seasons with Cleveland Cavaliers and one with the New York Knicks, where he still didn't miss a game, so that's 246 more games to the streak. And in 1982 he returned to the San Diego Clippers to play 65 more consecutive games. The streak only ended when the Iron Man asked for a release so he could catch on with a playoff team in his final NBA season. So ended his then-NBA record of 906 consecutive games played.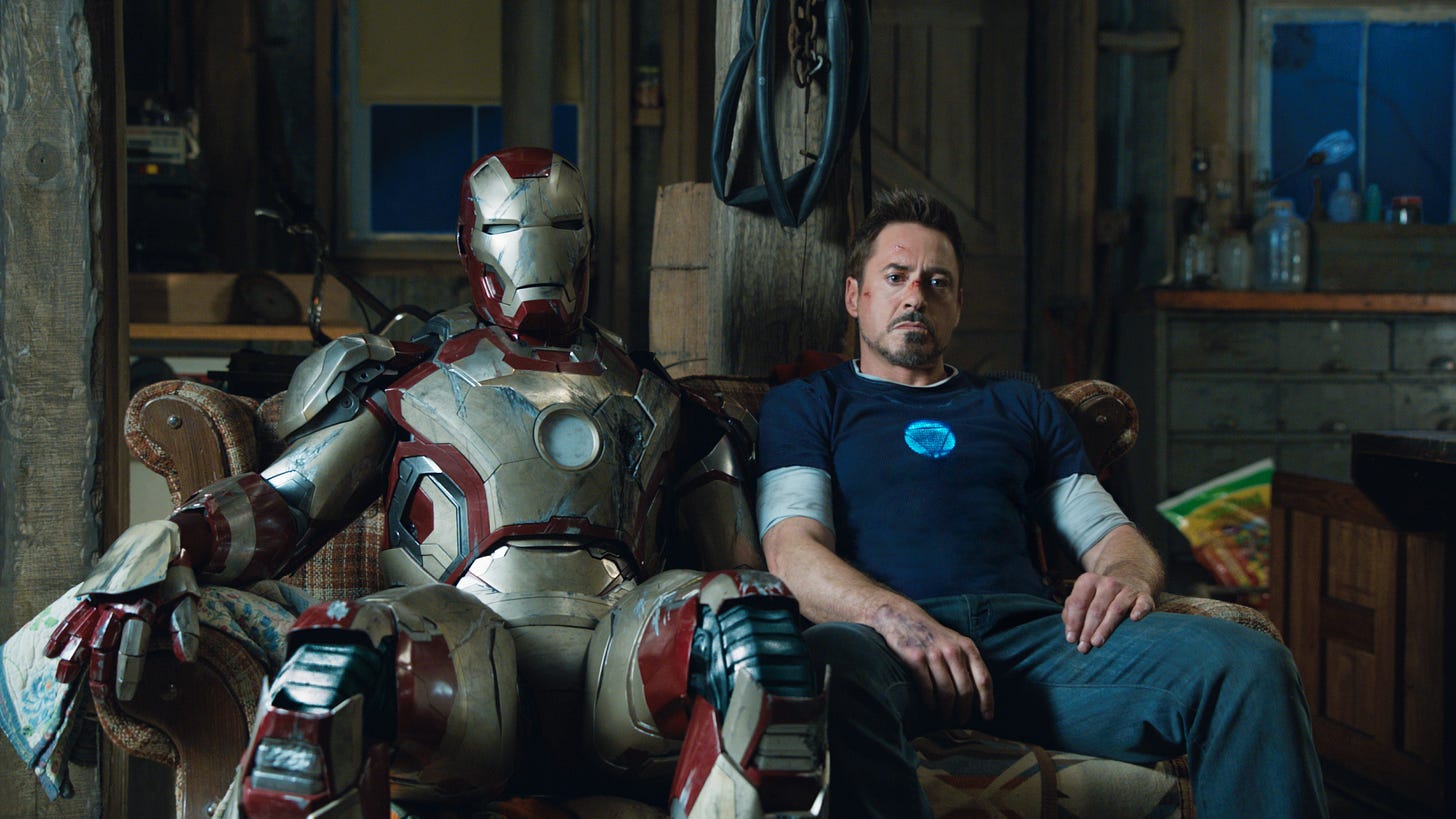 Randy Smith with Robert Downey Jr
Smith doesn't get the jersey retirement honor just because he showed up to play. The 6'4" jumping jack and speed demon could play either guard position on either end of the floor.
His best individual seasons came in 1976 and 1978. In 1976 he averaged 21.8 PPG, 5.9 APG, 5.1 RPG, and 2.1 SPG. He was named to the All-NBA 2nd Team that year. In 1978 he averaged a career-high 24.6 PPG along with 5.6 APG, 3.8 RPG, and 2.1 SPG. He was named the All-Star Game's MVP that year.
His excellent production coupled with his indefatigable body meant Smith was the franchise's all-time leader in a whole bunch o' stuff when he retired in 1983.
Games—715 (now second to DeAndre Jordan)

Minutes—24,393 (still first)

Points— 12,735 (still first)

Field Goals Made—5214 (still first)

Free Throws Made—2304 (now third)

Assists—3498 (now second to Chris Paul)

Steals—1072 (still first)
#11 Bob McAdoo (1972-1976)
MVP—All-NBA 1st Team—All-NBA 2nd Team—3x All-Star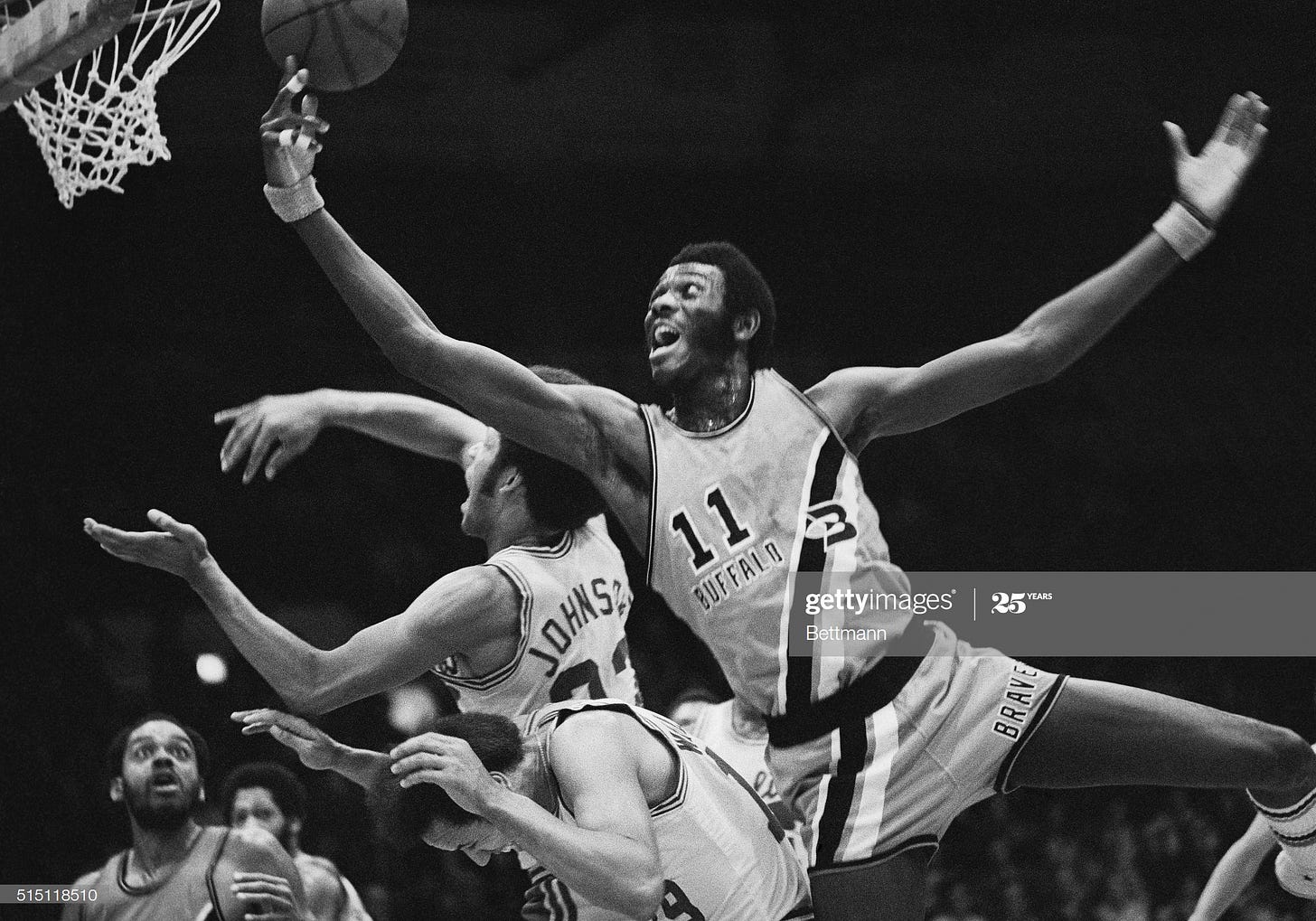 If Randy Smith was a surprise stalwart, Bob McAdoo was a comet-like flash.
He was Rookie of the Year in the 1972-73 season averaging 18 PPG and 9.1 RPG. The next three seasons are ridiculous…
A combined 32.1 PPG, 13.8 RPG, and 2.5 BPG. He was the league's MVP in 1975 when he peaked at an absurd 34.5 PPG leading the Braves to the best season in the franchise's history with 49 wins. That's mark that wouldn't be surpassed until 2013.
The night he officially received the MVP trophy, McAdoo scored 50 points and grabbed 21 rebounds to beat the Washington Bullets.
Unfortunately, the 6'9" center was traded to the New York Knicks after the Braves started off 8-12 to begin the 1976-77 season. McAdoo was never quite the same and neither were the Braves, who after a couple more seasons were moved to San Diego to become the Clippers…
Stop! Banner Time
Buffalo Braves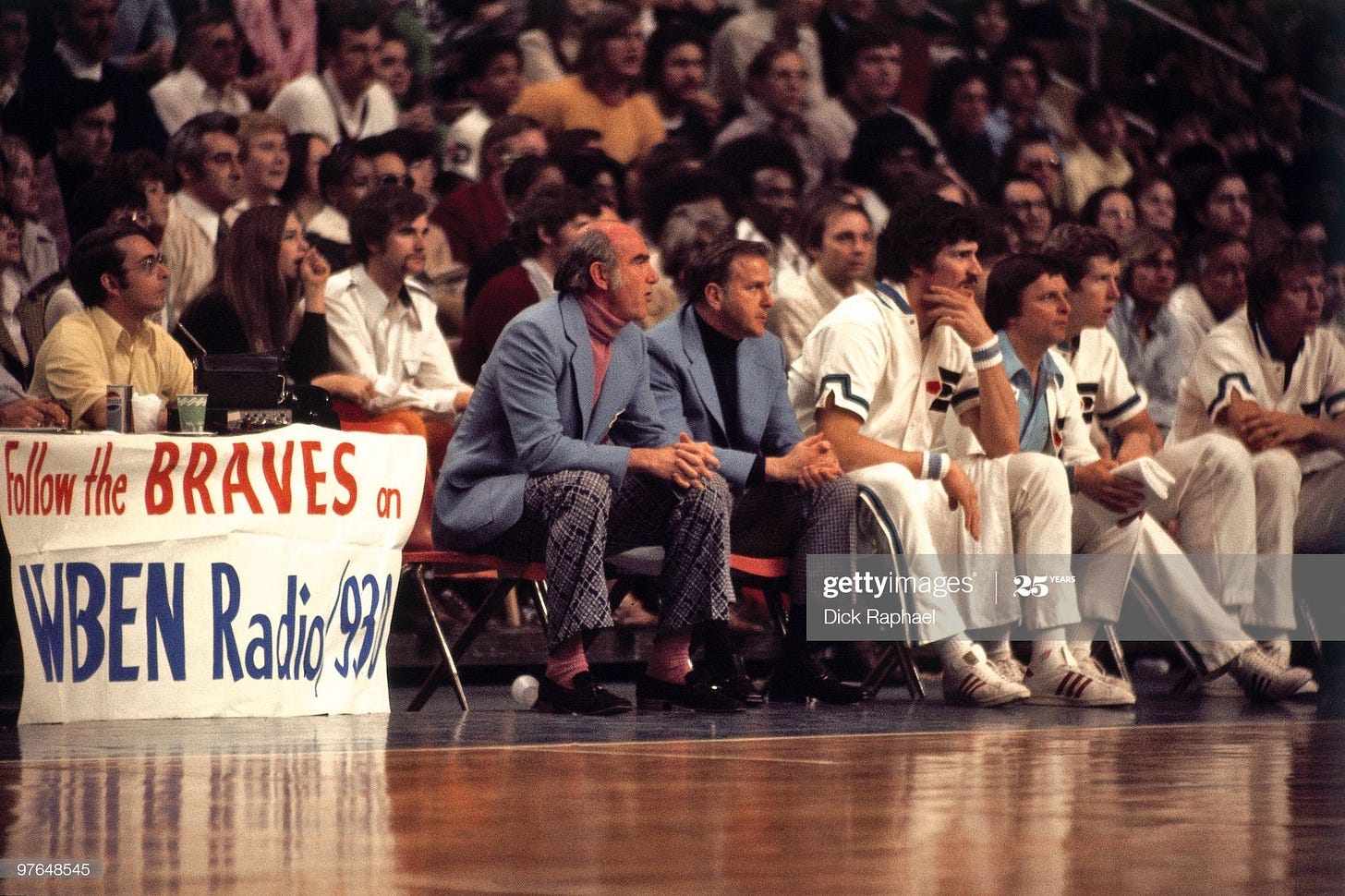 Well as you probably noticed the Braves had a decent measure of success during their eight seasons in New York State (1970-71 through 1977-78). In addition to Bob McAdoo and Randy Smith, the team had an assortment of really good players stop on through. In fact, the Braves gotta be one of the best drafting teams of the 1970s. They routinely kept getting their hands on talented players. Three of them won Rookie of the Year in the 1970s.
#3 Elmore Smith (1971-1973)—a shot-blocking machine. If only the NBA tracked blocks during his two Buffalo seasons. After being traded to the Lakers in 1973, Smith averaged 4.9 BPG during the first season the NBA tracked blocks.
#5 Jim McMillian (1973-1976)—the player acquired from the Lakers in exchange for Elmore Smith, McMillian was a dead-eye shooter and clutch performer. Perfect veteran fit as a secondary-scorer alongside the seismic output of McAdoo.
#15 Ernie DiGregorio (1973-1977)—Rookie of the Year; a slick-passing point guard who averaged 15.2 PPG and a league-leading 8.2 APG in 1973-74. He was dynamite until he tore his knee up and the injury ruined a title-contender in the making.
#24 Gar Heard (1973-1976)—versatile rangy forward who excelled on defense. His 1973-74 season was the stuff of fantasy basketball dreams: 15.3 PPG, 11.7 RPG, 2.2 APG, 2.8 BPG, and 1.7 SPG.
#44 Adrian Dantley (1977-78)—Rookie of the Year; the Braves had Adrian Dantley? Yep! He averaged 20.3 PPG and 7.6 RPG in his lone Buffalo season. Foolishly, they traded Dantley away after that one season for Billy Knight, who was good too, but was a few years older than AD and lasted just 53 games before Buffalo traded him off to Boston.
#44 Bob Kauffman (1970-1974)—3x All-Star; How good was Bob McAdoo? He supplanted Kauffman as the team's star player… and Kauffman as a PF/C averaged 19.0 PPG, 10.7 RPG, and 4.5 APG during those All-Star seasons.
And Plaid Trousers for Jack Ramsay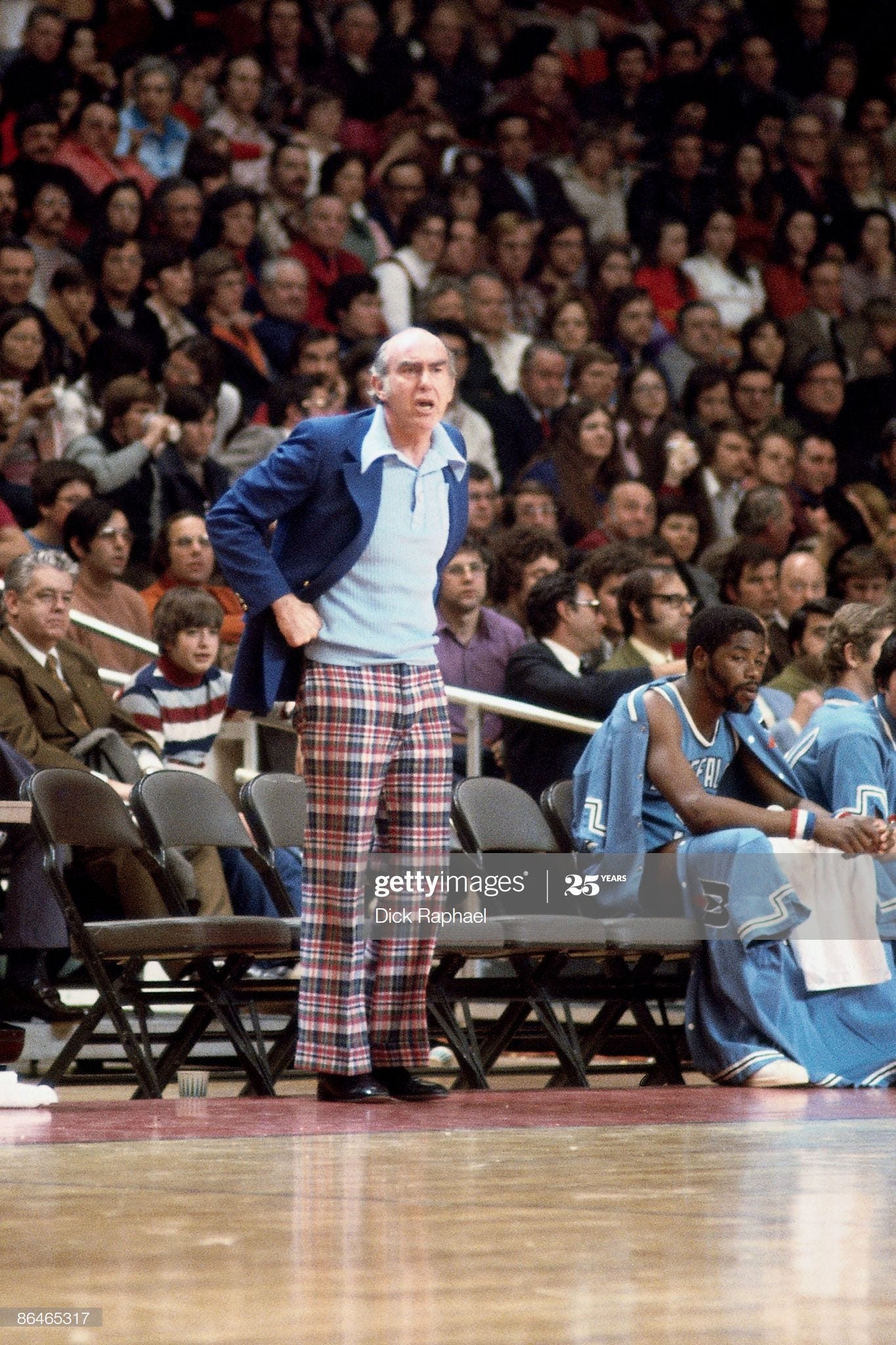 Finally, a note on the San Diego Clippers…
I think they're close enough geographically and chronologically to fold in seamlessly with the Los Angeles iteration of the franchise. If they had lasted longer in San Diego or had a stunning amount of success, I'd exercise more energy in writing about their history in this Banner Time space.
But I'm saving that for another day.