RJP: Phoenix Suns
Seven Jerseys or Less!
The Retired Jersey Project is chugging along! (Read this if you need to catch up on the rules.)
First of all, these jerseys kinda suck, but OH MY GOD this image is awesome!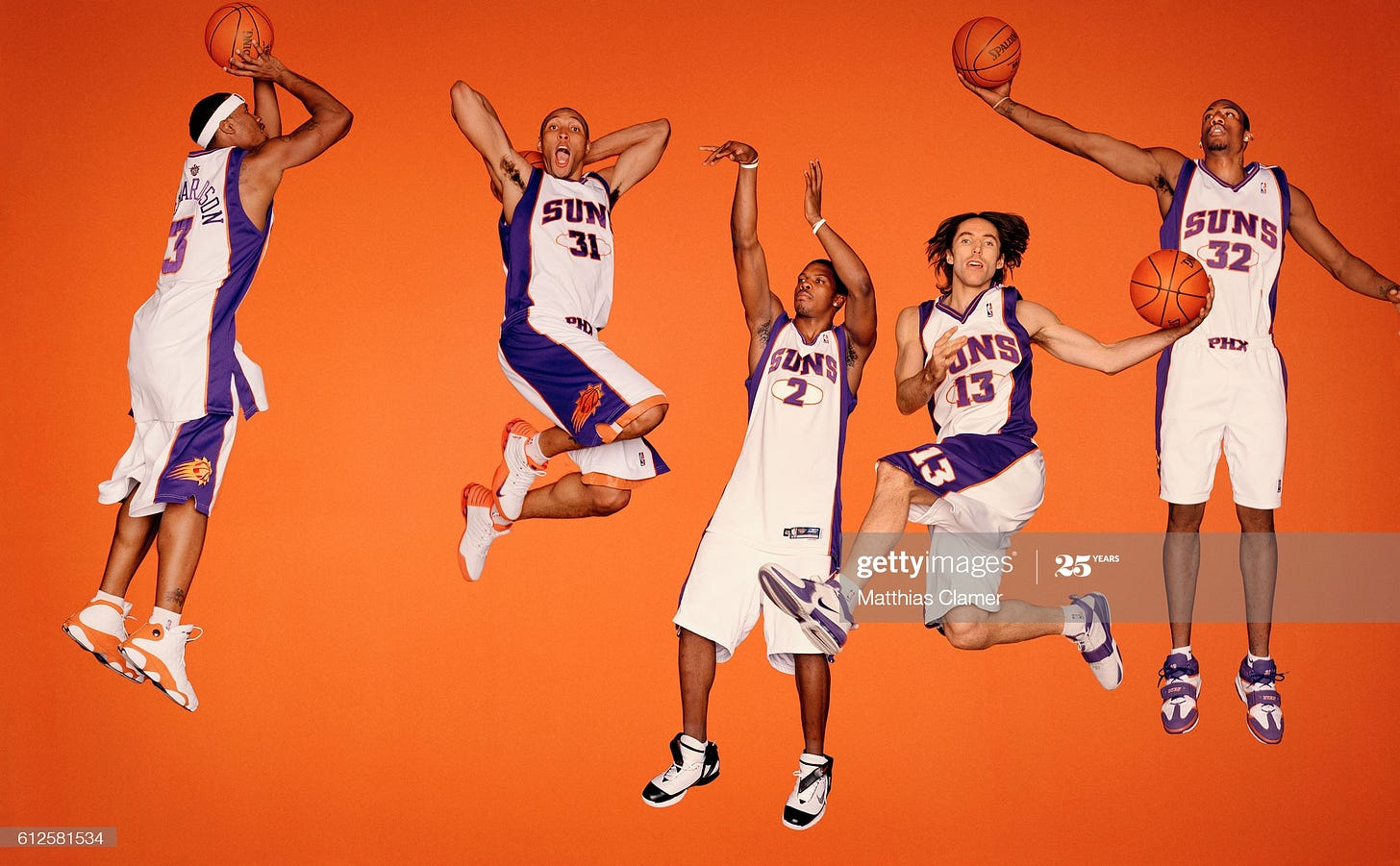 Alright, so the Suns have done a pretty admirable job of retiring jerseys. Founded in the late 1960s, the franchise has never won an NBA title. However, they've usually been either a title contender or at least a solid playoff team at worst. The 2010s were a wretched aberration.
Looking at the retired numbers, you get a pretty good sense for the players who made that sucess happen for the Suns.
#5 Dick Van Arsdale

#6 Walter Davis

#7 Kevin Johnson

#9 Dan Majerle

#13 Steve Nash

#24 Tom Chambers (this is the turd in the punch bowl. Kevin Johnson is a terrible person, but you can't deny his basketball chops. Chambers wasn't bad. In fact, he was really good! But, in my opinion, didn't do enough for long enough in Phoenix to get this honor.)

#33 Alvan Adams

#34 Charles Barkley

#42 Connie Hawkins

#44 Paul Westhead
Before getting to my two suggestions, I do want to express my sympathies for Larry Nance. I wouldn't retire his number, but he has a better case than ole Tom Chambers. He was a better player in Phoenix than Chambers, but he won't have his number retired because the team had a mini-lull during much of Nance's time in the 1980s. They did reach the Western Conference Finals in 1984, but they also had the stupendous drug bust of 1987. Nance wasn't involved, but it kind of summed up the era. He played really well, but the team was sort of listless because his teammates underwhelmed or disappointed or got a caught with drugs.
Anyways, here's a comparison of Nance and Chambers as Suns and you tell me which of the two you'd run with…

Only thing Chambers had over Nance was teammates in their prime.
Sorry, that got unexpectedly personal with Chambers.
---
Jerseys to Retire
#31 Shawn Marion (1999-2008)
2x All-NBA 3rd Team—4x All-Star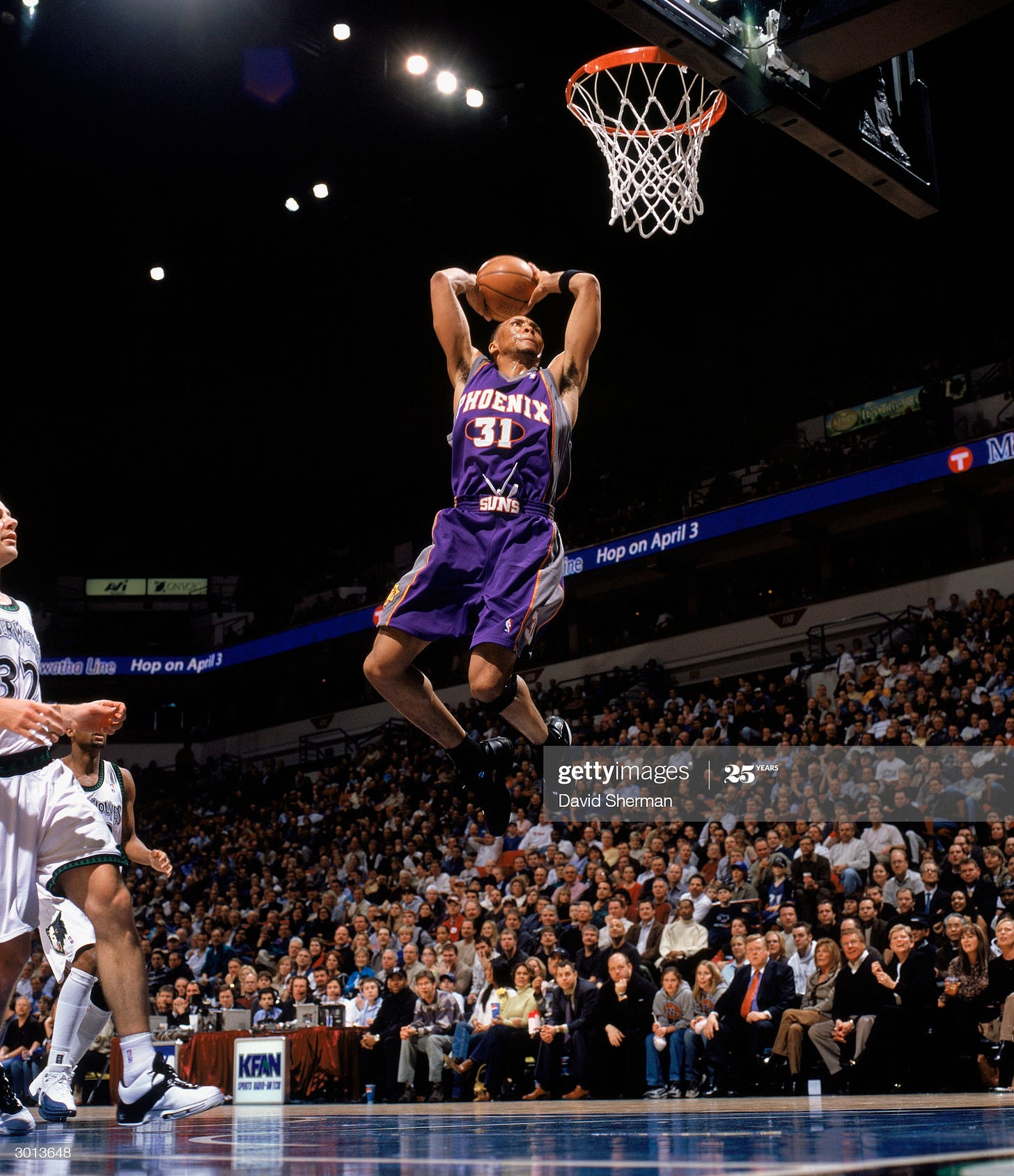 Shawn Marion is the most underrated star player of the 2000s.
Not sure if that's controversial, but that's right, I said it.
He was the defender who made Seven Seconds or Less possible because he could lock down players up and down the opposing roster. But Marion wasn't merely a product of Seven Seconds or Less. During his four seasons before Steve Nash showed up in Phoenix, Marion averaged 19.2 PPG, 9.9 RPG, 2.0 SPG, 1.2 BPG, .459 FG%, .360 3P%, and .839 FT%. And he was an All-Star in 2003.
Despite being one of the best defenders in NBA history, the versatile Marion never made an All-Defensive Team in his entire career.
THE BIGGEST LOAD OF BULLSHIT IN THE 21st CENTURY.
THAT'S RIGHT, I SAID IT AGAIN.
Marion's also the most underrated star in Phoenix history. He's the Suns' all-time leader in win shares, he's second in franchise history in minutes played, second in rebounds, second in steals, and third in blocks (just three behind Mark West for second place).
And when Phoenix decided to try and retool their roster it was Marion who was unceremoniously cast aside to acquire Shaquille O'Neal in 2008. Dumb move, but at least Marion got his by greatly contributing to a title winner in Dallas in 2011.
Something he could have done in Phoenix if not for some bad breaks and untimely suspensions.
Anyhoo, all hail the Matrix!
---
#1 Amar'e Stoudemire (2002-2010)
All-NBA 1st Team—3x All-NBA 2nd Team—5x All-Star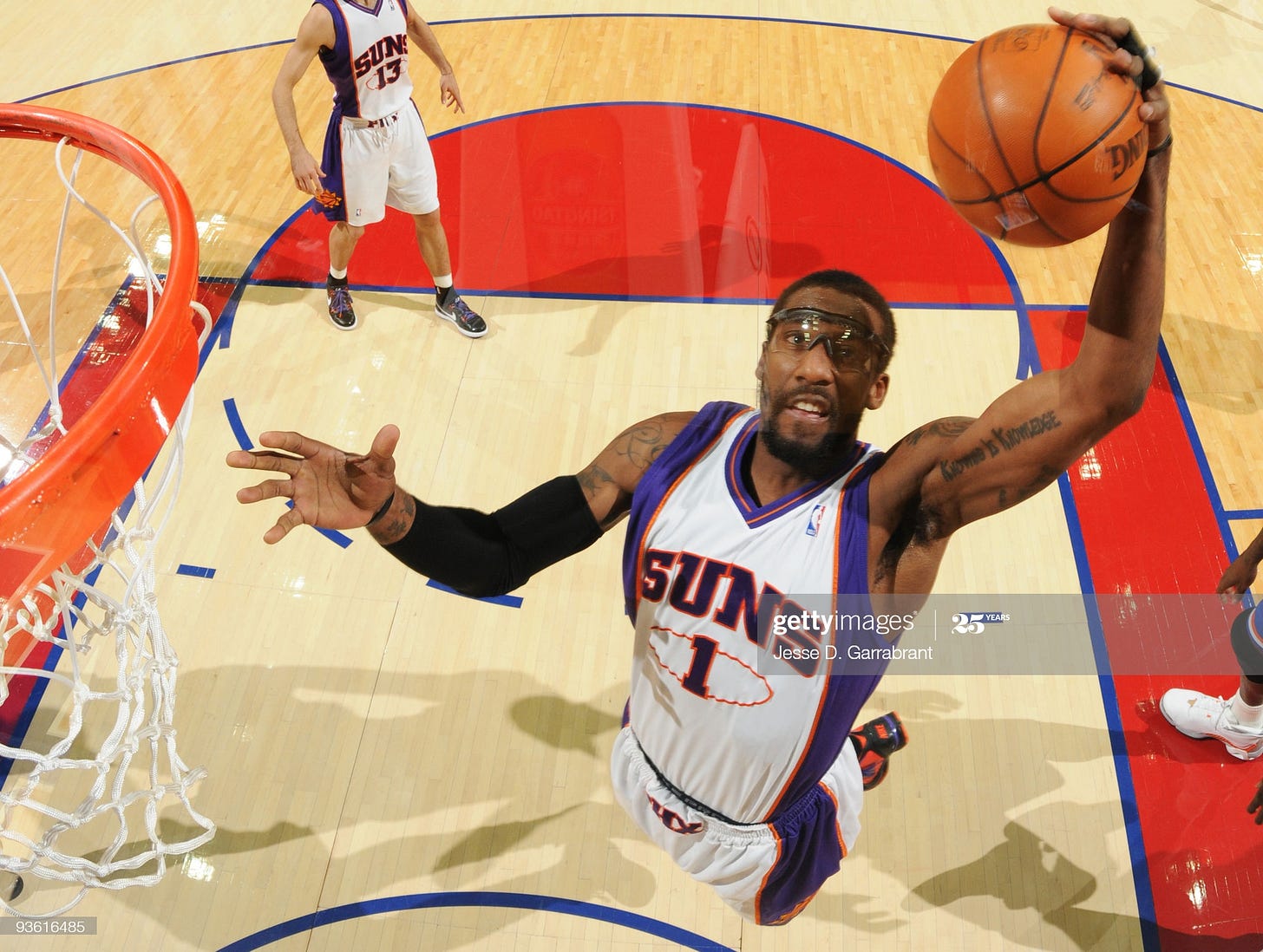 If Marion was underrated, I think Amar'e Stoudemire was a bit overrated. But only a bit. He didn't merit four combined All-NBA 1st/2nd Team appearances, but he was an offensive weapon of terrifying proportions, so I can see how he got the accolades.
Like his longtime teammate Marion, Stoudemire had some bona fides before Steve Nash showed up, but he was certainly juiced up by Nash's passing and pick-n-roll action.
In 2004, STAT averaged 20.6 PPG on .475 FG% with Stephon Marbury at point.
In 2005, STAT averaged 26.0 PPG on .559 FG% with Nash at point.
It's also true, though, that having Amar'e as a teammate made Nash better.
His defense was bleh, but the only thing that truly held Amar'e back were his knee injuries. Be glad "microfracture knee surgery" is a phrase not in the basketball lexicon anymore.
(Secretly replaces Tom Chambers's #24 with Larry Nance's #22)