RJP: Seattle SuperSonics
One Sweet Day...
The Retired Jersey Project Concludes! (Read this if you need to catch up on the rules.)
In this final installment of the Retired Jersey Project, we look at three players whose numbers should be hanging high and proud in Seattle, but… y'know… some bullshit happened and here we are.
*ruefully gazes off into the distance*
Before the bullshit, the SuperSonics retired the following numbers!
#1 Gus Williams

#10 Nate McMillan

#19 Lenny Wilkens

#24 Spencer Haywood

#32 Fred Brown

#43 Jack Sikma
---
JERSEYS TO RETIRE
#11 Detlef Schrempf (1993-1999)
All-NBA 3rd Team—2x All-Star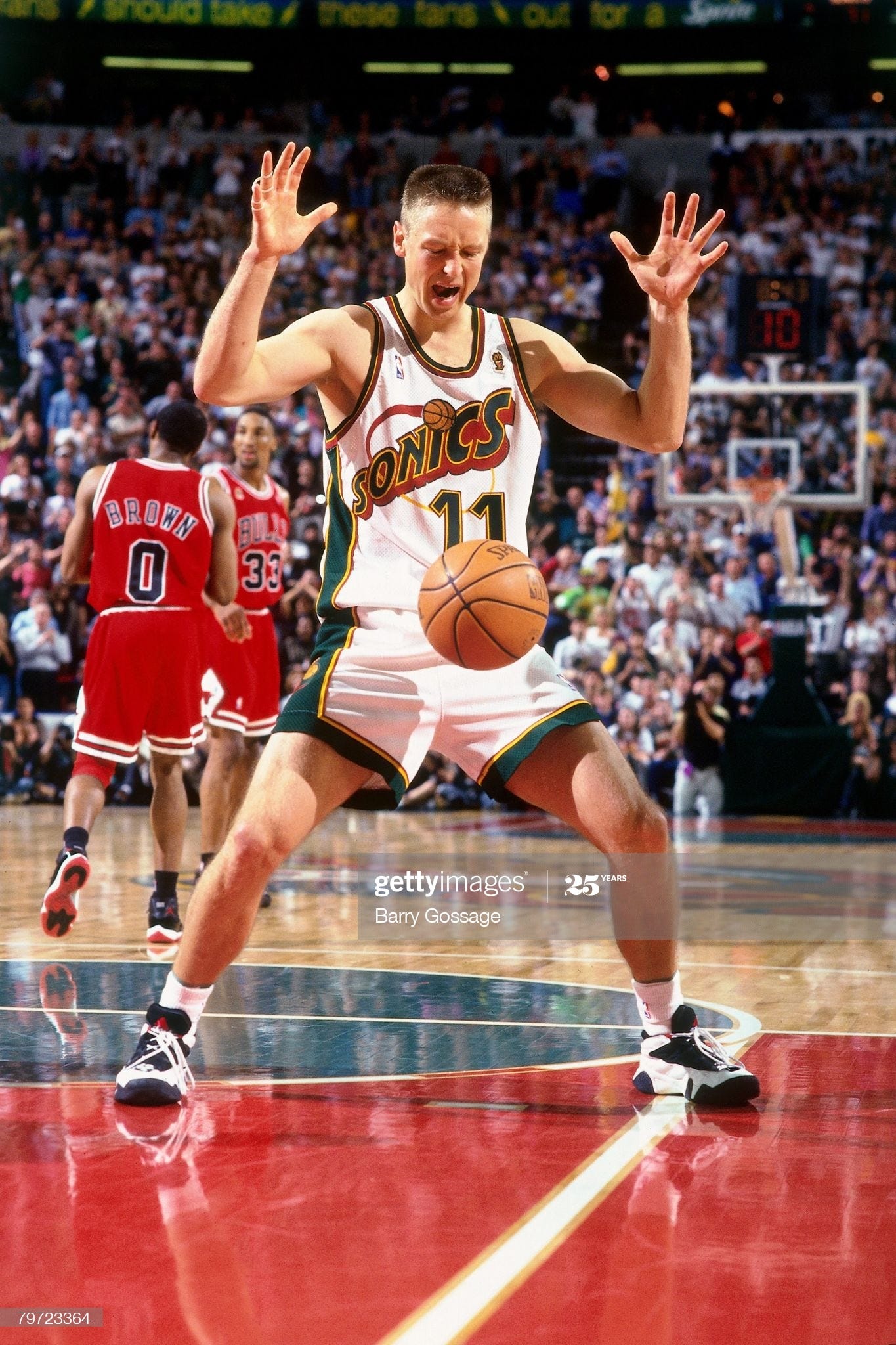 Acquiring Detlef Schrempf from the Indiana Pacers cost the Sonics dearly. They had to give up defensive ace Derrick McKey, who had played six seasons for Seattle.
Worth the price, though!
Detlef would play six seasons of his own in Seattle helping the team reach the NBA Finals in 1996, while he personally was named an All-Star twice and made the All-NBA 3rd Team in 1995.
Able to play either forward spot, Schrempf was one of the more versatile offensive players of his era. With the Pacers he had a season of 6.0 APG. Well, with the Sonics, Gary Payton and Nate McMillan were around at point, so the German-American forward didn't need to have that kind of play-making, but he was still an excellent facilitator chipping in heads-up ball movement on the regular.
Schrempf also helped usher in the era of stretch fours. In his eight seasons prior with Dallas and Indiana, Schrempf had gone 111-354 from three-point range. A .314 shooting clip.
In his six Seattle seasons, Schrempf bombed away with 340 made threes out of 822 attempts. A .414 shooting clip. Good stuff, if you ask me.
All said and done, the Sonics' third wheel to Payton and Shawn Kemp averaged 16.6 PPG, 6.3 RPG, 4.0 APG, .494 FG%, .414 3PT%, and .809 FT%.
Plus Detlef gets bonus points for graduating high school and college in Washington State.
Our dude bleeds emerald and gold!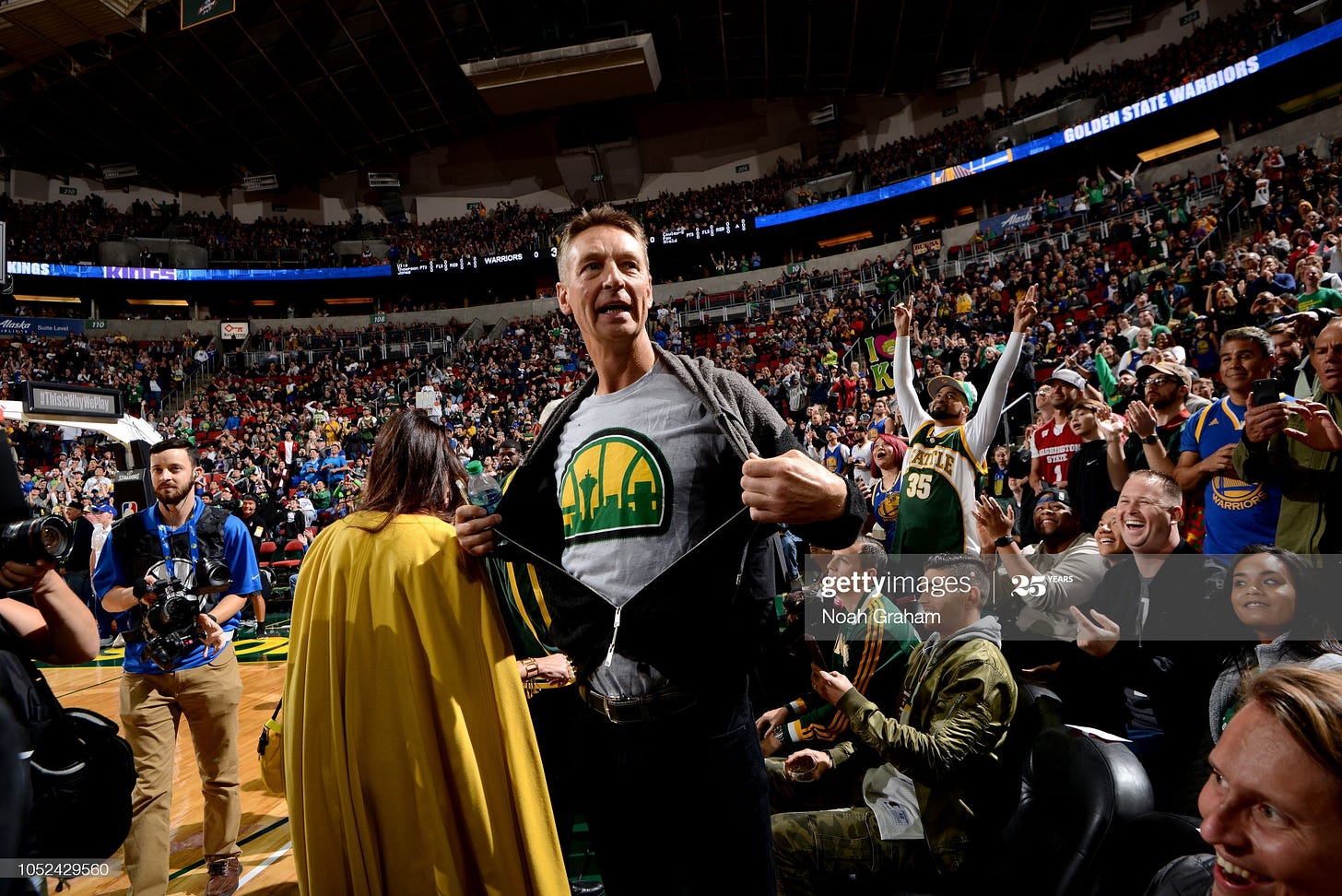 #20 Gary Payton (1990-2003)
Hall of Fame—Defensive Player of the Year—2x All-NBA 1st Team—5x All-NBA 2nd Team—2x All-NBA 3rd Team—9x All-Defensive 1st Team—9x All-Star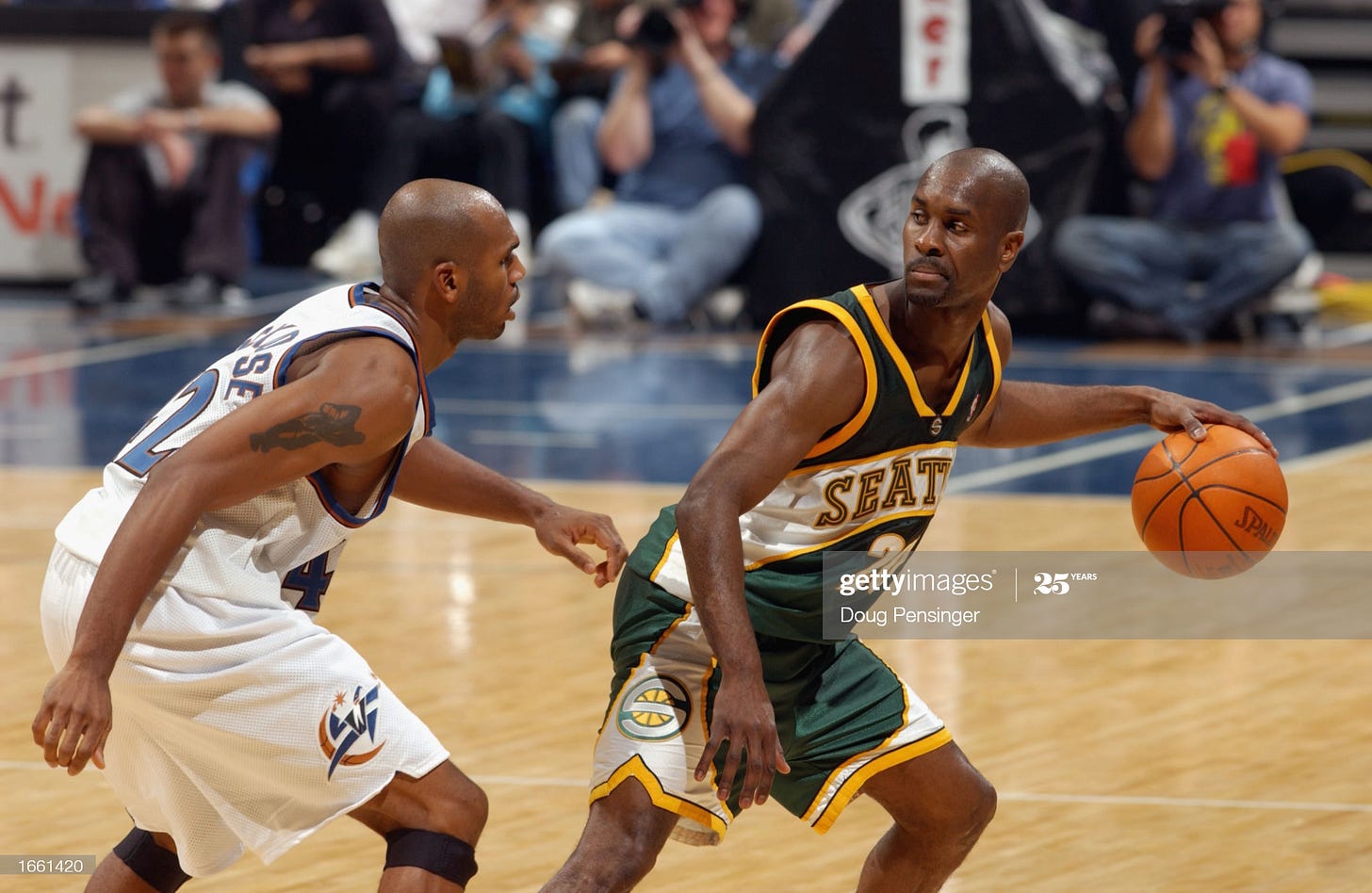 Gary Payton is not here for anybody's bullshit. Even you Jerry Stackhouse.
The best trash-talker in Sonics history is also the best defender in Sonics history is also the best player in Sonics history.
Well, debatable on whether he's the best, but he's definitely the most accomplished.
He's the franchise leader in games played (999, which sucks he couldn't get to 1000), minutes played, field goals made, assists, steals, points, and win shares. For good measure, he's also third in rebounds and third in free throws made.
The most amazing part of all that are the scoring numbers.
Payton came into the league averaging two steals per game, so defense was never a surprise or problem.
However, he went from just 7.2 PPG his rookie season (in 27.4 MPG mind you, so he had the playing time) to 24.2 PPG in 2000. That was one of seven times he'd end up averaging 20+ PPG in his career.
And something I don't think gets talked about enough for GP: the turnovers! Going back to that 2000 season of his, he averaged 24.2 PPG and 8.9 APG, so you know he was handling the ball a lot. Yet, he had just 2.7 turnovers a game.
Wanna know how wacky something like that is? Here's the list of players who've averaged 20+ PPG, 7+ APG and less than 3 turnovers per game in a season…
Did it once: Dana Barros, Baron Davis, Penny Hardaway, Tim Hardaway, Allen Iverson, Damian Lillard, Tony Parker, and Gus Williams.
Did it twice: LeBron James, Stephon Marbury, and Chris Paul.
DID IT SIX TIMES: Gary Payton.
#40 Shawn Kemp (1989-1997)
3x All-NBA 2nd Team—5x All-Star
Come on… do I really have to say anything about Shawn Kemp?
Just watch the damn highlights.