RJP: Utah Jazz and Oklahoma City Thunder
Don't worry, the Sonics are not included
The Retired Jersey Project is chugging along! (Read this if you need to catch up on the rules.)
Today we take some time out to look at two franchises that won't take that much time when it comes to suggested retired jerseys. The banners are another matter.
So, first we have the Oklahoma City Thunder. They have retired Nick Collison's #4 and that's it. And that's all there should be. As part of their deal stealing the Seattle SuperSonics, OKC left the history of Seattle in Seattle. So, we're saving Seattle for another day in this project.
---
As for the Utah Jazz, they have a quite a few retired jerseys. As far as players go, they're fine, but they did waste two numbers on non-players, something I am NOT a fan of.
#1 Frank Layden—longtime coach and executive. Love, love, love Layden, but have a banner of his laughing pudgy face instead.

#4 Adrian Dantley

#7 Pete Maravich

#9 Larry Miller—longtime owner. Have a dollar bill instead or something.

#12 John Stockton

#14 Jeff Hornacek

#32 Karl Malone—should be replaced with an unmailed child support check.

#35 Darrell Griffith

#53 Mark Eaton
Thankfully, Utah also has banners for Hot Rod Hundley and Jerry Sloan that do not utilize player numbers.
As for my suggestions for jersey retirement, I got none for OKC and just one for Utah. Then we'll hit some earlier pro teams in each market's history.
---
Jerseys to Retire
#47 Andrei Kirilenko (2001-2011)
All-Defensive 1st Team—2x All-Defensive 2nd Team—All-Star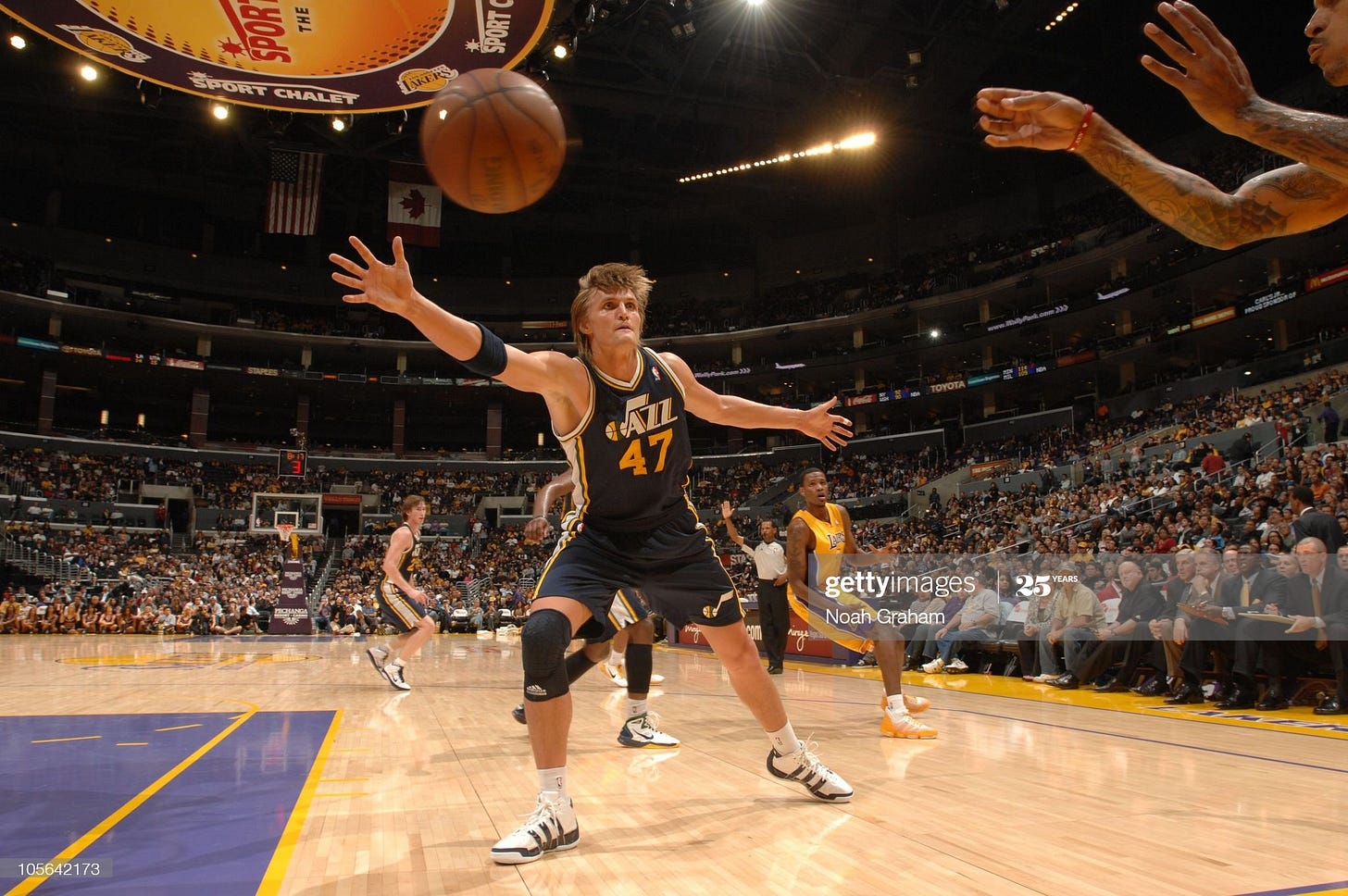 Andrei Kirilenko came along at a bad time in Jazz history. He suffered TWO losing seasons in his decade in Salt Lake. Given that Utah hadn't had a losing season since 1983 this was the pits.
Anyways, can't blame Kirilenko. And the Jazz did make the playoffs six times with him. The only reason it wasn't eight or nine as it should have been was because the Western Conference has been a murders' row in the 21st century, while crummy East teams walk into the postseason every year.
Sorry, sorry, tangential.
Kirilenko's calling card was defense. Since the Jazz have had a surprising amount of E-LEET defenders in their history, I'm just going to call AK47 the best defensive forward the franchise has ever had. The box score averages of 2.0 blocks and 1.4 steals per game from the 6'9" toothpick are a fairly good measure of the havoc he'd cause on that end of the court.
Now on offense he wasn't great in terms of creating his own shot, but this dude was clever and had vision. Knew how to cut for alley oop dunks in the halfcourt. Knew how to run the break for more jams. Knew how to catch a pass and INSTANTLY flick it to a teammate who was open. And that flick could be a between-the-legs bounce pass, a wrap around slingshot pass, or some other wacky shit. Whatever got the ball to the open man.
For being a jack-of-all-trades forward and the definitive Jazz player for a decade, get Kirlienko's #47 in the rafters. Who else you gonna choose to define that era of Utah basketball? Carlos Boozer? Deron Williams? I think not.
---
STOP! Banner Time
Utah Stars (1970-1975)
This delightful ABA franchise began life as the Anaheim Amigos (top-tier name) and then became the Los Angeles Stars for two seasons before an extremely successful tenure as the Utah Stars before sadly folding in financial distress in 1975.
The Stars won the ABA title in 1971 and reached the Finals again in 1974. Their seasons in Utah were ridiculously good.
1971: 57 wins
1972: 60 wins
1973: 55 wins
1974: 51 wins
Only in 1975 did they show signs of decline dropping to 38 wins as they began trading off their Big Three players that had given them such success. Early in the 1975-76 season they folded after just 16 games.
Anyways, the players to honor on a banner are pretty easy. It's that Big Three of Willie Wise, Ron Boone, and Zelmo Beaty that led Utah to the ABA title in 1971.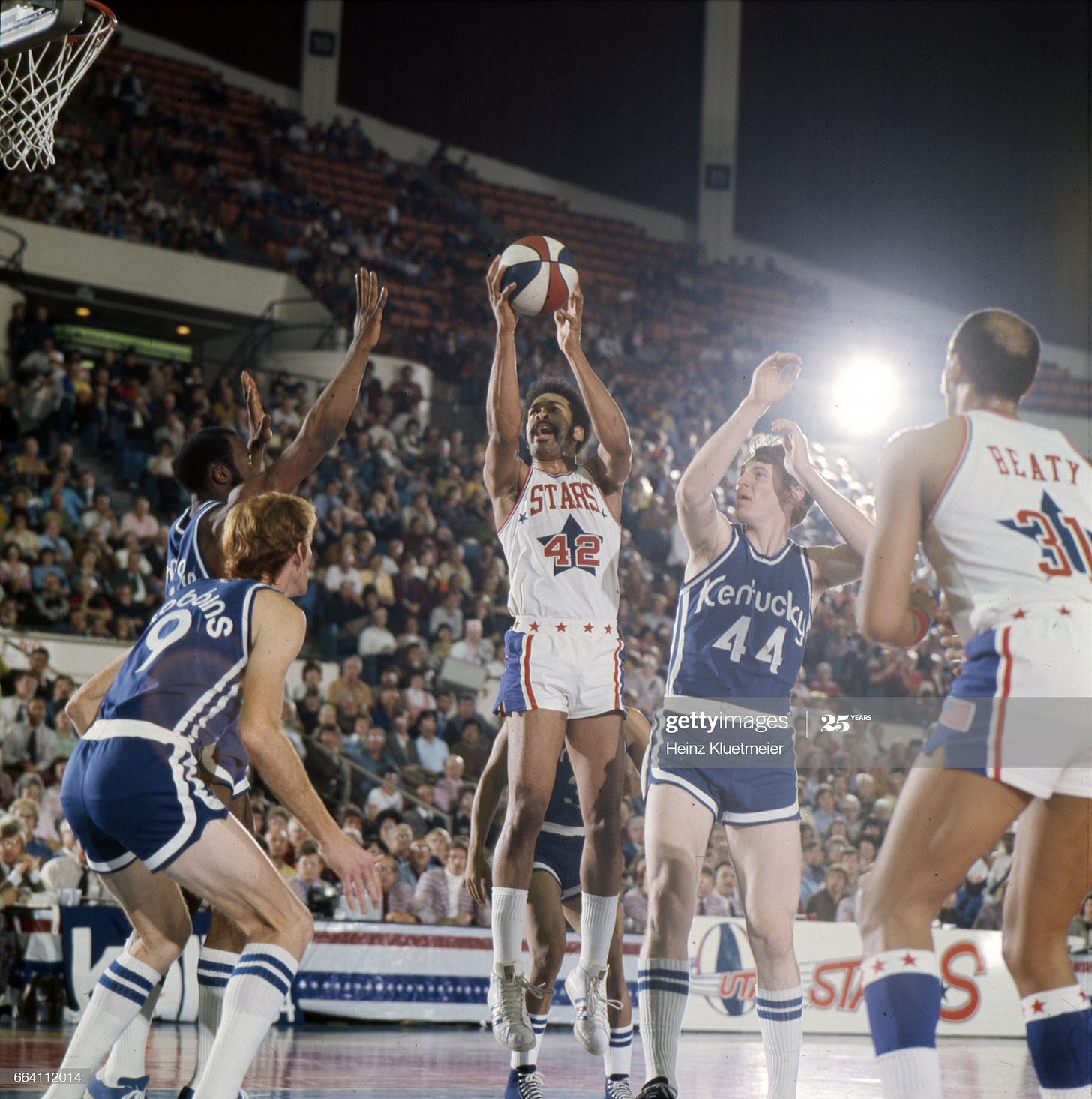 #24 Ron Boone (1971-1975)—All-ABA 1st Team; All-ABA 2nd Team; 3x All-Star. Boone was acquired midway through the 1970-71 season and gave the Stars another outstanding player. This 6'2" guard passed and rebounded well for someone his size, but his calling card was buckets, topping off at 25.2 PPG in the 1975 season.
Actually, his real calling card was durability as he played in 1041 straight games in his ABA/NBA career. And! The end of his career came with the Utah Jazz making him the only player to suit up for the Stars and Jazz in Utah.
#31 Zelmo Beaty (1970-1974)—Hall of Fame; ABA Playoffs MVP; 2x All-ABA 2nd Team; 3x All-Star. Already an NBA All-Star, Beaty jumped to the ABA and was the focal point of the Stars as they won the ABA title in 1971. That season, the 31-year-old center averaged 22.9 PPG, 15.7 RPG, and .555 FG%.
Beaty was never quite that good again due to age and his knees giving him trouble, but who cares? Without him, Utah pro hoops wouldn't have its crowning title achievement. Besides he did get 19.1 PPG and 11.6 RPG overall during his four seasons in Utah. The best center Utah's ever seen in the NBA or ABA.
#42 Willie Wise (1970-1974)—2x All-ABA 2nd Team; 2x All-Defensive 1st Team; 3x All-Star; also played a season with the LA Stars. Wise was the pre-eminent defensive forward in the ABA before Bobby Jones took the crown in the mid-1970s. Wise was also a damn good offensive player averaging 19.7 PPG for the Stars.
And he was a beast in the 1971 ABA Finals: 25.3 PPG, 16.4 RPG, 4.4 APG, and 57.1% FG. Hows about that for a statline?
---
AND NOW A MUSING
New Orleans/Oklahoma City Hornets (2005-2007)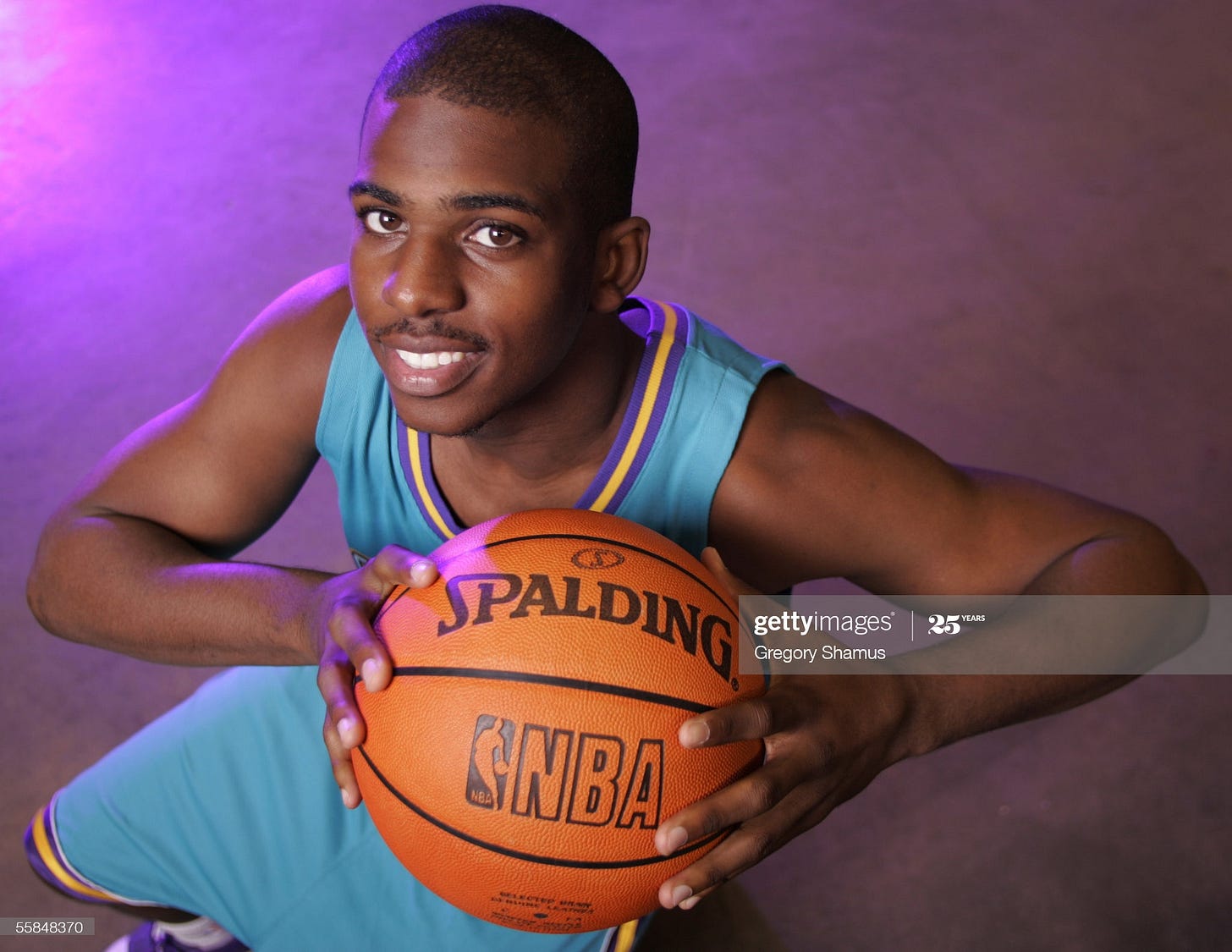 After the horrific devastation that Hurricane Katrina left upon New Orleans, the Hornets temporarily called Oklahoma City their main home. Truthfully, I think the franchise should have just stayed in OKC instead of returning to New Orleans. Katrina was such a catastrophic fuck up that was generations in the making by state/federal government and society that Louisiana should have focused its time and effort on rebuilding a better city and not on tossing taxpayer money at the Hornets to stay.
At least New Orleans' public school system has been taken over by undemocratic charter schools now even as the Hornets (now Pelicans) got money to grease the wheels of their stay in the Big Easy.
And don't forget the NBA had to buy the team from ole broke-ass George Shinn in the first place. Again, shoulda just left them in OKC.
As for OKC, the Hornets' little stint proved that they could host an NBA franchise. Instead of doing the slightly painful, but probably judicious, act of letting the Hornets stay in Oklahoma, the NBA had the team go back to NOLA. This was part of the ugly train of events that led to the long-established Seattle SuperSonics being pilfered after government officials up there dared to think twice about how to wisely spend public money.
Let that be lesson to you all on how to properly spend government money. If the NBA says "jump," you just ask "how high?"
Anyways, if Chris Paul finishes his career with the Oklahoma City Thunder, it'd be quite righteous to have his #3 retired in OKC for the Thunder/Hornet connection. A sneaky legacy for the Point God.