RJP: Washington Wizards
Plus the Toronto Raptors
The Retired Jersey Project keeps on rolling! (Read this if you need to catch up on the rules.)
Today we're focusing on the Cesspool on the Potomac!
But first a tiny word on the Toronto Raptors, Lake Ontario's cesspool. Their jersey retirement conversation at this point begins and ends with Vince Carter. Once Air Canada officially retires and once Toronto hangs his #15 from the Air Canada Centre's rafters, we can start talking about Chris Bosh or whomever.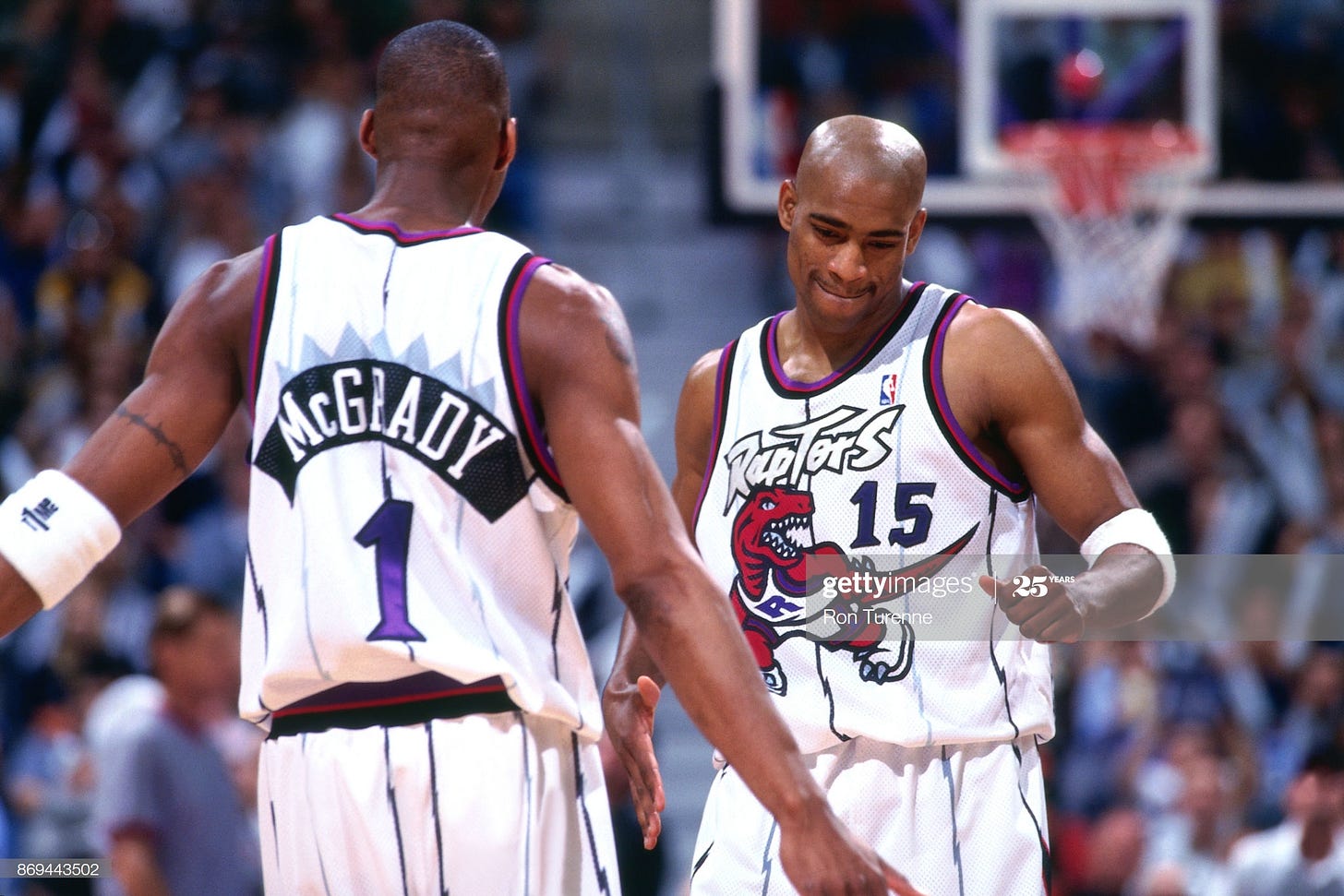 Now back to the Washington NBA Basketball Team!
This franchise has a convoluted origin that I will save for another article, but just know they were originally the Chicago Packers/Zephyrs in 1961, moved to Baltimore and became the Bullets in 1963, then took up the stupid moniker Capital Bullets for one season (1973-74) before finally settling on Washington Bullets in 1974. Then in 1997 they adopted the awful "Wizards" name.
This crazy franchise has retired just five numbers.
#10 Earl Monroe

#11 Elvin Hayes

#25 Gus Johnson

#41 Wes Unseld

#45 Phil Chenier
Today I'm adding two players to the list.
The trio of Gilbert Arenas, Caron Butler, and Antawn Jamison were considered. However, Arenas being Arenas really makes it hard to give him this prestigious honor. As for Butler and Jamison, I think they finish below the threshold. Also shout out to the departed Greg Ballard.
Plus we've got a banner (or perhaps a quilt given how insane the region's basketball history is) to hang up honoring the other BAA, NBA, and ABA franchises that set up in the DC-Baltimore area.
As usual, stats and info listed here pertain to a player's time with the relevant franchises.
---
Jerseys to Retire
#8 Walt Bellamy (1961-1965)
Hall of Fame—4x All-Star—Rookie of the Year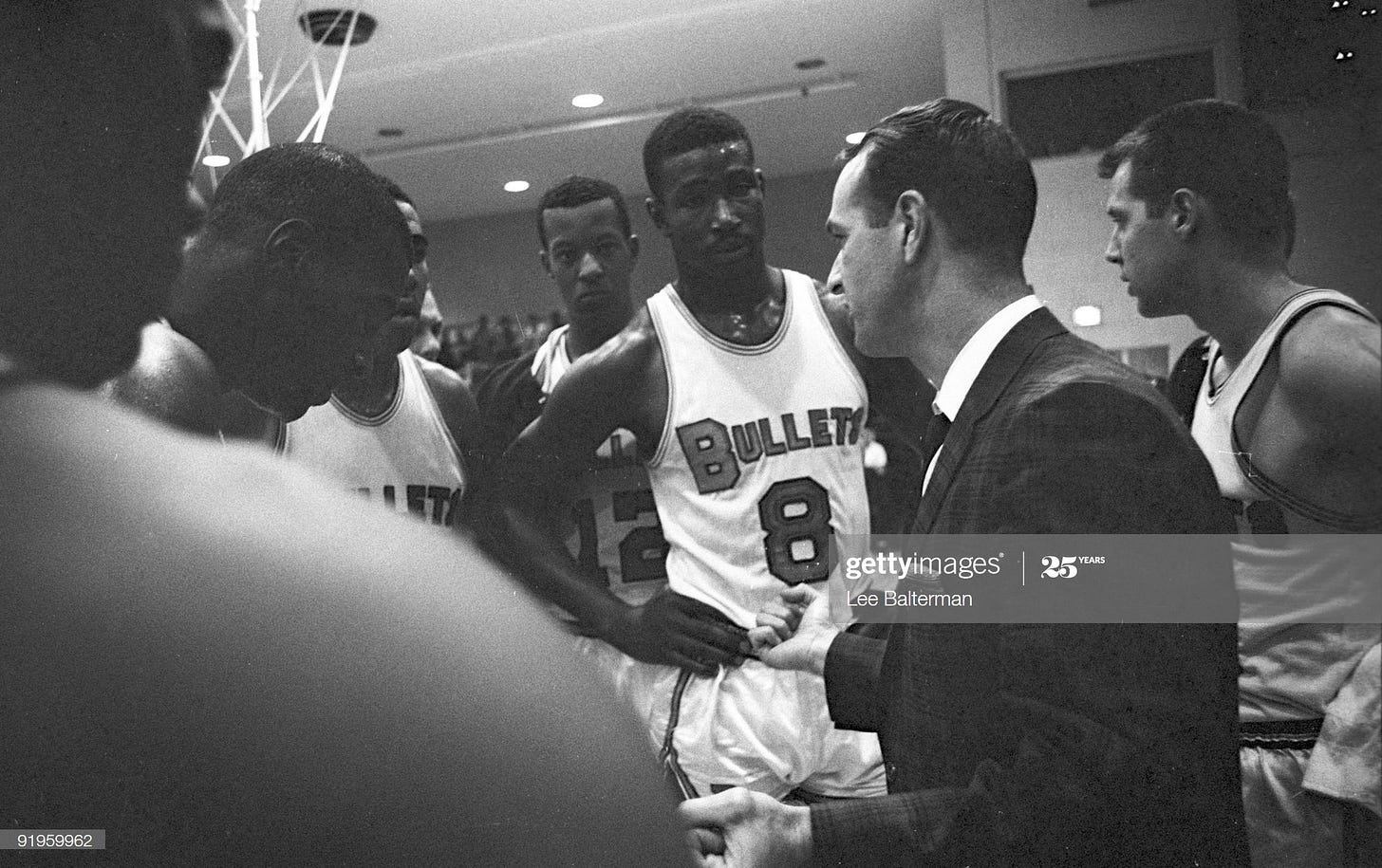 I've written before how Walt Bellamy was a supremely talented center, who had the misfortune of joining the NBA's first expansion team. All the great centers of the 1960s (Bill Russell, Wilt Chamberlain, Nate Thurmond, Willis Reed, Wayne Embry, etc.) had the benefit of joining established clubs with at least good, and usually great, teammates.
Bellamy was saddled with an expansion roster in 1961-62 meaning his teammates were the castoffs other clubs didn't think were good enough to hold on to.
Unsurprisingly, the franchise won just 18 games in Bellamy's rookie season where he averaged 31.6 PPG and 19.0 RPG. Plus a then-record of .519 FG%. Despite being 6'11", Bellamy could roam the court well and was noted for his outside jumper and ferocious dunks. You didn't see these type of moves too often back in 1962.
The franchise undeniably improved over time. From 18 wins in 1962 to 25 in 1963 to 31 in 1964 to 37 in 1965. Incremental but routine, demonstrable progress behind Bells & co.
In the 1965 season, the Baltimore Bullets made the playoffs for the first time and upset the 45-win St. Louis Hawks. The team actually had a pretty good roster by this point to augment Bellamy.
But in the Western Division Finals…
*checks notes* Western Division? Are we sure about that? Baltimore was in the West?!
Anyways, but in the Western Division Finals, Baltimore lost a tough six-game series to the Los Angeles Lakers. Bellamy was great averaging 22.5 PPG, 15.2 RPG, and 4.3 APG. However, Jerry West had the best series of his NBA career averaging 46.3 PPG, 6.8 APG, and 5.8 RPG. (Ed. Note: HOLY SHIT.)
Thus Baltimore prematurely gave up on Bells, IMO,for what was essentially a cash dump to the New York Knicks early in the 1965-66 season. So, Bellamy never led the team to true greatness, but he got them incredibly close to the NBA Finals in 1965.
Plus he's still the franchise's leader in average PPG (27.6) and RPG (16.6). And despite just those four seasons, he's third in franchise history in win shares behind the stalwart duo of Wes Unseld and Elvin Hayes.
#10 Bob Dandridge (1977-1981)
All-NBA 2nd Team—All-Defensive 1st Team—All-Star—Champion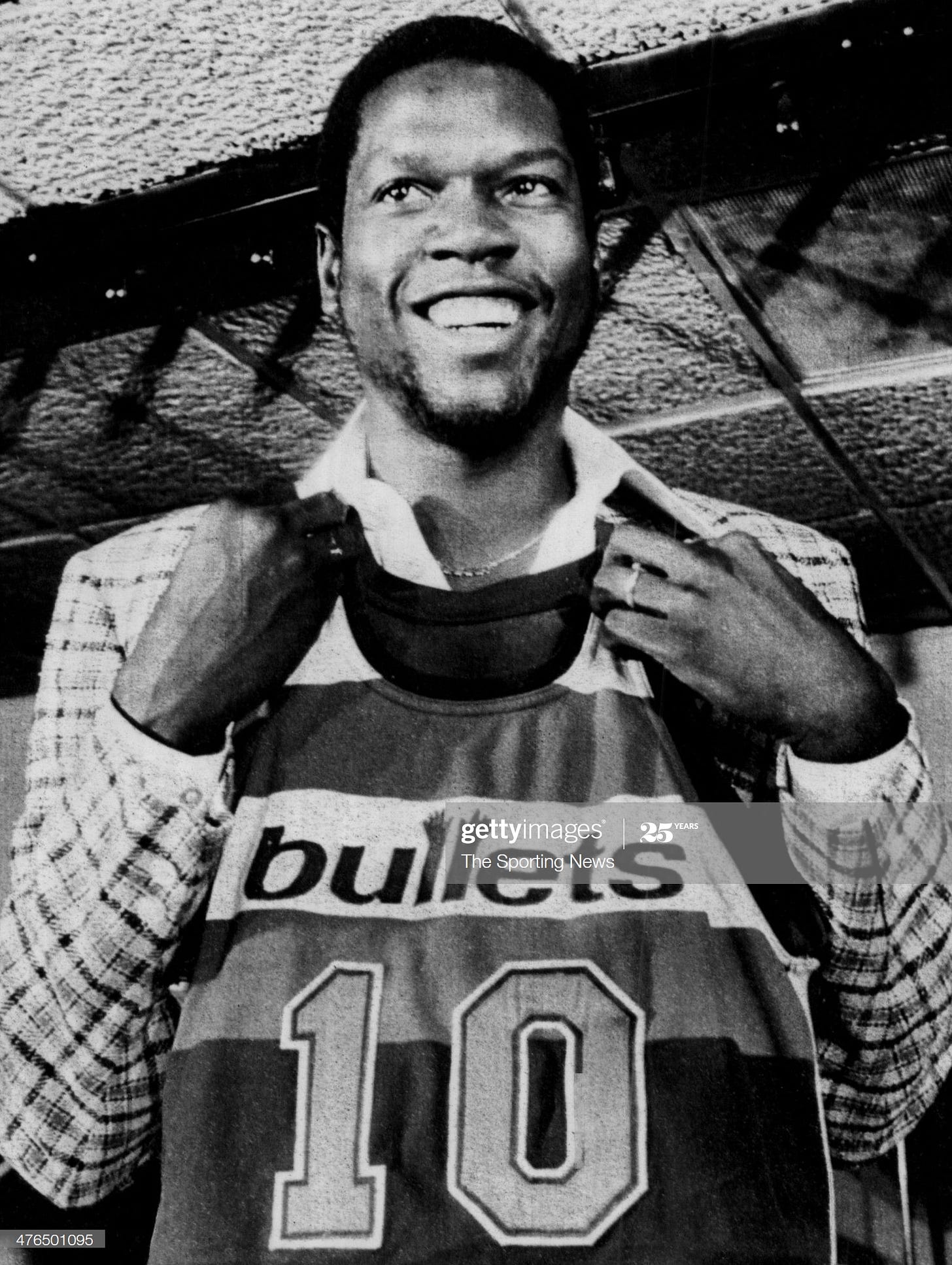 Practically speaking, Bob Dandridge really played two season with the Bullets: 1977-78 and 1978-79. His other two seasons (1979-80 and 1980-81) were injury-riddled and he only appeared in 68 games combined those two years.
However, you'll notice that he's an NBA champion with the Bullets. Indeed, if it weren't for his acquisition in 1977 as a free agent, Washington would be ringless.
The small forward provided everything the Bullets had been missing for years. An excellent wing defender, a clutch scorer from the perimeter, and a secondary play-maker.
During his two great Washington seasons, Dandridge averaged 19.9 PPG, 5.8 RPG, and 4.3 APG during the regular season. In the playoffs, he upped the ante those years to 22.1 PPG, 6.9 RPG, and 4.7 APG.
In Game 7 of the 1978 Finals, a particularly ugly defensive affair, Dandridge led Washington to the championship with 19 points on 7-18 FGs as Elvin Hayes played just 30 minutes before fouling out. If you think Dandridge's shooting was subpar, you should see the other guy. Bobby D and the Bullets' cadre of pesky wing/perimeter defenders held Seattle's Dennis Johnson to 0-14 shooting and Gus Williams to 4-12 shooting.
Dandridge was even better in the 1979 playoffs. In Game 7 of the ECSF versus Atlanta, Dandridge dropped 29 points, 10 rebounds, and eight assists on the Hawks. In Game 7 of the Eastern Conference Finals versus San Antonio…
*checks notes* Eastern Conference? Are we sure about that? San Antonio was in the East?!
Anyways, in the Eastern Conference Finals, Dandridge let loose with 37 points, nine rebounds, and five assists. His fading jump shot in the final moments cemented Washington's comeback from a 3-1 series deficit and sent them back to the Finals.
However, this time around, Seattle got the better of the Bullets. Dandridge played almost every minute of the series and led Washington in scoring and assists, but the SuperSonics won the five-game series.
So, yeah, Bobby D didn't play a long time with Washington, but he put in a lot of work in that brief period that brought Washington to its pinnacle of franchise success. Jersey retirement worthy, if you ask me. Especially for this franchise.
---
STOP! Banner Time
The District of Columbia and Baltimore have had a bevvy of pro teams come and go, so we're keeping descriptions as brief as possible. Here are some teams broadly associated with the NBA that deserve some acknowledgement from the Wizards.
Washington Bears (barnstormers)
This all-black squad was assembled during World War II and featured some of the best New York Renaissance players. They captured the World Professional Basketball Tournament in 1943, the greatest honor in basketball at the time. Everyone on the 1943 title team deserves banner inclusion.
Hal Jackson—manager

Abe Lichtman—financial backer
Players
Clarence "Puggy" Bell—oughta be in the Hall of Fame

Jackie Bethards

Zack Clayton—Hall of Fame

Charles "Tarzan" Cooper—Hall of Fame

William "Pop" Gates—Hall of Fame

Johnny Isaacs—Hall of Fame

Charlie Isles

William "Dolly" King—oughta be in the Hall of Fame

Sonny Wood
Washington Capitols (BAA/NBA)
Members of the BAA and then NBA from 1946 to 1951. Had the best regular season record during the 1946-47 BAA season and lost in the 1949 BAA Finals. Folded midway through the 1951 NBA season.
Michael Uline—owner and founder

Red Auerbach—coach of the Caps during their first three seasons.

Earl Lloyd (1950)—first black player to appear in an NBA game. Not sure what number he wore with the Caps. Played just seven games before he was drafted by the Army. The franchise folded a few games later anyways. He's also from Alexandria, Virginia, right next to DC.

#10 Bob Feerick (1946-1950)—2x All-BAA 1st Team; All-BAA 2nd Team

#17 Bones McKinney (1946-1951)—All-BAA 1st Team; All-BAA 2nd Team

#20 Fred Scolari (1946-51)—2x All-BAA 2nd Team
Baltimore Bullets (ABL/BAA/NBA)
This is for the original Baltimore Bullets that played in the American Basketball League, BAA, and NBA from 1944 to 1954. In 1946, they won the ABL's championship, then in 1947-48, their first season in the BAA, they captured that league's title. They folded early in the 1954-55 NBA season.
#6 Buddy Jeannette (1946-1950)—Hall of Fame; BAA Champion; All-BAA 2nd Team

#11 Connie Simmons (1948-1949)—BAA Champion

#17 Don Barksdale (1951-1953)—Hall of Fame; first black NBA All-Star

#20 Fred Scolari (1951-1953)—2x All-Star

#25 Ray Felix (1953-1954)—All-Star; Rookie of the Year; first black NBA player to win a major award
Washington Capitols (ABA)
This ramshackle operation became the Virginia Squires after one season (1969-1970). Not really worth remembering with a full-fledged banner sadly. Most famous for Rick Barry insulting the commonwealth of Virginia when he learned the club was moving there.