RJP: Milwaukee Bucks
Exercising Some Self-Restraint
The Retired Jersey Project keeps on rolling! (Read this if you need to catch up on the rules.)
Growing up, the Milwaukee Bucks were my favorite franchise, besides me hometown Houston Rockets. Loved their jerseys, loved their players, loved the awkwardly fun sound of "Milwaukee."
They've retired quite a few jerseys.
#1 Oscar Robertson

#2 Junior Bridgeman

#4 Sidney Moncrief

#8 Marques Johnson

#10 Bob Dandridge

#14 Jon McGlocklin

#16 Bob Lanier

#32 Brian Winters

#33 Kareem Abdul-Jabbar
So looking at their players who need jersey retiring is a solemn task I take with the utmost seriousness… and y'all, I'm torn up on what to do. There's some personal favorite Bucks of mine (Glenn Robinson, Michael Redd, Sam Cassell) that I want to see honored, but then I ask myself, "Am I letting my verdant-colored glasses alter my judgment too much?"
So, I'm going to veer on the side of caution with this one. I'm recommending three players. And only three. But I'm curious what y'all think about the people I've ultimately left off.
Also, we've got a banner to honor Wisconsin's two entries in the NBL back in the 1930s and 1940s that established the Badger State as a basketball hotbed.
(As usual all stats unless otherwise mentioned pertain to time as Bucks.)
---
#25 Paul Pressey (1982-1990)
2x All-Defensive 1st Team—All-Defensive 2nd Team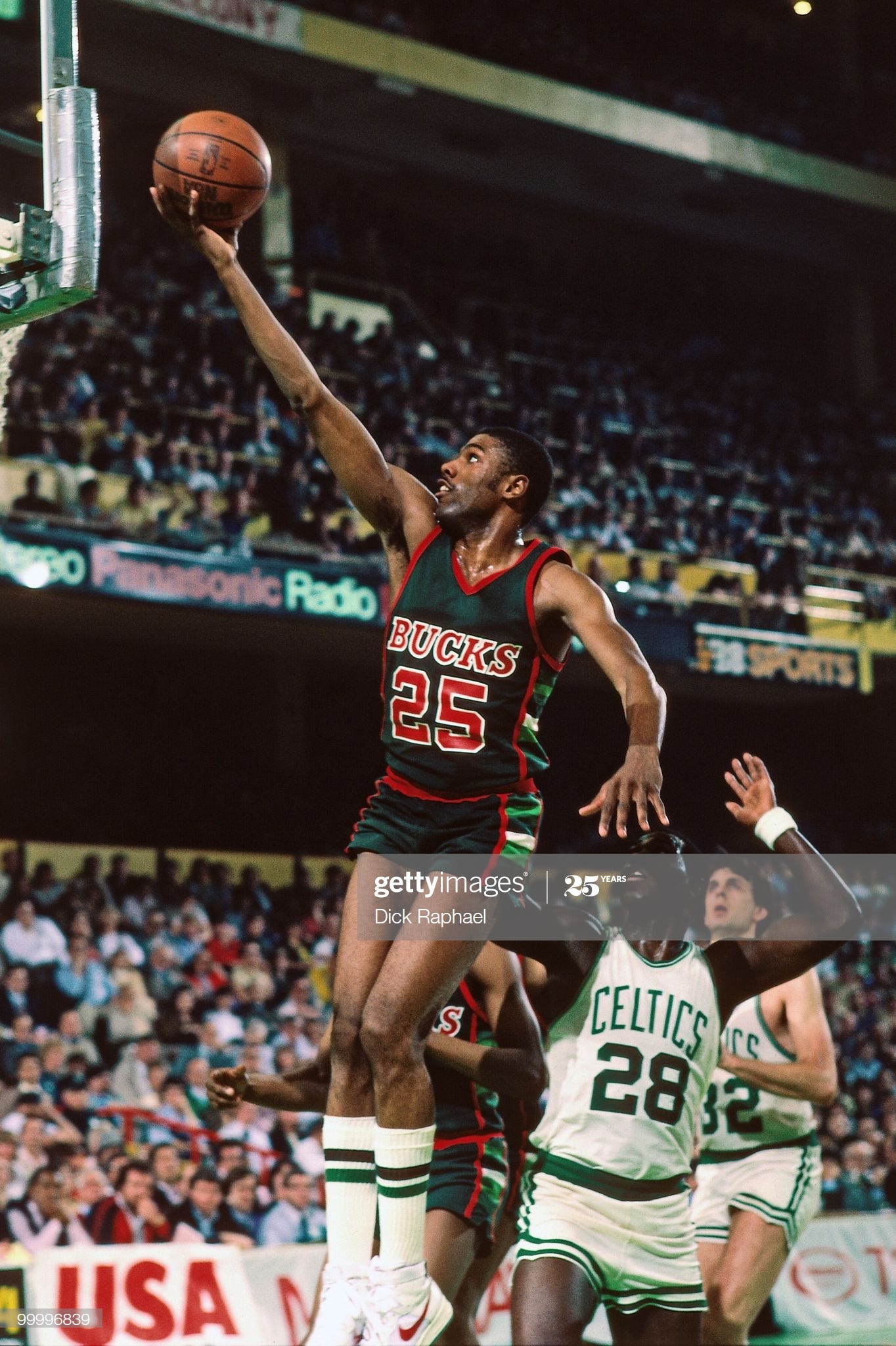 Paul Pressey is one of the best defenders and one of the best point forwards in NBA history. The 6'5" wingman had terrifyingly long arms and a mental acumen to match when it came to disrupting defenses. As you can see from his accolades, he did make the All-Defensive 1st Team twice, but honestly, he was good enough to earn that honor five consecutive seasons. I mean, can you imagine being an opponent and realizing you got Sidney Moncrief and Pressey lined up to pressure your squad?
And that's just the defense.
On offense, Pressey's game reminds me of a combo Magic Johnson and Earl Monroe. He seemed to never dribble in a straight line when working toward the basket, instead employing a constant maneuvering of twists and turns like Earl the Pearl. And of course with his height, Pressey could summon some of the wizardry of Johnson, albeit some of the wizardry. I'm not arguing he was out here dishing just like Magic. But he surveyed the court with a similar eagle's eye using his height and size to shield off defenders.
During his five years as a starter, Pressey clocked 14.0 PPG, 7.1 APG, 4.9 RPG, 1.8 SPG, and 0.7 BPG. And as mentioned already, easily could have been All-Defensive 1st Team each of those seasons.
---
#34 Ray Allen (1996-2003)
All-NBA 3rd Team—3x All-Star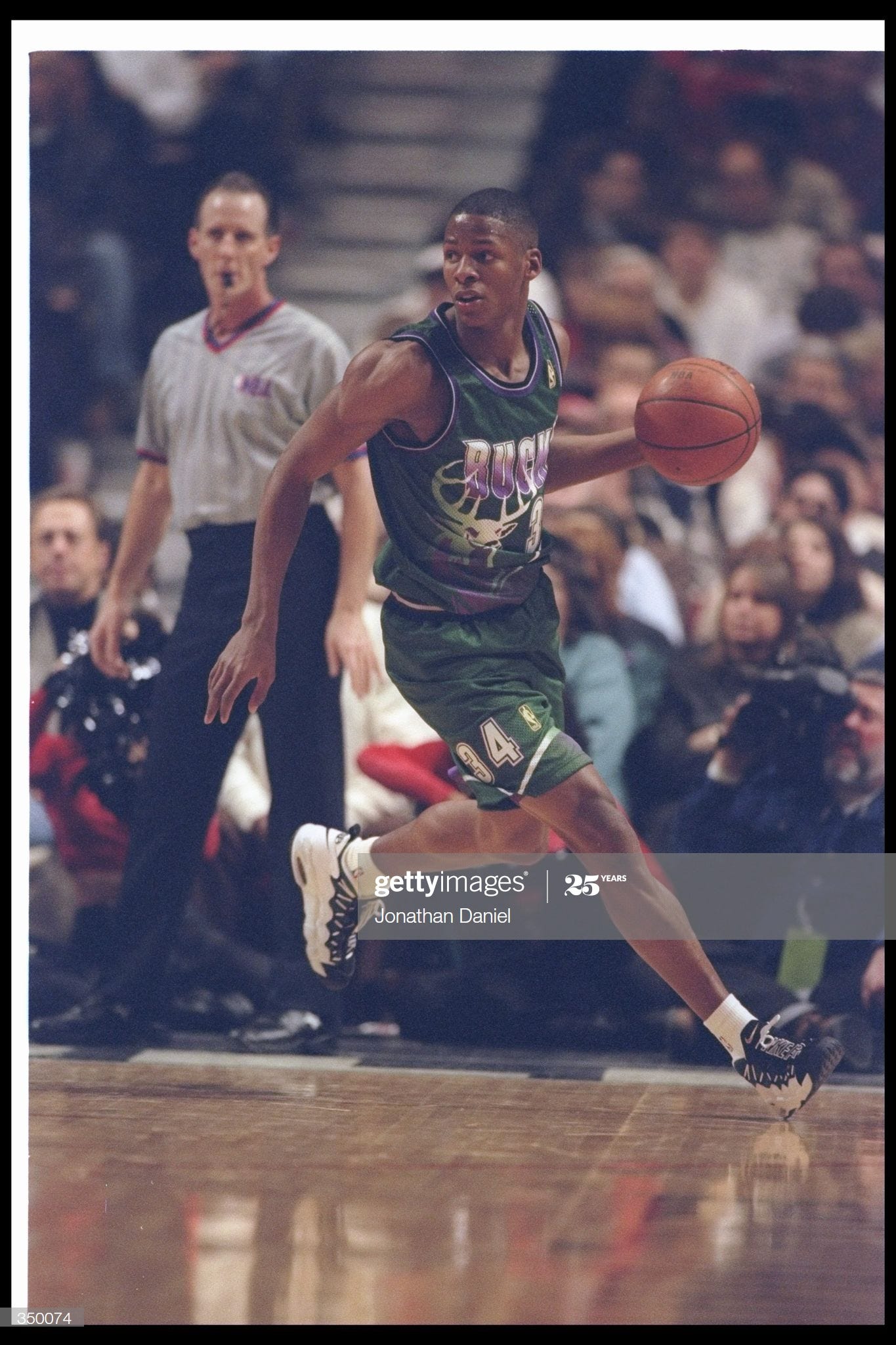 For the first time in franchise history, the Bucks endured an extended rebuild in the mid-1990s. Vin Baker and Glenn Robinson got the process started, while Ray Allen consummated the end of that era.
As I'm sure most of you know, Allen had one of the best jump shots to ever grace a basketball court. However, during his Milwaukee years, he also had that bounce. He was a fantastic attacker off the dribble and could throw down some heinous dunks on people. If you only saw Allen during his Boston and Miami years, you missed out on some excitement.
The trio of Allen-Robinson-Baker morphed into Allen-Robinson-Sam Cassell by 2000 and Milwaukee reached the playoffs for the first time in nearly a decade. The 42-40 Bucks nearly toppled the #1 seed Indiana Pacers. They lost the do-or-die Game 5 by a score of 96-95.
In 2001, the Bucks nearly reached the Finals losing in seven games in the Eastern Conference Finals. I'm not here to litigate anything, but the refs did have some baaaaaaad calls that series.
Anyhoo, nagging injuries limited the Bucks' ability to challenge for the title again. By 2003 Allen was gone off to Seattle via trade.
NOTE: It hurts my insides to not call Glenn Robinson a lock, but he just wasn't as good as Allen. But if he had his number retired, I sure wouldn't complain! Same for Sam Cassell. I loved that brief but awesome Big Dog - Shuttlesworth - Sam I Am trio.
---
#34 Terry Cummings (1984-1989; 1995-1996)
All-NBA 2nd Team—All-NBA 3rd Team—2x All-Star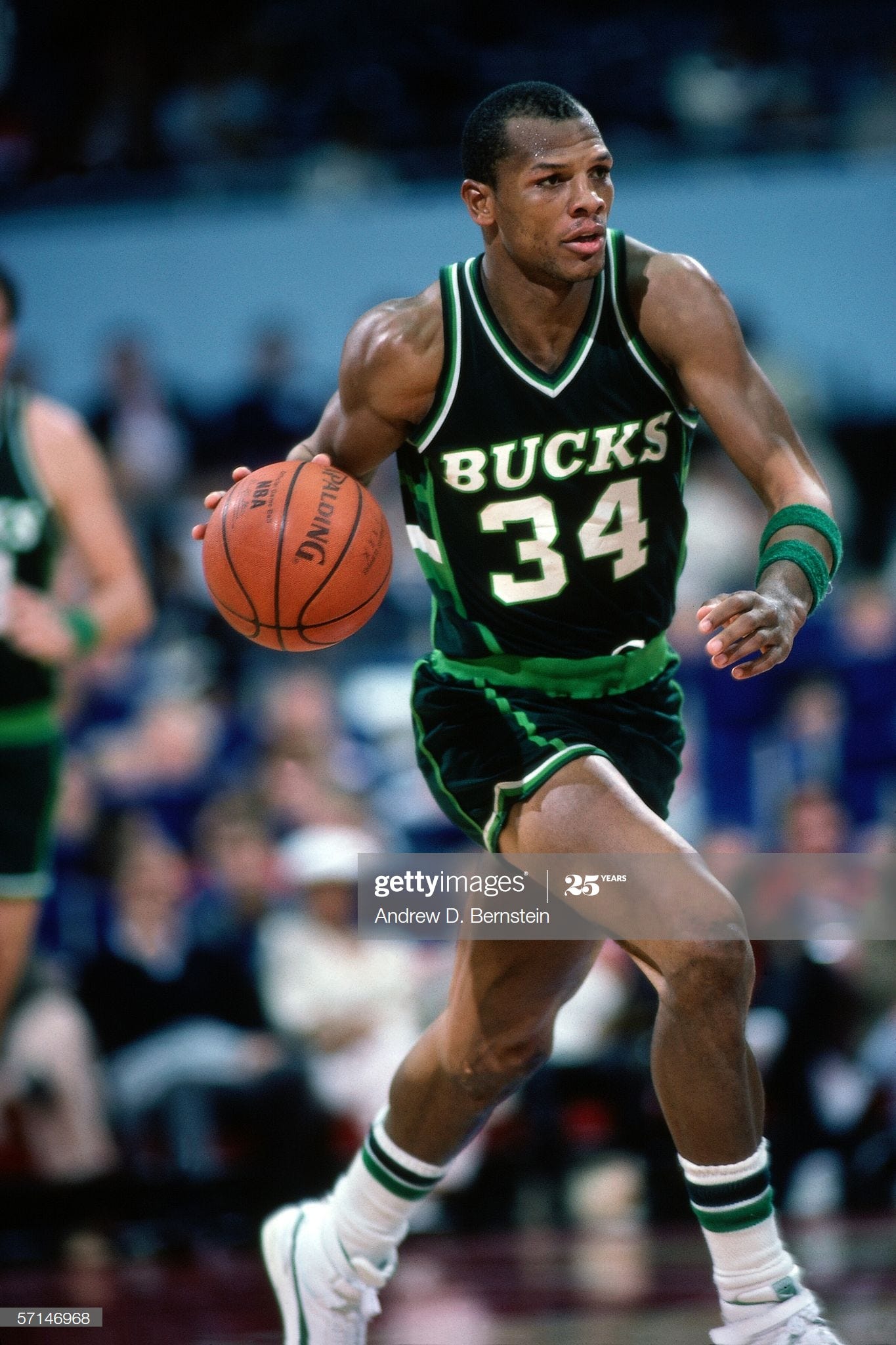 If you somehow missed it, I've written a lot about Terry Cummings in this newsletter.
The two most relevant articles for this space:
What I didn't mention in those articles is that Cummings did have a return season in Milwaukee in 1995-96, which was easily his best post-ACL tear season. Maybe, I'll write about that sometime soon…
In any case, gonna be hilarious when the Bucks eventually have three players retired for #34: Cummings, Allen, and Giannis Antetokounmpo.
---
Al Jarreau!
Even Milwaukee native Al Jarreau was all about that mean green.
---
STOP! Banner Time
The Bucks weren't Wisconsin's first foray into what is now the NBA. In fact, the state had two of the proudest franchise's in basketball's history: the extremely awesome Oshkosh All-Stars and the unfortunately named Sheboygan Redskins.
Oshkosh All-Stars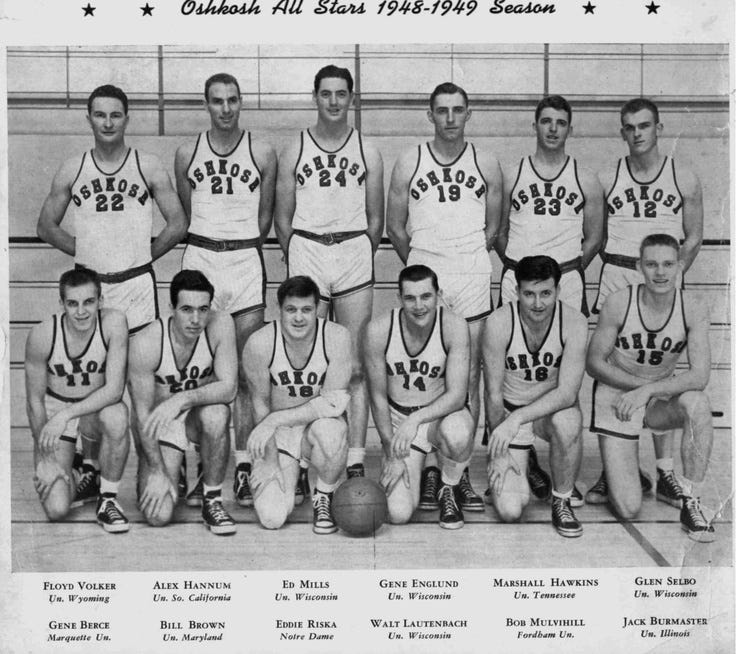 The All-Stars began in 1929 as an independent barnstorming squad. The nickname was merely a jocular aspiration. The team wasn't a composite or temporary assemblage of star players. Under the leadership of manager-coach-owner Lon Darling, the All-Stars steadily became one of the best barnstormer units in the country and in 1937 joined the National Basketball League where they continued as one of pro basketball's dominating teams.
They won the NBL title twice (1941 and 1942) and won the World Professional Basketball Tournament in 1942. Additionally, they reached the NBL finals five consecutive seasons (1938-1942) and again in 1949. With the formation of the NBA later in 1949, the All-Stars were tentatively slated to join that league after moving headquarters to Milwaukee with plans to still play several games a year in Oshkosh. Unfortunately, the plans fell through as did the All-Stars who were out of business by 1950. A damn shame they did. Would be awesome to have a 90-year-old franchise in Milwaukee. Alas, them's the breaks.
Lon Darling—franchise founder, coach, manager, etc.

Leroy Edwards (1937-1949)—2x NBL Champion; 3x NBL MVP; 6x All-NBL 1st Team; 2x All-NBL 2nd Team; 3x NBL Scoring Champ; BUILD THIS MAN A STATUE

Charley Shipp (1939-1944)—2x NBL Champion; 4x All-NBL 1st Team; All-NBL 2nd Team

Bob Carpenter (1940-1941; 1945-1949)—NBL Champion; All-NBL 1st Team; All-NBL 2nd Team

Gene Englund (1941-1943; 1945-1950)—NBL Champion; All-NBL 1st Team

---
Sheboygan Redskins
They get a banner, but we're not including the nickname.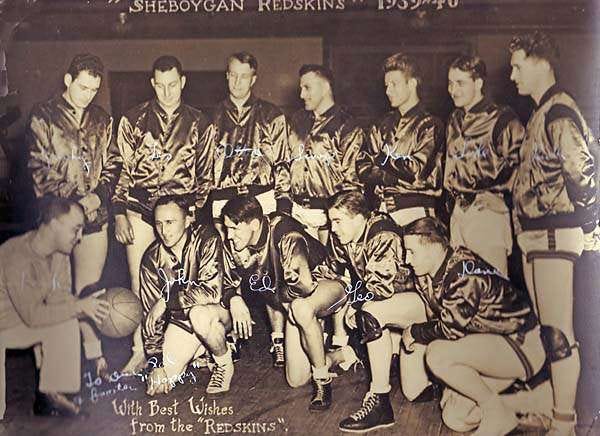 As for the franchise's history, the Redskins grew out of an earlier Sheboygan barnstorming outfit in the early 1930s. Their prior names included the "Enzo Jels" after a local gelatin company that sponsored the team. In 1938, Sheboygan's team joined the NBL becoming a natural rival to nearby Oshkosh. Although not quite as successful as the All-Star's Sheboygan was still damn good winning the NBL title in 1943 and appearing in four other NBL Finals. They even got a leg-up on their Oshkosh neighbors by joining the NBA in 1949. However, that experience was brief. Sheboygan was expelled for basically being too small a city in 1950 and they persisted for a couple more years outside the NBA before folding in 1952.
Ed Dancker (1935-1948)—NBL Champion; 3x All-NBL 1st Team; 2x All-NBL 2nd Team

Reuben Lautenschlager (1937-1947)—NBL Champion

Mike Novak (1943-1947)—All-NBL 2nd Team

Mike Todorovich (1947-1949)—All-NBL 1st Team; All-NBL 2nd Team; Rookie of the Year