RJP: Orlando Magic
The team "too good" to retire jerseys
The Retired Jersey Project keeps on rolling! (Read this if you need to catch up on the rules.)
Today's gaze focuses upon the shifty antics of the Orlando Magic, who have a Hall of Fame, but don't officially retire jersey numbers. Yep, you read right. They'll do a Hall of Fame, but won't retire jerseys.
Except #6.
That was retired for… wait for it… THE FANS. You know, who are the real sixth man.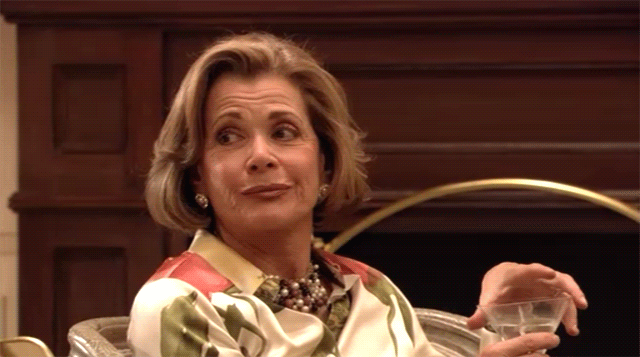 ANYWAYS, we're gonna do right by some retired Magic players and have their jersey numbers also be retired.
NOTE: All accolades mentioned pertain only to that player's time with the Magic franchise.
---
JERSEYS TO RETIRE
#1 Penny Hardaway (1993-1999)
2x All-NBA 1st Team—All-NBA 3rd Team—4x All-Star—NBA Finalist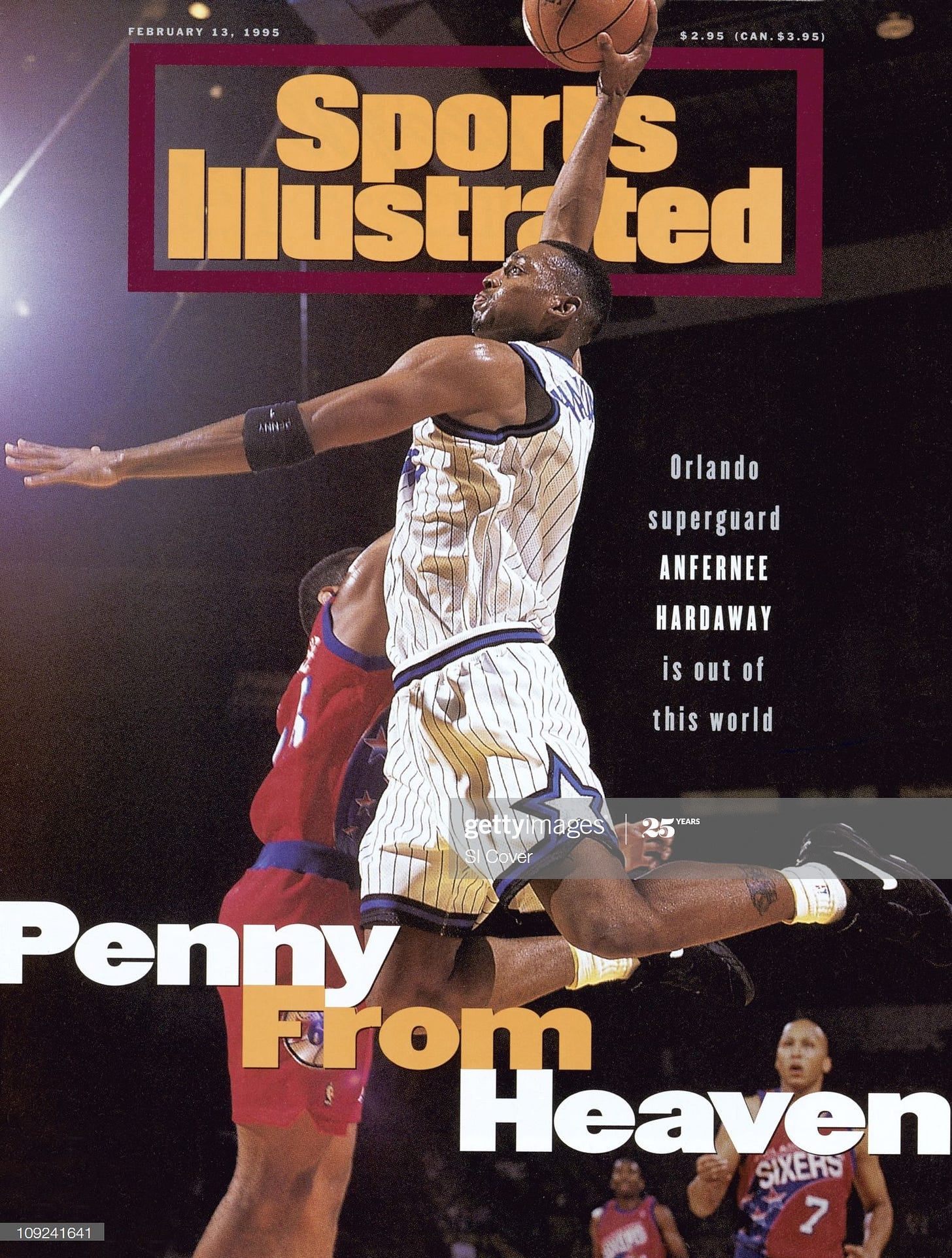 *straps on old-man suspenders and pushes spectacles up the bridge of me nose*
Look man, if you weren't there, you should wish you were there. Penny Hardaway was a whirlwind of fresh air. Not a mere breath. The giant guard seemed the next coming of Magic Johnson, so even better that he happened to play for a team dubbed "Magic."
Even if you weren't there, you probably know Hardaway was derailed by knee injuries. Yet, he still wound up on the All-NBA 1st Team twice and in the 1997 playoffs showed that Orlando would have been in magnificent hands, even after Shaq left for LA, if not for the injuries. Penny lit up the Miami Heat for back-to-back 40-point games as he transitioned from set-up man alongside O'Neal to scoring focal point as the Magic were unquestionably under his guardianship.
Heck, even when Shaq was in Orlando, Hardaway finished third in MVP voting in the 1996 season. O'Neal missed a third of the season, Penny played every game, and Orlando finished with 60 wins.
Alas, there were the injuries, but he was awesome. So so awesome.
---
#1 Tracy McGrady (2000-2004)
2x All-NBA 1st Team—2x All-NBA 2nd Team—4x All-Star—Most Improved Player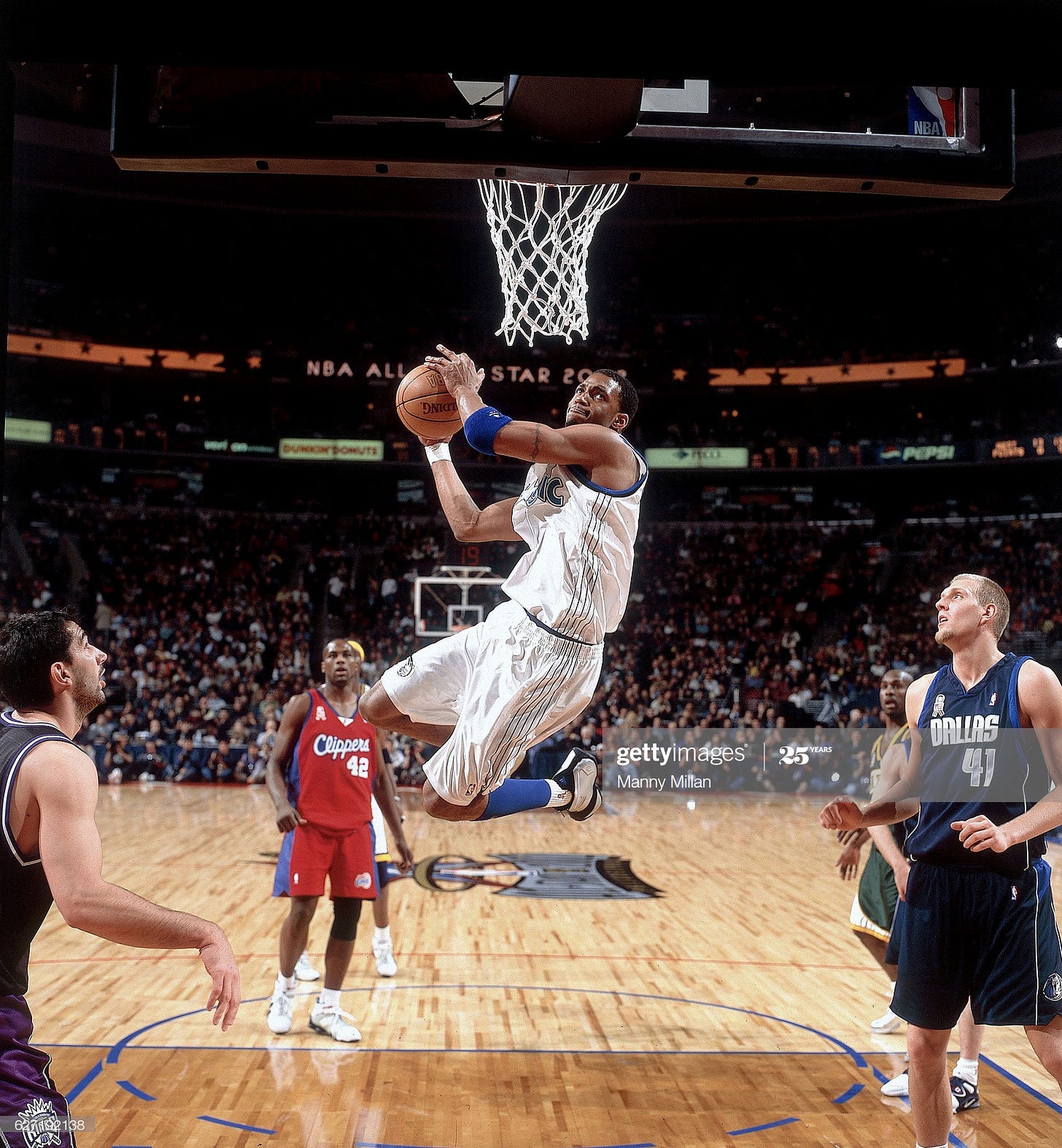 Orlando traded Hardaway away in August 1999. Then in August 2000 they traded for Tracy McGrady. One whole miserable season without a star player wearing #1.
McGrady showed up in Orlando and was instant dynamite averaging almost 27 PPG. Somehow he got better reaching 32 PPG in 2003. Of course if you've ever seen McGrady play, you know he was also a great, if quirky set-up man.
Planted on the wing, he'd wield the basketball around with one arm while shielding the defender off with his body. When he made his move defenses were naturally terrified of what scoring maneuver he'd engage in, so it was fortuitous T-Mac had a knack for finding the open man once the opponent reacted to him.
Orlando's team success with McGrady was average only because his intended running mate (Grant Hill) was perpetually injured. The Magic did make the playoffs three straight years with 43, 44 and 42 wins before cratering with 21 wins in 2004 precipitating McGrady's trade to Houston that summer.
Infamously, McGrady didn't get out the first round, but he genuinely made the most out of a undermanned and handicapped roster.
---
#25 Nick Anderson (1989-1999)
NBA Finalist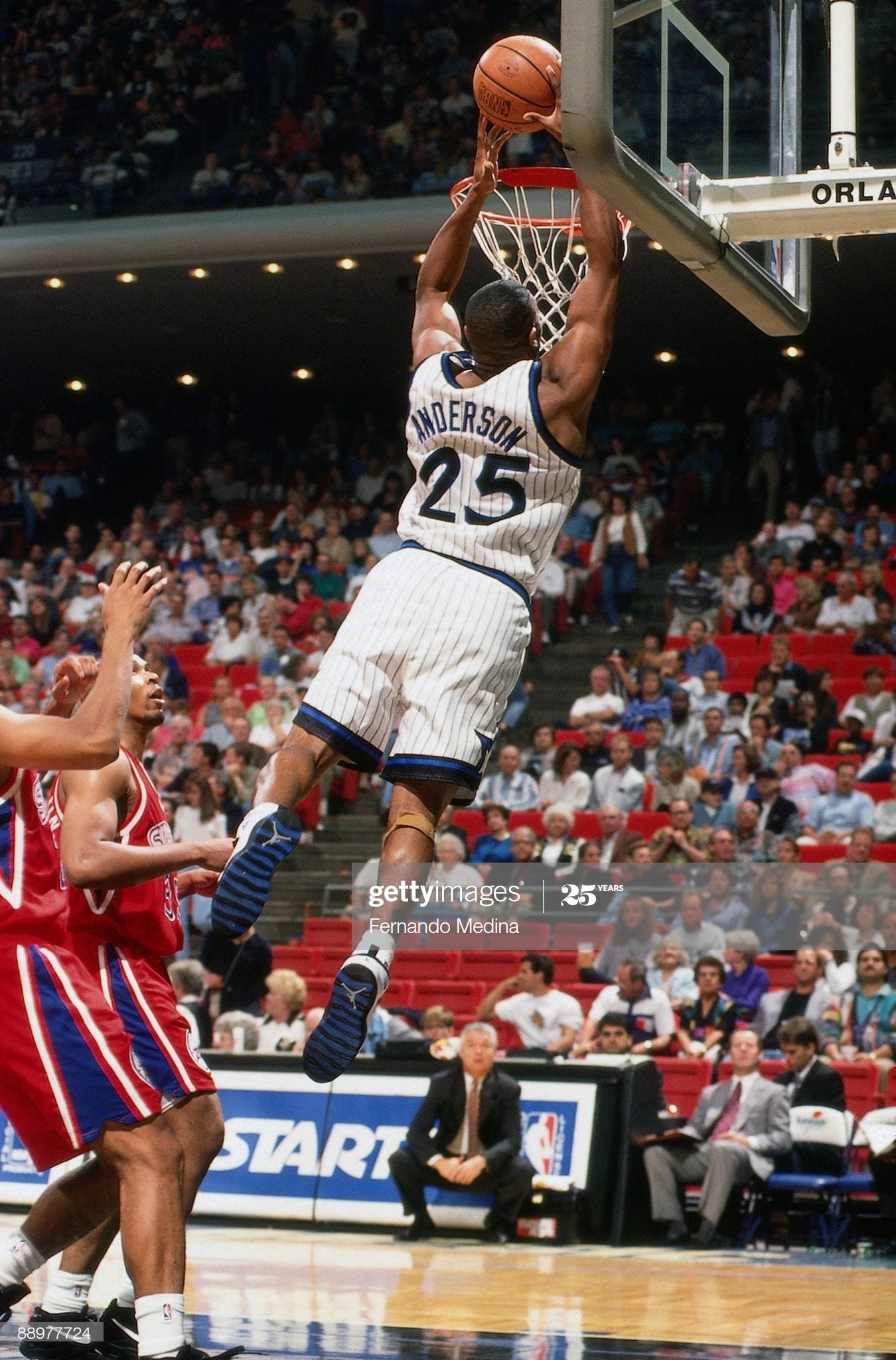 The first draft pick in franchise history, Nick Anderson no doubt gets the benefit of sentimentality here. If a player drafted now posted the same statistical output as Anderson, he probably wouldn't get his number retired.
But Anderson was the first pick in franchise history. And he stayed around for a decade as a major player in building the franchise from an expansion club to an NBA finalist. That's the way franchise honors work. Gotta get in on the ground floor.
Speaking of the finals, I know all about the bricked free throws in Game 1 of the 1995 Finals. After all, I grew up a Houston Rockets fan and can't thank Anderson enough for them. But the Magic got swept. Ain't no two free throws in Game 1 cause all of that wreckage.
Anyways, Nick has basically been the franchise's leader in games played since the franchise began. He played 81 in the inaugural season, more than any other person on the roster. Three decades later he's still the franchise leader in that category. He's also first in steals, field goals made, and free throws missed (sorry even I couldn't resist that one). He's also just a measly 31 minutes behind Dwight Howard for most minutes in franchise history.
The first player in Magic history with a 50-point game indeed had game.
---
#32 Shaquille O'Neal (1992-1996)
All-NBA 2nd Team—2x All-NBA 3rd Team—4x All-Star—Rookie of the Year—NBA Finalist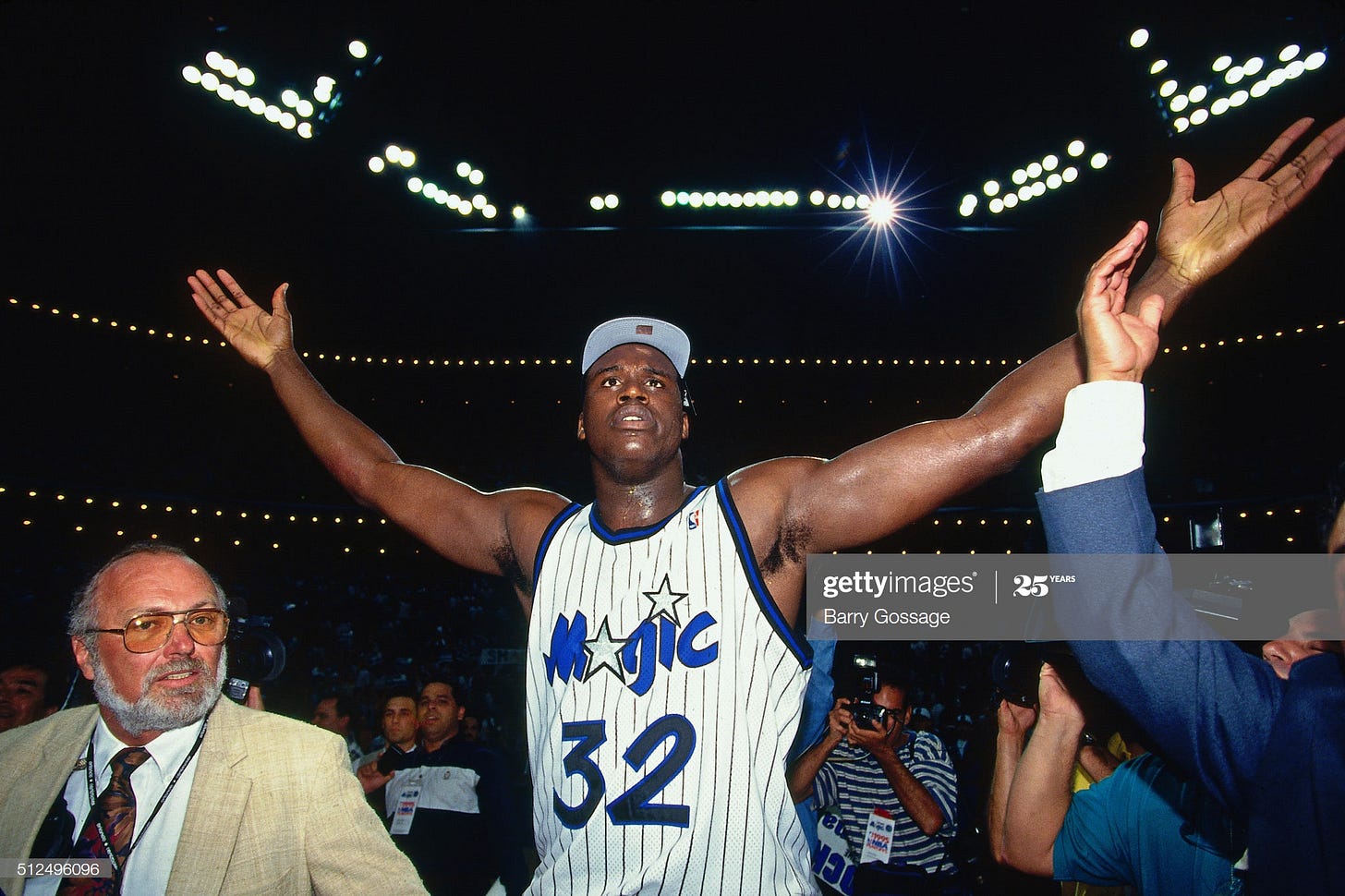 In doing this research, I was shocked to see Shaquille O'Neal never made an All-NBA 1st Team while in Orlando. Then I remembered the center position was stacked in the 1990s and that you only get one per All-NBA team. Bullshit like that is how you get Latrell Sprewell on the All-NBA 1st Team in 1994, but not Shaq or David Robinson.
Anyways.
You all know about Shaq. But I'm venturing some of you might not be as familiar with Orlando Shaq as you are with Laker Shaq or Heat Shaq… or God forbid… Cavalier Shaq.
So instead of me writing more about him, enjoy this footage of Young Shaq devastating fools.