RJP: San Antonio Spurs
Almost, but not quite
The Retired Jersey Project is chugging along! (Read this if you need to catch up on the rules.)
The San Antonio Spurs… the franchise that never seems to ever have any hard times. Naturally, they have a lot of retired jerseys since they rarely ever stink and have had a number of good players to prop their fortunes up.
#00 Johnny Moore

#6 Avery Johnson

#9 Tony Parker

#12 Bruce Bowen

#13 James Silas

#20 Manu Ginobili

#21 Tim Duncan

#32 Sean Elliott

#44 George Gervin

#50 David Robinson
I mused about four players to add on to this group: Larry Kenon, Alvin Robertson, Mike Mitchell, and Artis Gilmore. In the end, I didn't feel compelled to pull the trigger for any of them, but maaaan they all got good cases, so let's quickly review them anyways!
Jerseys to Almost Retire
#21 Alvin Robertson (1984-1989)
Defensive Player of the Year—All-NBA 2nd Team—All-Defensive 1st Team—2x All-Defensive 2nd Team—3x All-Star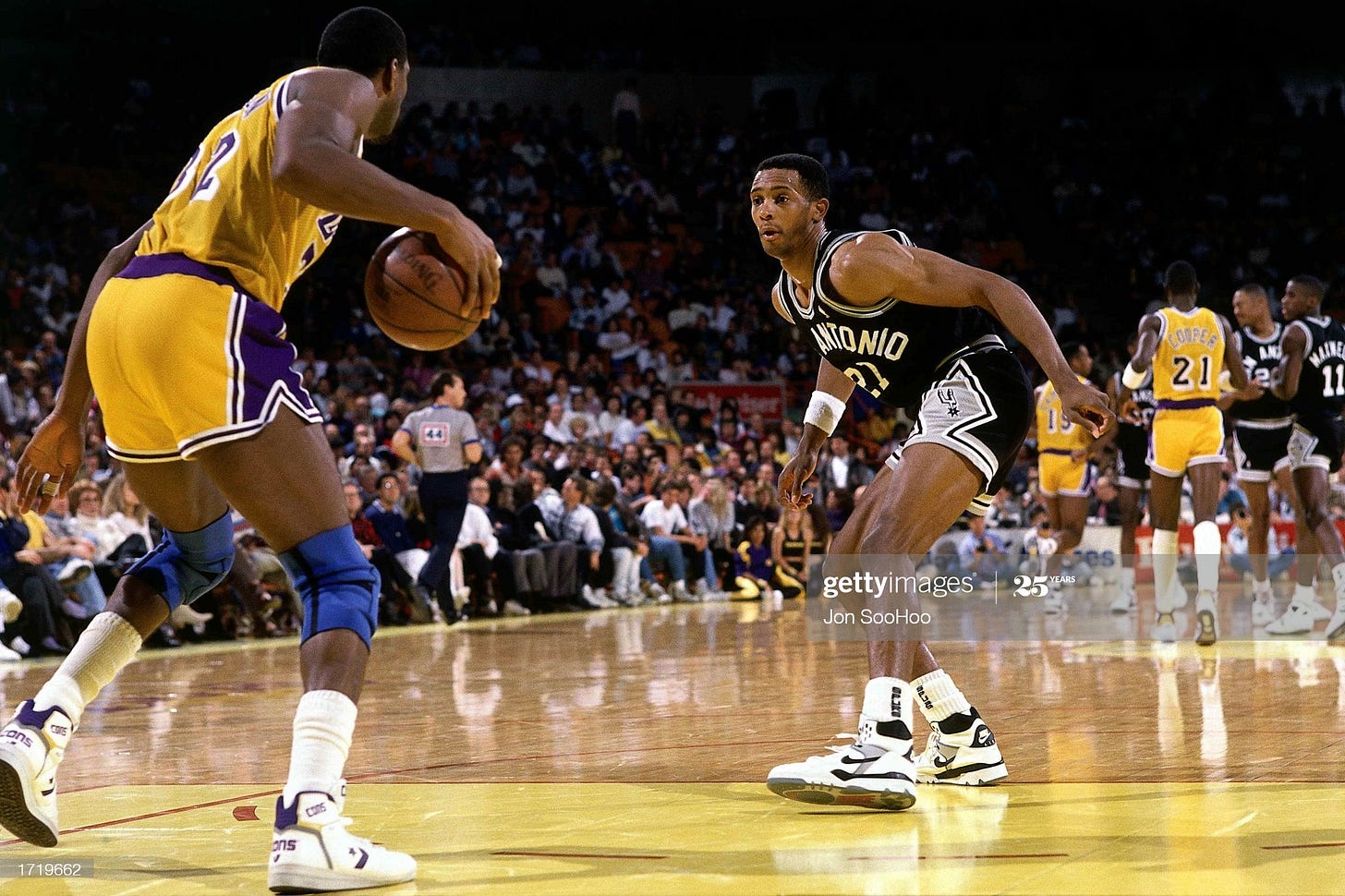 One of the greatest defenders in NBA history, Alvin Robertson was a dream combo guard at 6'3".
During his four years as a starter in San Antonio he averaged 17.9 PPG, 5.9 RPG, 5.9 APG, 3.2 SPG(!), .480 FG% and .757 FT%. In 1986, when he was named the Most Improved Player and Defensive Player of the Year, he set an NBA record of 3.7 SPG.
On February 18, 1986, he also recorded a quadruple-double: 20 points, 11 rebounds, 10 assists, and 10 steals.
Unfortunately, Robertson's heyday happened to be the doldrums of San Antonio's franchise history. They had 41 wins his rookie year, but as older stars faded, the team didn't suitably replace them leaving Robertson basically alone with the still-good-but-ancient Artis Gilmore. And even A-Train was gone after 1987.
When David Robinson was set to join the team for the 1989-90 season, Robertson was traded away to the Milwaukee Bucks for Terry Cummings. Kinda stunk for Robertson who was only 27, just three years older than the Admiral. Coulda finally enjoyed some team success in San Antonio. Alas.
#34 Mike Mitchell (1981-1988; 1990)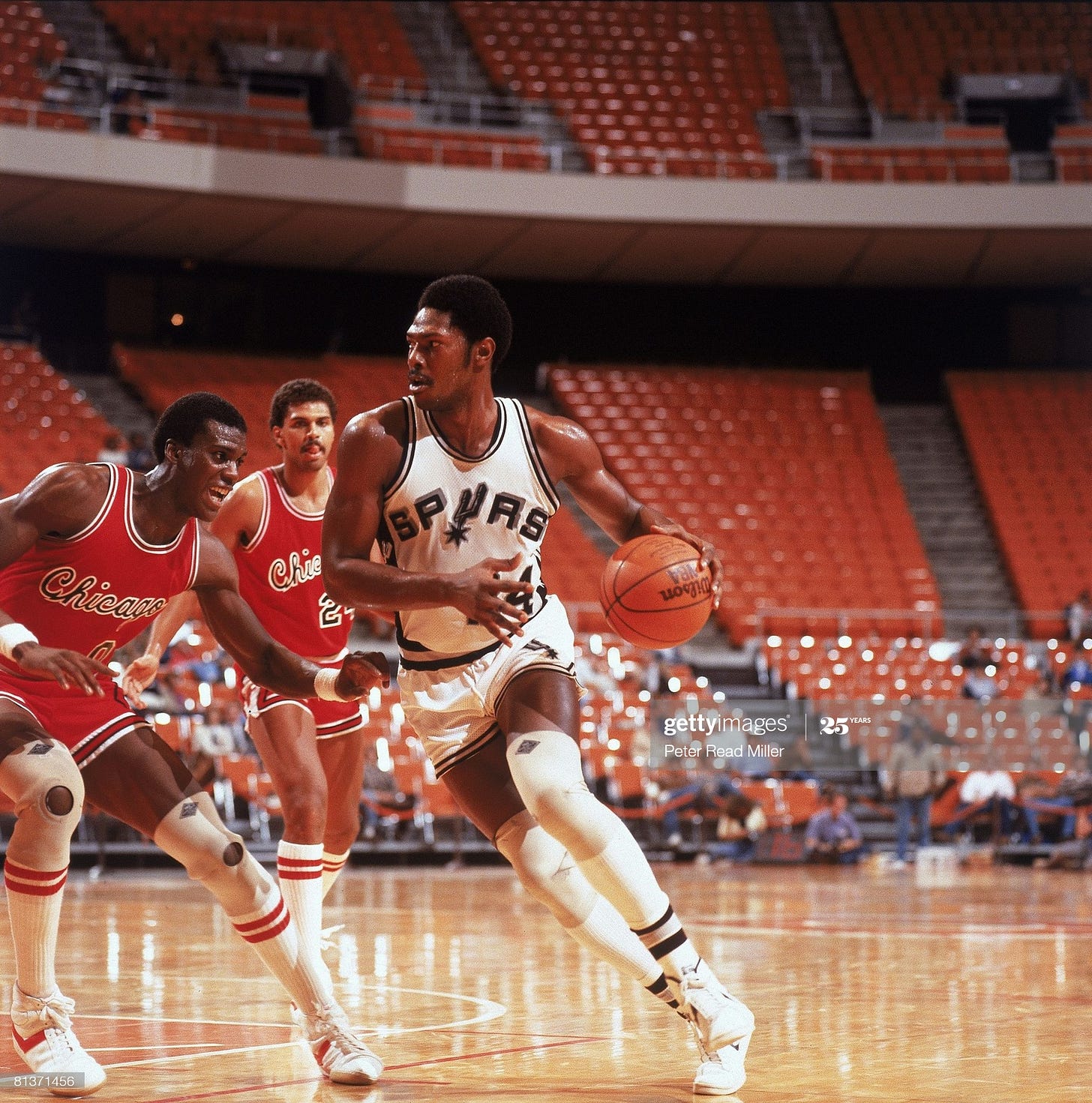 One of the best shooters of the 1980s and a forgotten scoring machine, Mike Mitchell spent many years as the unheralded scoring "sidekick" to George Gervin. And after the Ice Man was gone, kept up his scoring as San Antonio's go-to option.
Mitchell was acquired from the Cleveland Cavaliers in 1981 in one of the many swindles that Cavs owner Ted Stepien had no problem facilitating.
Mike essentially filled in the scoring hole left by Larry Kenon, who had been traded to the Chicago Bulls a year earlier. In the 1982 Western Conference Finals, the small forward torched the LA Lakers for 25.8 PPG on .538 FG%. In the 1983 WCF he essentially did it all over again with 25.7 PPG on .540 FG%.
The dependable Mitchell finally broke down in the 1986-87 season. A knee injury limited him to just 40 games and thereafter he became a bench player as the Spurs sank into their doldrums. Mitchell left the NBA after the 1988 season for a decade-plus of pro ball in Italy, but he did have a brief comeback for the Spurs in the 1990 playoffs.
All 'n all, Mitchell averaged 20.1 PPG on .493 FG% for San Antonio across seven seasons.
#35 Larry Kenon (1975-1980)
3x All-Star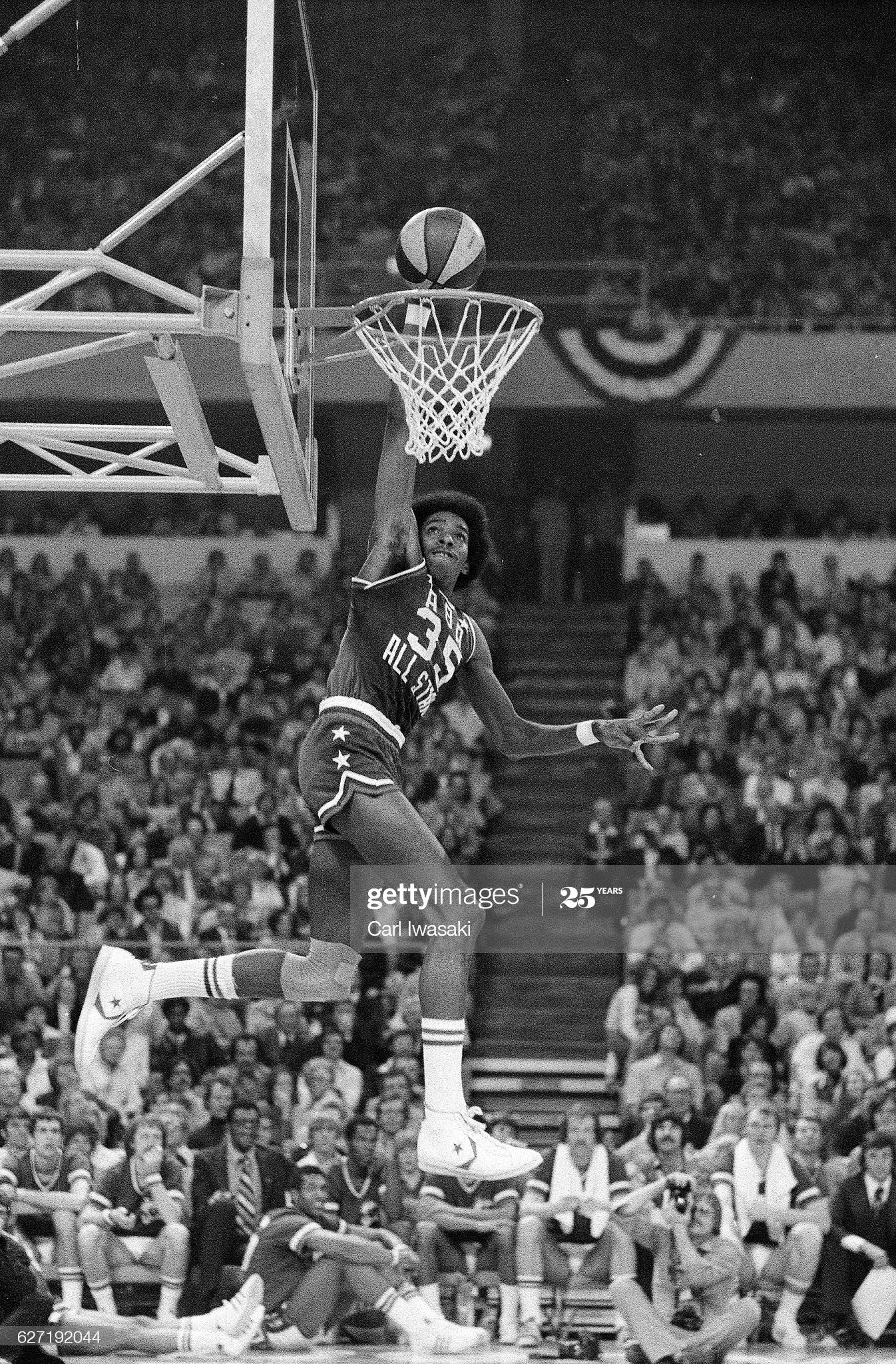 Watching Larry Kenon play basketball brings me joy. His every move was bouncy like he couldn't contain whatever energy was inside of him.
On his jump shots, his knees would kick up high like Clyde Drexler. His release didn't have a typical follow-through, but was more akin to setting a dove free. And he had a silly, quick second jump. Dude was like a pogo stick.
Teaming with George Gervin and James Silas, the lanky power forward was part of the Spurs' Big Three in the late 1970s that brought the franchise oh so close to title success. In the 1976 ABA playoffs, the Spurs lost to the eventual champion New York Nets in seven games despite playing the series without Silas, who was lost to a knee injury.
In the NBA's 1979 Eastern Conference Finals, they blew a 3-1 series lead to the Washington Bullets losing Game 7 by a final score of 107-105.
Kenon's contributions amounted to a prodigious 20.7 PPG, 10.3 RPG, 3.0 APG, 1.6 SPG, .491 FG%, and .818 FT%.
#53 Artis Gilmore (1982-1987)
Hall of Fame—2x All-Star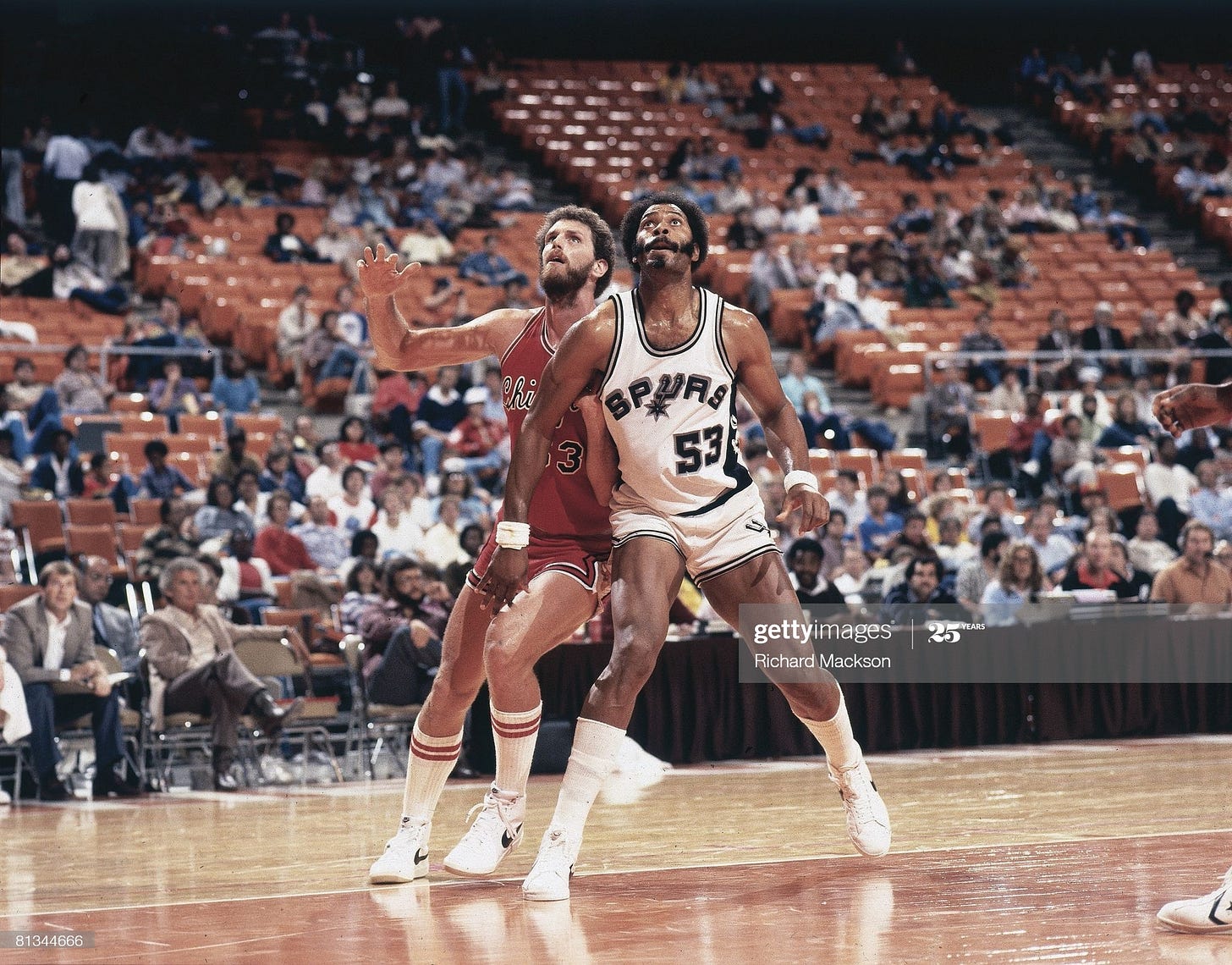 The only trouble with Artis Gilmore's career in San Antonio is that it happened too late.
The A-Train had basically wallowed with the Chicago Bulls during the late 1970s and early 1980s. His brilliance was equally matched by a rotating cast of unspectacular teammates. The players weren't bad, just not enough to get Chicago into any sort of contention. Nonetheless, I recommended Gilmore have his jersey retired by the Bulls because he's the best center in that franchise's history.
(Needless to say, if the Kentucky Colonels still existed, Gilmore would have his number retired by them too.)
Luckily for Artis, the San Antonio Spurs had reached the 1982 Western Conference Finals and were swept away by the Los Angeles Lakers. The Spurs determined they lacked power in the middle to combat Kareem Abdul-Jabbar and they traded Dave Corzine and Mark Olberding to Chicago for the 33-year-old Gilmore.
Sure enough, the Spurs improved from 48 wins in 1982 to 53 wins in 1983. More importantly, they returned to the WCF as a much more formidable opponent to the Lakers.
Gilmore in the series? 19.8 PPG, 13.5 RPG, 2.8 BPG, and .600 FG%.
San Antonio still lost, but this time 4-2 instead of 4-0. Game 6 was a heartbreaking 101-100 defeat that saw Gilmore go for 24 points and 18 rebounds on 11-16 shooting. This was the closest San Antonio would get to the NBA Finals until 1999 when they won the whole shebang.
Well, the sad part for Gilmore was that San Antonio's all-in gambit in 1983 quickly collapsed as the A-Train began to relive his Chicago experience. As you've gathered from the sections on Robertson and Mitchell, the Spurs weren't too hot in the mid-and-late 1980s.
Nonetheless, during his five seasons in San Antonio, Gilmore averaged 16.1 PPG, 9.7 RPG, 1.8 BPG, and .620 FG%. Not bad for a center in his mid-and-late 30s.